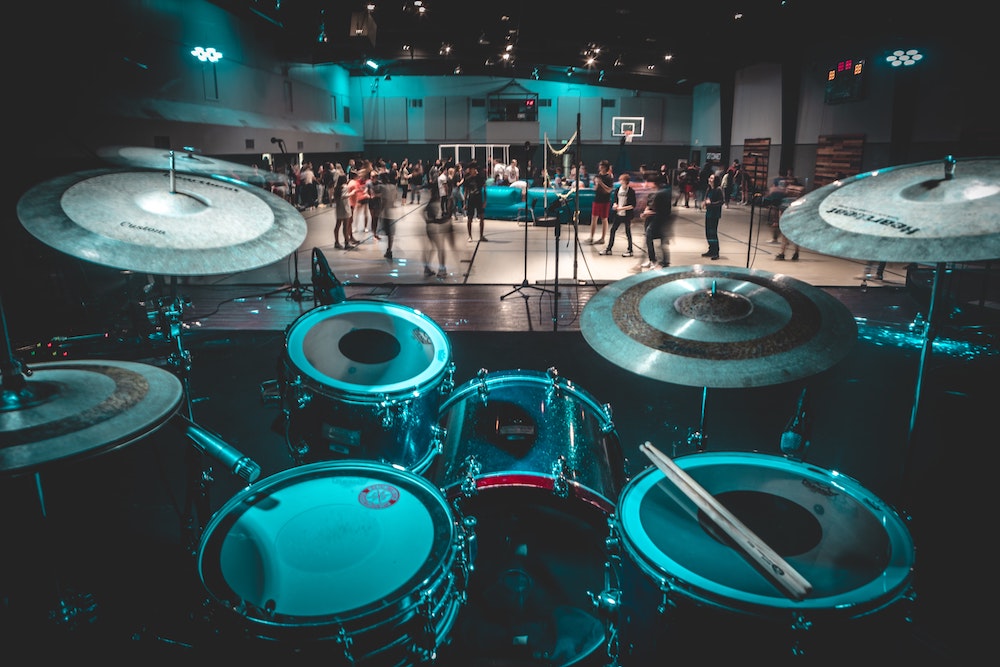 What better way to kick off a weekend than with new music? Fridays are always chock full of the latest songs and albums ready to be the soundtrack to everyone's antics, and here you'll find some of the week's standout releases. Whether you're ready to spin an anticipated song from a favorite artist or just taking a look at what's out there, there's a whole lot of tunes to dive right into. Who knows—maybe you'll find your next obsession.
Josh Ramsay
The Josh Ramsay Show
You never quite know what the Josh Ramsay ceiling is. Since fronting pop band Marianas Trench in the early 2000s, he's continued to outdo himself with every new release, whether writing for other artists or making music for his own band. Now, his artistic peak comes with The Josh Ramsay Show, his first solo album. Truly a variety show in album form, Ramsay unloads a musical arsenal of genres in what is his most personal but robust offering to date. Essential for not only Ramsay fans but fans of pop in general.
—
Simple Plan
"Wake Me Up (When This Nightmare's Over)"
Simple Plan is expert at crafting anthems for all of life's situations. "Wake Me Up (When This Nightmare's Over)" joins the ranks of legendary SP singles like "Perfect" and "Welcome to My Life"—hard-hitting pop-rock songs with a message that resonates. Whether this one will stand the test of time like those remains to be seen but, for now, good luck getting all of those hooks out of your head.
—
Hidden in Plain View
"Temper"
Sometimes bands from your youth just don't age well. Hidden in Plain View can't relate. The emo-rock outfit was a mainstay among the Drive-Thru Records all-star roster that featured the likes of Halifax, Finch, and Allister in 2005 before disbanding in 2007. "Temper" marks the first new material since an EP seven years ago, and it's got a nostalgic Drive-Thru edge to it that sounds like a refreshed version of their heyday. It's worth getting excited about them again.
—
Silverstein
"Die Alone"
If you want heavy, Silverstein is going to give you heavy. The band has already proven they're ready to melt faces on their upcoming album but "Die Alone" makes convincing the skeptics just a bit easier. The track, rooted in hardcore-punk, is further brought to life by Comeback Kid frontman Andrew Neufeld, providing a gut-punch experience for those who dare to tune in.
—
Travie McCoy
"Stop It"
It's been 12 long years since Travie McCoy put out Lazarus—his first LP that spawned massive hits like the Bruno Mars-assisted "Billionaire"—but he doesn't want to talk about that. "I'm here right now," he says, as he introduces "Stop It"—the latest single off his newly-announced Never Slept Better out in July. The Gym Class Heroes frontman raps like he's barely taken a day off, sporting an energy that we've all been waiting patiently for.
—
LØLØ
"Junkie"
There's a lot of "can't" when it comes to LØLØ: you can't get enough of her songs, you can't type her name without copying and pasting it. There's a "can" too, though, and it's that she can absolutely follow up her last single with something even better. Even though "Debbie Downer" was a smash, "Junkie" surpasses it in every way with her ear for aggressive pop-rock that you can sing along to after just one chorus.
—
De'Wayne
"Die Out Here (feat. POORSTACY)"
DE'WAYNE becomes more and more exciting with every new song he drops. "Die Out Here" is a short, fast, and straight-to-the-point rock track that takes the sound of last year's Stains in another direction, making it loud and clear that you don't necessarily need Travis Barker on your side to make a killer pop-punk tune.
—
Camila Cabello
Familia
Camila Cabello is such a force as a solo artist that you almost forget she was ever in Fifth Harmony at all. The singer's third full-length, Familia, captures an album's worth of gems—not just incredible singles—with a sound heavily influenced by her Latin roots sprinkled on some tracks ("Bam Bam") and then fully unleashed on others ("La Buena Vida"). Familia marks a career highlight for Cabello not just for its quality but because it's a true representation of her as a musician.
—
Other new releases:
Charlie Puth – "That's Hilarious"
Noah Cyrus – "I Burned LA Down"
Miranda Lambert – "Actin' Up"
Papa Roach – "No Apologies" / Ego Trip
Terror – "Boundless Contempt"
Bullet for My Valentine – "Omen"
Cody Simpson – Cody Simpson
Banks – "Fuck Love" / Serpentina
Lauv – "All 4 Nothing (I'm So in Love)"
Father John Misty – Chloë and the Next 20th Century
Jack White – Fear of the Dawn
Vance Joy – "Clarity"
Alicia Keys – "City of Gods (Part II)"
Vince Staples – "Lemonade (feat. Ty Dolla $ign) / Ramona Park Broke My Heart