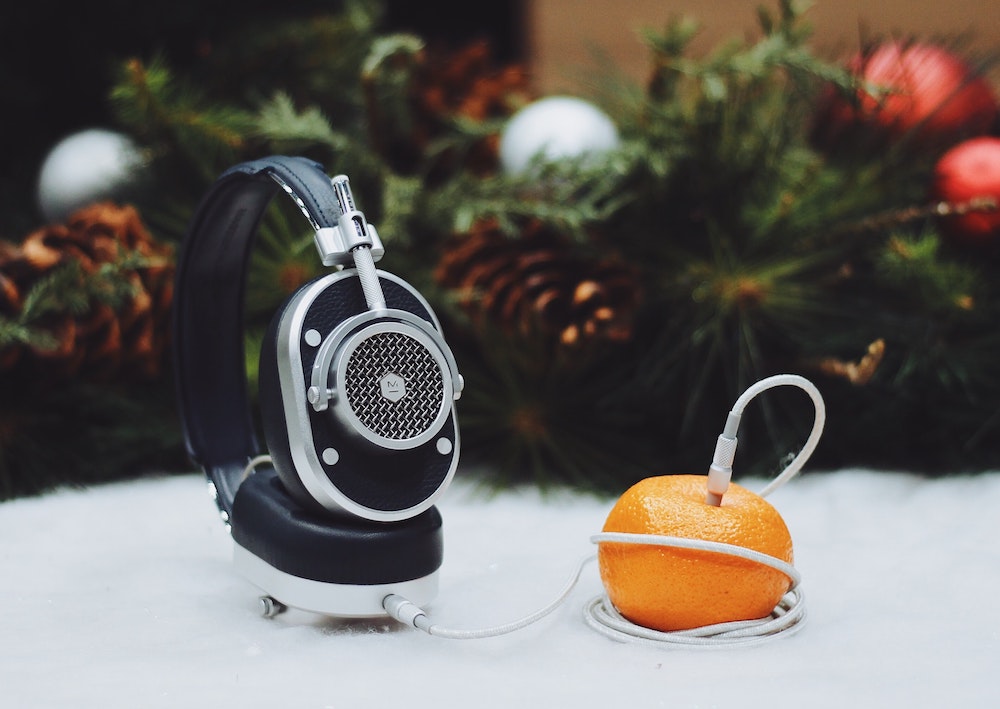 What better way to kick off a weekend than with new music? Fridays are always chock full of the latest songs and albums ready to be the soundtrack to everyone's antics, and here you'll find some of the week's standout releases. Whether you're ready to spin an anticipated song from a favorite artist or just taking a look at what's out there, there's a whole lot of tunes to dive right into. Who knows—maybe you'll find your next obsession.
Underoath
"Numb"
On the heels of Underoath's breathtaking live stream performance of Voyeurist, their upcoming album, the band drops an easy fan-favorite in the ear-rattling "Numb". The song harkens back to their earlier They're Only Chasing Safety days—while remaining as musically technical as the rest of Voyeurist (so far)—with an absurdly catchy melody and a chorus only sung by drummer Aaron Gillespie.
Cobra Starship
"Party With You"
Cobra Starship won't fade into the darkness quietly. Gabe Saporta unearths another unreleased track from his defunct dance-pop act that'll be featured on the upcoming vinyl reissue of their classic Hot Mess. "Dance With You" is beautifully simple, like most CS songs are, and you can't help but wonder how many would have added this as their MySpace song if it dropped in simpler times.
Four Year Strong
Brain Pain (Deluxe Edition)
In February 2020, Four Year Strong had a return-to-form record with the excellent Brain Pain. It's time to revisit it with a deluxe edition packed with a ton of extras. Nine new tracks are thrown into the mix here — a couple unreleased, a few remixes, a cover, and some acoustics — so they're really giving you your money's worth on this one.
This Wild Life
"Have Yourself a Merry Little Christmas"
This Wild Life's rendition of "Have Yourself a Merry Little Christmas" reinforces the fact that the acoustic duo were born to make Christmas tunes. The angelic nature of the cover's got a major "watch snow fall at night with a fireplace burning" vibe, and if you don't want to cozy up with someone (or a dog?) after this one, you might not have a pulse.
As It Is
"In Threes (feat. Set It Off and JordyPurp)"
As It Is' new single is a triple threat as they bring both Set It Off and JordyPurp along for the ride. "In Threes" ultimately slots right into that dark pop persona that both As It Is and Set It Off encapsulate so well—you couldn't have come up with a collaboration that made more sense.
Jxdn
Tell Me About Tomorrow (Deluxe)
More Jxdn is never a bad thing. Tell Me About Tomorrow is one of the best pop-punk records of the year and we get a little more on the deluxe edition, featuring four new songs. "Dead or Alive" is a straight-up Blink-182 homage in the verses featuring a poppier chorus, and "Christmas Sucks" is your angsty anti-Christmas anthem; it weirdly becomes one of the best on the entire album.
Juice WRLD
Fighting Demons
Posthumous albums can't exist without the controversy surrounding whether or not it should … well … exist. Juice WRLD's second such release, Fighting Demons, is an LP that, thankfully, doesn't feel like a cash grab — the features (Justin Bieber, BTS' SUGA) are well-placed, the songs sound complete, and it's something that fans will no doubt be happy about having in their Juice collection.
Green Day
BBC Sessions (Live)
A relic of Green Day's past, the four sessions from the band's BBC Live performances are available for your listening pleasure in its remastered glory. The 16 tracks span from 1994 to 2001, offering classics such as "Basket Case" and "Minority" and chronicle an era when they were on their way to becoming the legends they are today.
Other new releases:
Lost Kings, MOD SUN – "Broken in All the Right Places"
PhaseOne – "Enemy VIP" (feat. Silverstein)
Waterparks – "Violet!" (MC4D Remix)
IC3Peak – "Vampir" (feat. Bring Me the Horizon)
Bon Iver – "Second Nature"
Andy Grammer – "Love Myself"
Alicia Keys – Keys
Monsta X – The Dreaming
Jean Dawson, Mac DeMarco – "MENTHOL*"
Juice WRLD, SUGA of BTS – "Girl of My Dreams" / Fighting Demons
Feid, KAROL G – "FRIKI"
Ruel – "GROWING UP IS___"
Jack Keys, Travis Barker – MY FAVORITE NIGHTMARES EP
Bad Suns – "Peachy"
Beach House – "New Romance"
Bloc Party – "Traps"
Lucky Daye – "Candy Drip"
Sam Feldt, Rita Ora – "Follow Me"
Tierra Whack – POP?
Khruangbin, Leon Bridges – "B-Side"
Girlpool – "Faultline"
Russ, Jadakiss – "Faith" / CHOMP 2
KYLE – "Perfect"
Joy Oladokun – "Count On Me"
Marc E. Bassy – "Crash for a Couple"
Big Boi, Sleep Brown – Big Sleepover
Chris Lane – "Stop Coming Over"
Siiickbrain – Ashtray for Your Agony
Pink Sweat$ – "Midnight River (feat. 6LACK)"