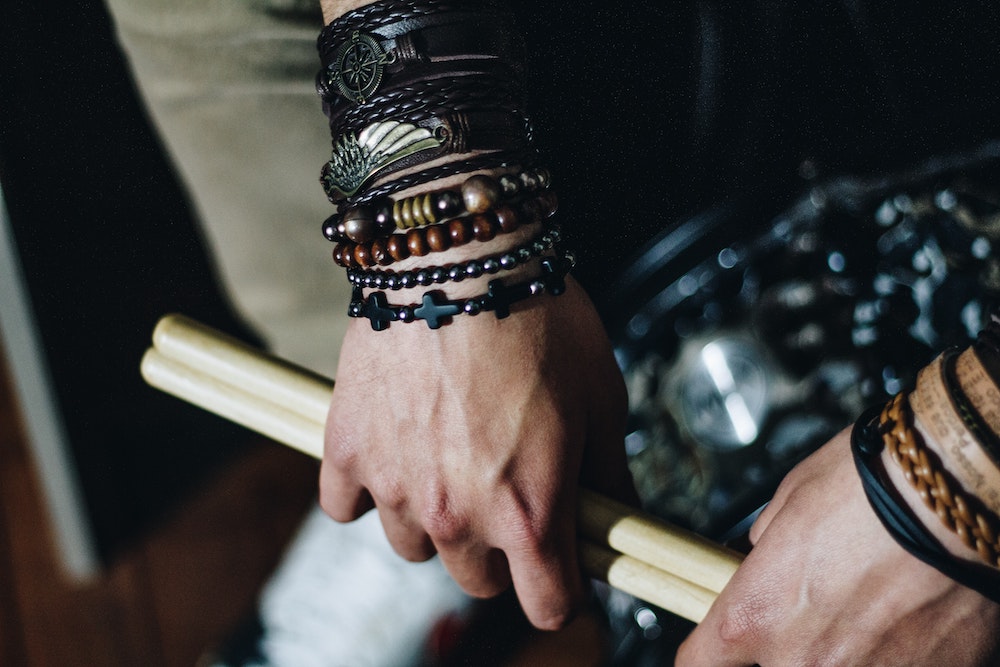 What better way to kick off a weekend than with new music? Fridays are always chock full of the latest songs and albums ready to be the soundtrack to everyone's antics, and here you'll find some of the week's standout releases. Whether you're ready to spin an anticipated song from a favorite artist or just taking a look at what's out there, there's a whole lot of tunes to dive right into. Who knows—maybe you'll find your next obsession.
Mayday Parade
"Golden Days"
There's something so beautifully nostalgic about the opening riff to "Golden Days" that you know it'll be a Mayday Parade classic and, once the verse kicks in, you know it's the case. There's still another month to go 'til the new album drops but it's shaping up to be the band's best yet.
Underoath
"Cycle"
Underoath doesn't waste a second of your time on the thrilling "Cycle", the latest single off their upcoming record out in January. It kicks off with an immediate jolt of energy that eventually transitions into the regularly scheduled anthemic chorus you've grown to expect.
Ed Sheeran
=
= is the self-described coming-of-age record for Ed Sheeran, chronicling loss, love, and the birth of his child over the past few years. His storytelling is unmatched and, overall, it's expertly produced — there's a healthy mix of slow acoustic cuts like "The Joker and the Queen" and all-out bangers like "2step" and "Shivers".
Cobra Starship
"Beautiful Life"
Cobra Starship is back … kinda sorta. "Beautiful Life" is the first of two new-ish, previously unheard Cobra Starship songs the band is releasing to celebrate Hot Mess getting certified Gold. Don't get too excited, Gabe Saporta probably isn't officially rocking his purple hoodie anytime soon. But crack open a Four Loko and relive the finer days with this b-side.
The Dangerous Summer
"The Best Part of Letting Go"
A luscious piano line kicks off The Dangerous Summer's "The Best Part of Letting Go", setting a somber tone for the powerful rock track. Pounding percussion throughout makes way for hazy guitar strums, all held together by AJ Perdomo's gravelly yet emotional vocals.
Grandson
"Drop Dead (feat. Kesha and Travis Barker)"
How do you make a song better? Add Kesha and Travis Barker, apparently. The duo joins Grandson for a remix of his track "Drop Dead", taking what was already a blast of a song and turning it up a notch. The drums hit harder this time around, naturally, and Kesha adds a bite to it that makes it much better than the original.
Set It Off
"Skeleton"
Set It Off follows up their Midnight era with a new single in "Skeleton". The band heads back to a poppier personality — the vocals are cleaner than ever — but there's still a big rock focus that gives it some attitude.
Bohnes
"You've Created a Monster"
It's not Halloween without a new song from Bohnes. The Cab's Alex DeLeon has been a bit quiet lately but when he makes a return it's notable. The new track, "You've Created a Monster", is dark-pop at its finest with whispery verses that explode into an electrifying chorus.
Neon Trees
"Holiday Rock"
There's nothing better than an original Christmas tune, and Neon Trees delivers with "Holiday Rock". Filled with bells and a big time Christmas mood, the band earns a permanent spot on holiday playlists in an instant.
Macklemore
"Next Year"
Macklemore's return comes in the form of the bouncy "Next Year". Featuring indie-pop singer/songwriter Windser, it's got that free flowing vibe packed with clever lyrics. A more important collaboration here: Ryan Lewis. It's his first track with his longtime friend and producer since their joint album in 2016 and they've proven time hasn't hindered their chemistry in the least.
Other new releases:
Katy Perry – "All You Need Is Love"
Lil Peep – "Halloween"
Imagine Dragons – "Enemy"
Comeback Kid – "Heavy Steps"
Green Day – "Basket Case (BBC Live Session)"
Sueco – "Sober/Hungover"
VERITE – "Teenage Dream"
CHVRCHES – Screen Violence: Director's Cut
American Authors – "Favorite Time of the Year"
Walk the Moon – "Rise Up"
Cheat Codes – "How Do You Love (with Lee Brice and Lindsay Ell)"
Mokita – "colorblind (acoustic)"
Death Cab For Cutie – The Photo Album (Deluxe Edition)
Myke Towers, Camila Cabello, Tainy – "Oh Na Na"
Megan Thee Stallion – Something For Thee Hotties
Big Sean, Hit Boy – What You Expect EP
A$AP Rocky – LIVE.LOVE.A$AP
MEDUZA, Hozier – "Tell It To My Heart"
A$AP Ferg, The Neptunes – "Green Juice (feat. Pharrell Williams)"
Imagine Dragons, JID – "Enemy [from the series Arcane League of Legends]"
Spoon – "The Hardest Cut"
My Morning Jacket – My Morning Jacket 
David Guetta, Bebe Rexha, Ty Dolla $ign, A Boogie Wit da Hoodie – "Family"
Alicia Keys – "Best of Me"
Gryffin, Jason Ross – "After You (feat. Calle Lehmann)"
French Montana – "I Don't Really Care"
Alina Baraz – Moongate EP
Christian Leave – Days Like Lost Dogs EP
Mike Posner – "Amor Fati"
John Mayer – "Last Train Home"
ABBA – "I Still Have Faith in You"
Kylie Minogue & Jessie Ware – "Kiss of Life"
Maggie Lindemann – "She Knows It"
Maddie & Tae – "Madness"
deadmau5, Foster The People – "Hyperlandia"
Tori Adams – Ocean to Ocean
Said The Sky, ODEA – "Go On Then, Love (Remix) featuring The Maine"
Pentatonix – Evergreen