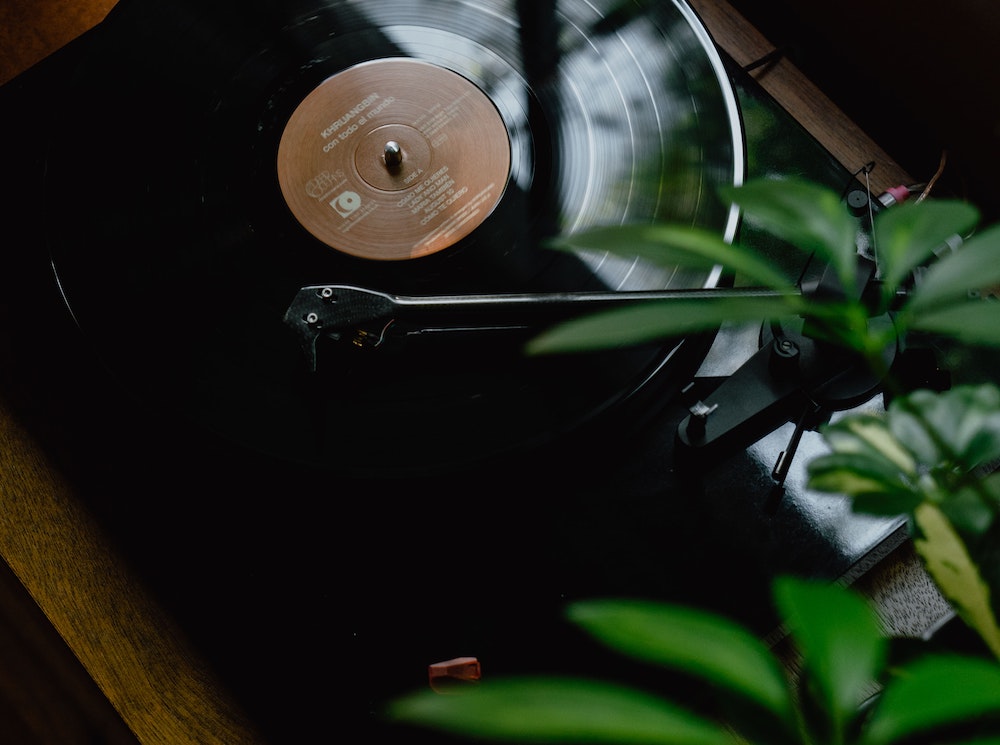 What better way to kick off a weekend than with new music? Fridays are always chock full of the latest songs and albums ready to be the soundtrack to everyone's antics, and here you'll find some of the week's standout releases. Whether you're ready to spin an anticipated song from a favorite artist or just taking a look at what's out there, there's a whole lot of tunes to dive right into. Who knows—maybe you'll find your next obsession.
Four Year Strong
"Pipe Dream"
Four Year Strong continues the goodness their LP Brain Pain brought with a new track "Pipe Dream" off its upcoming deluxe edition. The track rips and wastes no time kicking things into gear with aggressive vocals and ear-pounding percussion.
The Devil Wears Prada
"Sacrifice"
A new era begins for The Devil Wears Prada, who already delivered a fantastic EP earlier this year. The pop shine of the clean vocals in "Sacrifice" results in a crazy catchy chorus, but the growls and dark riffs are there in excess to give it that TDWP personality.
PVRIS
"Burn It All Down"
The soundtrack to this year's League of Legends Worlds championship is presented by none other than PVRIS. "Burn It All Down" follows the formula these LoL themes do every year: An epic, larger-than-life number to rep the biggest gaming event of the year. PVRIS kills it here. But listening to it probably won't improve your ranking.
Converge and Chelsea Wolfe
"Blood Moon"
Metalcore legends Converge link up with singer/songwriter Chelsea Wolfe for a collaborative album out in November. The first taste, "Blood Moon", is a unique track with eerie guitars supplemented by Wolfe's hypnotizing croon—it gets even wilder when Converge jumps in mid-way through the eight minute runtime to lay down some serious intensity.
Said the Sky
"Go on Then, Love (feat. The Maine)"
The Maine hops on a Said the Sky track, adding their pop-rock flavor to an EDM tune. "Go on Then, Love" is basically a combination of the best the two have to offer—The Maine drops some great summertime verses while the DJ/producer provides a dancey chorus that brings the song to life.
Between You & Me
"Butterflies"
The beauty of a young pop-punk band is watching how they grow. Between You & Me is nearly unrecognizable on the new single "Butterflies"—and that's not a bad thing. Though their debut in 2018 was great in its own right, "Butterflies" moves the group a step forward into carving out their own sound in the genre.
Justin Courtney Pierre
"Horse Racing"
Motion City Soundtrack frontman Justin Courtney Pierre blesses headphones yet again with more solo material: "Horse Racing" off his upcoming EP, out in November. Aside from his top-tier, irresistible vocal melodies, the alt-rock tone his solo stuff brings has always offered something new and refreshing.
Tony Bennett and Lady Gaga
Love for Sale
Love for Sale is bittersweet. It's another record where we get to hear Lady Gaga head back to basics with her affinity for jazz music, and it's the sequel to the great collab album Gaga and Tony Bennett released in 2014. But it is the last we'll hear from Bennett, an icon whose career has spanned seven decades, as he's officially retired after this LP. The 95-year-old puts in a solid shift on Love for Sale, showcasing once again that his chemistry with Gaga is unmatched.
Ed Sheeran
"Shivers (Acoustic)"
Before Ed Sheeran was churning out bedroom bangers in his sleep, his beginnings had him cutting innocent tracks with just himself and an acoustic guitar. It's why his acoustic versions now feel so special. The stripped down version of his latest hit, "Shivers", is a decent alternative to the heavily pop-produced original, evoking similar vibes if listening to both back-to-back.
Other new releases:
The Rolling Stones – "Trouble's A' Comin"
Skylar Grey – "Last One Standing"
Marshmello – "Chasing Stars"
Limp Bizkit – "Dad Vibes"
Halsey – "I'm not a woman, I'm a god (Hot Chip Remix)"
Kane Brown, H.E.R. – "Blessed and Free"
Elton John – "After All (feat. Charlie Puth)"
Cheat Codes – "Hurricane"
Ashnikko – "Panic Attacks in Paradise" / "Maggots"
VALLEY – Last Birthday
Years & Years – "Crave"
Courtney Barnett – "Write a List of Things to Look Forward to"
Oh Wonder – "Don't Let the Neighbourhood Hear"
Wallows – "I Don't Want to Talk"
KISS – "Beth (Acoustic Mix)"
Kali Uchis – "fue mejor (feat. SZA)"
Chelsea Cutler – "Devil On My Shoulder"
Remi Wolf – "Anthony Kiedis" / "Front Tooth"
Wet – "Far Cry"
JoJo – trying not to think about it EP
Twice – The Feels EP
Sting – "Rushing Water"
CL – "Lover Like Me"
T-Pain – "I Like Dat (feat BIA & Kehlani)"