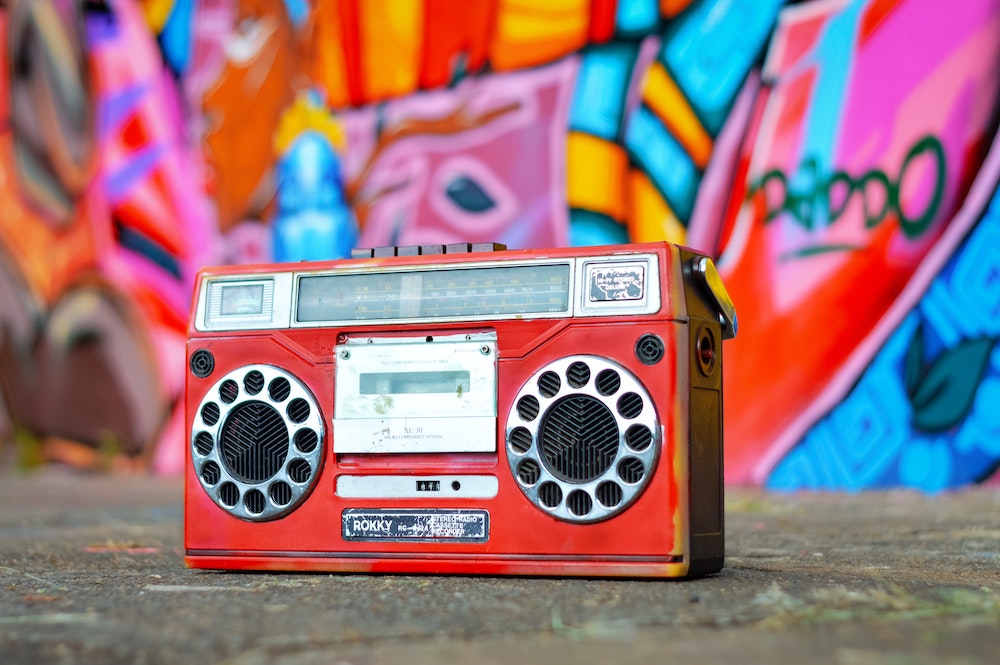 What better way to kick off a weekend than with new music? Fridays are always chock full of the latest songs and albums ready to be the soundtrack to everyone's antics, and here you'll find some of the week's standout releases. Whether you're ready to spin an anticipated song from a favorite artist or just taking a look at what's out there, there's a whole lot of tunes to dive right into. Who knows—maybe you'll find your next obsession.
Cheat Codes & All Time Low
"Ghost Story"
EDM trio Cheat Codes link up with All Time Low for the jam-and-a-half "Ghost Story". You could have said it was just an ATL song and it'd be believable; Cheat Codes are definitely subtle with their production, letting Alex Gaskarth & Co. work their magic to make the track major repeat material.
State Champs
"Outta My Head"
The only flaw with "Outta My Head", State Champs' new single, is it's September and not June. The band follows up their comeback tune with something even better, doubling down on the hooks to give it a classic State Champs feel that made everyone fall in love with them from the start.
The Band CAMINO
The Band CAMINO
The Band CAMINO are on the verge of blowing up and their self-titled LP is simply undeniable. 14 songs is the sweet spot here, providing a hefty pop record that's devoid of any skips and puts their talent on full display. Between channeling their inner boyband on "I Think I Like You" to dishing arena anthems in "Just a Phase", the record makes a case for one of the strongest pop debuts in a while.
Hawthorne Heights
The Rain Just Follows Me
The Hawthorne Heights bread and butter of clean vocals vs. screams are done masterfully yet again on The Rain Just Follows Me, the band's seventh full-length. JT Woodruff's vocal melodies are the best they've ever been and some of the best tracks are the ones that almost have a Third Eye Blind vibe.
Angels & Airwaves
"Spellbound"
Each song Angels & Airwaves drops from their new album solidifies the fact it is going to be pretty freakin' good. "Spellbound" is another solid offering—the industrial-esque verses that bloom into a spacey chorus suits Tom Delonge and his vocal prowess wonderfully.
Four Year Strong
"Bitter Sweet Symphony"
Four Year Strong knows how to deliver a cover—look no further than their covers record Explains It All. They make a good case for why there should be a part two of it with their take on The Verve's "Bitter Sweet Symphony", adding their FYS rock signature to the 90s classic.
Zebrahead
"A Long Way Down"
You can always count on Zebrahead to bring the noise—"A Long Way Down" brings it and then some. This ripper hits more on the pop-punk side of things rather than the ska-rock/rap-metal, but they've proven to shapeshift within styles with ease for the past 20+ years.
Green Day
"Rock and Roll All Nite
(Live From Hella Mega)"
With the Hella Mega Tour having recently wrapped up its U.S. leg, Green Day's cover of "Rock and Roll All Nite" makes sure the party doesn't stop. The crowd is going nuts, the band's having a blast—all that's missing is a full-length recording from it. Someone make it happen?
Tyler Posey
Drugs
Teen Wolf turns into Adult Emo on Drugs, the latest solo EP from actor/singer Tyler Posey. While certainly not his first go at the music thing, this batch of songs is pretty good. He's got a gravelly voice akin to Machine Gun Kelly and producer John Feldmann is there to make sure there's an emphasis on the pop in pop-punk.
Ed Sheeran
"Shivers"
Ed Sheeran's "Bad Habits" hasn't hit number one yet but "Shivers" is here to steal its thunder. Handclaps galore, a mesmerizing beat and some well-placed guitar strums means it's the perfect formula for Sheeran to reign supreme on everyone's radios and inside their brains once again.
Sam Hunt
"23"
"23" is Sam Hunt's first release since his sorta-ok Southside album. Luckily this track takes his sound in the direction of his very excellent debut LP. The banjo adds some twang to what's otherwise your regularly scheduled romantic country pop song. But Hunt just knows how to do it better than the rest.
Other new releases:
Radiohead – "If You Say the Word"
Dan Andriano & the Bygones – "The Excess"
Our Last Night – "Beggin'"
Thrice – "Summer Set Fire to the Rain"
Hey Violet – "Bitter Pill"
Kacey Musgraves – "Simple Times" / star-crossed
Troye Sivan – "Angel Baby"
Billy Talent – "End of Me"
Portugal. The Man, Aaron Beam – "Don't Tread On Me"
Lana Del Rey – "Arcadia"
G-Eazy – "The Announcement"
Sabrina Carpenter – "Skinny Dipping"
Baby Keem, Kendrick Lamar – "range brothers"
J. Balvin – JOSE
SZA – "Anonymous Ones"
Chlöe – "Have Mercy"
Gryffin – "Piece of Me (with LOVA)"
Maxo Kream, Tyler, the Creator – "Big Persona"
Glass Animals – "I Don't Wanna Talk (I Just Wanna Dance)"
Fickle Friends – "Love You to Death"
Alicia Keys – "LALA (Unlocked) (feat. Swae Lee)"
Remi Wolf – "Guerilla" / "Sexy Villain"
Chelsea Cutler – "Calling All Angels (feat. Quinn XCII)"
Serena Carpenter – "Skinny Dipping"
Stereophonics – "Hanging on Your Hinges"
MUNA – "Silk Chiffon (feat. Phoebe Bridgers)"
Sofia Reyes, Becky G – "Mal de Amores"
Ari Lennox – "Pressure"
Syd – "Right Track (feat. Smino)"
Masked Wolf – Astronomical 
Metallica – The Black Album (Remastered)
Andy Grammar – "Damn It Feels Good to Be Me"
Eddie Vedder – "Long Way"
Lorde – "Te Ao Mārama / Solar Power"
mxmtoon –  true colors (from Life is Strange)
Monsta X – "One Day"
Common, PJ – "Majesty (Where We Gonna Take It)"
BLANCO – Blu Celeste
Tai Verdes – "A-O-K with 24kGoldn"
Serena Isioma – "Voulez Vous Me To…"
Alessia Cara, The Warning – "Enter Sandman"
PRETTYMUCH – "I Don't Wanna Leave (feat. Jeremih)"