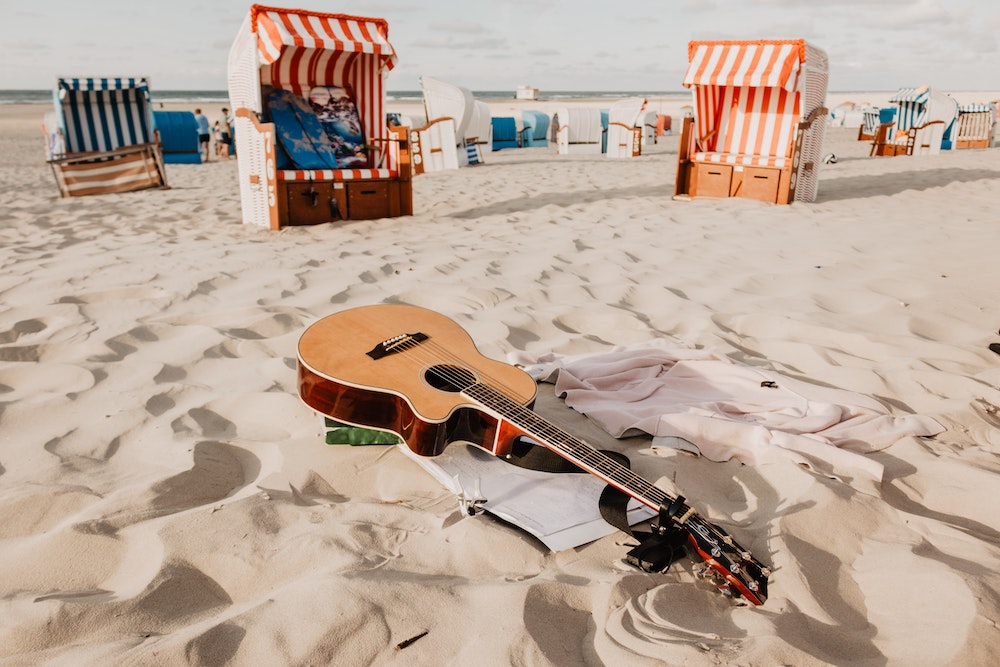 What better way to kick off a weekend than with new music? Fridays are always chock full of the latest songs and albums ready to be the soundtrack to everyone's antics, and here you'll find some of the week's standout releases. Whether you're ready to spin an anticipated song from a favorite artist or just taking a look at what's out there, there's a whole lot of tunes to dive right into. Who knows—maybe you'll find your next obsession.
Machine Gun Kelly
"Papercuts"
Machine Gun Kelly and Travis Barker are back for round two. The first single off MGK's forthcoming record, born with horns, picks up where the duo left off on Tickets to My Downfall in terms of intensity. "Papercuts" is a hard-hitting rock tune that goes in the direction of alternative rather than straightforward pop-punk.
The Killers
Pressure Machine
With their second album in less than a year, The Killers deliver a powerful collection of songs with little fanfare. Pressure Machine is a concept album inspired by frontman Brandon Flowers' life growing up in a small town in Utah. Snippets of townsfolk speaking before each track add a level of authenticity, followed up by songs equally true, ranging from acoustic cuts ("Runaway Horses") to full-on rock anthems ("In the Car Outside").
Hawthorne Heights
"The Rain Just Follows Me"
Hawthorne Heights know how to keep things fresh after nearly 20 years in the game. "The Rain Just Follows Me", the title track off their new album, is something you won't find too much of in the rest of their catalog. The breezy number is devoid of any post-hardcore DNA and it's some of the best stuff they've ever written.
Blackbear
Misery Lake EP
Blackbear finds the happy medium of hip-hop and explosively catchy, stuck-in-your-brain-forever pop on his Misery Lake EP. The personnel behind the writing and production is largely the same as always with Blackbear but the songs are far more refined. Also, the Travis Barker-assisted "IMU", an immediate highlight, shows a proper Barker/Blackbear collab was long overdue.
Ben Platt
Reverie
Ben Platt has undoubtedly found himself as a solo artist on Reverie. No longer will he be solely attached to his Broadway work—which his debut album felt like an extension of—as Reverie takes his bold vocals and drapes them across an ode-to-80s-pop soundscape.
Dan + Shay
Good Things
Dan + Shay's Good Things sounds like it was generated by an algorithm meant to make a hit album. If you like that sorta thing, you're in for a fantastic pop record. But really, it's a compliment to the duo—they know what works and they do it better than anyone on their fourth LP.
Thrice
"Robot Soft Exorcism"
Close your eyes and you might think you're listening to a Radiohead song with Thrice's new one "Robot Soft Exorcism". Maybe it's a lazy comparison—it's the drums here that really make it feel like something out of In Rainbows—but Dustin Kensrue's gravelly vocals end up separating Thrice from others with ease. It's another great track off their new album.
Luke Hemmings
When Facing the Things We Turn Away From
5 Seconds of Summer's progression over the past couple of years has allowed Luke Hemmings to truly spread his wings on his debut solo album; it's almost hard to believe it's coming from the same guy who wrote "She Looks So Perfect". The lo-fi rock tones help accentuate the intimacy of the LP, leaving Hemmings in his most vulnerable position lyrically.
Meet Me @ the Altar
Model Citizen
Every track off Model Citizen, Meet Me @the Altar's debut EP, is an absolute ripper. It's rare you see a band so young yet sound like such seasoned veterans of the craft, but these songs are emphatic pop-punk gems that open the door for a very exciting future.
Dan Andriano & the Bygones
"Sea Level"
Dan Andriano, the man of many sounds, is always making music even if his main gig in Alkaline Trio is quiet for now. His latest venture is not from his In The Ambulance moniker but rather something completely new; "Sea Level" introduces Dan Andriano & the Bygones with a rousing pop-rock tune equipped with a melodic chorus.
Lizzo
"Rumors" (feat. Cardi B)
It's felt like forever since Lizzo was taking over the charts; her comeback single "Rumors" sounds like she never left. Featuring Cardi B, the energy these two emit can't be denied on the jazzy R&B-pop hybrid.
Other new releases:
Cody Simpson – "Castle Walls"
Aly & AJ – "Pretty Places" (St. Lucia Remix)
Kygo – "Love Me Now (feat. Zoe Wees)"
This Wild Life – "If It's Cool With You, I'm Cool With Being Through"
Swae Lee – "Ball is Life"
Dua Lipa and Elton John – "Cold Heart"
Alessia Cara – "The Use in Trying"
POORSTACY – "Party at the Cemetery"
X Ambassadors – "Adrenaline"
Billy Idol – "Bitter Taste"
Cheat Codes – "All Things $ Can Do (feat. Travis Barker & Tove Stryke)"
Courtney Barnett – "Before You Gotta Go"
Jungle – Loving In Stereo
Ladyhawke – "Think About You"
Sean Paul & Ty Dolla $ign – "Only Fanz"