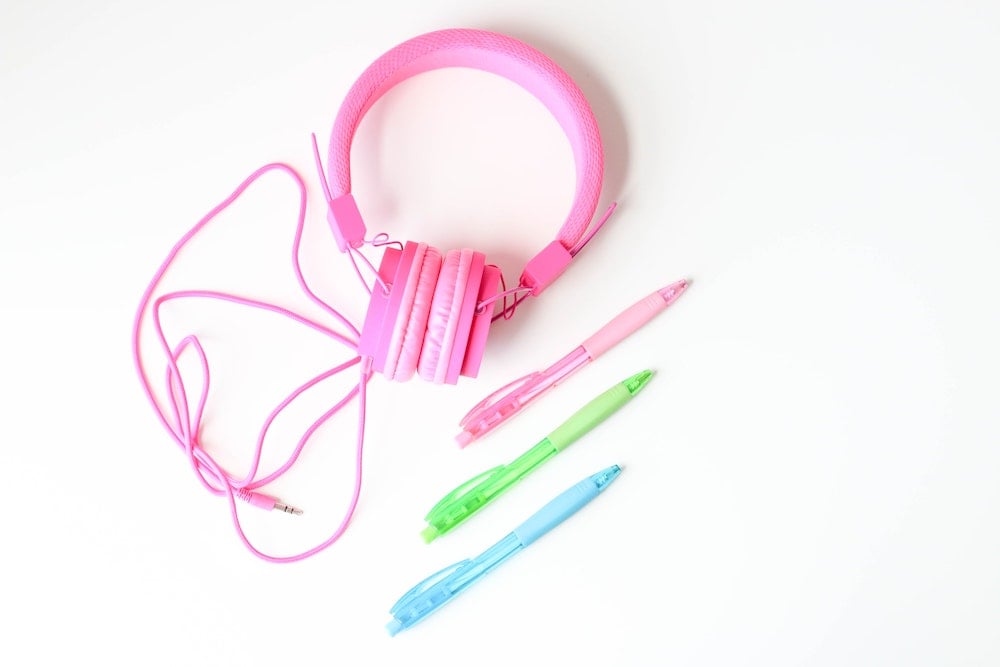 What better way to kick off a weekend than with new music? Fridays are always chock full of the latest songs and albums ready to be the soundtrack to everyone's antics, and here you'll find some of the week's standout releases. Whether you're ready to spin an anticipated song from a favorite artist or just taking a look at what's out there, there's a whole lot of tunes to dive right into. Who knows—maybe you'll find your next obsession.
Thrice
"Scavengers"
Frontman Dustin Kensrue opens up "Scavengers", Thrice's new single, with his signature smokey tone, atop bouncing rhythmic guitars. It's a dreamy rock number for the band who are gearing up for their 11th full-length. Horizons / East is out in September.
Hawthorne Heights
"Constant Dread"
Hawthorne Heights has a formula that has worked for the past 20 years. "Constant Dread", the first taste off their upcoming album, is like getting together with an old friend. The catchy pop chorus eventually transitions into a post-hardcore breakdown, thanks to a feature from Counterparts' Brendan Murphy, rounding out everything there is to love about HH in the first place.
Lil Nas X
"Industry Baby"
Despite a sold out Kanye West event for his new album, this Kanye-produced Lil Nas X track may be the only sure thing we're getting from him this weekend. Not a bad thing—the beat on this one is gigantic thanks to well-placed horns and a confidence from Lil Nas X that others can't come close to.
Lorde
"Stoned at the Nail Salon"
Lorde's sunkissed summer continues with "Stoned at the Nail Salon", an airy acoustic ballad following up her otherwise cheery lead single "Solar Power". The vibe of the two are similar and it's become very clear that this new LP will be unlike anything Lorde's done before.
MxPx
"Say Yes"
Nothing screams summer quite like an MxPx banger and that's what they've given here with the absurdly catchy "Say Yes". Featuring Rivals singer Kalie Wolfe, she helps provide a fantastic vocal melody that turns the track into an easy MxPx classic.
Coheed & Cambria
"Shoulders"
Thunderous riffs and a big-time hook is all that's needed to make an effective Coheed & Cambria song. "Shoulders" arrives in epic fashion, delivering a track with a nostalgic aggression but made for 2021.
Neck Deep
"When You Know" (Live from Lockdown)
This live performance of "When You Know" peels back the shine that Neck Deep typically adds in the studio to reveal a raw and authentic version that any fan can appreciate. A good song is a good song—"When You Know" is certainly that and it doesn't have a problem flourishing here.
Descendents
9th & Walnut
Technically in the works since the 1970s, 9th & Walnut is a punk-rock relic. Descendents unearth some of the earliest material ever written as a band as part of a package that sees the line-up from 1996's classic Everything Sucks jamming together once again.
Against the Current
Fever
Fever is far and away the most complete body of work that Against the Current has released since they started. The seven-track EP is the wonderful blend of alt-rock with hints of pop when needed, and frontwoman Chrissy Costanza only solidifies herself as one of the most badass in the genre.
Coldplay
"Coloratura"
Spoiler alert: Coldplay unveiled the 10-minute closer off their new album. It's kind of weird to release the last song on an LP before its release, especially when it's a certified epic like "Coloratura", but I can't blame you if your eager ears decide to check it out. Lush with beautiful instrumentation and unreal production, the only thing this one might spoil is the fact that their upcoming album is going to be special.
Anberlin
As You Found Me
Months after the "lockdown livestream" of their live rendition of Dark is the Way, Light is the Place, the audio is here for our listening pleasure. Arguably one of Anberlin's best records, the way they re-work the songs make it sound miles ahead of its album version; it'll have you rushing for tickets to their nearest show ASAP.
Boys Night Out
Nevermind 2
Life was simpler back in the days when downloading something off a sketchy file sharing program ran the risk of turning your PC into melted computer goop. Then you had to face your parents and tell them why they can't use email anymore. Because you were 13 years old and downloaded a Boys Night Out song that ended in .exe instead of .mp3. Personal trauma aside, the influential post-hardcore band is making revisiting the past easier with Nevermind 2, a collection of demos put together with their first EP, You Are My Canvas, from 2001. It's rough, raw, but essential BNO in all its original glory.
Other new releases:
Prince – "Hot Summer"
Pop Smoke – Faith (Deluxe)
Simple Plan – "What's New Scooby-Doo"
Waterparks – "Snowglobe" (Autograf vs Waterparks)
Rise Against – "Nowhere Generation" (Acoustic)
Twin XL – Slow Heart Reimagined EP
Our Last Night – "Clouds"
Childish Gambino – "Stay High"
Camila Cabello – "Don't Go Yet"
The Kid Laroi – "Not Sober"
Luke Hemmings – "Motion"
James Blake – "Say What You Will"
Khalid – "New Normal"
Kanye West – Donda
Anne-Marie – Therapy
J Balvin – "Wherever I May Roam"
Logic – "Call Me"
HVME – "Alright (feat. 24kGoldn & Quavo)"
Lindsey Buckingham – "On the Wrong Side"