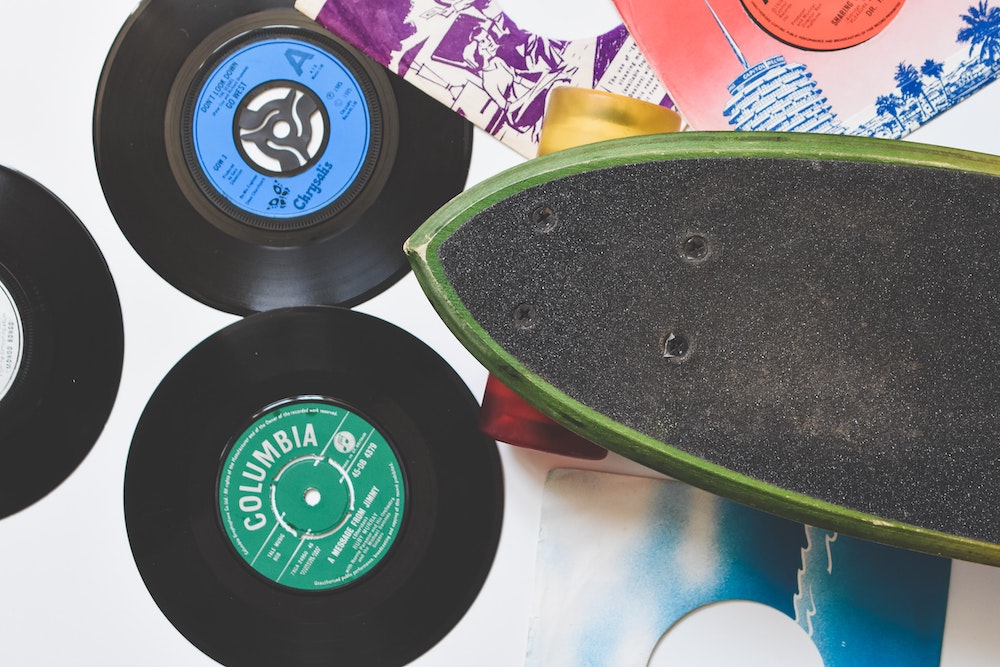 What better way to kick off a weekend than with new music? Fridays are always chock full of the latest songs and albums ready to be the soundtrack to everyone's antics, and here you'll find some of the week's standout releases. Whether you're ready to spin an anticipated song from a favorite artist or just taking a look at what's out there, there's a whole lot of tunes to dive right into. Who knows—maybe you'll find your next obsession.
KennyHoopla
Survivors Guilt: The Mixtape
Travis Barker is not shy about collaborating with artists. It's impossible to even keep track of everything he's done so far this year. But some stand out more than others; one being his joint project with artist KennyHoopla. The 8-song offering has Barker's pop-punk influence draped all over, between his percussion prowess, producing, and songwriting that sounds straight out of a Blink-182 studio session. Of course, credit to Kenny for pulling it off—he makes the hooks soar, most notably in "Turn Back Time".
The Front Bottoms
"Voodoo Magic"
Kicking things off with an unforgettable riff, "Voodoo Magic" from The Front Bottoms is everything you want from the indie duo. The unconventional sing-talk vocals make way for an infectious chorus, but where the song shines is in its aforementioned guitar that features Alkaline Trio/Blink-182's Matt Skiba.
Neck Deep
"Lowlife" (Acoustic)
The acoustic versions continue for Neck Deep, dishing out a stripped-down version of "Lowlife". Instead of turning it into a ballad of sorts, the band insists on keeping the same level of energy throughout, making fans of the original instant fans of this version, too.
Bowling for Soup
"Where's the Love" (feat. Hanson)
If Bowling for Soup makes you go "huh?"—they've done their job. For the band's latest song, they cover the 90s Hanson hit "Where's the Love" featuring none other than Hanson themselves. You have to hear it to believe it.
Weezer
"Tell Me What You Want"
Weezer's "Tell Me What You Want" is a diss track to music critics—one that we take very, very personally. We just want bangers, Weezer. Is that too much to expect?

Note: this song is, fortunately, kind of a banger.
—
Lorde
"Solar Power"
Lorde's return comes wrapped in a carefree fashion, enlisting Bleachers' Jack Antonoff to bring out the best in the summery new single "Solar Power". Drenched in light acoustic strums and incredible harmonies, this change of pace redefines what it means to usher in a new era.
AFI
Bodies
Bodies by AFI walks the line between evolving musically and revisiting roots, resulting in an LP that embraces all sides of the influential rock band. Among the standouts is the punk-tinged "Escape from Los Angeles" but the one that deserves praise — and is also one of the band's personal favorites — is the mostly-acoustic atmospheric cut "Tied to a Tree".
Between You & Me
"Supervillain"
Pop-punkers Between You & Me are nearly unrecognizable on their new track "Supervillain"—to the point where even calling them 'pop-punkers' might be inaccurate. The pivot to a more rock-than-pop sound is a bit similar to the progression Neck Deep made. It's entirely genuine and still catchy enough that they haven't lost an essential part of what makes them who they are.
Maroon 5
Jordi
You know what you're going to get when it comes to new Maroon 5. Adam Levine & Co. have a formula — it works — and they do it again here on Jordi, with a few new elements added to the mix. Overall, the record has an overarching chilled-out pop vibe AND more guests on an LP than ever before AND they all work rather well. It's another decent M5 album, so you probably already know if you're going to like it or not.
Marshmello
Shockwave
Just in time for summer, Marshmello delivers a dance floor staple with his fourth record Shockwave. Moving away from the self-titled naming scheme shows that the DJ is also catering more to the clubs than the radio—the stabbing synths of "House Party" and the house-styled "Back in Time" will keep the party fueled indefinitely. This unfortunately means the Jonas Brothers' collab on "Leave Before You Love Me" is left off of the track listing (but you can always add it as a pretend bonus track).
Bo Burnham
Inside (The Songs)
Comedian Bo Burnham puts his popular one-man-show Inside on streaming services, letting you take the humorous, relatable, and at times, dark, pandemic-themed tunes on the go. It doesn't have the context of the actual show to go along with it, of course, but Burnham's music rarely needs it — the songs are great and standalone perfectly on their own.
Other new releases:
Migos – Culture III
Bleachers – "How Dare You Want More"
Ben Platt – "Imagine" (Acoustic)
Nothing,nowhere. – "Upside Down" (Mothica Remix)
Lady A – "Things He Handed Down"
EXO – Don't Fight the Feeling
Olivia O'Brien – Episodes: Season 1
X Ambassadors – "My Own Monster"
BANNERS – "Serenade"
UPSAHL – "Melatonin"
Scott Helman – "Old Friends"
Monsta X – "Gambler"
Sleater Kinney – Path Of Wellness
AJ Mitchell – "One More Fight"
H.E.R. – "We Made It"
Jessie J – "I Want Love"
Doja Cat – "Need To Know"
French Montana – "FWMGAB"
Goo Goo Dolls – "Nothing Can Change You"
Lindsey Buckingham – "I Don't Mind"
Kylie Minogue – "Marry The Night"
Megan Thee Stallion – "Thot Shit"
SAiNt JHN, SZA – "Just For Me (Space Jam: A New Legacy)"
Valley – "SOCIETY"
Tyler Posey – "Happy"