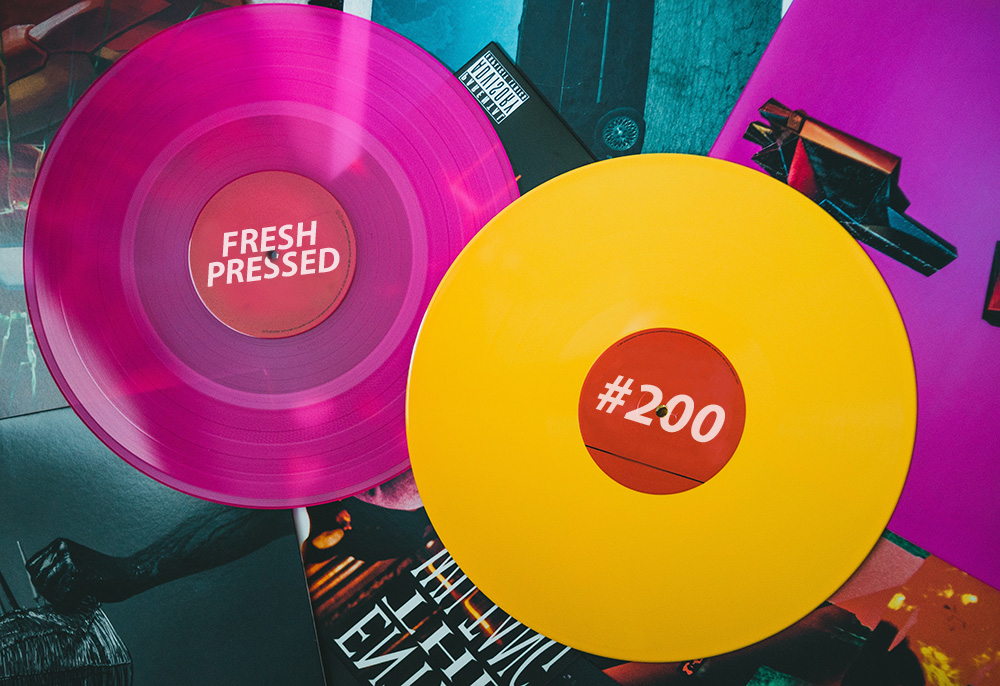 What better way to kick off a weekend than with new music? Fridays are always chock full of the latest songs and albums ready to be the soundtrack to everyone's antics, and here you'll find some of the week's standout releases. Whether you're ready to spin an anticipated song from a favorite artist or just taking a look at what's out there, there's a whole lot of tunes to dive right into. Who knows—maybe you'll find your next obsession.
The Maine
"Lips"
Bouncy with a jolt of serotonin, The Maine know how to set the mood with their new song "Lips". Taken off their upcoming album, the tune is a major beach vibe with fun lyrics to boot—if "lips do more than just kiss" doesn't make its way into an Instagram caption in the near future, you're doing it wrong.
All Time Low
"Once in a Lifetime" (Acoustic)
Alex Gaskarth's voice only gets better with age—it's the highlight of the acoustic rendition of All Time Low's explosive single "Once in a Lifetime". ATL has always been great acoustically, ever since they were teenagers. So pop on a good pair of headphones and hear how they kill it once again.
Hawthorne Heights
"This Is Who We Are"
In 2006, Hawthorne Heights were Warped Tour staples, rising MTV darlings, and had a massive record release with If Only You Were Lonely—a mainstream-ready post-hardcore record that still holds up to this day. "This Is Who We Are" is reimagined for the LP's 15th anniversary and, while the rest of the redone tracks should emerge in the near future, the nostalgia here can hold us over. It largely stays true to the original but some vocal alterations keep us wondering how the rest of the new versions will measure up.
Sum 41
"Catching Fire" (feat. Nothing,nowhere.)
An alternate version of Sum 41's "Catching Fire" adds the talented Nothing,nowhere. to the mix, improving a song already solid to begin with. Taking over a verse for himself, he slots into the poppy tune with ease—it's a collaboration that sounds a little weird on paper but it ends up working well.
Our Last Night
"Cold Blooded"
Giving covers a rest, post-hardcore veterans Our Last Night get back to delivering original material with the venomous "Cold Blooded". Featuring hearty screams, smooth clean vocals, and even some rap elements thrown in there, it's a refreshing combo of old and new.
AFI
"Tied to a Tree"
AFI guitarist Jade Puget calls the newly-released "Tied to a Tree" his favorite song off the upcoming Bodies. Most importantly, he says it represents the evolution of AFI as a whole. The near five-minute epic is multifaceted in its soaring chorus with eerie acoustic strumming that surrounds the verses.
As It Is
"IDGAF"
The ever-changing As It Is pulls off something different yet again on their new single "IDGAF". Growly vocals set the stage for a carefree attitude and an aggressive songwriting approach, but the catchy chorus lets the listener know the band hasn't strayed too far off their path.
Thursday
Waiting
Full Collapse might be what comes to mind when you think of Thursday's first album but the influential rock outfit had a record called Waiting that was truly their debut. Released in 1999, the record has been reissued on streaming services and vinyl. It's raw and unpolished AND it's the album that started it all.
Four Year Strong
BRNPN RMX
Four Year Strong's remix EP takes everything you thought you knew about the band and throws it out the window. The three song collection is composed from tracks off their latest Brain Pain LP, giving them a major makeover from their pop-punk originals. The concept is appreciated—it's certainly interesting hearing glitchy electro pop surround "Worst Part About Me", for instance, but it's more of a novelty than something you'll go back to for repeated listens.
Other new releases:
Hey Violet – "Dear Love"
Marshmello & Carnage – "Back in Time"
Juice WRLD – "734"
DMX – Exodus / "Bath Salts (feat. JAY Z & Nas)"
Little Mix – "Confetti" (Acoustic)
JoJo – "Creature of Habit"
BTS – "Butter" (Hotter Remix)
Poppy – "Fear Of Dying"
You Me At Six – "Voicenotes"
The Veronicas – Godzilla
Rebecca Black – "Worth It For The Feeling"
Sleater-Kinney – "High In The Grass"
Jonas Blue – "Hear Me Say (feat. Leon)"
Ladyhawke – "Mixed Emotions"
Modest Mouse – "Leave A Light On"
ONE OK ROCK – "Broken Heart of Gold"
Bad Bunny, Laur La L – "ONE MILLONES"
J Balvin, Maria Becerra – "Qué Más Pues?"
Oliver Tree – "Life Goes On"
PnB Rock – "Forever Never (feat. Swae Lee & Pink Sweat$)
Audrey Mika – "Alive"
MØ – "Live to Survive"
Mokita – "Clear Eyes"
Dynoro – "Monsters (feat 24kGoldn)"