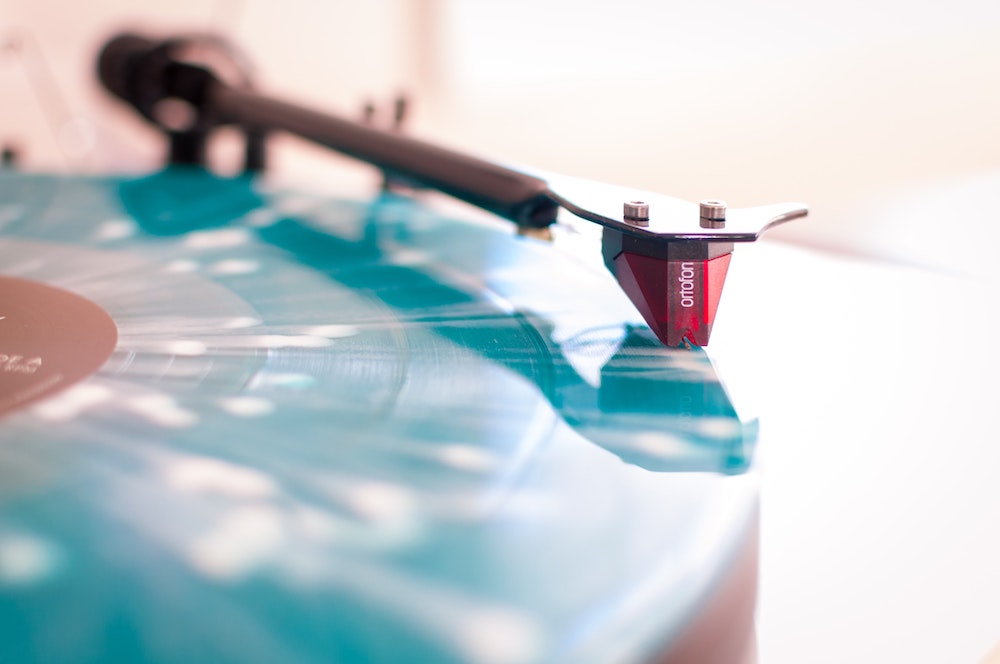 What better way to kick off a weekend than with new music? Fridays are always chock full of the latest songs and albums ready to be the soundtrack to everyone's antics, and here you'll find some of the week's standout releases. Whether you're ready to spin an anticipated song from a favorite artist or just taking a look at what's out there, there's a whole lot of tunes to dive right into. Who knows—maybe you'll find your next obsession.
AFI
"Looking Tragic" / "Begging for Trouble"
AFI debut two new songs off their upcoming full-length Bodies that shows two sides of what to expect. "Looking Tragic" is melodic and dancey, while "Begging for Trouble" falls into a rockier realm. With the record produced by guitarist Jade Puget, you know it's going to be authentic AFI, regardless of the genre.
Waterparks
"Snow Globe"
In an attempt to grow even bigger since their last LP, Waterparks drop a pop-friendly single to introduce their upcoming album out in June. "Snow Globe" practically takes the band into boyband territory in a smart and unconventional way, which is pretty much how Waterparks has always operated from their start.
Post Malone
"Only Wanna Be With You
(Pokémon 25 Version)"
"Hey, you hear that Pokémon version of Post Malone's Hootie & the Blowfish cover?"
Not exactly the sentence that you'd expect to ever say. But it's a reality thanks to the 25th anniversary celebration of Pokémon and Post Malone's participation. He's chosen the Hootie classic "Only Wanna Be With You", turning the rock tune into something more mellow with almost a country vibe to it.
NOFX
Single Album
NOFX are straight to the point on Single Album, which also has one of the more straightforward titles you'll ever see. It is, in fact, a single album—a reference to the fact that it was supposed to be a double album before the pandemic hit. Still, the legendary punk band churns out a half hour of fan-friendly tunes, including the self-aware "Linewleum" that explores why a 1994 song of theirs became NOFX's biggest track.
Green Day
"Here Comes the Shock"
Green Day isn't going down that easily. Despite a less than impressive LP last year, they come back swinging with a tune more in line with what you'd come to expect from them in "Here Comes the Shock"—just in time to rule arenas this coming summer. It's mostly just a chorus but it's an effective one.
The Offspring
"Let the Bad Times Roll"
"Let the Bad Times Roll" is a major head-bopper from The Offspring, who are preparing a new album for the first time since 2012. With lyrics dedicated to the current state of things in the world, it's a track about rebelling in the face of uncertainty.
Architects
For Those That Wish to Exist
For Those That Wish to Exist was crafted by Architects to make a statement in arenas but for now it'll do a number on your speakers. The metal act go radio-rock on this 15 track behemoth, bringing heavy riffs on "Goliath" while providing anthemic, near-poppy qualities to "Black Lungs".
The Juliana Theory
"If I Told You This Was Killing Me,
Would You Stop?"
Almost two decades since making their major label debut and subsequently calling it quits, The Juliana Theory head back in time for new material this year. On their upcoming release the rock band reimagines their old gems, letting a new audience experience what were (and are still) some great songs. The reimagined version of "If I Told You This Was Killing Me, Would You Stop?" puts an acoustic spin on the rock original with much smoother vocals.
WSTR
"All the Rage"
WSTR are back with perfected pop-punk hooks in the catchy "All the Rage", their first bit of new material in almost two years. While they've always got their own distinct sound, the new jam is an odd concoction of Machine Gun Kelly-style verses with a killer Sum 41-esque chorus.
Nick Jonas
"Spaceman"
Seeing a lone 'Nick Jonas' name attached to a song in 2021 shouldn't be a cause for concern that the Jonas Brothers revival was short-lived. Since they can't tour, it's the perfect time for him to get back into the solo groove—"Spaceman" says it was worth it. The R&B-tinged single is a valiant return for the singer as he readies a new album out in just a few weeks.
Other new releases:
Madison Beer – "Blue"
Slayyyter – "Clouds"
Goody Grace – "On Repeat (feat Cigarettes After Sex & Lexi Jayde)" / Don't Forget Where You Came From
Aloe Blacc – "Other Side"
Chloe x Halle – "80/20"
FINNEAS – "What Will They Say About Us"
Wonho – "Ain't About You (feat. Kiiara)"
The Band Camino – "1 Last Cigarette"
Wolf Alice – "The Last Man on Earth"
Dinosaur Jr. – "I Ran Away"
Paul Weller – "Cosmic Fringes"
Zara Larsson – "Look What You've Done"
Alice Cooper – Detroit Stories
Eric Church – "Never Break Heart"
Sheppard – Kaleidoscope Eyes
Pop Smoke – "AP (from the film Boogie)"
Drakeo the Ruler, Drake – "Talk to Me"
Daddy Yankee – "PROBLEMA"
Alesso & Armin van Buuren – "Leave A Little Love"
Wolf Alice – "The Last Man on Earth"
Elle King, Miranda Lambert – "Drunk (And I Don't Wanna Go Home)"
Yung Bae – "Disco Body Parts (feat. AWOLNATION)"
Jhene Aiko – "Lead the Way (from the film Raya and the Last Dragon)"
Julien Baker – "Heatwave"
Leon Bridges, Keite Young – "Like a Ship"
Ant Clemons – "June 1st"
Tank – "Can't Let It Show"
Chadster feat. 6lack – "Sin"