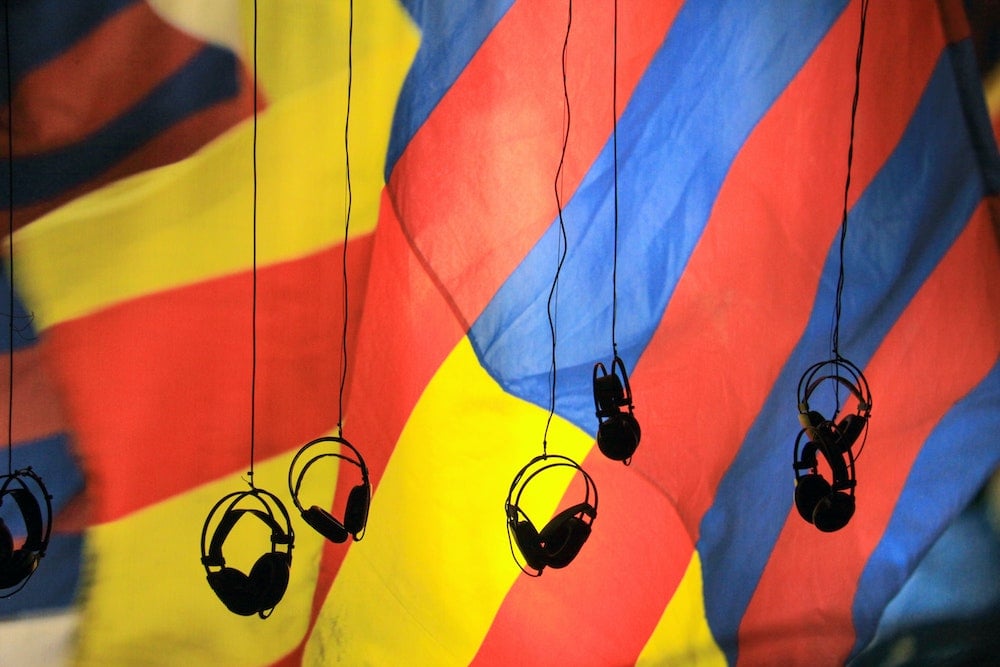 What better way to kick off a weekend than with new music? Fridays are always chock full of the latest songs and albums ready to be the soundtrack to everyone's antics, and here you'll find some of the week's standout releases. Whether you're ready to spin an anticipated song from a favorite artist or just taking a look at what's out there, there's a whole lot of tunes to dive right into. Who knows—maybe you'll find your next obsession.
Hayley Williams
Flowers for Vases / descansos 
In a move similar to Taylor Swift and her companion record, Evermore, Hayley Williams continues her Petals for Armor story with an entirely new album titled Flowers for Vases / descansos. It's ultimately a more stripped-down effort compared to her solo debut but both records feel essential to who Williams is as an artist.
Foo Fighters
Medicine at Midnight
The "na-an-na"s that kick off Medicine at Midnight's opener, "Making a Fire", makes you double-check that you're listening to a new Foo Fighters record to begin with. While it's certainly not the same band that brought you "The Pretender", their desire for stadium rock remains the same—just doused in a pop coat of paint.
Dan + Shay
"Glad You Exist"
Barely two and a half minutes long, Dan + Shay take care of business on "Glad You Exist"— a straightforward country pop smash, which seems to be the only thing these guys know how to do. No complaints here.
Eve 6
"Black Nova"
The resurgence of Eve 6 hasn't been on the radio (well, maybe on idobi Radio for awhile)—it's been entirely through social media. They've been hard to ignore on Twitter over the past few months, so can that translate effectively to new music? "Black Nova" is the first we're hearing from the alt-rock trio's upcoming EP, showcasing a darker, grittier rock sound meant to slay the Alt radio charts.
Our Last Night
"Anyone"
Our Last Night is at their best with covers when they let vocalist Trevor Wentworth run the show. Their take on Justin Bieber's "Anyone" is definitely rock-oriented, but leaving out the breakdowns and screams leaves room for the vocals to do the track justice.
NOFX
"F**k Euphemism"
"F**k Euphemism" is a breakneck punk song at its core, but its deeper lyrical content has NOFX exploring gender identity and the notion that everyone should be free to express themselves as they are. It's an important message and one that's very punk rock at that.
Rezz
"Sacrificial" (feat. PVRIS)
DJ and producer Rezz enlists PVRIS for her glitchy pop single "Sacrificial". The experimental qualities mesh well with what PVRIS was doing on their most recent record, so the collaboration here makes perfect sense. It's repetitive but it knows how to keep your attention.
We the Kings
Saga
Travis Clark knows how to write a catchy song. He's been perfecting his craft for years with We the Kings and it's at its apex now with the self-produced Saga. The 6-track EP is loaded with hooks—"The Light", a ballad co-written by Simple Plan, is major repeat-material.
Cardi B
"Up"
There's simply no follow-up to "WAP" that could possibly match its dominance. Cardi B gives her best effort with "Up", a head-bopping tune reminiscent of her earlier mixtape material that helped put her on the map.
idobi Legacy:
The Spill Canvas
"Molecules"
The Spill Canvas haven't released an album in nearly a decade and you wouldn't be able to tell they've spent any time away. "Molecules", their latest single, is a perfect blend of pop rock and their patented indie-acoustic stylings. Guest vocals from Sherri Dupree-Bemis are sublime, lighting the track up and making it shine to its full potential.
Other new releases:
Dolly Parton – "5 to 9"
Blackbear – "Dirty Laundry" (slowed)
Allie X – "Glam"
FINNEAS – "American Cliche"
Daya – "Bad Girl"
Goody Grace – "Grape Swisher"
Martin Garrix – "Pressure (feat. Tove Lo)"
Sam Fischer, Demi Lovato – "What Other People Say"
Sia, David Guetta – "Floating Through Space"
SG Lewis – "One More (feat. Nile Rodgers)"
Cheat Codes – "Hate You + Love You (feat. AJ Mitchell)"
Victoria Monet – "F.U.C.K"
H.E.R. – "Fight For You" from the motion picture Judas and the Black Messiah 
Oliver Tree – "Out Of Ordinary"
Chet Faker – "Get High"
VIC MENSA – "SHELTER ft Wyclef Jean, ft Chance the Rapper"
Young Rog – "Bullshit (with Summer Walker)"
Alice Cooper – "Social Debris"