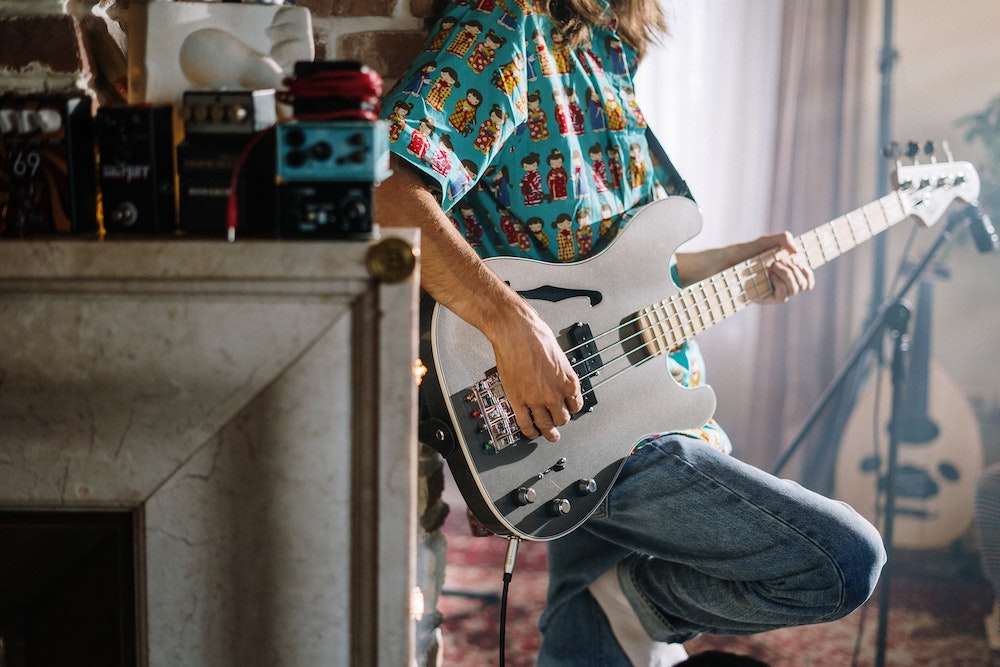 What better way to kick off a weekend than with new music? Fridays are always chock full of the latest songs and albums ready to be the soundtrack to everyone's antics, and here you'll find some of the week's standout releases. Whether you're ready to spin an anticipated song from a favorite artist or just taking a look at what's out there, there's a whole lot of tunes to dive right into. Who knows—maybe you'll find your next obsession.
Taylor Swift
Evermore
It's a very 2020 thing to have the biggest name in music release not just one album with zero promo but two. Swift "couldn't stop writing" after her acclaimed Folklore LP came out earlier this year, leading up to the surprise sister-record. Evermore features many of the same qualities of its predecessor. That's not to say Evermore is just Folklore b-sides—the 15-tracks are masterfully brought to life with her crew, Jack Antonoff and Aaron Dessner. Even surpassing the best Folklore had to offer thanks to toe-tappers like "Long Story Short" and the fiery "No Body, No Crime".
Twenty One Pilots
"Christmas Saves the Year"
Twenty One Pilots craft a Christmas tune that's apt for all seasons with the mid-tempo "Christmas Saves the Year". Some subtle jingle bells help make it festive but it's worth spinning over and over again due to its groovy yet soulful vibe.
Less Than Jake
Silver Linings
Nearly 30 years in the game. Still got it. Less Than Jake releases their ninth full-length Silver Linings—a stark reminder that ska is still alive and well. The youthfulness here is among its strong suits as the band low-key adds some interesting elements to the mix, like reggae influences doused in pop-punk perfection.
nothing,nowhere.
"Fake Friend"
Trap beats burst into an array of head-banging pop-punk on nothing,nowhere.'s eclectic single "Fake Friend"—off the upcoming record Trauma Factory. Record label Fueled By Ramen will be kicking off a big 2021 with a release that'll potentially be glued to your playlists for a large chunk of the year.
Shawn Mendes
Wonder (Deluxe)
Shawn Mendes' bold and ambitious Wonder makes an even bigger impact in its newly-released deluxe edition. Tacked onto the end of the record is a collection of live renditions of a number of the songs, performed stripped-down but never stripped of the emotion that Mendes conveys oh so well. Perhaps the highlight is a little holiday treat in the form of "The Christmas Song", an adorable duet with Camila Cabello.
Hayley Williams
"Simmer" (Acoustic)
Here's a reminder not to forget Hayley Williams'Petals for Armor on your end of the year lists. This acoustic version of its standout track "Simmer" is the complete opposite of its album counterpart. And that's what makes it so impressive. Forgoing the electronic elements, her soft guitar strums are a tranquilizing listening experience.
Every Time I Die
"A Colossal Wreck" / "Desperate Pleasures"
Two new tracks from Every Time I Die arrive fresh in your ears this weekend, ending a four-year music-less gap since their 2016 LP, Low Teens. While their ninth album isn't expected until later next year, the blistering singles keep the hype heavy—especially considering that Low Teens producer Will Putney is back yet again to work his magic.
Bayside
Acoustic Vol. 3
Bayside completes their trilogy of acoustic records with Acoustic Vol. 3—a series in the making since 2006. While this offering is more an EP compared to Vol. 1 and 2's longer length, the tracks here make an impact, whether it's the newly-written
"Light Me Up" or the classic "Poison in my Veins". Vol. 3, all in all, is a palate cleanser of sorts for the band who are coming off their heaviest record to date with last year's Interrobang.
Deftones
White Pony (20th Anniversary Deluxe Edition)
Some album anniversaries make you groan; you don't really want to acknowledge the fact that a record you remember coming out just hit a big birthday. Some album anniversaries deserve it, though—Deftones'White Pony is one of them. Celebrating 20 years, the iconic metal act's third LP is packaged with a remix album, sporting revamps from Mike Shinoda, Robert Smith, and more.
Other new releases:
Kid Cudi – Man on the Moon III: The Chosen
Juice WRLD, The Kid LAROI – "Reminds Me Of You"
Noah Cyrus – "All Three"
Gwen Stefani – "Let Me Reintroduce Myself"
The Band Camino – "Roses"
Victoria Justice – "Treat Myself"
Imogen Heap – "Last Night Of An Empire"
Chad Tepper, DREAMERS – "I Wanna Be Your High"
Jake Miller – "SIMPLE LIFE"
Mokita – "Don't Leave the Light On"
Frank Iero and the Future Violents – "Sewerwolf"
VALLEY – sucks to see you doing better (extended)
Victoria Monet – A Jaguar Christmas: The Orchestral Arrangements
Ari Lennox – "Grounded"
Eric Church – "Doing Life With Me"
SHAED – "Once Upon A Time"
Jack Harlow – That's What They All Say
The Neighbourhood – "Stargazing"
Madison Beer – "BOYSHIT"
Belle and Sebastian – What to Look for in Summer
Chris Cornell – No One Sings Like You Anymore
Foster The People – In the Darkest of Nights, Let the Birds Sing EP
Peter Bjorn and John – Endless Play EP
Tate McRae – "r u ok"
Channel Tres, Tyler, The Creator – "fuego"
Chance the Rapper – "The Return"
James Blake – "Covers"
G-Eazy, Goody Grace – "Years To Go"
Daddy Yankee, Marc Anthony – "De Vuelta Pa La Vuelta"
H.E.R – "Holds Us Together (from the Disney+ Original Motion Picture "Safety")"
Rudimental – "Be the One (feat. MORGAN, Digga D & TIKE)"
Big Freedia – "Better Be (feat. Flo Milli)"
Elle King – "Another You"
POORSTACY – "Hills Have Eyes"
Passenger – "Remember to Forget"
Britney Spears – "Matches (feat. Backstreet Boys)"
Felix Jaehn & Cheat Codes – "I Just Wanna (feat. Bow Anderson)"