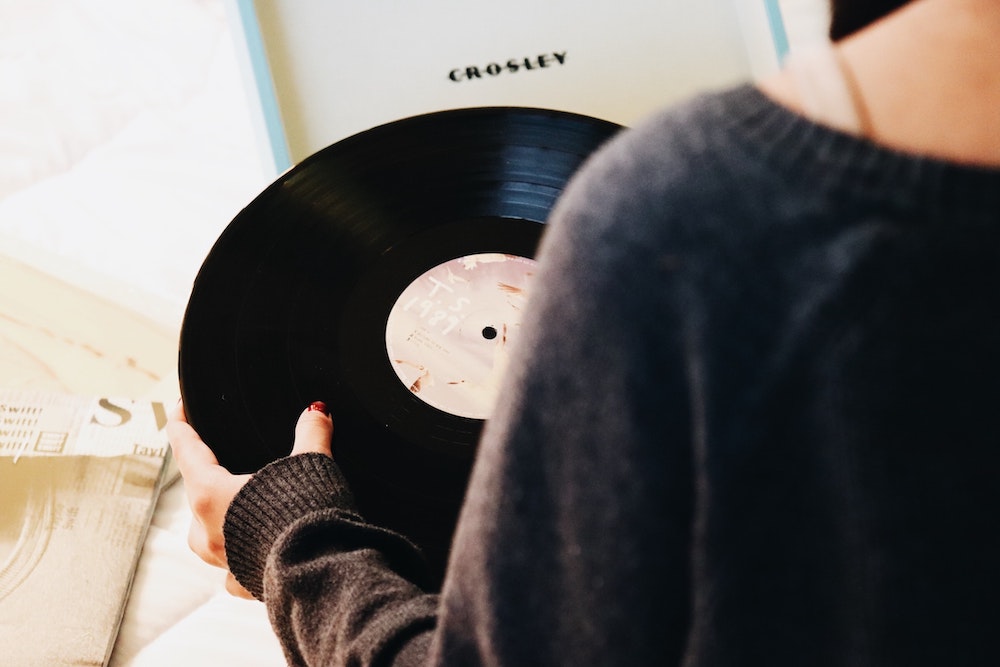 What better way to kick off a weekend than with new music? Fridays are always chock full of the latest songs and albums ready to be the soundtrack to everyone's antics, and here you'll find some of the week's standout releases. Whether you're ready to spin an anticipated song from a favorite artist or just taking a look at what's out there, there's a whole lot of tunes to dive right into. Who knows—maybe you'll find your next obsession.
Bring Me the Horizon
Post Human: Survival Horror
After hitting a career peak with their last record, Amo, Bring Me the Horizon's latest EP sets the bar for their future even higher. Post Human: Survival Horror doesn't follow Amo's radio-rock tendencies, instead taking things in a more experimental direction that weaves in metal and electronic elements for a rousing performance only BMTH could pull off.
Ariana Grande
Positions
Putting out three albums in three years is overkill for your normal pop star; Ariana Grande is not your normal pop star. On Positions, she creates a hip-hop/R&B hybrid that recalls the best from the 90s while putting her own spin on things. It's not exactly a new Ariana that we're hearing here, but she's at her best when she's simply being herself.
Sam Smith
Love Goes
The COVID-19 pandemic altered Sam Smith's release plans in a number of ways, pushing a May release to November and inspired a title change from To Die For to Love Goes. It's a big shift, especially when you consider none of the songs they released beforehand ended up making the final cut. But with this new-look LP from Smith, the soulful pop album turns out as solid as it was shaping up to be before
the delays.
Anti-Flag
20/20 Division
Political punk heroes Anti-Flag quietly dropped a killer record earlier this year titled 20/20 Vision. Now, with the election looming, there's no better time for them to throw it back out there with a re-release—especially as the band insists that "the mission hasn't been accomplished yet". Featuring five new songs, this deluxe edition lets you throw one of the year's best punk records back into rotation.
Senses Fail
Through Being Ghoul
Nothing says Halloween like Misfits. Senses Fail get into the spooky spirit by covering the horror-punk legends' "We Are 138" and "Attitude" as part of an offering titled Through Being Ghoul—which is maybe the best title ever created. Given Senses Fail's punk roots, the band recreates the tracks effortlessly as vocalist Buddy Nielsen alters his voice a bit for a more authentic experience.
Carly Rae Jepsen
"It's Not Christmas Till Somebody Cries"
"It's Not Christmas Till Somebody Cries" captures the holiday spirit by just being real. An anthem to surviving the Christmas season with a quirky family, the cheerful tune makes you appreciate original holiday tracks so much more—especially when Carly Rae Jepsen is at the helm.
Jonas Brothers
"I Need You Christmas"
A Christmas ballad is an early present from the Jonas Brothers. "I Need You Christmas" is a string-laden, piano, cocktail-hour tune, and the heavenly
harmonies make it worth going out of your way to make sure this one is top of the holiday playlist.
The Maine
"Watermelon Sugar"
The Maine covering Harry Styles almost makes too much sense. "Watermelon Sugar" already sounds like a track that The Maine could dish out if they went this route, so what's the alternate reality looking like now that we can experience it for ourselves? Like the original, The Maine captures that summery essence with more of a classic rock flavor to it.
Billie Joe Armstrong
"That's Rock n Roll"
Green Day frontman Billie Joe Armstrong is making us all forget about his band's weirdly awkward LP released earlier this year. His set of covers of classic oldies has been a nice change of pace for the singer, reminding us that his pipes are still as smooth as ever. The latest cover, "That's Rock n Roll", is a rendition of the 1970s hit that brings it into the modern age.
Against the Current
"That Won't Save Us"
Against the Current kicks off a new era with an absolute ripper in "That Won't Save Us". Throwing their pop sensibilities out of the window, the track is a guitar-centric aggressive number that we haven't heard from the trio before. Growth doesn't always go in the best direction, but ATC only knows how to get better as the years go on in their still-young career.
Other new releases:
Descendents – "On You" 
Our Last Night – "Fire in the Streets" 
Dua Lipa, Angele – "Fever" 
Mod Sun – "Karma" 
Alicia Keys – "A Beautiful Noise" 
TOMORROW X TOGETHER – miniepisode1: Blue Hour
Paloma Faith – "Gold"
FEVER 333 – "IN THE END"
grandson –  "One Step Closer"
American Teeth – "Barred Out [Feat. TWIN XL]"
Zella Day – "Crazy Train"
Emeli Sande – "Breathe"
UPSAHL – "Young Life Crisis"
Busta Rhymes – "Lover Over Your Shoulder (feat. Kendrick Lamar)"
Noah Gundersen – "Styrofoam" / "Drawing out the Line"
The Knocks – "All About You (feat. Foster The People)"
Bishop Briggs – "WALK YOU HOME"
Sheppard – "Animals"
Smashing Pumpkins – "Wyttch" / "Ramona"
Bad Bunny, Jay Cortez – "Dakiti"
MEDUZA, Dermot Kennedy – "Paradise"
BENEE – "Plain (feat. Lily Allen & Flo Milli)"
French Montana – "Double G (feat. Pop Smoke)"
Loud Luxury, Frank Walker, Stephen Puth – "Like Gold"
H.E.R – "Hold On"
Alesso, Charlotte Lawrence – "THE END"
nothing,nowhere – "blood (feat. KennyHoopla & JUDGE)"
TWICE – "Eyes Wide Open"
R3HAB – "Am I the Only One (feat. Astrid S & HRVY)"
De La Soul – "Remove 45 (feat. Styles P, Talib Kweli, Pharoahe Monch, Mysonne, Chuck D)
Static & Ben El, Black Eyed Peas – "Shake Ya Boom Boom"
Bright Eyes – "Miracle of Life (feat. Phoebe Bridgers)"
Kelly Clarkson & Brett Eldredge – "Under the Mistletoe"
Goo Goo Dolls – It's Christmas All Over
Ones To Watch:
grouptherapy. – "wish u were here"