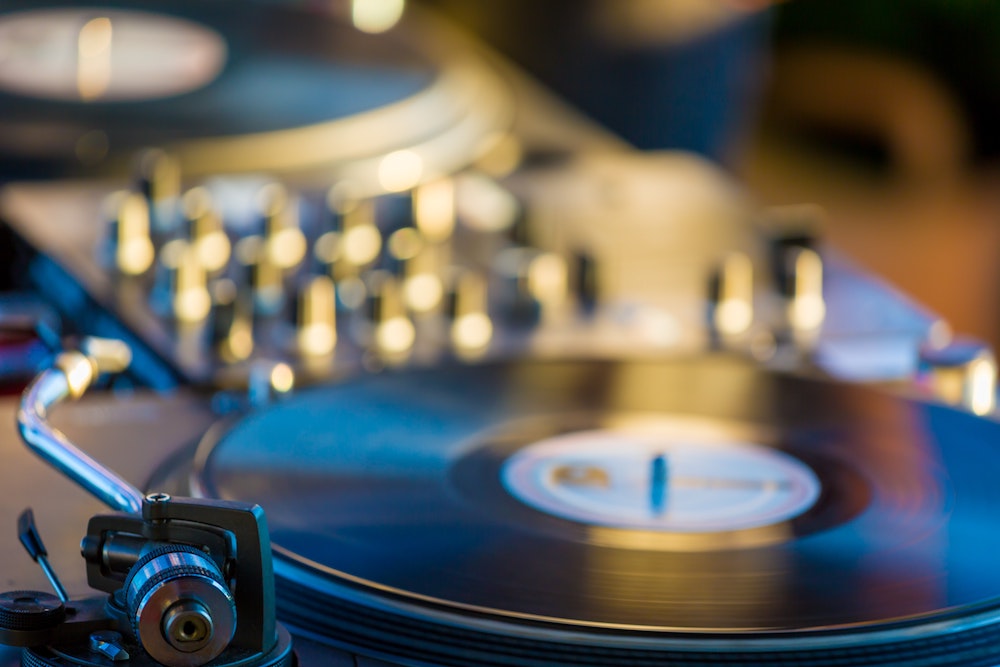 What better way to kick off a weekend than with new music? Fridays are always chock full of the latest songs and albums ready to be the soundtrack to everyone's antics, and here you'll find some of the week's standout releases. Whether you're ready to spin an anticipated song from a favorite artist or just taking a look at what's out there, there's a whole lot of tunes to dive right into. Who knows—maybe you'll find your next obsession.
Machine Gun Kelly
"Body Bag"
Even though everyone's still hyped up over Machine Gun Kelly's latest LP, he saved the best for later with the deluxe edition sporting a few extra tracks. The standout, and probably the best of the entire bunch, is the explosive "Body Bag" featuring YUNGBLUD and The Used's Bert McCracken. It could have been a Used song in the first place as it effortlessly meshes pop-punk/post-hardcore stylings.
Laura Jane Grace
Stay Alive
Against Me! frontwoman Laura Jane Grace channels the uncertainty of 2020 into her second full-length, Stay Alive, capturing lyrical honesty and folky tones throughout the 14 songs. Though she had originally planned to make a new AM! record this year, a solo offering is a fine consolation considering the circumstances. Produced by Steve Albini of Nirvana's In Utero fame, Stay Alive's creation on analog equipment helps add to its stripped-back personality.
Linkin Park
"In the End" (Demo)
It was awesome 20 years ago—it's even cooler in demo form. Linkin Park unveils the demo of their iconic hit "In the End" as part of the 20th anniversary of their breakout record Hybrid Theory, and it's jarring how different it is compared to the original. With the verses completely changed up and a rawness to the vocals, it makes you appreciate just how well-crafted the album version is.
Demi Lovato
"Still Have Me"
Always one to wear her heart on her sleeve, Demi Lovato doesn't back away from letting it all spill out on the new song "Still Have Me". The ballad comes just days after announcing the end to her engagement and it hits hard with impactful piano and vocals to gush over. The powerful gospel-esque chorus is a testament to Lovato's strength even in her time of heartbreak.
Miley Cyrus
"Heart of Glass"
Miley Cyrus brings a modern punch to Blondie's "Heart of Glass", incorporating a rock vibe to the 70s disco smash. Cyrus' pipes are hardly as smooth or easy on the ears as Blondie's Debbie Harry but the bite to her rendition makes it irresistible.
Blackpink
The Album
Blackpink has been preparing the population for world domination for a while now, and it all leads up to their new, aptly titled album, The Album. Featuring the previously released banger "Ice Cream", there's a lot more where that came from: "Bet You Wanna" with Cardi B is a major highlight while the attitude of "Pretty Savage" is undeniably fun.
Shawn Mendes
"Wonder"
A new Shawn Mendes era is just what the year needed. With his next album out in December, "Wonder" kicks things off in full force with an ethereal love song that is ripe with optimism and lush in its instruments. It's setting the stage marvelously for yet another Mendes gem.
Bohnes
"Send in the Machines"
The month of October and Bohnes have proven to be quite the iconic duo over the years. Coming up on five years since launching his dark pop solo project, singer/songwriter Alex DeLeon has used his Bohnes moniker to explore the darker side of life that seemed to be too aggressive for his main act The Cab. "Send in the Machines", his latest single, is a high-octane rock anthem shifting between his patented pop croon and an intense vocal snarl.
Seaway
"Still Blue"
Nostalgia runs rampant on Seaway's new track, "Still Blue". Not only is it yet another solid offering from their forthcoming full-length, but the chorus melody is also something right out of Third Eye Blind's playbook—you'll be humming "Wouldn't it be nice to stay sedated?" all weekend long.
Less Than Jake
"Lie to Me"
Less Than Jake hasn't released an album in seven years but the ska-punk legends don't have to shake off any rust on the new single "Lie to Me". Off their new album, Silver Linings, the tune is ripe with horns and a carefree groove that they've been delivering for nearly 30 years.
The Hunna
I'd Rather Die Than Let You In
The Hunna are all about branching out when it comes to their new album, I'd Rather Die Than Let You In. On their third LP, the UK alt-rock act channel hip-hop influences on "Horror", while Travis Barker adds his drumming prowess to "Cover You". Producer John Feldmann helps add a pop shine throughout—most notably on the catchy Auto-Tune-drenched "One Second Left", co-written by Fall Out Boy's
Pete Wentz.
Other new releases:
LANY – "Heart Won't Let Me"
Acceptance – Wild, Free
The Night Game – "A Postcard from the City of Angels"
McFly – "Tonight is the Night"
Corey Taylor – CMFT
Eric Church – Hell Of A View
The Gorillaz – "The Pink Phantom (feat. Elton John and 6lack)"
mrgxn, Smallpools – "WONDER (reimagined by Smallpools)"
Leslie Odom Jr. – "Cold (feat. Sia)"
beabadoobe – "How Was Your Day?"
Corey Taylor – CMFT
Bishop Briggs – "HIGHER"
Ari Lennox – "Chocolate Pomegranate"
Anna of the North – "Someone Special"
Mariah Carey – The Rarities
21 Savage, Metro Boomin – SAVAGE MODE II
Megan Thee Stallion – "Don't Stop (feat. Young Thug)"
Bryson Tiller – "Out of Time (feat. Drake)"
Julia Michaels – "Lie Like This"
Ella Mai – "Not Another Love Song"
Dua Lipa – "Levitating (feat. DaBaby)"
Ruel – "say it over (feat. Cautious Clay)"
Maren Morris – "Better Than We Found It"
Jorja Smith, Popcaan – "Come Over"
Griff, HONNE – "1,000,000 x Better"
mxmtoon – dusk
Aloe Blacc – All Love Everything
Jojo – "The Change"
Mallrat – "Rockstar"
sad alex, gnash – "i'm glad that you found someone"
London Grammar – "California Soil"
Bon Jovi – 2020
Emeli Sande – "Prayed Up"