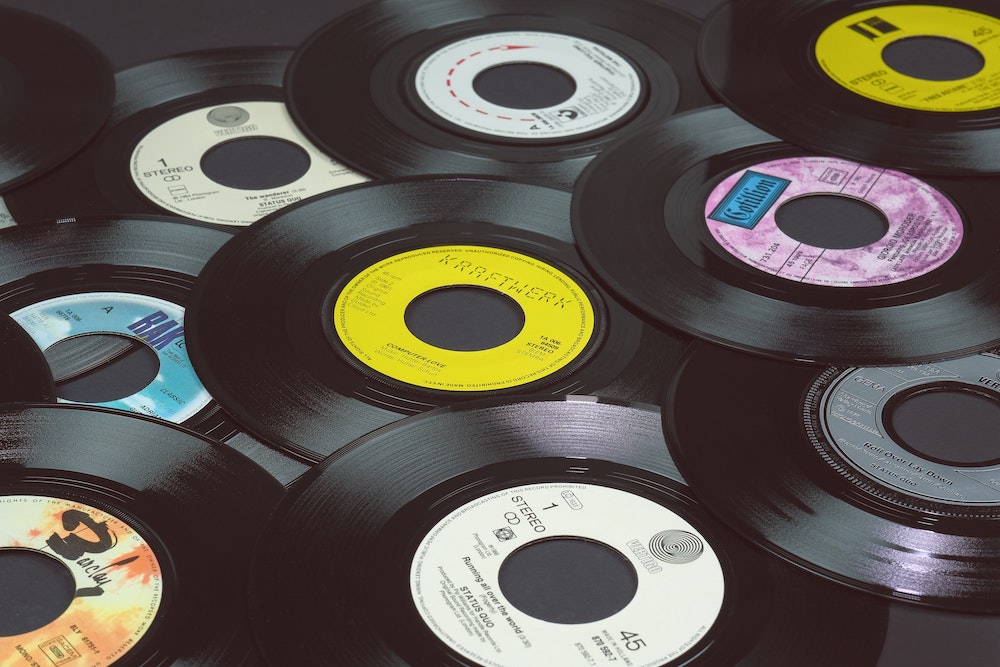 What better way to kick off a weekend than with new music? Fridays are always chock full of the latest songs and albums ready to be the soundtrack to everyone's antics, and here you'll find some of the week's standout releases. Whether you're ready to spin an anticipated song from a favorite artist or just taking a look at what's out there, there's a whole lot of tunes to dive right into. Who knows—maybe you'll find your next obsession.
Marshmello
"OK Not to Be OK" (feat. Demi Lovato)
Marshmello and Demi Lovato release an inspirational message as part of their new collab "OK Not to Be OK". Honoring World Suicide Prevention Day, the duo link up on a fun and breezy EDM tune. It doesn't give off any major smash vibes but it's probably not supposed to—it's clear the song has a purpose and both Marshmello and Lovato believe in the cause it supports.
Motionless in White
"Somebody Told Me"
Metal bands covering pop songs are generally a recipe for disaster but Motionless in White's "Somebody Told Me" isn't the most offensive thing in the world. They recreate The Killers' classic safely and faithfully and, in turn, effectively. Props to vocalist Chris Cerulli for picking a track that other bands wouldn't touch—and for emulating Brandon Flowers' inflections nicely.
Seaway
"Wild Things"
Three years is a long gap between records for pop-punk bands; Seaway is making it worth the wait. The group seemingly tosses every pop-punk cliché out the window for their new track, "Wild Things", redefining what it means to grow into a "mature" sound. The pop shine is still there, no doubt, but the fuzzy lo-fi style production separates this from anything Seaway has done in the past.
Mike Shinoda
"License to Waltz"
Linkin Park's Mike Shinoda has kept busy this year to say the least. The singer/songwriter has been churning out a rather neat concept with solo releases in his Dropped Frames series—a collection of albums made via Twitch with feedback from fans. Since volume one dropped in July, he's already planning volume three with "License to Waltz" providing our first taste. Like most Dropped Frames songs, the new tune relies heavily on the use of catchy electronics and frantic instrumentals.
Like Moths to Flames
"YOTM"
"YOTM" is unhinged. It lets the listener know from the second the track starts. The new single from metal act Like Moths to Flames never takes its foot off the gas pedal as hectic screams make way for an intense clean-vocal chorus—a dynamic that the band only seems to get better at.
Bad Religion
"Lose Your Head" (Demo)
It's hard to imagine doing anything for as long as Bad Religion has been a band but that's why the storied punk band are the kings of longevity. It's also hard to imagine how many demos the guys probably have—there are a lot of rough cuts that come into existence over 40 years. Maybe most aren't as polished as the demo for "Lose Your Head" though—an early version of the 2019 track they found worthy enough to debut to the masses. Different lyrics and a higher tempo are the main differences here from the version on last year's Age of Unseen.
Qveen Herby
"Chakras"
The former Karmin frontwoman has been quietly killing it with her more hip-hop focused solo project Qveen Herby. The eclectic rapper/singer impresses on her latest single "Chakras" where she harnesses her inner early '00s R&B when it comes to flow and production, making her a hidden gem in the genre.
David Guetta
"Let's Love" (feat. Sia)
Nearly a decade after its release, David Guetta and Sia's "Titanium" is still unforgettable. The two moguls join up again to try and recreate a similar kind of magic on "Let's Love", resulting in a charming ode to 80s disco with a modern Guetta spin thrown in. Sia's pipes work well on dang near anything but something about her on a track that's so feel-good makes it sound even more incredible.
Mxmtoon
"OK on Your Own" (feat. Carly Rae Jepsen)
Singer/songwriter mxmtoon's "OK on Your Own" is lighthearted, low key, and a fond farewell to summertime. And while she's known for supplying dancefloor anthems, Carly Rae Jepsen's pivot to this style is its own delight, too. The two have chemistry that is undeniable, making this collab of two very different artists work so well.
Other new releases:
Bruce Springsteen – "Letter to You"
Marilyn Manson – We Are Chaos
Alicia Keys – "Love Looks Better"
KIIARA, DeathbyRomy, PVRIS – "Numb"
Kane Brown – "Cool Again" (Stripped)
Gorillaz, Robert Smith – "Song Machine: Strange Timez"
Florida Georgia Line – "Long Live"
Of Monsters and Men – "Visitor"
James Black – "Godspeed"
Usher – "Bad Habits"
beabadoobee – "Worth It"
Sylvan Esso – "Frequency"
Jutes – "Say It First"
The Mowgli's , Kids In America – "La La"
Matt Berninger – "One More Second"
FLETCHER – The S(ex) Tapes / "Shh…Don't Say it"
Florida Georgia Line – "Long Live"
Janelle Monae – "Turntables (from the Amazon Original "All In: The Fight for Democracy")"
Ruel – "as long as you care"
Ludacris, Chance the Rapper – "Found You"
Keedron Bryant – I JUST WANNA LIVE
B.o.B (the flat earther) – Somnia
The Vamps – "Chemicals"
MISSIO – Can You Feel the Sun
Mr. Eazi, Major Lazer, Nicki Minaj – "Oh My Gawd (+ Diplo, K4mo)"
AViVA – "WICKED"
M.I.A. – "CTRL"