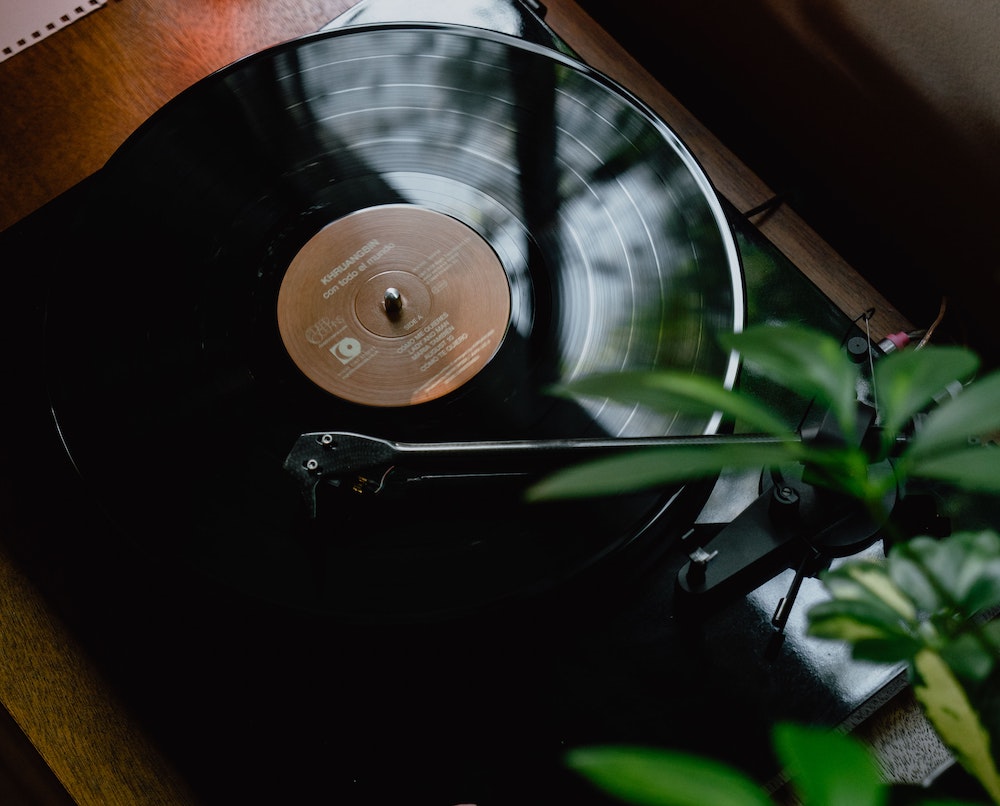 What better way to kick off a weekend than with new music? Fridays are always chock full of the latest songs and albums ready to be the soundtrack to everyone's antics, and here you'll find some of the week's standout releases. Whether you're ready to spin an anticipated song from a favorite artist or just taking a look at what's out there, there's a whole lot of tunes to dive right into. Who knows—maybe you'll find your next obsession.
Machine Gun Kelly
"Concert for Aliens"
Machine Gun Kelly is unironically a pretty incredible pop-punk artist. Maybe a little of it has to do with the inclusion of Travis Barker in MGK's Lockdown Sessions. Barker has seemingly been a part of this weekly list for what feels like forever, but there's no doubt that MGK has a natural ear for the pop-punk genre. "Concert for Aliens" has that dumb quirky lyrical content pop-punk deserves and—even though MGK's vocals aren't exactly seasoned for the style—the rawness gives it a fun personality we haven't seen from him before.
Stand Atlantic
Pink Elephant
It's rare that a sophomore record surpasses expectations but Stand Atlantic pulls it off and then some with their new LP Pink Elephant. The Australian pop-punk act became instant ones to watch with their 2018 Hopeless Records debut, as the full-length encapsulated everything essential from what you'd want from the genre: non-stop energy and hooks for days. Now Stand Atlantic has evolved from that, their energy and hooks are multiplied. More importantly, the writing combines pop-punk with a heavier straightforward rock tone at times.
Blink-182
"Quarantine"
"I thought that things were f***ed up in 2019.
F*** quarantine".
There are other songs like it but none quite capture the sheer emotion and frustration we all feel like blink-182's new song "Quarantine". Only two minutes long, the band packs a punch in a short amount of time—drums are massive and Mark Hoppus' urgency behind the mic complements the tempo. There's no Matt Skiba on this one but Barker and Hoppus hold their own for a solid Blink cut.
Juice WRLD
"Smile" (feat. The Weeknd)
Juice WRLD's chart reign won't be ending anytime soon. Mere weeks after posthumously releasing his Legends Never Die LP, The Weeknd is sharing a bonus collab with the rapper titled "Smile". It could have sonically fit on the record, sure, but the sheer star power here would have overshadowed the rest of the tracks. Now, the song can flourish on its own as The Weeknd masters his verse alongside Juice's personable lyrics.
All Time Low
"Monsters" (Acoustic – Live from Lockdown)
All Time Low's secret weapon is how unreal they are in a live setting. Whether on stage or live in studio, full-band or acoustic, there's a little bit of magic the band unleashes when it's simply them; sans the typical All Time Low production shine. Since they can't be on a stage right now, ATL presents a 'live from lockdown' acoustic rendition of their single "Monsters". Taken from their latest record, the stripped-down version adds a new element to the already great track by zeroing in on Alex Gaskarth's haunting delivery.

The Fall of Troy
Mukiltearth
The Fall of Troy take a trip down memory lane with their hiatus-ending record Mukiltearth. Before they became Troy, they were rocking basements as The 30 Years War; they revisit those tracks of old by re-recording them and adding brand new songs into the mix, too. It's interesting hearing songs nearly two decades old get a new lease on life. Meanwhile, the new tunes headlined by "We Are the Future" prove the guitar heroes have only gotten better with age.
Ashnikko
"Daisy"
"Born for TikTok" may be one of the highest accolades a song can receive these days. It's basically a blanket term that describes a track instantly accessible with qualities that are born to go viral—something Ashnikko's "Daisy" checks all the boxes for. The blue-haired rapper already had a taste of fame in 2019 with her Gold certified single "Stupid", but "Daisy" has eyes for something bigger. A trap beat with her infectious flow makes it the perfect fodder for not only TikTok but Billboard charts, too.
CHECK OUT THE BRAND NEW VIDEO RIGHT HERE:
—
—
American Hi-Fi
Anywhere Else But Here
The band responsible for one of the best radio pop-rock tunes ever can also claim the honor of one of the most unique cover records. American Hi-Fi, who slayed the airwaves and mixtapes nearly 20 years ago with the iconic "Flavor of the Weak", pays homage to the hits of old with their Anywhere Else But Here covers EP. Featuring songs by the likes of Elvis Costello and Joe Jackson, the band not only revamps non-traditional tracks to cover but puts a special spin on them to make them their own.
Cassadee Pope
Rise and Shine
Remember Hey Monday? The sugary pop-rock act fronted by country star Cassadee Pope can never truly be forgotten, not by those who used to jam the hell out of songs like "Homecoming". Turns out, Pope continues to have that same nostalgia calling—she channels it on Rise and Shine. No, it isn't a pop-punk-esque record. It's actually heavily acoustic but it delivers those vibes of late 00s acoustic pop that swept Purevolume. Even better: Pope re-does Hey Monday's track "Hangover" and it's as good as it's always been.
Other new releases:
Cardi B & Megan Thee Stallion – "WAP"
Icona Pop – "Feels in My Body"
Kane Brown – "Cool Again"
Bad Religion – "Faith Alone 2020"
PUP – "A.M. 180"
Tritonal – "Electric Kids"
FINNEAS – Blood Harmony (Deluxe)
645AR – "Sum Bout U (feat. FKA twigs)"
Bon Iver – "AUATC"
Lights, MYTH – "Outdoor Sports"
I Don't Know How But They Found Me – "Leave Me Alone"
beabadoobee – "sorry"
Yoke Lore – "Fade Away"
Troye Sivan – "rager teenager!"
Marshmello – "Be Kind (with Halsey) [stripped]"
Joji, Diplo – "Daylight"
Doja Cat – "Freak"
Glass Animals – Dreamland
Machine Gun Kelly & Blackbear – "My Ex's Best Friend"
Popcaan – "TWIST & TURN (feat Drake & PARTYNEXTDOOR)"
Rod Wave, DaBaby – "Rags2Riches 2"
BRONSON, ODESZA, Golden Features – BRONSON
David Guetta, HUMAN(X) – "Pa' La Cultura"
Luke Bryan – Born Here Live Here Die Here
Maddie & Tae, Avenue Beat – "Watermelon Sugar"
2Chainz, Lil Wayne – "Money Maker"
Gashi – 1984 / "Mama (feat Sting)"
Keith Urban – "Change Your Mind"
Darius Rucker – "Beers and Sunshine"
Palaye Royale – "Mad World"
Ava Max – "Kings & Queens Pt. 2 (feat. Lauv & Saweetie)"
Jojo – "What U Need"