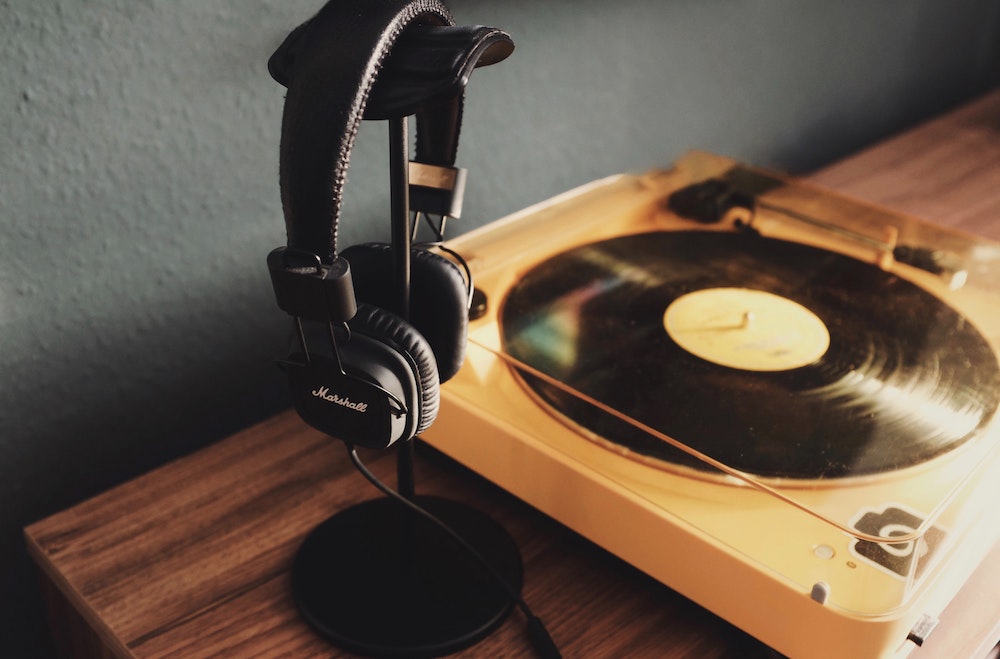 What better way to kick off a weekend than with new music? Fridays are always chock full of the latest songs and albums ready to be the soundtrack to everyone's antics, and here you'll find some of the week's standout releases. Whether you're ready to spin an anticipated song from a favorite artist or just taking a look at what's out there, there's a whole lot of tunes to dive right into. Who knows—maybe you'll find your next obsession.
Neck Deep
All Distortions Are Intentional
As polarizing as it is ambitious, Neck Deep'sAll Distortions Are Intentional is the album the UK band needed at this point in their career. While it still has plenty of pop-punk qualities—that longtime fans know and love—the emphasis on a more alt-rock vibe coupled with a conceptional theme sets it apart in Neck Deep's discography and the genre as a whole.
Taylor Swift
Folklore
Taylor Swift surprises are the best kinds of surprises. She unveils her eighth full-length album, Folklore, without nearly the lead-up that all her eras are known for. The lack of media fanfare is appropriate for the LP, though. Swift secluded herself in a remote location to write and record with the help of hired hands like Bon Iver and The National's Aaron Dessner. Of course, no Swift record is complete without Jack Antonoff—he's heavily involved in this record, too, and it culminates in a beautiful vulnerable indie-pop marvel.
Neon Trees
I Can Feel You Forgetting Me
Six years since their last effort, Neon Trees haven't missed a beat on I Can Feel You Forgetting Me. They aren't doing anything particularly different here than what they've done in the past, but we've sorely missed Tyler Glenn's hooks and 80s-inspired songwriting. It's all on full-display here.
Porter Robinson
"Get Your Wish"
(DJ Not Porter Robinson Remix)
Despite the title suggesting that Porter Robinson's latest "Get Your Wish" remix is not Porter Robinson doing the remixing, the remix is in fact Porter Robinson remixing Porter Robinson. Now that that's out of the way: The revamp of "Get Your Wish" is far bouncier and dance-driven than its counterpart. He makes it work but that floaty ethereal feel of the original simply can't be beat. No offense, Not Porter Robinson.
Maroon 5
"Nobody's Love"
"Nobody's Love" is far and away the most interesting Maroon 5 track in a very long time, even if it apparently took ten co-writers to craft it. After the snooze fest of last year's "Memories" (to be fair, a gigantic hit), the new single takes Adam Levine's melodies into a vibrant territory that calls for yet another smash.
State Champs
"10 AM"
Off their upcoming unplugged EP, State Champs delivers a future fan favorite in the new song "10 AM". Simplistic is the name of the game on this one and State Champs does that all too well. They find a way to give an energetic performance atop nostalgic guitar strums and steady percussion.
Logic
No Pressure
The pressure is finally over for Logic. The eclectic rapper announced his retirement with the release of his new LP No Pressure, closing the curtains on a massively successful career. He goes out with a bang as the record shines with top notch production and fantastic flow—marquee features of Logic ever since the beginning.
The Score
"All of Me" (feat. Travis Barker)
The Score—a bubbling rock act best described as a less flash Imagine Dragons—shows what star power can do by enlisting Travis Barker for drums and co-writing duties on their new track "All of Me". The drums are naturally the focal point in the mix and, while the drum work itself isn't anything out of the norm, the presence alone adds a value to the song that can only be created by Barker himself.
Sleeping with Sirens
"Talking to Myself"
Nearly a year after their solid record How It Feels to Be Lost, Sleeping With Sirens are gearing up for a deluxe edition due out in August. Packed with a number of acoustic versions, it will also feature their new single "Talking to Myself", a track carried by Kellin Quinn's shrieks that transform from sugar coated pop to devastating screams.
—
One to Watch: AK – "Good Thing"
If twenty one pilots hit those trap flows then the results would be the rapidfire blaze of AK.
Other new releases:
MisterWives – Superbloom
Little Mix – "Holiday"
Twin XL – "Problematic"
Jason Derulo – "Take You Dancing"
Noah Cyrus – "Dunno"
Kylie Minogue – "Say Something"
Sylvan Esso – "Ferris Wheel"
Gorillaz – "Pac-Man (feat. ScHoolboy Q)"
Lights, MYTH – "Batshit"
J Balvin, Dia Lupa, Bad Bunny "Un Dia (ONE DAY) (feat. Tainy)"
J. Cole – Lewis Street DUO
Headie One, Drake – "Only You Freestyle"
Ashe – "Save Myself"
Noah Cyrus – "Dunno"
Jaden – "Cabin Fever"
Chris Cornell – "Patience"
GOLDHOUSE, Mokita – "Washout"
070 Shake, Tame Impala – "Guilty Conscious (Tame Impala Remix)"
Little Mix – "Holiday"
Blake Shelton, Gwen Stefani – "Happy Anywhere"
The Avalanches – "Wherever You Go (feat. Jamie xx, Neneh Cherry, CLYPSO)" / "Reflecting Light (feat. Sananda Maitreya, Vashti Bunyan)"
Faithless – "This Feeling"
Lawson – "She Don't Even Know"
Lupe Fiasco – "Dinosaurs"