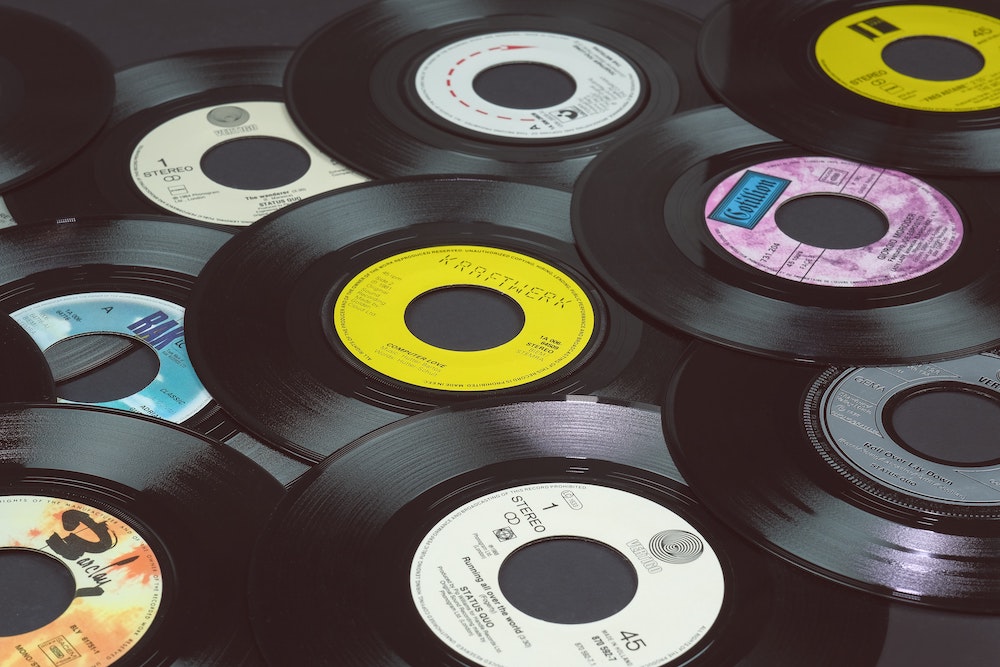 What better way to kick off a weekend than with new music? Fridays are always chock full of the latest songs and albums ready to be the soundtrack to everyone's antics, and here you'll find some of the week's standout releases. Whether you're ready to spin an anticipated song from a favorite artist or just taking a look at what's out there, there's a whole lot of tunes to dive right into. Who knows—maybe you'll find your next obsession.
American Hi-Fi
"Steppin' Out"
Part of a series of cover songs American Hi-Fi plan on releasing throughout the year, their take on Joe Jackson's 80s hit, "Steppin' Out", is true to the classic with an added oomph. Notably, the synth-pop elements that made Jackson's version so irresistible are still prominent, but the difference between the two is the band's larger-than-life percussion and guitars that make it a Hi-Fi original…
Read our Fresh Pressed Presents feature on the new song!
The 1975
Notes on a Conditional Form
The 1975 continue to push the envelope with their sound but, at this point, it's lost its luster in the best ways possible. You just come to expect excellency from the UK rockers and the fact that vocalist Matty Healy refuses to conform to anything that says traditional. On Notes on a Conditional Form things are more beautifully disjointed than ever before—folk songs are interspersed between dazzling instrumental segues; punk tracks follow-up a Greta Thunberg spoken word intro. There are pop-punk, 80s pop, and alt-rock tunes carefully embedded throughout the track listing to always keep you on your toes. And your head bobbing along, too.
Lady Gaga & Ariana Grande
"Rain on Me"
"Rain on Me" puts two of the most powerful women in music together, on a song that somehow lives up to its immeasurable hype. The disco-house track courtesy of Lady Gaga and Ariana Grande bleeds with chemistry between the two—which matches what Gaga has said about the collab in interviews—and it's also a callback to what made Gaga a global superstar in the first place, thanks to nostalgic production
from BloodPop.
Bohnes
"Ugly Habits"
Locked away for the past year or so creating a new Cab album, frontman Alex DeLeon revives his passion-project Bohnes for a blazing new single, "Ugly Habits". It almost sounds like it could be a new Cab song as it shies away from the typical Bohnes dark-pop DNA in exchange for a borderline pop-punk groove that has been inside DeLeon since day one. The Cab's first album in almost a decade is coming…eventually…but a new Bohnes solo cut satisfies during the wait.
Carly Rae Jepsen
Dedicated Side B
Carly Rae Jepsen is the gift that keeps giving. A year after her great Dedicated record, what is essentially an entirely new full-length, comprised of album leftovers arrives in the form of Dedicated Side B. It goes to show how consistent of an artist Jepsen is—she once again dishes a b-sides record that trump most of what actually gets released by other pop artists out there. Maybe next time just put out a double album? We won't mind.
Disclosure
"ENERGY"
Judge a book by its cover: Disclosure's "ENERGY" brings the energy and then some.  The electronic duo drops the title track and lead single for their forthcoming album, due out in August, building on the inventive sounds from February's EP, Ecstasy. While "ENERGY" is a solid house cut, the best may be yet to come given a track listing that lists acts like Kehlani and Common as collaborators.
The Weeknd
"In Your Eyes" (Remix) (feat. Doja Cat)
Doja Cat's chokehold on the summer months is looking more and more likely. After nabbing a number one hit with her "Say So" remix, featuring Nicki Minaj, the rapper/songwriter jumps on The Weeknd's "In Your Eyes"—and might just give it that push for another imminent hit. Her attitude fits in well with the jazzy pop soundscape of the track and she'll definitely be the next go-to artist when someone needs a juggernaut feature.
Cady Groves
"Bless My Heart"
It's still hard to comprehend the loss of Cady Groves—an immensely talented singer/songwriter who passed away earlier this month. She'd just completed an EP and it's going to see the light of day next week, with the single "Bless My Heart" leading her last batch of songs. The track is bittersweet. At its core, it's Groves taking the reins on a foot-stomping country tune but it's heartbreaking that she won't be able to see the praise it'll ultimately receive.
Neon Trees
"New Best Friend"
I Can Feel You Forgetting Me is the upcoming album from pop band Neon Trees—their first in six years and only ten songs at that. But Neon Trees is the kind of band you want releasing short albums as the songs are so dang addictive that the replayability is through the roof. See: "New Best Friend". The LP's closer is a disco-laden dance number that laughs in the face of dramatic album enders or pretentious ballads in place of simple care-free fun.
Train
"Rescue Dog"
In celebration of National Rescue Dog Day, this past week, Pat Monahan & Co. drop a song that reminds us that sometimes we as people can be saved, too. Musically, it's a departure for Train (no pun intended, but you're welcome) as Monahan crafts a track with a soaring chorus and sparkling instrumentation; it doesn't use features as a crutch like some of their latest singles have.
Other new releases:
Hot Chelle Rae – "Find You"
Twin XL – "Melt"
Tove Lo – "Sadder Badder Cooler" / Sunshine Kitty (Paw Prints Edition)
OneRepublic – "Better Days (with KHEA)"
Sia – "Together"
Haim – Don't Wanna EP
Ellie Goulding – "Power"
Deadmau5, The Neptunes – "Pomegranate"
Kyle – "What It Is"
Florida Georgia Line – "Beer:30"
Foster the People – "Lamb's Wool"
Foxes – "Love Not Loving You"
Andrew McMahon in the Wilderness – "Slow Burn"
Mokita – "Over You"
Circa Waves – Sadder, Happier – The Box Room Sessions EP
MisterWives – "SUPERBLOOM"
Ro James, Miguel – "Too Much"
Major Lazer – "Lay Your Head On Me (feat. Marcus Mumford)
(Lost Frequencies Remix)"
Local Natives – "Dark Days [Feat. Sylvan Esso]"
Elohim – "Vacuum"
Migos, YoungBoy Never Broke Again – "Need It"
Sech – 1 of 1 / "Confia" with Daddy Yankee
Kygo, Valerie Broussard – "The Truth"
Nick Jonas – "Until We Meet Again"
G-Eazy – "Free Porn Cheap Drugs"
Teyana Taylor – "Bare With Me" / "Made It"
R3HAB – "Be Okay (with HRVY)"
Tomorrow x Together – The Dream Chapter: Eternity
Snoop Dogg – "I Wanna Go Outside"
Midnight Kids – "Bad For You (feat. 90's Kids)"