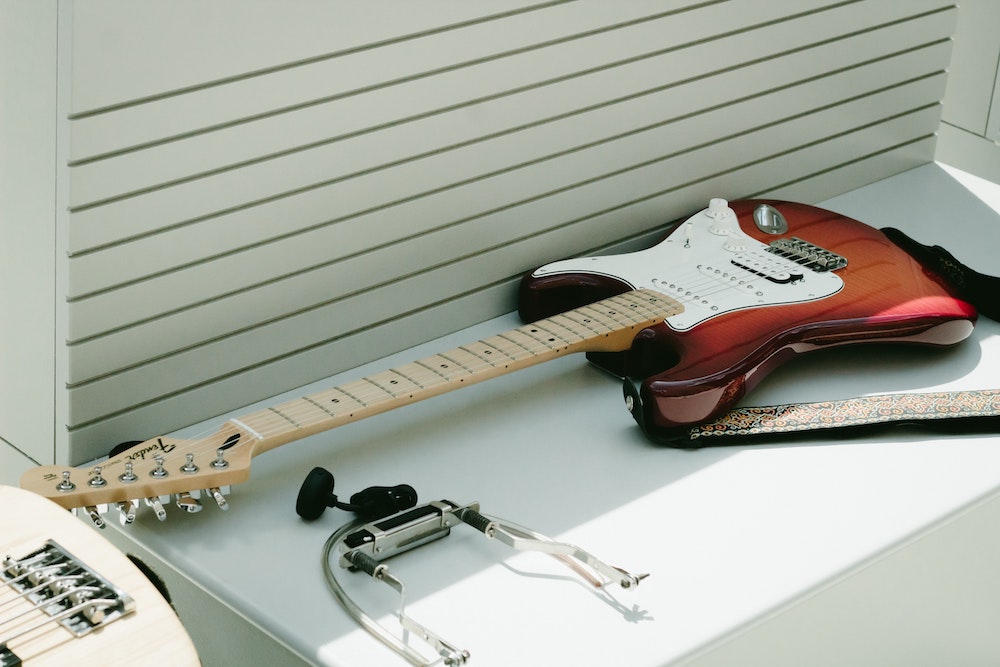 What better way to kick off a weekend than with new music? Fridays are always chock full of the latest songs and albums ready to be the soundtrack to everyone's antics, and here you'll find some of the week's standout releases. Whether you're ready to spin an anticipated song from a favorite artist or just taking a look at what's out there, there's a whole lot of tunes to dive right into. Who knows—maybe you'll find your next obsession.
The 1975
"If You're Too Shy (Let Me Know)"
This brand new song from The 1975 has hardly been new for attentive fans—or anyone who has seen them live over the past few months—but the proper studio version will finally scratch that itch for those who have been replaying the live performances to death.
For those unfamiliar, in general: Welcome to The 1975's career-defining single.
"If You're Too Shy (Let Me Know)", doused in its 80s synth-pop aurora and flirty lyrics, hits that upbeat 1975-patented tone (but frontman Matty Healy has proven himself a league above the rest). The band makes this five-minute dance number fly by and a proper radio edit only inches the group closer to their inevitable first Grammy win.
—
The Used
Heartwork
The Used's long and storied history has seen them become genre legends with albums like In Love and Death and Lies for the Liars but, recently, they've been going in a more experimental rock route with offerings like The Canyon and The Ocean of the Sky.
With Heartwork the band finds themselves back with producer John Feldmann—the man responsible for fleshing out that pop sound from the very beginning. This means Heartwork is loaded with familiar hooks, but also familiar faces; Blink-182's Mark Hoppus and Travis Barker are both featured on their own tracks to add to the record's firepower.
Hayley Williams
Petals for Armor II
Now only two weeks away from her much-anticipated debut solo album, the 10 songs Hayley Williams has released so far give a pitch-perfect idea of what the full LP entails—but, like much of Williams' solo songs thus far, there will surely be a couple curve balls thrown in on the remaining unheard songs. For now, Petals for Armor II satisfies listeners with a varied soundscape between the groovy "Dead Horse" and the ballad "Why We Ever".
Dance Gavin Dance
Afterburner
Dance Gavin Dance's Afterburner releases in the midst of a global pandemic—a time where many high-profile music releases are seeing delays until things get back to a certain type of normal.
For DGD, their new record was also supposed to be their highest charting record to date. Their choice to stick to their release date but delay physical copies will most likely keep Afterburner from cracking the Top 10 in first-week sales. However, this narrative fits into the band's archetype of persistency and ambition, that they've embodied for well over a decade. Afterburner is far and away their most complete work to date, meshing sounds of rock, post-hardcore, and even a little hip-hop.
The Killers
"Fire in Bone"
The funky rhythms that carry The Killers' "Fire in Bone" is just the tip of the iceberg in what is the strangest yet most delightful track of theirs in recent memory. It's a good distraction from the fact that their upcoming album has been delayed from its original release date of May 29.
Knuckle Puck
"RSVP"
You could put Knuckle Puck on your Pop-Punk Mount Rushmore and get very few complaints. The Chicago quintet have been that solid throughout their two LPs. "RSVP" builds on the band's new era in a fashion you'd expect—tight guitar riffs and a nostalgic chorus that'll reach singalong status by the second listen.
Kane Brown
"Cool Again"
Country-pop aficionado Kane Brown drops the summer-y jam "Cool Again". You could probably slap any vocalist on this one, and it's one of those pop songs that you swore you've heard before, but you can't deny its feel-good nature that demands a smile on your face.

The Devil Wears Prada
Live in London
Concerts aren't a thing right now but The Devil Wears Prada wants to turn your living room into a mosh pit with their new live EP. Recorded back in December of last year, the tracks on Live in London are what you'll find from their latest record, The Act. The live renditions make seeing them on tour a future priority.
Juice WRLD
"Righteous"
Nearly five months since the death of rapper Juice WRLD we're finally getting a look into what his vault looked like in the form of a posthumous single. The beat on "Righteous" is steady throughout while vocal melodies catapult it into anthemic territory. There's undoubtedly more where this came from but "Righteous" immediately showcases the potential of someone gone far too soon.
Other new releases:
Travis Scott and Kid Cudi – "The Scotts"
Bowling for Soup – "When the Angels Sing"
San Holo – "Idk Anything"
Charli XCX – "Claws"
Missy Elliott – "Cool Off"
Yungblud – "Weird"
Bright Eyes – "Forced Convalescence"
PVRIS – "Gimme a Minute"
KONGOS – "Fly"
Zella Day – "People Are Strangers"
MisterWives – "rock bottom"
AWOLNATION, Weezer – "Pacific Coast Highway in a Movie (feat. Rivers Cuomo of Weezer)" / Angel Miners & The Lightning Riders
Alanis Morisette – "Diagnosis"
Grandson & Phem – "How Bout Now" 
Bad Suns – "I'm Not Having Any Fun"
Alicia Keys – "Good Job"
Cheat Codes – "On My Life"
Goody Grace – "If I Want To"
ModSun – "Stay Away (feat. Machine Gun Kelly & Goody Grace)"
Avril Lavigne – "We Are Warriors"
Evanescence – "Wasted on You"
Trivium – What the Dead Men Say
Kacey Musgraves – "Oh, What a World 2.0"
Khalid – "Know Your Worth (feat. Davido & Tems)"
James Blake – "You're Too Precious"
Matuma – "ADMV"
Lil Baby – "All In"
Alaina Castillo – the voicenotes EP
Wiz Khalifa – "Y U Mad (feat. Megan Thee Stallion, Mustard, Ty Dollar $ign)" / The Saga of Wiz Khalifa
Bright Eyes – "Forced Convalescence"
Jojo – "Lonely Hearts"
Lennon Stella – Three. Two. One.
Keith Urban – "Polaroid"
The Rolling Stones – "Living in a Ghost Town"
Galantis – "The Lake (feat. Wrabel)"