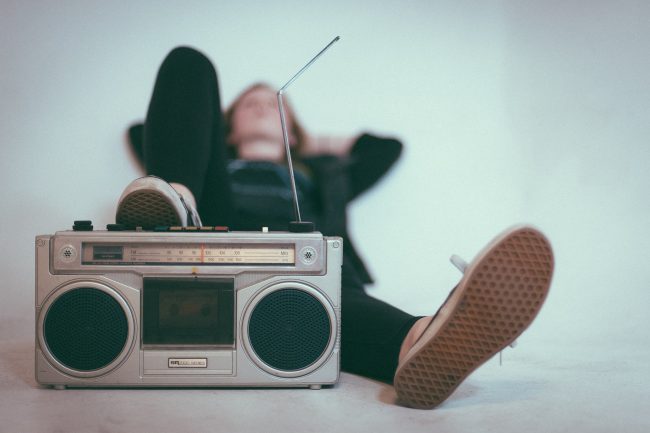 All Time Low
"Melancholy Kaleidoscope"
Arguably one of the most difficult songs to spell in All Time Low's discography, "Melancholy Kaleidoscope" is also the one that's most likely to get you to mosh around your living room. This latest gem from the band's forthcoming Wake Up, Sunshine album—displaying a shift from the experimental qualities of Last Young Renegade to a refined refresh of their pop-rock prowess.

Nine Inch Nails
Ghosts V-VI
Whether you're quarantined or getting a breath of fresh air, Nine Inch Nails mastermind Trent Reznor wants to give you the soundtrack for it all. Released for free on his website, NIN surprise-drops the next installment of his Ghosts project—a series of industrial/ambient songs that has been dormant for over 12 years. Volumes V-VI are split into two parts—Together and Locusts—and the 2+ hours of music you get is well-worth the time spent getting lost in it.

5 Seconds of Summer
CALM
No matter what you think of 5 Seconds of Summer's music, in 2020 there's no debating that they've come a long way from the pop-punk darlings that once opened for One Direction. CALM, the second full-length after 5SOS' pivot to a more expansive artistic sound, varies from 80s-esque pop on "Wildflower" to R&B toe tappers on "Easier". The bottom line: The guys in 1D would be lucky to open for 5SOS now.

Our Last Night
"Intentions"
Our Last Night's cover of Justin Bieber's "Intentions" is virtually what you would expect if you ever imagined it—which you'd never do—so it ends up being just another cover of theirs you can toss into your collection and wait for the day that shuffle decides to play it. It's not bad—but given their metalcore roots, more oomph could have been added it

Brian Fallon
Local Honey
New Brian Fallon music is bittersweet—it's a stark reminder that his game changing rock band The Gaslight Anthem is no more, but it's a undeniable treat to have him grace a stereo at all. Local Honey, his third LP, is ripe with personal lyrics on fatherhood and more, set atop an Americana sound that's second to none.
The Weeknd
After Hours (Deluxe)
The dust has yet to settle from the arrival of The Weeknd's monstrous album After Hours, and he's not letting up, dropping a deluxe version just days after its release. Four songs get a remix treatment—one featuring Lil Uzi Vert—but the real highlight is the inclusion of his incredible performance on Saturday Night Live of "Scared to Live".
August Burns Red
"Paramount"
"Paramount" is a breakneck rollercoaster for August Burns Red—the track is taken off their upcoming album, Guardians. Perhaps the strongest of the pack yet, the song's expert guitar work drapes over every other element, leaving just a wall of riffs and impressive solos.
Dua Lipa
Future Nostalgia
With her second album, Future Nostalgia, Dua Lipa puts a chokehold on the pop game as we know it. She's created a bonafide classic in 11 songs, meshing together 80s pop and disco for a blend of sound that few could ever dream of getting close to replicating.
Bowling for Soup
"Already Gone"
Back in May of last year, Bowling for Soup decided that they were going to release 12 cover songs over the next 12 months. "Already Gone" is their fourth. May is in five weeks. They are kind of behind schedule. Regardless, they're keeping up the trend of covering super old songs that we've never heard—either because they truly love them or because no one will realize if they butcher them. The track is originally an Eagles cut from 1974 and, while it's no "Hotel California", the chorus on this one jams as hard today as it probably did in the 70s.
Bright Eyes
"Persona Non Grata"
After nine years, Bright Eyes make their return with the eclectic "Persona Non Grata". Hearing Conor Oberst's urgent vocals makes up for the time spent away, while the inclusion of bagpipes makes for a strange, but inviting, experience.
Other new releases:
OneRepublic – "Better Days"
Bob Dylan – "Murder Most Foul"
Little Mix – "Break up Song"
Grandson, DREAMERS – "Whole Lotta (Text Voter XX to 40649)"
Kygo – "Like It Is"
Twin XL – "Messy" (Extended Version)
Partynextdoor – Partymobile
Childish Gambino – 3.15.20
Pearl Jam – Gigaton
Hailee Steinfeld – "I Love You's"
ROSALIA – "Dolerme"
Jessie Reyez – "COFFIN feat. Eminem" / BEFORE LOVE CAME TO KILL US
Run the Jewels – "Ooh La La (feat. Greg Nice & DJ Premier)"
Major Lazer – "Lay Your Head On Me (feat. Marcus Mumford)"
Florida Georgia Line – "I Love My Country"
R3HAB – "Good Example (with Andy Grammar)"
Mokita, Ella Vos – 'Take It Back"
Little Dragon – New Me, Same Us
AWOLNATION – "The Best (feat. Alice Merton)"
The Mowgli's – "Weight on Me"
Sheppard – "Somebody Like You"
Vanessa Carlton – Love Is An Art