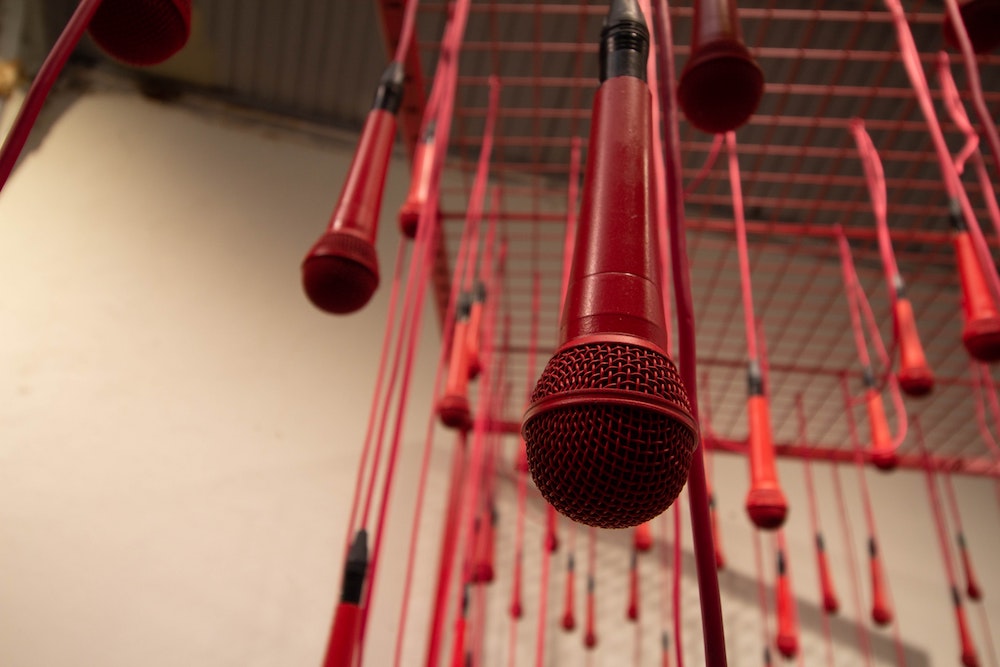 What better way to kick off a weekend than with new music? Fridays are always chock full of the latest songs and albums ready to be the soundtrack to everyone's antics, and here you'll find some of the week's standout releases. Whether you're ready to spin an anticipated song from a favorite artist or just taking a look at what's out there, there's a whole lot of tunes to dive right into. Who knows—maybe you'll find your next obsession.
Porter Robinson
"Something Comforting"
"Something Comforting" is right. Porter Robinson drops another track off his
highly-anticipated new album and, while there isn't a release date yet, the hype
train is chugging along with ease. Robinson makes clever use of his own vocals layered on top of pitch-shifted ones to give the illusion of a duet. Its vibrance almost makes you forget about the beautiful combination of guitar strums, keys, and electronic elements.
The Killers
"Caution"
"Caution" by The Killers is the first taste of the band's forthcoming sixth
full-length album—you have to figure that fans will be fairly pleased after just a single listen. The track is ripe with synth and loaded with feel-good vibes. It's
almost like a lovechild of Sam's Town and Battle Born with a mix of Brandon Flowers' solo material.
Ellie Goulding
"Worry About Me"
The hits keep coming from Ellie Goulding—an artist that has drastically shifted her pop persona since her last LP five years ago. Granted, Goulding always had a chokehold on the charts but new material as of late has brought her sound into a different realm. "Worry About Me", featuring rapper blackbear, has the singer take on a hip-hop beat that could have made sense for Ariana Grande, too—so you know what you're about to sing along.
Machine Gun Kelly
"Bullets With Names"
Machine Gun Kelly has been promising his debut pop-punk record for awhile but he's straying off the path to give fans a treat from the vault. "Bullets With Names" is a joint track with rapper Young Thug. The two crafted the single while on tour together last summer, and the rapid fire trap beats and bars from Kelly and Co. are a hint that his pop-punk schtick might not last for long.
Flume
"The Difference"
Flume's new song comes at a time when the wait for LP3 is borderline unbearable. While the 2-minute collab with musician Toro y Moi is most likely a one-off single,
it doesn't stop it from showing off the best of what Flume offers—inventive production that meshes genres. Toro y Moi's memorable vocal hooks only add to the song's allure.
Dance Gavin Dance
"Strawberry's Wake"
The contrast between Dance Gavin Dance's vicious screams and dream-like clean vocals are what makes them special, even after going through three lead vocalists. With longtime member Jon Mess still at the helm alongside frontman Tilian Pearson, Dance Gavin Dance kick off their ninth studio album with "Strawberry's Wake"—the second released after lead single "Prisoner". The new track has an accessible glimmer to it that could make a major impact on rock radio.
Various Artists
Trolls World Tour
Justin Timberlake is back at it again with a soundtrack to the newest Trolls sequel. The songs that fill up this track listing—a combination of duets and collaborations—are largely in line with the kids aesthetic of the film, sure, but tracks like "The Other Side" with SZA and Timberlake blur that line. Additionally, the only song that's solely credited to Timberlake is the gorgeous ballad "Perfect for Me", showing that he's slowly inching back to his pop ways before his Man of the Woods LP.
OneRepublic
"Didn't I"
OneRepublic head back to a familiar sound on "Didn't I", the latest cut off their forthcoming album Human. Instead of building on the more experimental aspects from their 2016 LP Oh My My, this instead puts frontman Ryan Tedder back into the driver's seat of what he knows best—drumming up mesmerizing hooks atop ethereal pop melodies.
Niall Horan
Heartbreak Weather
For his sophomore solo record, Heartbreak Weather, singer/songwriter Niall Horan finally finds his sound years after his debut. The acoustic balladry that made 2017's Flicker so inviting makes way for a more daring contemporary pop sound—something out of the book of Shawn Mendes, even—but Horan's distinct vocals help him inch toward becoming a household name all on his own.
Other new releases:
Jay Electronica – A Written Testimony
Grouplove – Healer
Kehlani – "Toxic"
MKTO – "Party with My Friends"
JoJo – "Man"
Circa Waves – Sad Happy
Awolnation – "Slam (Angel Miners)"
Joywave – Possession
KALEO – "Alter Ego"
Rita Ora – "How To Be Lonely"
Lil Yatchy, Da Baby – "Oprah's Bank Account (feat. Drake)"
Megan Thee Stallion, Tygo – "FREAK" 
FLETCHER – "Forever"
Ava Max – "Kings & Queens"
Felix Cartal & Sophie Simmons – "Mine"
Luke Bryan – "One Margherita"
Wiz Khalifa – "Bammer (feat. Mustard)"
R3HAB, Elena Temnikova – "Where You Wanna Be"
Lele Pons – "Volar (feat. Susan Diaz & Victor Cardenas)"
Lil Uzi Vert – "Myron"