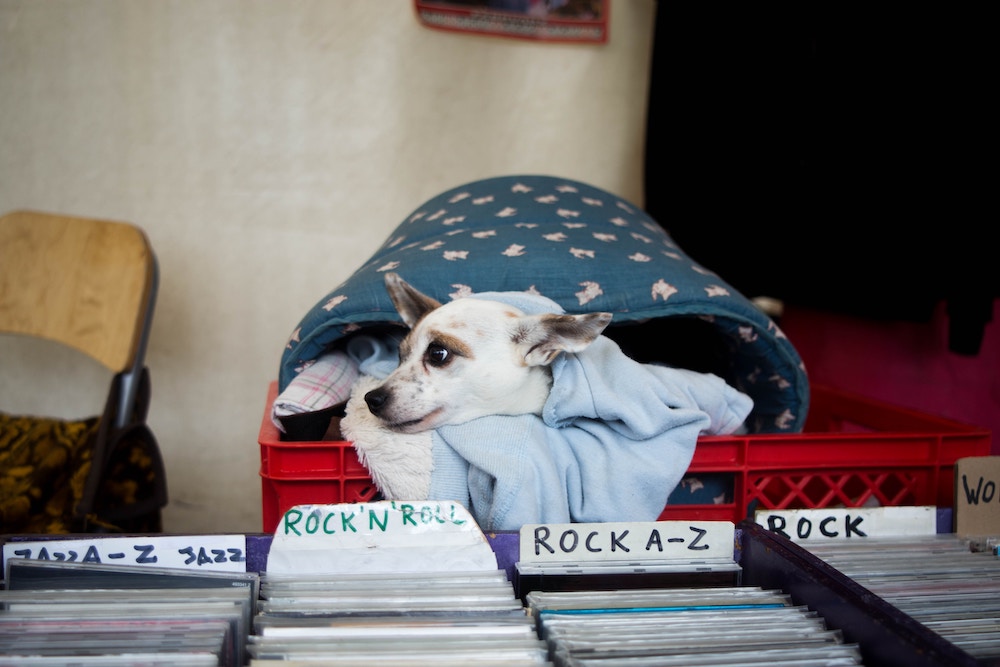 What better way to kick off a weekend than with new music? Fridays are always chock full of the latest songs and albums ready to be the soundtrack to everyone's antics, and here you'll find some of the week's standout releases. Whether you're ready to spin an anticipated song from a favorite artist or just taking a look at what's out there, there's a whole lot of tunes to dive right into. Who knows—maybe you'll find your next obsession.
Green Day
Father of All…
Disclaimer: Father of All… is not your regularly scheduled Green Day. It is, however, a new album from the legendary trio and, for that reason alone, it's worth a listen. But should a record that strays so far from their norm even be considered a Green Day LP?
Father of All…'s rapid-fire nature fits more in the realm of a Foxboro Hot Tubs album—and you're kidding yourself if you go into this expecting a grandiose epic record with songs that'll glisten on radio. What you will get, though, is ten straight-up rock songs. At this point in their career, not sure you can want much more.
5 Seconds of Summer
"No Shame"
The announcement for 5 Seconds of Summer's new album, Calm, is making us anything but. Their fourth full-length is arriving next month with some songs we've already been able to hear ("Easier" and "Teeth") but it's the new single "No Shame" that helps raise the hype higher than imaginable. While "Easier" has somewhat of a Charlie Puth/R&B feel, "No Shame" is shamelessly Maroon 5 with its falsetto vocals and memorable hooks.
Galantis
Church
EDM duo Galantis go back to the days-of-old on their new album Church, which draws plenty of similarities to the fan-favorite Pharmacy. Anthemic songs like "I Found U" and "Unless It Hurts" boast brilliant melodies, setting the stage for more unique cuts like their collaborations with OneRepublic and Dolly Parton.
Hayley Williams
Petals for Armor I EP
As each song is unveiled from Hayley Williams' solo venture we get a better understanding of what it's all about—partly due to the visuals released alongside the songs. Williams is undoubtedly shedding her skin and symbolically destroying her old self with her new set of tunes, songs that also stray far from anything she ever touched on with Paramore.
Her new EP is part of her plan to release the LP in installments and the first EP is ripe with deep themes and heavy imagery. "Simmer" is a dark rock-tronica track rooted in anger while "Leave It Alone" and "Sudden Desire" take a softer indie-pop route. What stands out the most is how well-crafted the songs are with Taylor York's production skills on full-display—making drums in "Cinnamon" come to life.
Silverstein
"Bad Habits"
Silverstein has been blurring the lines of post-hardcore and pop for practically 20 years. With their tenth full-length on deck, they're only refining the sound that's kept them around for so long. On "Bad Habits" vocalist Shane Told delivers an A+ chorus that kicks the track off with a pop shine before bursting into menacing guitars—a feature from fellow Canadian metal act Intervals helps turn the intensity up a notch.
The Used
"Paradise Lost, a poem by John Milton"
While plenty of bands in the rock genre have their favorite producers, no combo is more notable than The Used and John Feldmann. Feldmann has been responsible for producing all but two of the band's seven albums and he's back where he belongs for album number eight: Heartwork. First single, "Paradise Lost, a poem by John Milton", revisits the magic the two were so accustomed to creating, with its soaring chorus being the major highlight.
Sam Hunt
"Hard to Forget"
Turns out Sam Hunt is actually capable of making an album. After six years and a handful of singles, the alt-country king plans to release Southside in April. "Hard to Forget" will join previously-released cuts like "Kinfolks" and "Sinning With You" on the long awaited LP but this one is definitely the most twangy—and fun—he's been on a track in a long time.
Justin Bieber
"Intentions" (feat. Quavo)
Love song "Intentions" is the first Justin Bieber song off his new album where it just doesn't sound like he's trying too hard. It's ultimately a success and will certainly be a fan favorite but its potential is marred by the guest verse from Migos' Quavo. When you wonder what it would have sounded like with Swae Lee instead, you realize that Quavo's reign as the number one feature guy is probably over.
Carly Rae Jepsen
"Let's Be Friends"
Carly Rae Jepsen's first song of the year takes her sound to a new height. "Let's Be Friends" is beautifully bratty—it's like Kesha, Taylor Swift, and Avril Lavigne mixed into one but still something only Jepsen could pull off. Stepping away from her 80s-influenced pop to something more modern sounding proves to be a great change of pace for what'll be an exciting year of Jepsen.
The Format
Live at the Mayan Theater
No, this isn't exactly a new Format release—it's actually 13 years old—but it is the first time that it's available on vinyl and streaming services. Previously only on DVD, Live at the Mayan Theatre is a great hype builder for the band's long-awaited reunion and upcoming shows.
Other new releases:
flor – Reimagined
Bowling for Soup – "Alexa Bliss"
The Word Alive – "Searching for Glory"
Meek Mill – "Believe" (feat. Justin Timberlake)
Niall Horan – "No Judgements"
Various Artists – Birds of Prey: The Album
Avenged Sevenfold – Diamonds in the Rough
Halsey – "Experiment On Me" (from Birds of Prey: The Album)
X Ambassadors – "Everything Sounds Like a Love Song"
Circa Waves – "Sad Happy"
Oh Wonder – No One Else Can Wear Your Crown (Deluxe)
Phantogram – "Pedestal"
Whethan, grandson – "All In My Head"
Joji – "Run"
Khalid, Disclosure – "Know Your Worth"
The Pussycat Dolls – "React"
Nicki Minaj – "Yikes"
H.E.R. – "Comfortable"
PARTYNEXTDOOR – "Loyal (feat. Drake and Bad Bunny [remix]"
Prince Royce – ALTER EGO
Sharon Van Etten – "Beaten Down"
Adam Lambert, Niles Rodgers – "Roses"
Blueface, Da Baby – "Obama" (what are they saying?)
Aly & AJ – "Attack of Panic"
Anne-Marie – "Birthday"
Christine and the Queens – "People, I've Been Sad"
Stone Temple Pilots – Perdida
Sean Paul & Tove Lo – "Calling On Me"La Roux – Supervision