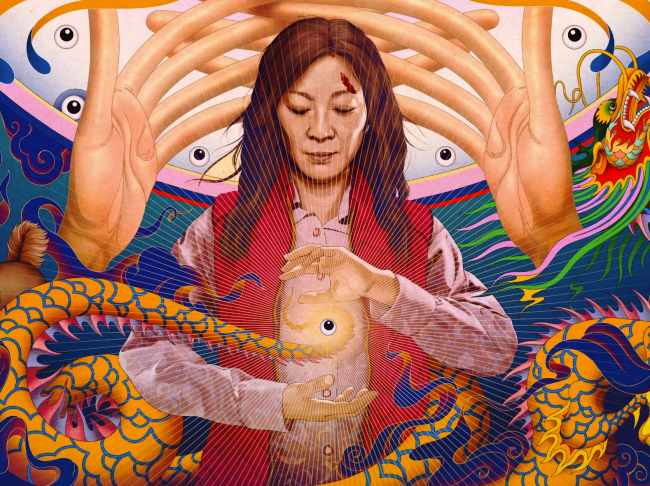 In an era where an unprecedented rise in hate crimes against Asians (and especially Asian women) have plastered the photos and videos of battered victims who look just like our moms, grandmas, and aunties all over the news; Everything Everywhere All At Once is like a mind-expanding hallucinogenic balm that restores some of our humanity.
Hot on the trail of the Turning Red controversy wherein a white male film critic professed to not being able to relate to the young Chinese-Canadian protagonist's plight because the film's target audience was "incredibly specific," much digital ink has been spilled over fictional characters from marginalized backgrounds and how relatable or empathetic they come across to the coveted white-male-ages-18-to-34 demographic. Undoubtedly, this has proven to be a huge factor in why it's taken this long to even begin to see a trickle of Asian woman protagonists in Western entertainment.
Everything Everywhere All At Once is unapologetically "incredibly specific" to the max. The way DANIELS (the writer/director team) depict a cluttered home of a working-class Chinese-American family above their struggling family business was so true to how I and many of my Asian-American peers grew up—our poverty mentality-stricken parents and grandparents refusing to let go of any bits or bobs that might prove useful in the future, or risk spending money they don't have on replacing them. It's simultaneously a far more common Asian-American experience and a far cry from the ostentatiously unattainable 1% glossy luxe life depicted in Michelle Yeoh's other game-changing film for Asian-American culture, Crazy Rich Asians.
Even the red cardigan she dons for her family's Chinese New Year party (paired with an iconic jade necklace) was emblazoned with the word "Punk"—a wink to the puzzling random English words that make it onto Chinese clothing. But when I saw Michelle Yeoh in the Asian Granny Uniform™, a vest-and-patterned-button-up shirt, my own grandmothers both wore religiously and still be an "awesome magical Kung Fu goddess", I admit I got a bit emotional. After spending the last 2 years seeing women dressed just like that getting punched, stomped, and kicked… It felt healing to finally see one fight back.
But although this film was firmly rooted in specificity and authenticity, it still managed to depict a universality that is truly befitting of the title. Who among us hasn't looked back on the choices we've made in our lives and wondered about the road untaken? In a cinematic landscape now lousy with multiverse films, Everything Everywhere All At Once still manages to tell a unique story wherein the weight of infinite possibilities might be able to crush you into a pit of existential nihilism… but then asks if you should let it.
If every possible universe exists from every branching choice we make, then no possible universe matters more than the other. This is the thesis of Evelyn's daughter, Joy (Stephanie Hsu, The Marvelous Mrs. Maisel), the primary antagonist of the film. Having been experimented on as a child by her mother to be able to access the multiverse at will, her shattered mind is the result of gazing too long into the abyss of nothing/everything. This sense of cynicism feels uniquely Millennial. As the first digital native generation, Millennials watched as humanity's access to seemingly infinite possibilities and information on the internet counterintuitively hastened the degradation of our social fabric, rather than bringing about the Star Trek-like utopia our idyllic 1990s childhoods promised.
Adding insult to injury, the fact our parents' generation mocks us for receiving participation trophies as children, yet ironically neglects to recognize who bought those participation trophies for us, is a real-world metaphor for the dynamic that created Joy's fabulously villainous Alpha Universe alter-ego, Jobu Tupaki.
The divide between Joy and Evelyn is further instigated by the generational trauma passed from Evelyn's own experience with her father rejecting her decision to marry Waymond (Ke Huy Quan, The Goonies), on to her reluctance to fully embrace Joy's lesbian relationship. Yet at the start of the film, Evelyn and Waymond's marriage is on the brink of divorce and her first forays into the multiverse expose a wealthy movie star lifestyle she could have lived if she never married Waymond in the first place. So when it's revealed that Joy/Jobu Tupaki wants her mother to join her on the Dark Side of existential angst, it's understandable that Evelyn initially falls into a pit of despair which causes her to violently lash out.
What finally pulls her out of this pit, however, is love. In a heart-wrenching multiverse-spanning sequence, Waymond combats Evelyn's existential despair with his gentle nature to show that kindness is the ultimate weapon. A branch of the multiverse—a moody Wong Kar Wai-inspired scene where both Evelyn and Waymond go on to lead more successful lives without each other—exposes a side of the couple we Asian-American kids rarely ever see our working-class immigrant parents portrayed as: Glamorous leading men/ladies. This cathartic segment is further informed by the fact Waymond Wang is played by Ke Huy Quan, who was forced to take a break from acting after his iconic roles as Short Round in Indiana Jones and the Temple of Doom and Data in The Goonies simply because Hollywood had no space for Asian male actors at the time, especially in a romantic role. To say that it felt therapeutic to see Quan finally get his flowers and subvert the sexless Asian male trope is an understatement.
The years since Crazy Rich Asians changed the game for Asian-American entertainment have been tumultuous, to say the least. In a pre-COVID world, I myself have written wistfully about what this might mean for the progression of Asian-American representation only to have all of that hope capsize in the wake of the pandemic. But even as we stare into the dark void of an everything bagel hole, Everything Everywhere All At Once teaches us that in a universe where nothing matters… we can at least be kind.
---
Alice Meichi Li (李美姿) is a Chinese-American illustrator and writer who's originally from Detroit and currently lives and works in New York City. Follow her @alicemeichi.