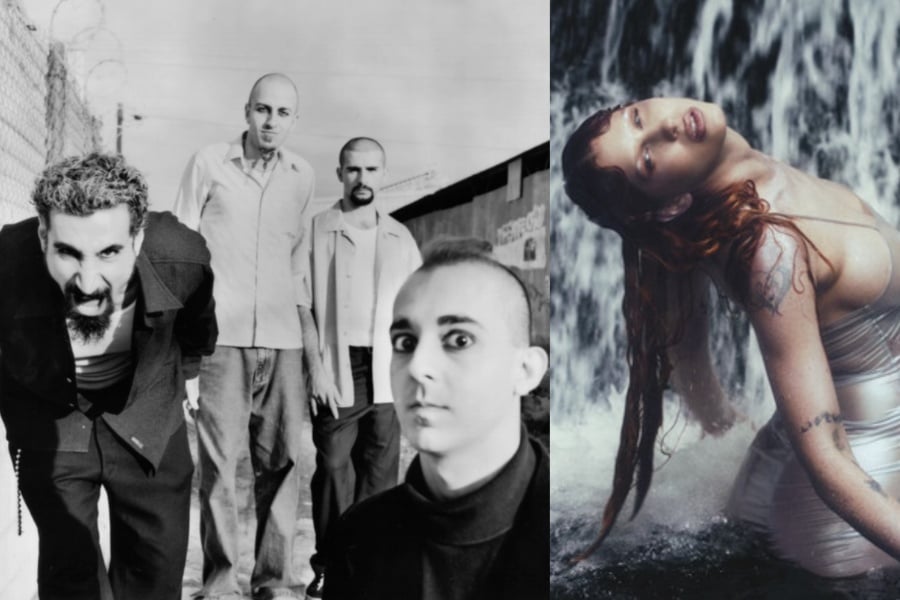 Queens-based artist Eartheater contains multitudes. Her experimental electronic and folk-pop sensibilities shine across her five albums, and now her unique sound has taken on the iconic and heavy track "Chop Suey!" by System Of A Down.
Eartheater, aka Alexandra Drewchin, exchanged the progressive metal band's signature harsh sonics and thrashy instrumentals for ethereal, whimsical choruses with subdued guitar strums and a euphoria-inducing conclusion. Listen to the exceptional and unconventional cover below.
The cover and its accompanying black and white visualizer were released ahead of her new album Powders, which will arrive on all streaming platforms on September 20. Ahead of the record, Eartheater also released "Pure Smile Snake Venom," a synth-laden track featuring a vulnerable music video depicting the artist naked in a pool. It's "a beginning to a new era," she said in an Instagram post.
She also shared on social media, "Powders, my 6th album, is coming out on September 20th in the amber glow of summers last breath. I will say less so the music will say more. My heart is the eye of a storm beating its wings towards you, my sweet tears."
Across the entire System Of A Down discography, "Chop Suey!" from 2001's Toxicity is, by far, one of the band's most covered tracks. Recently, Lil Uzi Vert covered the song on Pink Tape, where he also collaborated with the likes of BABYMETAL and Bring Me The Horizon. At his core, Lil Uzi really is just an emo kid. Additionally, August Burns Red shared their metalcore take on the song only two years ago.
If you want to catch the magic of Eartheater in person, the solo artist will be performing in Europe and the UK in the fall and trekking across the U.S. in the winter. Check out the full list of dates below, and grab your tickets here.
Tour Dates:
Nov. 6—Berlin, DE @ Betonhalle
Nov. 8—Copenhagen, DK @ Vega
Nov. 10—Oslo, NO @ MUNCH
Nov. 11—Helsinki, FL @ Ääniwalli
Nov. 13—London, UK @ Village Underground
Nov. 15—Warsaw, PL @ Hybrydy
Nov. 18—Bern, CH @ Full of Lava Fest
Nov. 29—Cambridge, MA @ The Sinclair
Dec. 1—Brooklyn, NY @ Elsewhere
Dec. 2—Philadelphia, PA @ Underground Arts
Dec. 4—Chicago, IL @ Lincoln Hall
Dec. 7-8—Los Angeles, CA @ Troubadour
Dec. 11—San Francisco, CA @ The Independent
Dec. 15—Brooklyn, NY @ Elsewhere