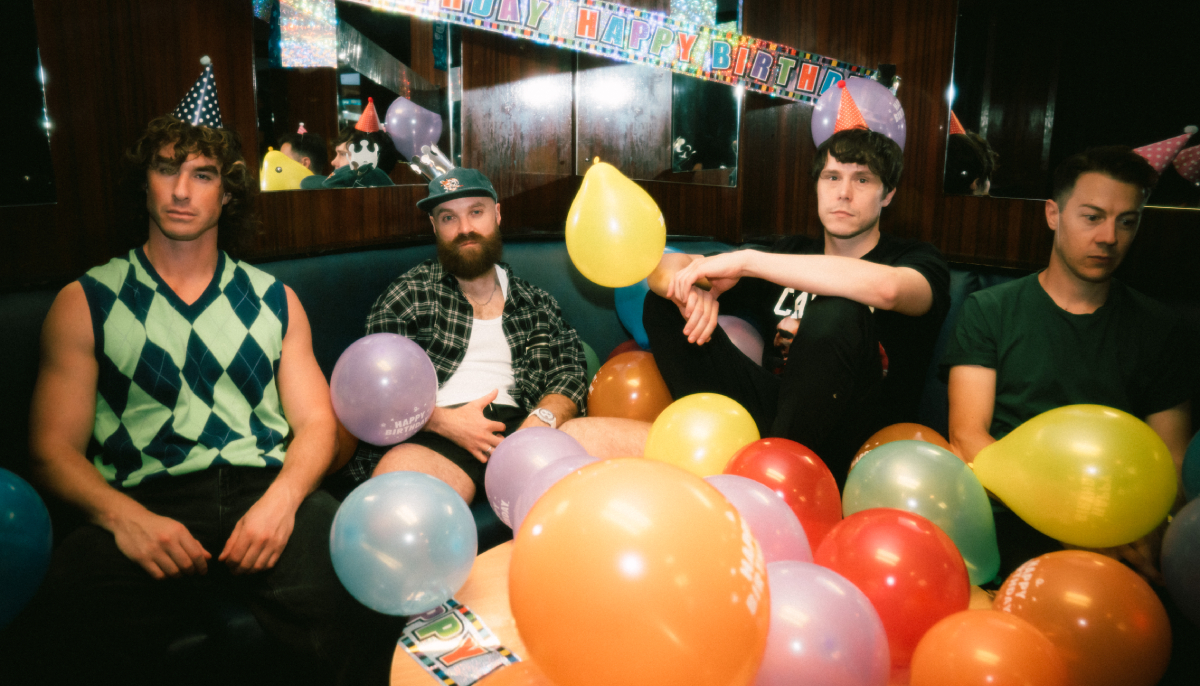 Don Broco have taken things to a whole new level with their new track "Birthday Party". Throughout their career, the band have attempted to push the limits of what is possible musically and visually. From a sound standpoint, they have delved into the depths of British rock and created something that ebbs and flows between heavy and heavenly brilliantly. And with their music videos, they have delved into horror, sci-fi and straight-up mind-melting chaos. It's what has helped them to become one of the UK's premier bands, and they aren't close to stopping anytime soon.
"Birthday Party", though. This is a whole other level for Don Broco. The song itself is a low-key electro-bop, with electronic whizzes and bangs aplenty. Then there's Rob Damiani's unique croon, dealing out hard bars and discomforting refrains. It is the very definition of dizzying and decadent and will be spinning around your head for weeks and weeks.

But it's the video that takes the biscuit. An animated nightmare showcasing the birthday party in question, the guestlist is stacked. The Simpsons, Teletubbies, Paddington, Thomas The Tank Engine. They are all here, and they are all terrifying. It is a fever dream of the highest calibre that will haunt you for the rest of your days.
Rob had this to say about the song and what it means to him:
"Birthdays can be the absolute worst. You get all hyped up for what you think is a guaranteed top day, but when that doesn't work out, you can't help but feel EXTRA bad. I don't really like birthdays because of this, but one year tried throwing a last-min shindig, and in classic form, it was not well attended, haha. I can't say I took it well, but my only option was having a party for one, and this song is the story of that night."

Don Broco will be heading out on a tour of the UK in celebration of the release of the track. Here are all the dates you need to know.
Tour Dates:
Nov. 29–Reading,UK @ Hexagon
Nov. 30–Southend On Sea, UK @ Cliffs Pavilion
Dec. 01–Margate, UK @ Dreamland Hall By The Sea
Dec. 02–Norwich, UK @ UEA
Dec. 04–Bristol, UK @ O2 Academy
Dec. 05–Brighton, UK @ Dome
Dec. 07–Sheffield, UK @ O2 Academy
Dec. 08–Cambridge, UK @ Corn Exchange
Dec. 09 – Leicester, UK @ O2 Academy
Dec. 11–York, UK @ Barbican
Dec. 12–Newcastle, UK @ O2 City Hall
Dec. 13–Manchester, UK @ O2 Victoria Warehouse
Dec. 15–Wolverhampton, UK @ KK's Steel Mill
Dec. 16–Bournemouth, UK @ O2 Academy
Dec. 17–London, UK @ KOKO