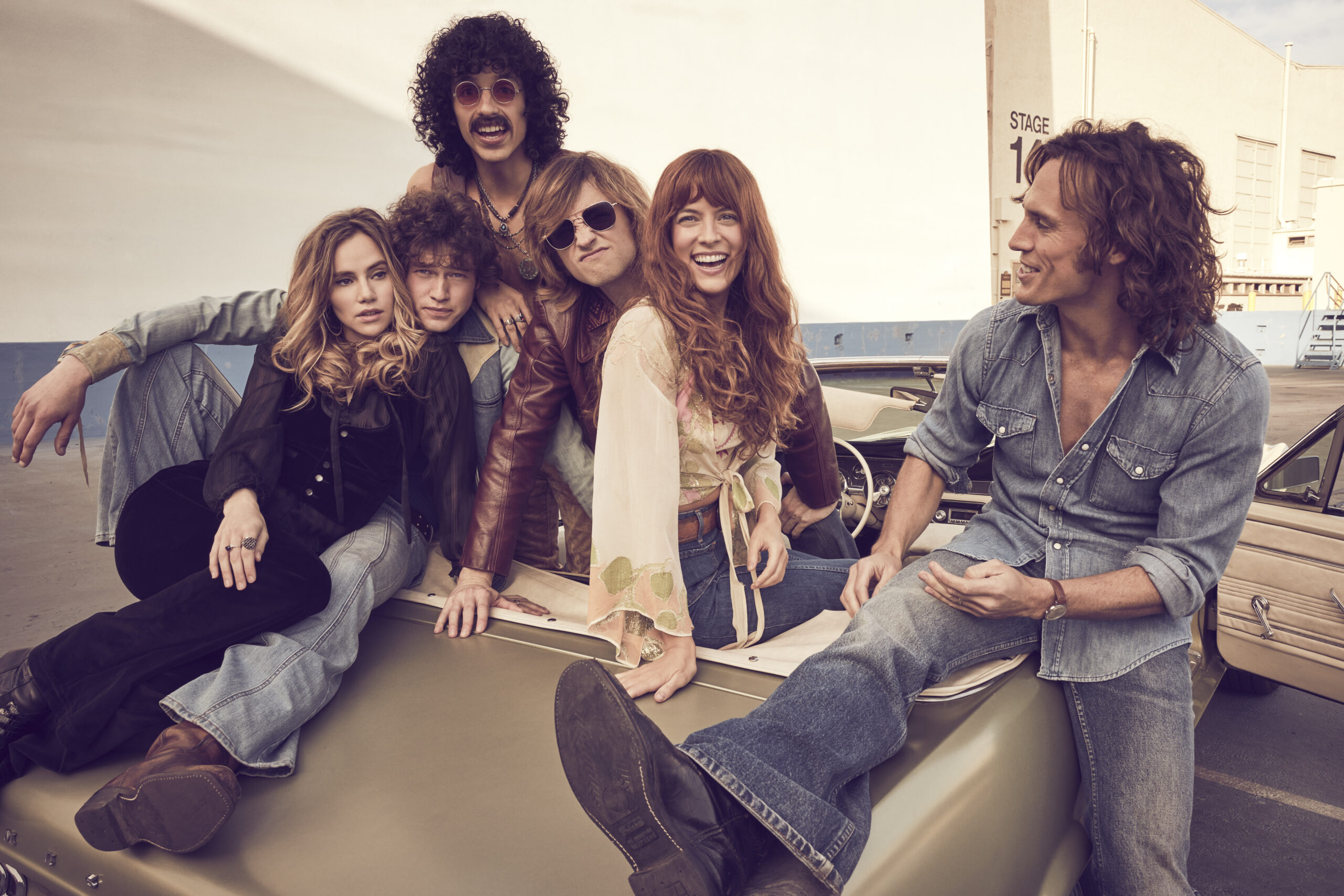 It's no secret that the Amazon Prime Video series "Daisy Jones & The Six" has quickly become a cult classic. From the pages of Taylor Jenkins Reid's New York Times bestselling novel of the same name to millions of screens at home, Atlantic Records has slowly been releasing new tunes from the fictional rock group. In just a few weeks, the band have already amassed more than 2.6 million monthly listeners on Spotify alone with "Look At Us Now (Honeycomb)" hitting a whopping 8.6 million streams on the platform.
Last Friday, the 10-episode series aired its final installment and fans are already longing for the group to get back together for "one more song, one more song, one more song!"
Yesterday, actor Josh Whitehouse who portrays Eddie Roundtree, the band's guitarist turned bassist, teased a possible band reunion. In a TikTok video that has garnered more than 700,000 views, Whitehouse states, "Just arrived at a rehearsal studio to have a band practice with Daisy Jones & The Six. But we already finished the TV show…so why would we be doing that?"
In a second Tiktok video, Whitehouse shared a short clip where you can spot Riley Keough (Daisy Jones), Sam Claflin (Billy Dunne), Sebastian Chacon (Warren Rhodes), Will Harrison (Graham Dunne), and another individual who we only see from the back. We can only assume this is Suki Waterhouse (Karen Sirko).
The caption of the video reads, "Wait was this today or was this a year ago, I dunno…" While it doesn't seem likely that these videos were taken on the same day since Whitehouse is seen in two different outfits, we're truly hoping for some kind of reunion from the fictional group.
In an interview earlier this year with ET, Claflin shared, "I already pitched my version of series 2. I still feel like there's so much more to come. But it's not for us to say. Maybe Taylor Jenkins [Reid] really needs to write another book."
Fans also got another roaring surprise yesterday as Atlantic Records dropped Special Gift For Our Fans, a double single featuring previously-unreleased tracks "It Was Always You" and "Aurora (Live from SNL)." Both tracks were pulled from the series' ninth episode, "Track 9: Feels Like The First Time." 
You can listen to "It Was Always You" and "Aurora (Live from SNL)" below. You can watch every episode of Amazon Prime's "Daisy Jones & The Six" here.