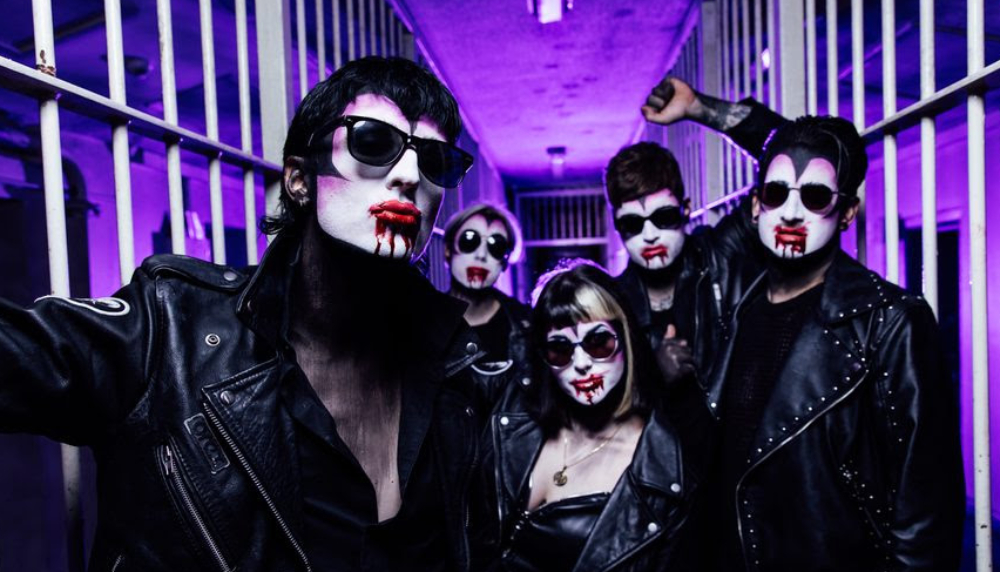 Creeper have spread their bat wings and flew further than ever before with their new track "Black Heaven". The band are gearing up to release their new album Sanguivore on October 13 via Spinefarm Records. A vampiric romp into bloodlust, tragedy, drama and decadence, it is a record that the band have always wanted to make. An ode to 80s horror and rock music, with heavy nods towards the legendary Jim Steinman, it is new waters for the band. But they are letting the music do the talking, especially when the songs are this extraordinary. So far there has been the triumphant "Cry To Heaven" and the thrilling "Teenage Sacrifice". But now they are heading in a different direction.
"Black Heaven" sits on the other side of the 80s than the rest of the record. A chance for Creeper to pay homage to Depeche Mode and Soft Cell more than Meatloaf, with throbbing synths creating a pitch-black atmosphere. Then there is the baritone delivery of vocalist William Van Ghould, piercing your eardrums with his seductive and sensational croons. It all equates to a dizzying experience, one that hypnotizes and harmonizes. It's the furthest that the band have travelled from their original start point so far, and it is a joy to behold.

William had this to say about the song:
"This song allows us to show a new side to the band and sees us experimenting with electronic elements properly for the first time. Taking influence from Depeche Mode and New Order, we try to push the boundaries of our sound out further than they've been before."

Creeper will also be celebrating the release of Sanguivore with a tour around the UK. Stopping off in Bristol, Manchester, Glasgow and Nottingham before a massive show in West London. Here's all that you need to know.
Tour Dates:
Nov. 05 – Bristol, UK @ O2 Academy
Nov. 06 – Glasgow, UK @ Clyde Room
Nov. 08 – Nottingham, UK @ Rock City
Nov. 09 – Manchester, UK @ Academy
Nov. 10 – London, UK @ O2 Shepherd's Bush Empire