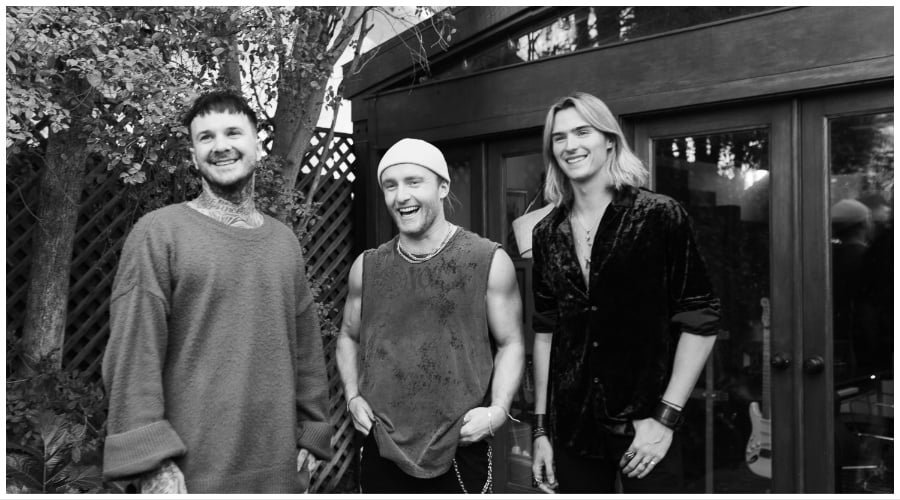 Los Angeles-based pop rock duo VOILÀ consisting of Gus Ross and Luke Eisner (of the 'Tall Girl' movie franchise fame) have launched their new track titled "Don't Say I Didn't Warn You," featuring Craig Owens (Chiodos, D.R.U.G.S.). The song showcases the duo's unique sound, which blends elements of pop, rock, and electronic music, and Owens' stunning vocals elevate the track to new heights.
The song starts with a haunting guitar melody intertwined with the sound of police sirens faintly ringing in the background. The lyrics discuss a toxic relationship that's on the verge of ending, and the protagonist warns their partner not to blame them for the fallout. The infectious chorus bursts with the lines, "Don't say that I didn't warn you/She'll break you like she was born to/Don't say that I didn't warn you/She'll break you just cause she's bored," serving as a powerful reminder that sometimes, despite our best efforts, we can't save someone from themselves. Across the length of the track, Ross and Eisner's vocals perfectly complement Owens' prowess delivery.
The production of "Don't Say I Didn't Warn You" is riddled with lush instrumentation and expertly crafted arrangements that showcase VOILÀ's impressive musical skills to create a modern and timeless sound. Take a listen to "Don't Say I Didn't Warn You" below.
"This song is an interpretation of the classic pick-up line, 'Did it hurt when you fell from heaven?' What if the fall from heaven was actually a fall from grace? Craig's artistry has inspired us for years, and we're beyond honored to work with him on this," Ross and Eisner share.
"Grateful for the opportunity to work with VOILÀ," Owens adds. "Luke and Gus are both such incredibly talented artists, and it was truly an honor to be able to collab with them. Helps that they're also both super handsome. I'm looking forward to sharing the stage with them coming up on the Volume 1 tour here in a few weeks!
VOILÀ and Owens have treated us with a captivating behind-the-scenes video, exclusively shared with idobi. The footage showcases the trio working in the studio on their latest release, "Don't Say I Didn't Warn You." Check it out below!
Not only have VOILÀ and Owens joined forces on their latest project, but VOILÀ will also be accompanying Owens on his upcoming headline tour for four nights. Don't miss your chance to catch these talented artists in action on the following dates, and be sure to grab your tickets here.
Tour Dates:
July 5—Detroit, MI @ The Loving Touch
July 6—Chicago, IL @ Bottom Lounge
July 7—Milwaukee, WI @ X-Ray Arcade
July 8—St. Louis, MO @ Old Rock House