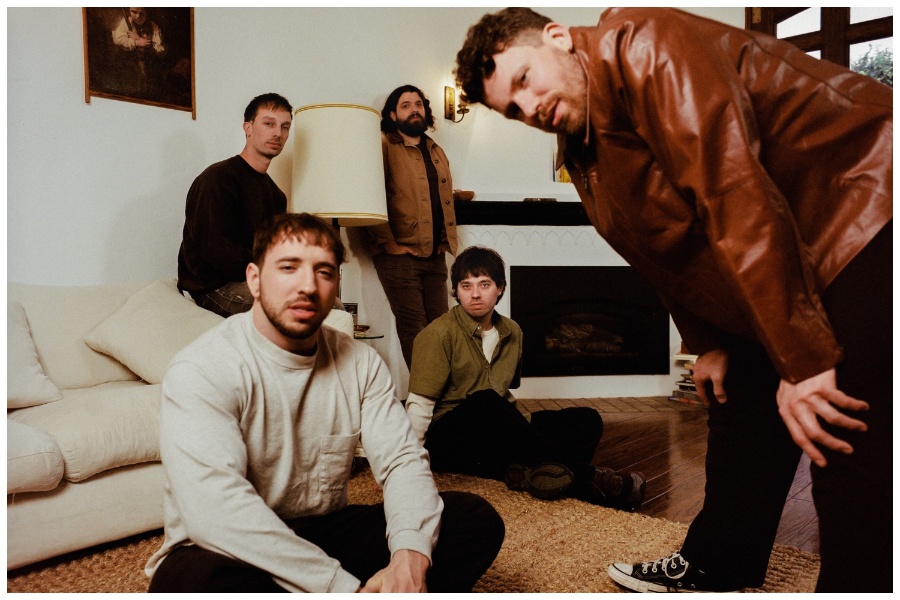 After dropping the earworms "If You're Lonely" and "Hyper Trophy," Citizen returns with a wave of nostalgia in their latest creation, "When I Let You Down." This musical journey down memory lane delves deep into the delicate art of recognizing the moment to release the past and embark on new chapters in life. Each single is building up momentum toward the band's forthcoming full-length album, Calling The Dogs, set to drop on October 6.
Brought to life by a distinctive bassline, groovy guitar work, and propelling drums, "When I Let You Down" emerges as a potent and uplifting anthem despite its central theme. The track seamlessly fuses the unbridled vitality of rock with emotionally authentic lyrics, amplified by Mat Kerekes' expressive vocal delivery. The interplay of these elements creates a soundscape that envelopes listeners and encourages them to reflect on the song's message of letting go and groove to its infectious rhythms.
Sharing a deeper look into the track, Kerekes shares, "When you talk to an old friend, and they can only say, 'remember when,' it makes me really sad. It's a very subtle way of showing the friendship has died. Some people are a bit lost in life, and this song is to encourage them to move on from the past and make new memories.
Citizen is gearing up for an extensive headlining run across North America, slated to commence in October just before their back-to-back performances at When We Were Young Fest in Las Vegas and extend through late November. Following this, the band is set to take their act overseas in February 2024. Check out their full touring schedule and grab tickets to experience the Ohio natives live this fall.
Tour Dates:
Oct. 18—Indianapolis, IN @ HI-Fi Annex
Oct. 21—Las Vegas, NV @ When We Were Young Festival
Oct. 22—Las Vegas, NV @ When We Were Young Festival
Oct. 24—Phoenix, AZ @ The Van Buren
Oct. 25—San Diego, CA @ Observatory San Diego
Oct. 27—Los Angeles, CA @ The Novo
Oct. 28—San Francisco, CA @ Great American Music Hall
Oct. 29—Sacramento, CA @ Goldfield Roseville
Oct. 31—Portland, OR @ Aladdin Theater
Nov. 1—Seattle, WA @ Neumos
Nov. 3—Salt Lake City, UT @ Soundwell
Nov. 4—Denver, CO @ Summit
Nov. 5—Kansas City, MO @ recordbar
Nov. 7—Austin, TX @ Mohawk Austin
Nov. 8—Dallas, TX @ Trees
Nov. 10—Nashville, TN @ Eastside Bowl
Nov. 11—Atlanta, GA @ Hell at The Masquerade
Nov. 12—Tampa, FL @ The Orpheum
Nov. 13—Ft. Lauderdale, FL @ Revolution Live
Nov. 15—Carrboro, NC @ Cat's Cradle
Nov. 17—Washington, D.C. @ Black Cat
Nov. 18—New York, NY @ Warsaw
Nov. 19—Philadelphia, PA @ Brooklyn Bowl
Nov. 21—Boston, MA @ Big Night Live
Nov. 22—Pittsburg, PA @ Mr. Smalls Theatre
Nov. 23—Toronto, ON @ Danforth Music Hall
Nov. 24—Cleveland, OH @ The Roxy
Nov. 25—Detroit, MI @ St. Andrew's Hall
Nov. 26—Chicago, IL @ Concord Music Hall
Feb. 6, 2024—Glasgow, UK @ St. Lukes Church
Feb. 7, 2024—Leeds, UK @ Project House
Feb. 8, 2024—London, UK @ Electric Ballroom
Feb. 9, 2024—Bristol, UK @ SWX
Feb. 11, 2024—Berlin, GER @ So36
Feb. 12, 2024—Hamburg, GER @ Knust
Feb. 13, 2024—Copenhagen, GER @ Beta
Feb. 15, 2024—Cologne, GER @ Club Volta
Feb. 16, 2024—Eindhoven, NL @ Dynamo