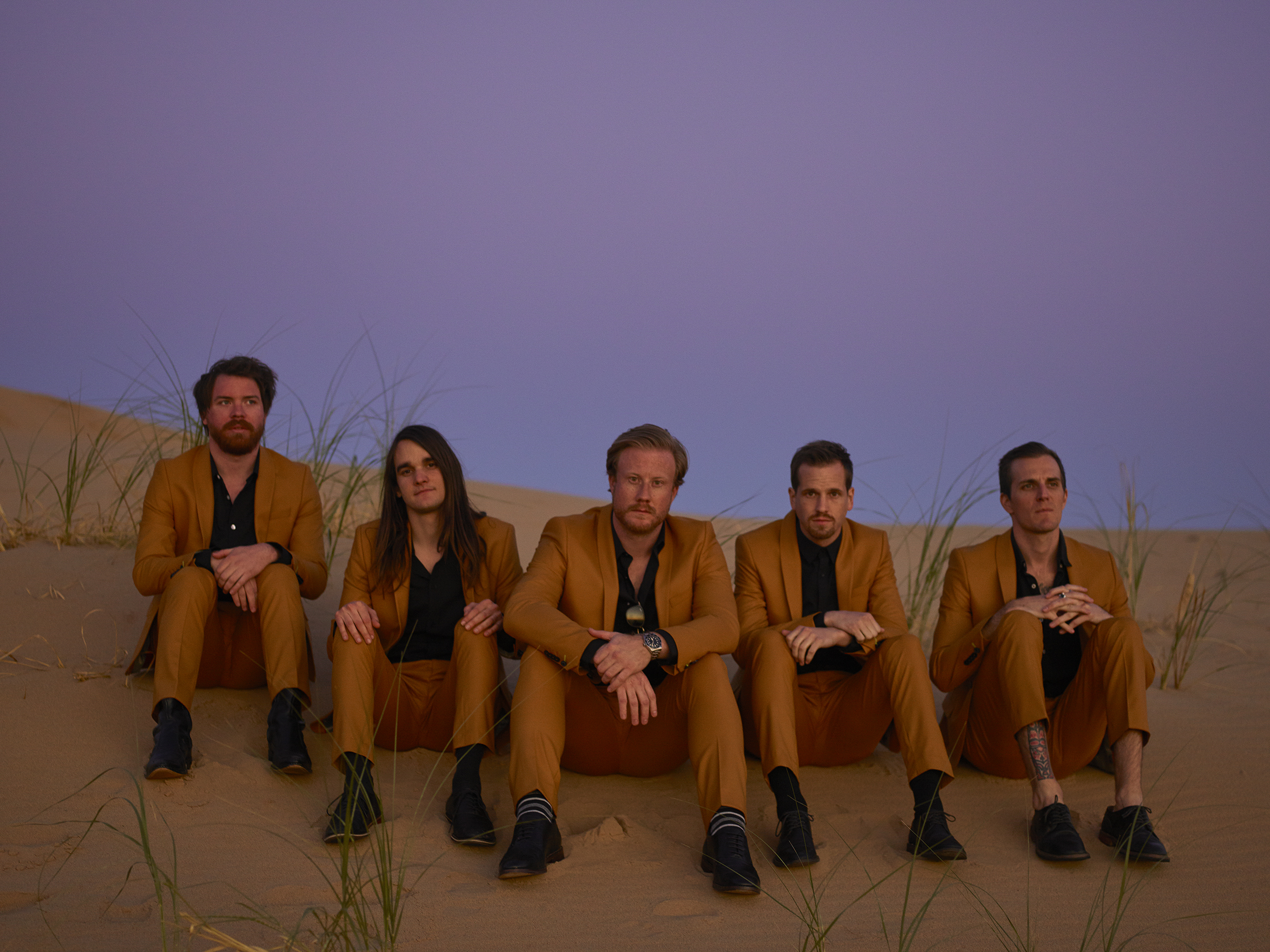 Not every band can release a song on a Wednesday, then have everybody in the audience scream each word back at them live on the following Friday. And not every band can put together a festival in their hometown and bring in fans from around the world in the middle of January. But The Maine is not like every band.

"We've been so fortunate and lucky to experience what we have," says vocalist John O'Callaghan. We're sitting in a building inside Civic Space Park in Phoenix, AZ on the second day of 8123 Fest. Through the windows, This Century plays to a large crowd—the band has reunited for two performances this weekend (they're also playing a solo show on Sunday night at the Crescent Ballroom). "We're trying to open that world up even more and let people in."

This is the second time The Maine has hosted their own hometown festival. The first 8123 Fest, back in January 2017, saw nearly 2000 fans come together in a parking lot. Two years later, they've sold more than 4500 tickets and have taken over a public space in the middle of the city.

"The last time felt more like a Warped Tour show, where this one feels more like an actual event," says O'Callaghan. "We wanted to give [fans] a taste of downtown Phoenix and what it's like to be from Arizona."

He still sounds a little hoarse from the show the night before at The Van Buren, a local venue that hosted over 1000 people, but O'Callaghan is excited for the big set tonight. "That's the climax to me. That's what the whole thing hinges on," he explains.

The previous night kicked off the festivities, which the band jokingly refers to as "Emochella". The majority of the setlist was based on fan requests via an online poll and I joke that voting for my picks were some of the hardest decisions of my life. O'Callaghan laughs. "This is what people want to hear," he says. "We let them speak…It's pretty neat to be able to do things like that." The set included b-sides and their gorgeous cover of "Girls Just Wanna Have Fun" but, in a gutsy move, The Maine kicked off with a live debut of their new single "Numb Without You". "Last night blew me away with people singing to the new song," says O'Callaghan, visibly moved by the reaction in such a short span of time.

When The Maine announced this year's 8123 Fest they got a huge response. Passes sold quickly. Fast forward to January and suddenly Arizona is flooded with people sporting swag emblazoned with "8123" or "The Maine". It's sunny, about 70 degrees, and the Civic Space Park is full of the perfect photo ops. There are cardboard booths that celebrate previous albums: a gold splattered wall for Can't Stop Won't Stop, the famous "M" in spray paint for Black & White, and roses for Lovely Little Lonely. Giant banners hang either side of the stage with a massive 8123 logo. There's even a yurt they call the "(Un)lost" Tent. You can also get themed drinks with names like "I Must Be Drinking" and "Another Night on Margaritas" served in commemorative plastic cups: either a black one featuring the fest's logo or a white one that informs people "I partied way too hard with John Ohhh" (guess which one I got).

Because they knew people were coming from around the world—many fans traveled from different states, there's a contingent of Canadians (including myself), and a host of people from outside of North America—The Maine and their management, 8123, pulled out all the stops to make sure this was the best weekend ever. From that Friday night show at the Van Buren, to the stacked line-up at Saturday's full-day fest, to the free meet & greet on Sunday, everything has been curated to appeal to the fans.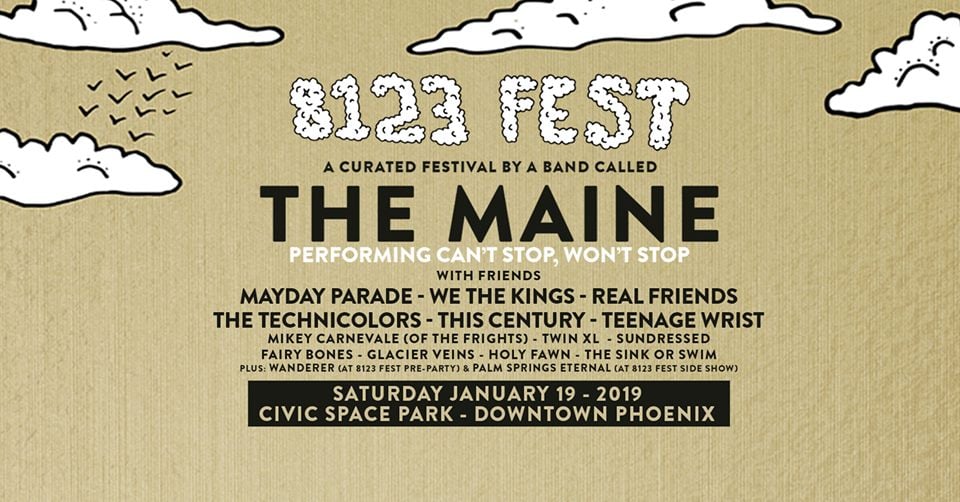 "We knew that there were crazy amounts of people traveling from outside of the states so we wanted to make sure it was centralized," says O'Callaghan on deciding to bring the main event to a public park. "We just felt like we'd have more of an opportunity in a bigger space and we could have a bigger lineup…really just try to make it more of a community feel."

"Honestly, this lineup is crazy to me," he continues. "We're friends with all of the bands, we're just hyped they agreed to it." The main stage lineup includes appearances from Mayday Parade and We the Kings, while this year also sees the inclusion of a smaller stage for local/up-and-coming bands like Fairy Bones and Holy Fawn. But, of course, the moment everyone is waiting for is The Maine's turn on the stage, where they'll play their debut album Can't Stop Won't Stop in full.

"I'm really happy with the way we forced ourselves to stay pretty true to the whole record," says O'Callaghan, leaning back in his chair. "I programmed a lot of beats and a lot of sequence tracks that feel like us at nineteen. For some people, that's who our band is and it's their favorite record and I totally get that."

The Maine has changed so much since they first released Can't Stop, nearly eleven years ago, and O'Callaghan doesn't believe in re-recording old songs to fit their current style. "There are clearly songs that people relate more to than others. It's part of who we are, it's in the DNA. We've messed with structures and arrangements, we took some of that programming out and it sounds a little more like what we're doing now. My big thing was that we're only doing it once and so many people are coming to watch it, so let's just give them the record and appease them this one time and then we can maybe go and mess it up," he adds with a smile. "I wanted to stay true to what it was."

"It'd be weird if that was our favorite record. My favorite record is whatever the most recent one is because that's what you're so hyped about and that's what you just invested a year or so of your life doing."

Two days before the fest kicked off, The Maine released their new single along with details of their upcoming album You Are Ok. They've been saying their seventh full-length will be their most ambitious one to date and O'Callaghan is excited for people to hear it when it comes out in March. If there's one track in particular he can't wait to share, it's the opener "Slip the Noose". "We didn't want to put that song out before the record comes out because we wanted there to be something to look forward to," says O'Callaghan. "On Can't Stop, we released "Everything I Ask For" first and it opens the album. So when you've heard it for two months, it's like 'alright, next'. The opener is a good representation of the ambition that went into it all—us manipulating our whole approach and just trying to make a larger sounding record."
"The first two records, we were on a record label so we just had a taste of what it was like working with big shot producers and working with people that wanted to tell us how to do things," he reflects. "After that, it was like fuck that, we don't want to be big. We just want to build something special and rapid– This was the first time since that where we're like, let's make a high fidelity record—something that can sound modern but sounds like something hopefully a couple of years in the future and not just what's happening now."

To help them achieve this new effect, The Maine reached out to someone outside their core group for the first time. "The most special thing to me [this time] was hearing the strings that I created on my computer, hear them come to life by sending them to somebody who actually composed and arranged them. I never got that experience until record seven," says O'Callaghan. "It's something I can't explain. I remember hearing it for the first time–", he pauses for a moment to gather his thoughts. "There really isn't a way to articulate what it was I felt, it just felt bigger than me. It was somebody creatively adding to us. We've been five people for so long and we've only been able to go as far as the five of us and our talent can take us. So to hear him and his team add these strings was really special."

O'Callaghan is also looking forward to playing the last track from Can't Stop, "We'll All Be". "That's what this is all about, this is about my friends and my experiences growing up. It's pretty crazy seeing 8123 up [beside the stage] and knowing where that came from and what it means to me." I show him my own 8123 tattoo and he nods. "It's not just mine and my buddies' anymore. That's what so special about it all, it's not just us—we built something that people feel they can add to and be a part of and call their own."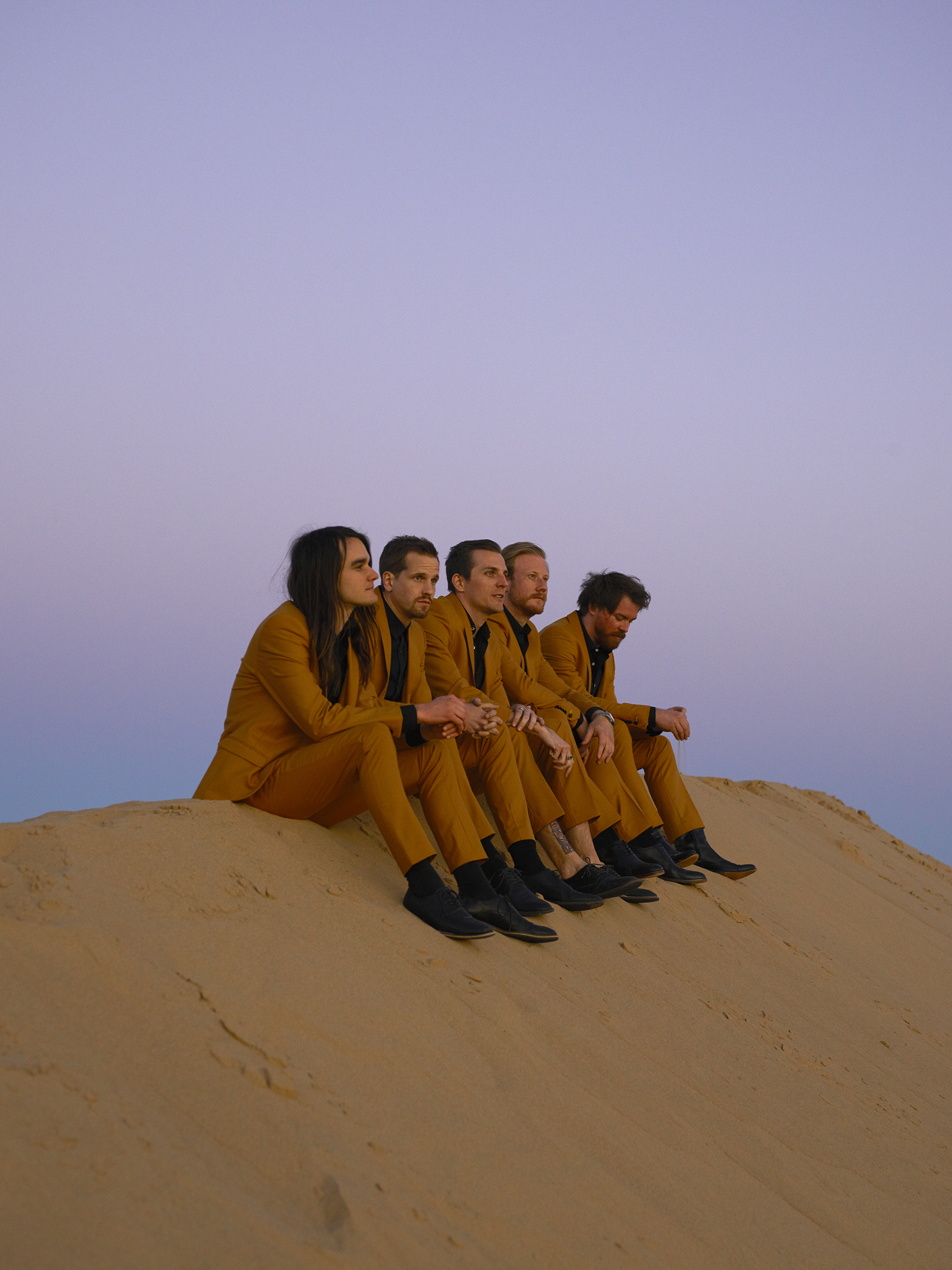 For The Maine, that feeling of community has always been a big part of what they do. They treat their fans like family—the last day of the fest will have them standing outside for nearly five hours to meet and hug everyone—and they just opened a store in Phoenix. The owner is the same guy they rent their studio from in Mesa and he was happy to give them the space for a year. "We decided that we're going to run our operation out of there and Tim [Kirch] will work in the back in the office," O'Callaghan explains. "And we'll have it for acoustic shows and stuff like that—if bands want to do in-stores or sell their records. Create more of that community vibe. Get a sliver of this…," he gestures, encompassing the festivities going on outside our window, "and still have it exist while this is gone (hopefully not for another two years)." One thing they'd love to do, would be to bring some sort of mural to the physical store or even recreate their famous "M" wall as a literal touchstone for fans but since it's just a rented space, "We're in talks," he laughs.

As we wrap up, O'Callaghan takes a moment to thank the fans who've been with them—whether it's been twelve years or twelve days—and who allow them to do something as ambitious as hosting their own festival (twice). "I say it all the time, how thankful we are for everyone's support and for us to be able to do this. It takes so many people and so many willing ears and open hearts. We're just continuously thanking everybody. It's sincere gratitude for everything."

To use an obvious pun, The Maine's set at the end of the night is everything I ask for: Despite sounding like it was a written by a totally different band, you can't deny that Can't Stop Won't Stop is a fun album. Bassist Garrett Nickelsen jokes that he's only hitting about 80% of the notes from some of their more obscure songs. O'Callaghan and guitarist Jared Monaco take a few minutes to play a sweet version of "Whoever She Is"—just the two of them. Some songs are accompanied by pyrotechnics on stage that light up the night. As is tradition, they invite someone onstage to sing part of "Girls Do What They Want" but tonight's guest is someone very special to the band. His name is Richard and he was at their first ever show twelve years ago. O'Callaghan anecdotally informs the crowd that Richard was also their first friend on MySpace. It's a cute funny moment amongst all the screaming, dancing, and probably more than a few tears.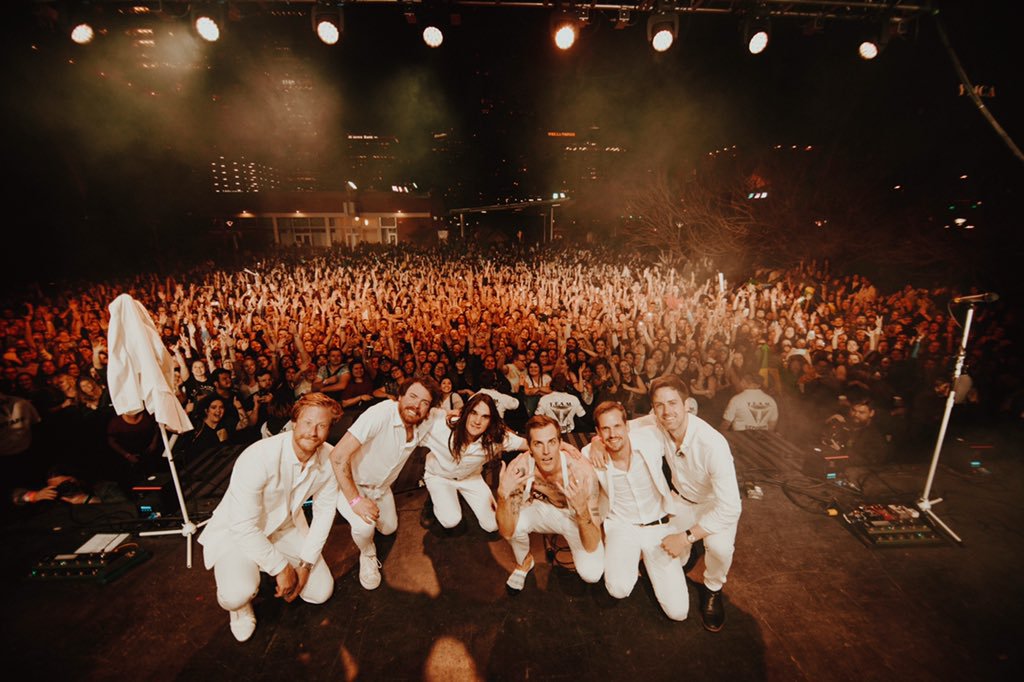 After playing Can't Stop Won't Stop in full, they bring out fan favorites like "(Un)Lost", "Love & Drugs", and "Black Butterflies & Deja Vu" and everyone screams along to the new single. Towards the end of the set, O'Callaghan bellows "This is the greatest night of my life" into the microphone and if the crowd wasn't already at fever pitch, his words send us right over the edge.

The Maine ends the night with a triumphant rendition of their anthem "Another Night on Mars" and, as O'Callaghan jumps into the crowd for the last chorus, there's a ripple effect across the park. It doesn't matter if you're in the front row or stuck behind someone taller than you or squinting from the other side of the park. There's a sense of togetherness and belonging you can't get just anywhere and it's truly one of the greatest feelings. It can be summed up by the words on the banners that bracket the stage: "Whatever you are, however you are, wherever you are, you are 8123 & you are ok." Not every band can make you feel such a strong sense of rightness after a set…but The Maine is not like every band.