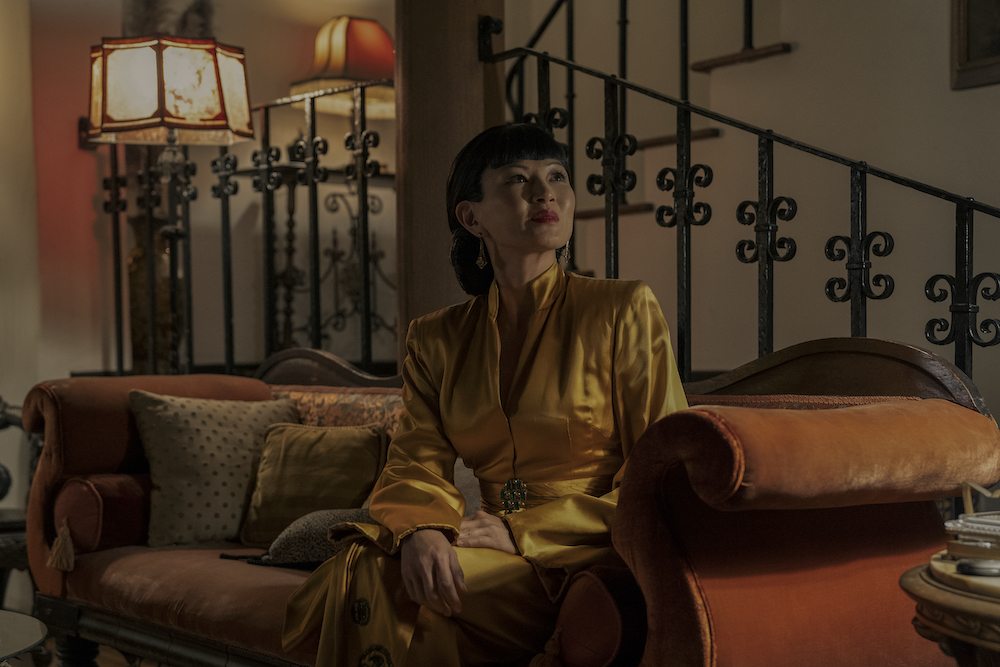 May is AAPIA (Asian and Pacific Islander American) Heritage Month, and many have noted that this year carries a heavier significance. Due to COVID-19 related racism, there has been a steep rise of hate crimes against Asians and a consequent increase in Asians experiencing mental health crises across the globe. 
As a Chinese American woman, I still worry about if it will ever be safe again for me to leave my house even after quarantine is over. Every day, I'm seeing news reports of people who look like my mom, dad, sister, or cousins getting their hair ripped out, their jaw dislocated, getting kicked in the back, or even stabbed in the face. And let's not forget the actual threat of the virus itself. Waves of anxiety are a constant in my life; with fear of being the next victim of a racially-targeted assault being layered on top of the ubiquitous miasma of pandemic stress.
But sitting here and stressing out over the news is probably not the best thing for my mental health. Many in the Asian American community are hoping to combat the negativity through education and through elevating Asian voices, so I've been engaging in self-care through binging some brand-new Asian-fronted/Asian-created content for AAPIA Heritage Month. I hope you'll join me!
—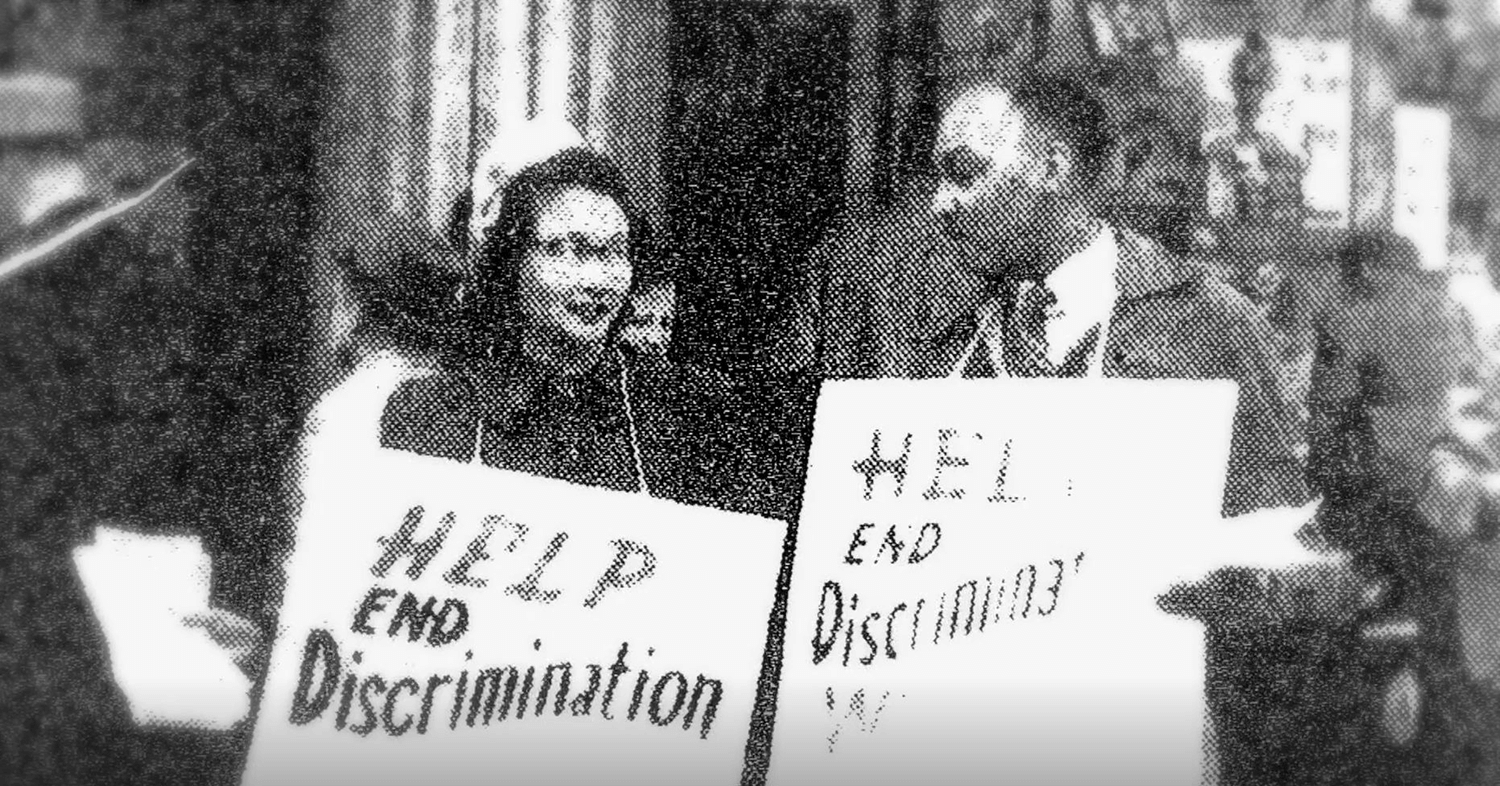 5 hour-long episodes. Premiered May 11th, 2020.
Narration: Daniel Dae Kim, Tamlyn Tomita
Producers: Renee Tajima-Peña, S. Leo Chiang, Geeta Gandbhir, Grace Lee
Streaming for free until June 8th, 2020, this documentary series is a crucial new milestone in Asian American history education. This series is not only timely because of AAPIA Heritage Month, but because learning Asian American history is more important now than ever due to the ignorance and prejudice that has spiked against Asian Americans in recent months. Asian Americans reminds us that anti-Asian sentiment actually has a long and deep history in the United States, regardless of the more recent "Model Minority" myth that has attempted to whitewash it. 
Covering a diverse array of stories while touching upon Filipino, Chinese, Japanese, Vietnamese, Hmong, Korean, and South Asian experiences in America; this is the most thorough and important chronicle of Asian American history to date. If you're like me and any mention of Asians in your high school U.S. History book amounted to roughly a chapter on Japanese Internment and barely a paragraph on Chinese Exclusion, then this should be on your Required Viewing list.
—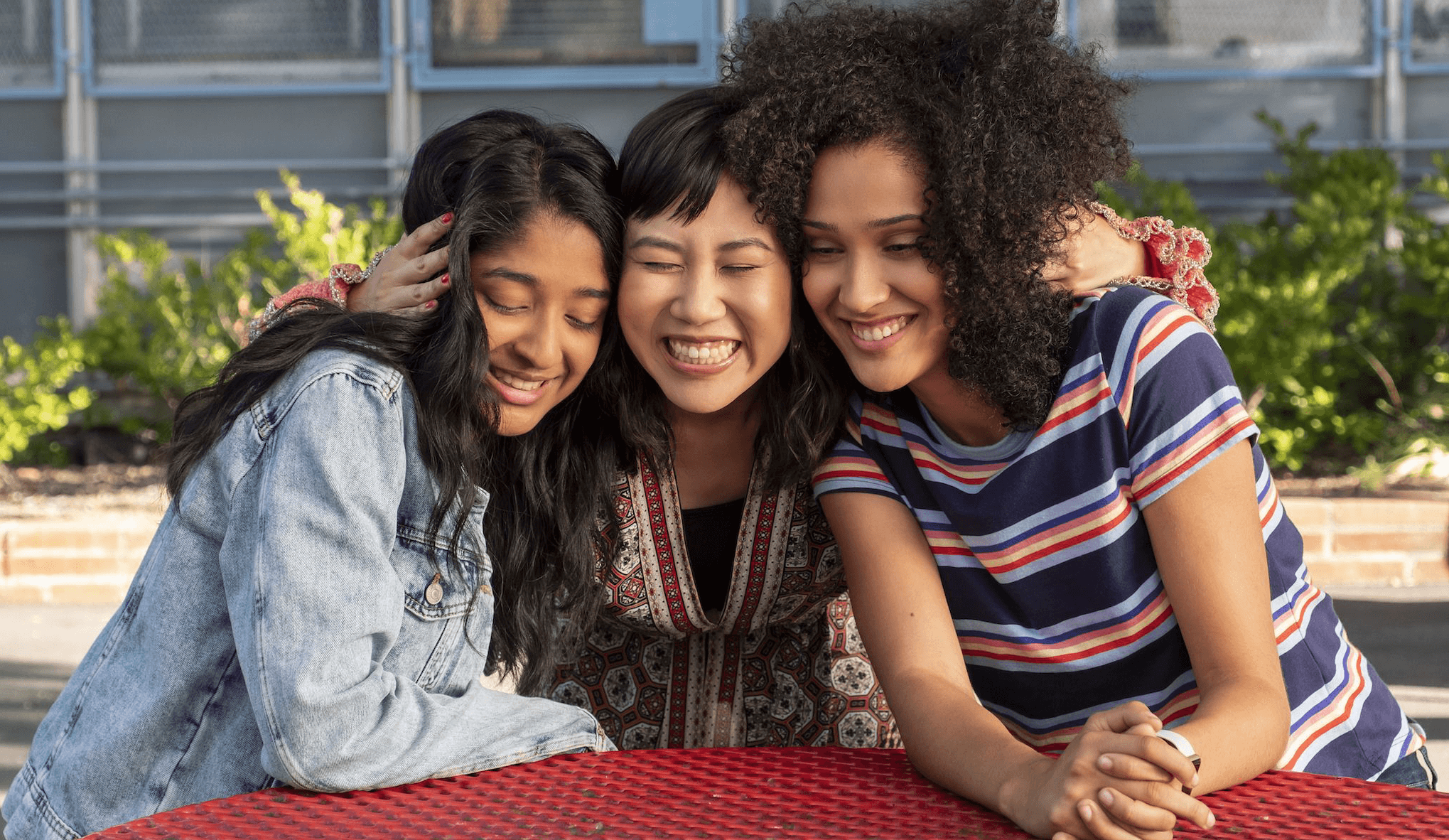 10 half hour-long episodes. Premiered April 27, 2020.
Starring: Maitreyi Ramakrishnan, Poorna Jagannathan, Richa Moorjani, Darren Barnet, Ramona Young, Sendhil Ramamurthy
Created by: Mindy Kaling
When I first sat down to binge this series I thought, 'Oh, It's like if Mindy Kaling watched 16 hours of Riverdale and went: I can do a teen show too!' but as the season progressed, the tone deepened and it became so much more than that. Never Have I Ever turned out to be an extremely well-crafted teen drama featuring the nerdy girl-friend dynamics of Booksmart crossed with a compelling love triangle akin to My So-Called Life. You know, except if Angela Chase was Indian and Jordan Catalano was half-Japanese, and it was just a whole lot funnier in general.
The series starts off with similar rom-com DNA to The Mindy Project (which Stephen Colbert once praised as having the highest joke-per-minute ratio on TV) and then gets deep, psychological, and emotional. Its depiction of grief and PTSD over the loss of a parent is shockingly authentic; as is the discomfort with one's own racialized identity while navigating adolescence in America. Not to mention, I absolutely loved the diverse representation of races, religions, disabilities, sexual orientations, and more.
—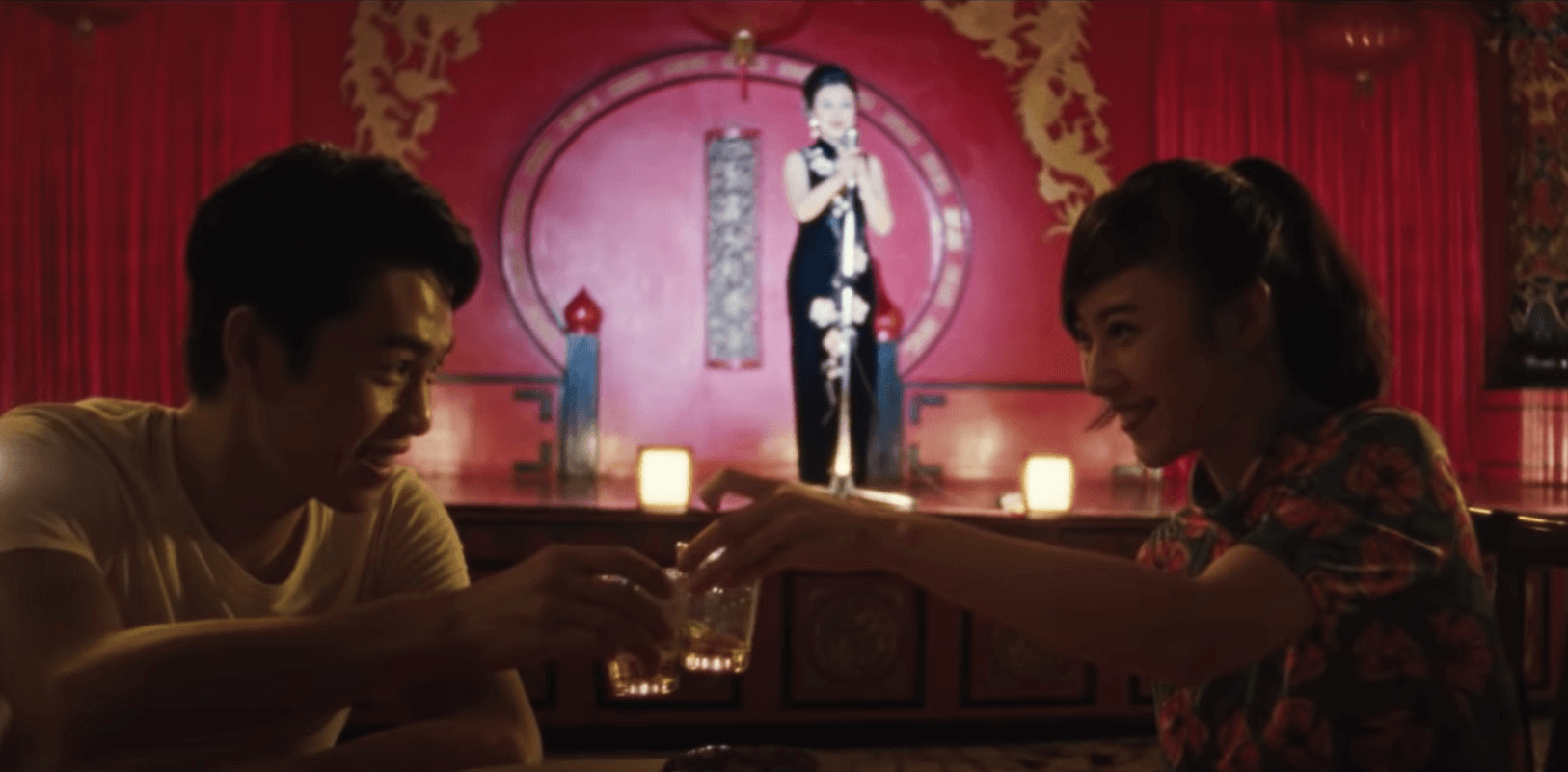 91-minute film. Premiered April 10, 2020,
Starring: Tzi Ma, Christine Ko, Lee Hong-chi, Kunjue Li, Fiona Fu, Yang Kuei-mei, Joan Chen
Created by: Alan Yang
Alan Yang brings the quiet moments of nostalgic longing from his critically-acclaimed hit, Master of None, and frames it with an artistry evocative of Wong Kar-wai's films. In this fictionalized retelling of his own father's immigration story through the character of Ping-Jui (Tzi Ma), we are shown shards and reflections of who this man was and what caused him to become the man he is.
Tigertail is a film of contrasts as stark and as beautiful as the stripes on its namesake feline. From the neon-saturated wild romance in 1970s Taiwan to the bleak impoverishment and loveless marriage of New York City in the same era, the disparities in Ping-Jui's life reveal the schisms in his own identity. Is he the passionate young man who wined and dined his date at the finest of restaurants just to run out on the bill with her, or is he the measured stoic who can barely carry on a conversation with his own daughter? The film is shot in alternating sequences between the past and the present, and the answer lies in Ping-Jui coming full-circle by taking his daughter back to his hometown of Huwei ("tiger tail") in order to share the side of him she'd never seen before.
—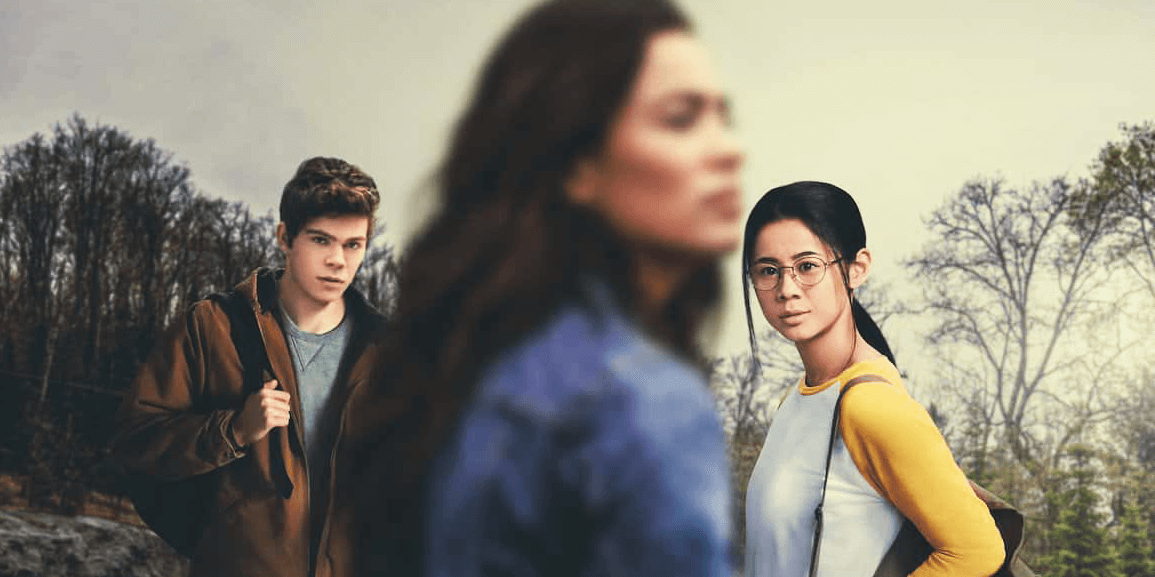 104-minute film. Premiered May 1, 2020.
Starring: Leah Lewis, Collin Chou
Created by: Alice Wu
A modern-day retelling of Cyrano de Bergerac, Alice Wu portrays the titular scorned poet protagonist as a queer Chinese-American teenager named Ellie Chu (Leah Lewis). The handsome-yet-dim love rival that Ellie helps by writing love letters is Paul Munsky (Daniel Diemer). And the object of both their affections is Aster Flores (Alexxis Lemire), a girl whose beauty undermines her intelligence and passion for art and poetry.
Whereas the original Cyrano's impediment that cursed him to a life of ridicule and unrequited love was his large nose, it's telling that the othering equivalent for Ellie Chu is the double-dose of her Chinese-ness and her queerness. Without spoiling it, The Half of It does resolve quite differently from its classical inspiration—probably not in the way you would expect but in a way that feels more realistic. The way Wu handles the adolescent awakening of Ellie's sexual orientation, and how that identity caused her affections to collide with others' feelings, certainly provides a fresh and authentic take on the classical love triangle.
—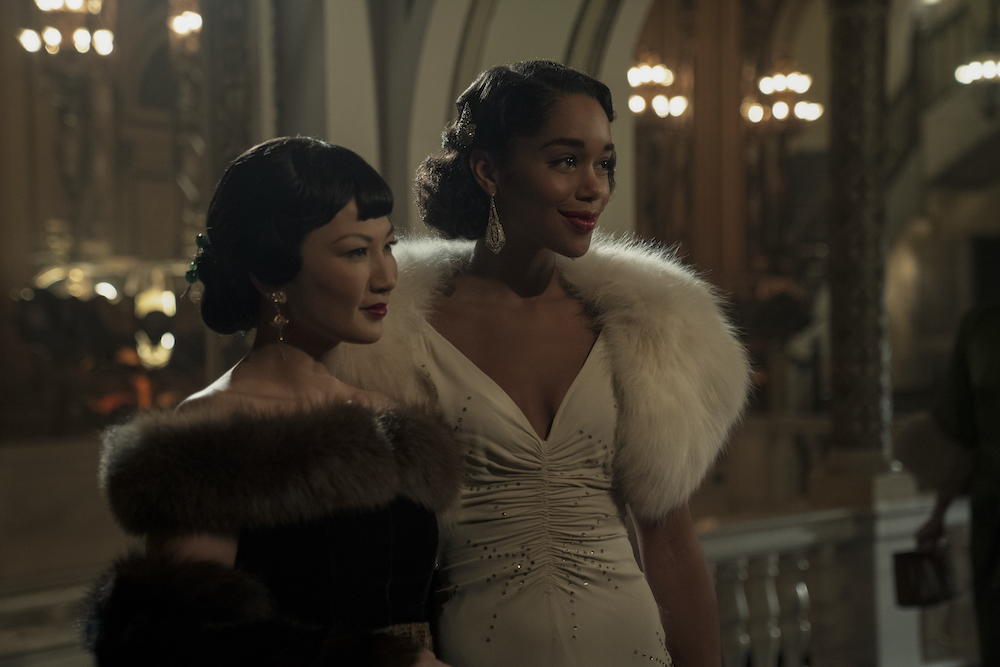 7 hour-long episodes. Premiered May 1, 2020.
Starring: Darren Criss, Michelle Krusiec
Other than being eye-candy for those who love the sumptuous Golden Age glam aesthetic, this series serves an alternate history of Hollywood where modern-day progressive ideals of diversity were able to take root early on. Darren Criss plays Raymond Ainsley, an idealistic white-passing half-Filipino director, who's passionate about elevating the talents of people of color, women, and queer people in Hollywood. (It's quite an impressive turn from his seriously-creepy previous role as real-life half-Filipino serial killer Andrew Cunanan (The Assassination of Gianni Versace: American Crime Story).
Overall, this series is fun if you don't think too critically about it—it all falls apart otherwise—but, boy, is it ever so satisfying to finally see Anna May Wong, the first Chinese American Hollywood movie star (played by Michelle Krusiec), finally overcome her real-life fate and receive the acclaim she deserved in her lifetime. During times like these, it's a small respite to just escape into a soft-focus "What If?" framed in a Vaseline-smeared lens every once in a while.
—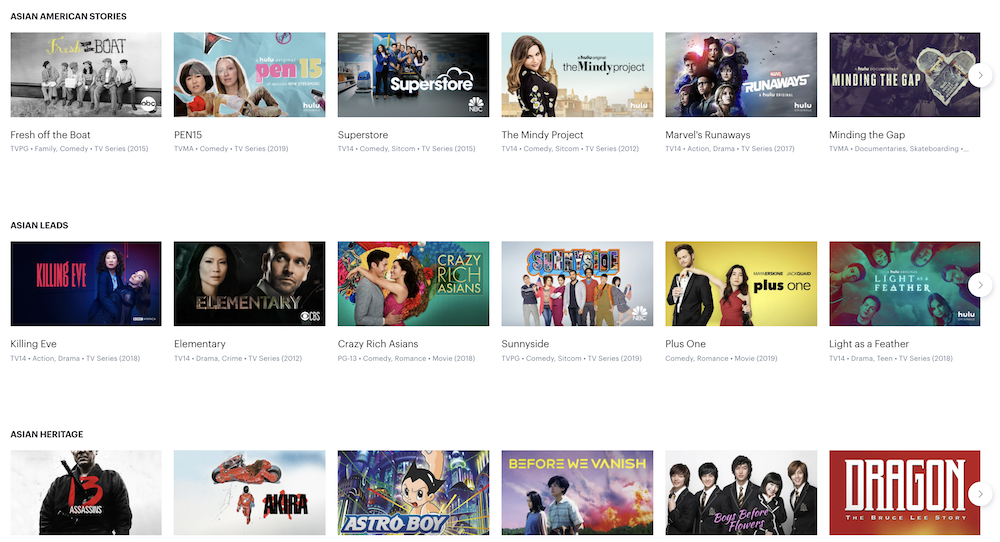 Even though Hulu didn't release any new Asian-fronted or Asian-created properties for Asian Heritage Month, they put out some TV spots and compiled a collection of all their Asian-related content. I'm giving an "A" for effort to their Marketing department, at least! There are some gems that are worth checking out: like the history-making sitcom Fresh Off the Boat, the hilariously relatable PEN15, or this year's Academy Award winner for Best Picture, Parasite.
---
Alice Meichi Li (李美姿) is a Chinese-American illustrator and writer who's originally from Detroit and currently lives and works in New York City. Follow her @alicemeichi.