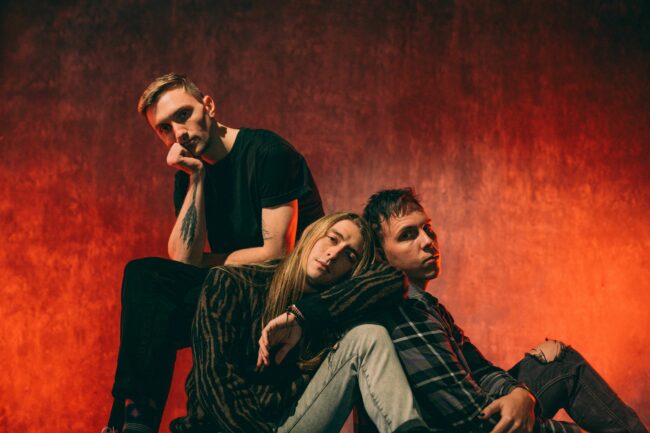 Arrows In Action are back once again with another new single gearing up for the release of their debut album Built To Last out May 26th. "Checking In" comes as the sixth single from the album and is lyrically a new venture for the group. They sing "And I know that the phone works both ways / But maybe I'm too scared to confront how we all changed" before really pulling at the universal experience in the chorus with "Just checking in, hey, how you been? / It's been too long, swear that I still exist / I missed your call, it's no one's fault / It was so much easier when we wеre kids". Anyone that is old enough to have graduated high school or college, perhaps moved to a different state, or works a full-time job can relate to this sentiment all too well.
The trio also released a new music video to accompany the song. The visual follows the band swamped in mundane day-to-day tasks, and battling the pressure to find the time to communicate with their loved ones. It has a very uplifting ending, so make sure to watch the whole thing. You can check it out below!
Arrows in Action also recently announced their first full US headlining tour, joined by Honey Revenge and Finish Ticket. The tour will kick off July 5th in Dallas, TX and sees the band hitting cities like Los Angeles, Toronto, Chicago, Seattle and more. Tickets are on sale now so check out the dates below and grab tickets here!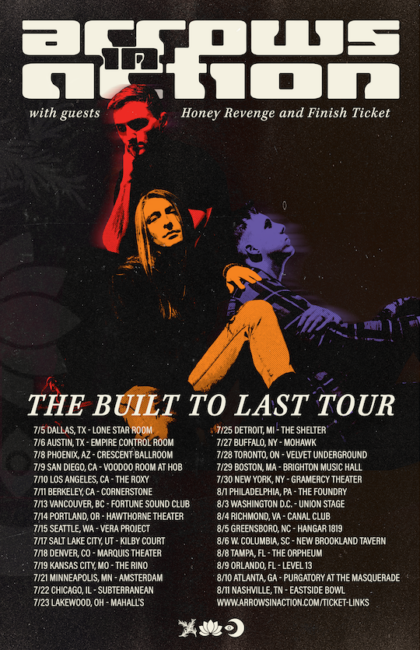 July 5 – Dallas, TX – Lone Star Room
July 6 – Austin, TX – Empire Control Room
July 8 – Phoenix, AZ – Crescent Ballroom
July 9 – San Diego, CA – Voodoo Room
July 10 – Los Angeles, CA – The Roxy
July 11 – Berkeley, CA – Cornerstone
July 13 – Vancouver, BC – Fortune Sound Club
July 14 – Portland, OR – Hawthorne Theater
July 15 – Seattle, WA – Vera Project
July 17 – Salt Lake City, UT – Kilby Court
July 18 – Denver, CO – Marquis Theater
July 19 – Kansas City, MO – The Rino
July 21 – Minneapolis MN – Amsterdam
July 22 – Chicago, IL – Subterranean
July 23 – Lakewood, OH – Mahall's
July 25 – Detroit, MI – The Shelter
July 27 – Buffalo, NY – Mohawk
July 28 – Toronto, ON – Velvet Underground
July 29 – Boston, MA – Brighton Music Hall
July 30 – New York, NY – Gramercy Theater
August 1 – Philadelphia, PA – The Foundry
August 3 – Washington, D.C. – Union Stage
August 4 – Richmond, VA – Canal Club
August 5 – Greensboro, NC – Hangar 1813
August 6 – W. Columbia, SC – New Brookland Tavern
August 8 – Tampa, FL – The Orpheum
August 9 – Orlando, FL – Level 13
August 10 – Atlanta, GA – Purgatory at the Masquerade
August 11 – Nashville, TN – Eastside Bowl