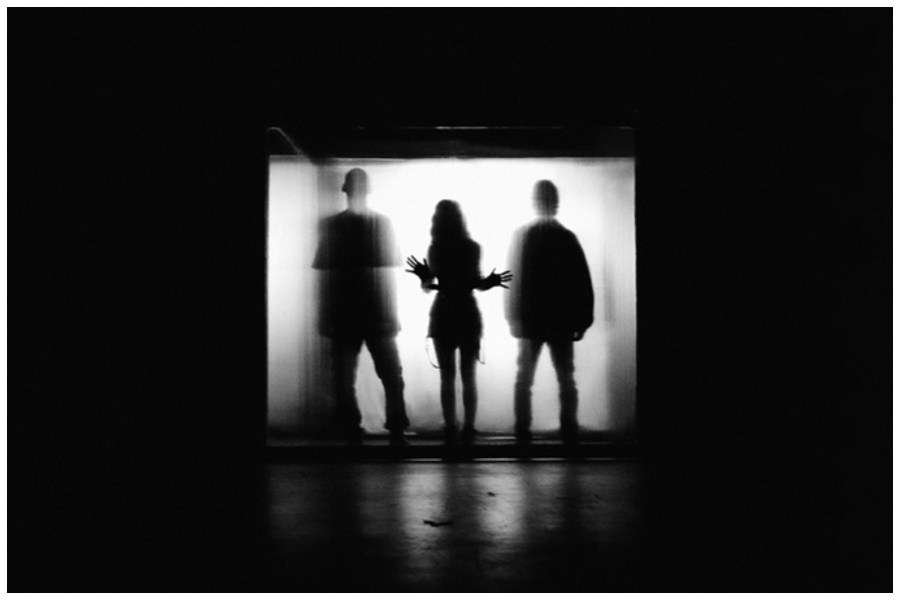 We all love a powerful frontwoman, and Against The Current's Chrissy Costanza fits the bill. The band's new single "silent stranger" introduces fans to their "nightmare era," which is chock-full of black and white imagery and a dark-pop edge that elevates their classic sound. It's all about shedding the persona they've created for themselves and the challenges of reclaiming their authentic identity. There comes a point when the reflection in the mirror looks like a complete stranger, which Costanza sings in the lyrics, "I know all the lies/I brought to life/Now I don't know how to be someone real/Hate that I fake the way that I feel." Its electric full-band arrangement adds to her words' poignancy and creates a dynamic worthy of a crowd sing-along.
The new single is paired with an artistic music video, symbolizing the self-reflective themes of the track through mirror imagery and a semi-transparent box. As is the case with all of Against The Current's visuals, the video is aesthetically pleasing, all while representing the experience of becoming a shadow of who you once were. Each band member's performance is cathartic and passionate, giving "silent stranger" a captivating new energy after watching.
Against The Current is celebrating their new music on their Nightmares & Daydreams 2023 World Tour! Performing in Latin America, Hawaii, Australia, Asia, and Europe, fans can catch the band playing a longer headlining set full of old and new bangers. Plus, they're bringing LØLØ and Call Me Amour along for the ride, which will make for a killer lineup of pop-punk and alt-pop vibes. Make sure you snag tickets to the band's international tour dates here.
Tour Dates:
Sept. 24—Honolulu, HI @ The Republik
Sept. 28—Fortitude Valley, Australia @ The Brightside Brisbane
Sept. 29—Marrickville, Australia @ Factory Theatre
Sept. 30—Thornbury, Australia @ The Croxton Bandroom
Oct. 1—Belgrave, Australia @ Sooki Lounge
Oct. 3—Adelaide, Australia @ Jive
Oct. 4—Perth, Australia @ Amplifier Bar
Oct. 6—Yongsan-gu, South Korea @ Nodeulseom Live House
Oct. 8—Manila, Philippines @ SM Skydrome
Oct. 12—Hong Kong, Hong Kong @ MacPherson Stadium
Oct. 13—Taipei, Taiwan @ Zepp New Taipei
Oct. 17—Singapore, Singapore @ Gateway Theatre
Nov. 10—Brussels, Belgium @ Ancienne Belgique
Nov. 11—Amsterdam, Netherlands @ Melkweg
Nov. 12—Lyon, France @ La Rayonne
Nov. 13—Zurich, Switzerland @ Plaza
Nov. 15—Vienna, Austria @ Simm City
Nov. 17—Munchen, Germany @ Neue Theaterfabrik
Nov. 18—Cologne, Germany @ Palladium Cologne
Nov. 20—Prague, Czech Republic @ Lucerna Music Bar
Nov. 21—Warsaw, Poland @ Proxima
Nov. 23—Berlin, Germany @ Festsaal Kreuzberg
Nov. 24—Hamburg, Germany @ Markthalle
Nov. 25—Frankfurt, Germany @ Zoom Frankfurt
Nov. 26—Paris, France @ Bataclan
Nov. 29—Nottingham, UK @ Rock City
Nov. 30—Manchester, UK @ O2 Ritz
Dec. 1—London, UK @ O2 Forum Kentish Town
Dec. 2—Birmingham, UK @ O2 Institute
Dec. 4—Glasgow, UK @ SWG3
Dec. 5—Belfast, UK @ Limelight
Dec. 6—Dublin, Ireland @ The Academy