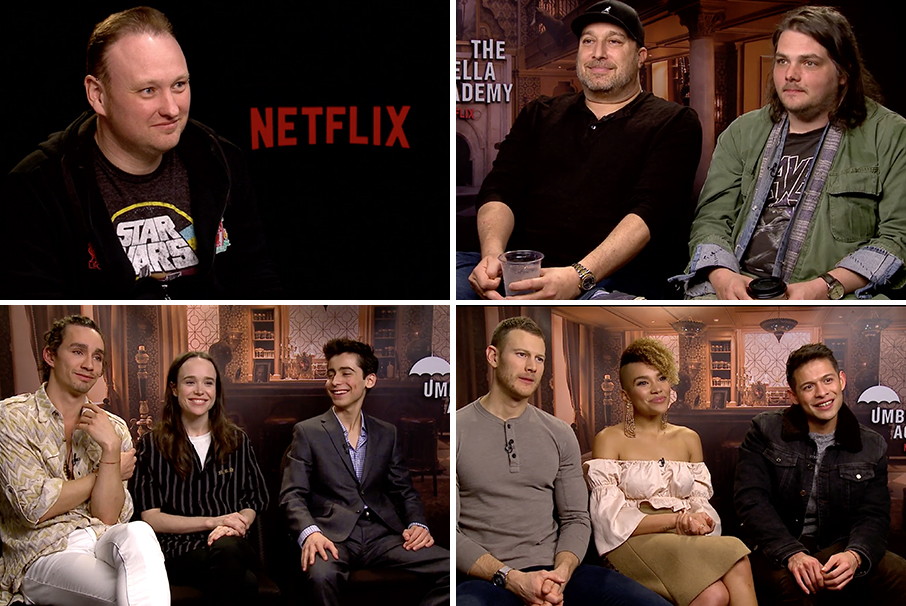 If you don't know much about The Umbrella Academy, it might be difficult to quantify the excitement for the new Netflix adaptation (Feb 15). Based on the award-winning comic book, created by My Chemical Romance frontman Gerard Way and illustrator Gabriel Bá, The Umbrella Academy isn't your average comic book. The Eisner Award it picked up is well-deserved. Much like Alan Moore with Watchmen, Way has taken the very basic idea of superpowered humans—like those many of us have loved for decades—and delved much deeper into the humanity of it all.

How would we cope if we were torn from our parents and raised in an alien environment?

We probably wouldn't be as well-adjusted as Superman.

What if we were the non-superpowered sibling in a superpowered family?

That's gotta sting.

Add adult themes—such as drugs, sex, and death (and there would be plenty of each thanks to the dysfunction) and you get The Umbrella Academy. This new Netflix show has successfully adapted it all. Hence its tagline: Superheroes, Super-Dysfunctional.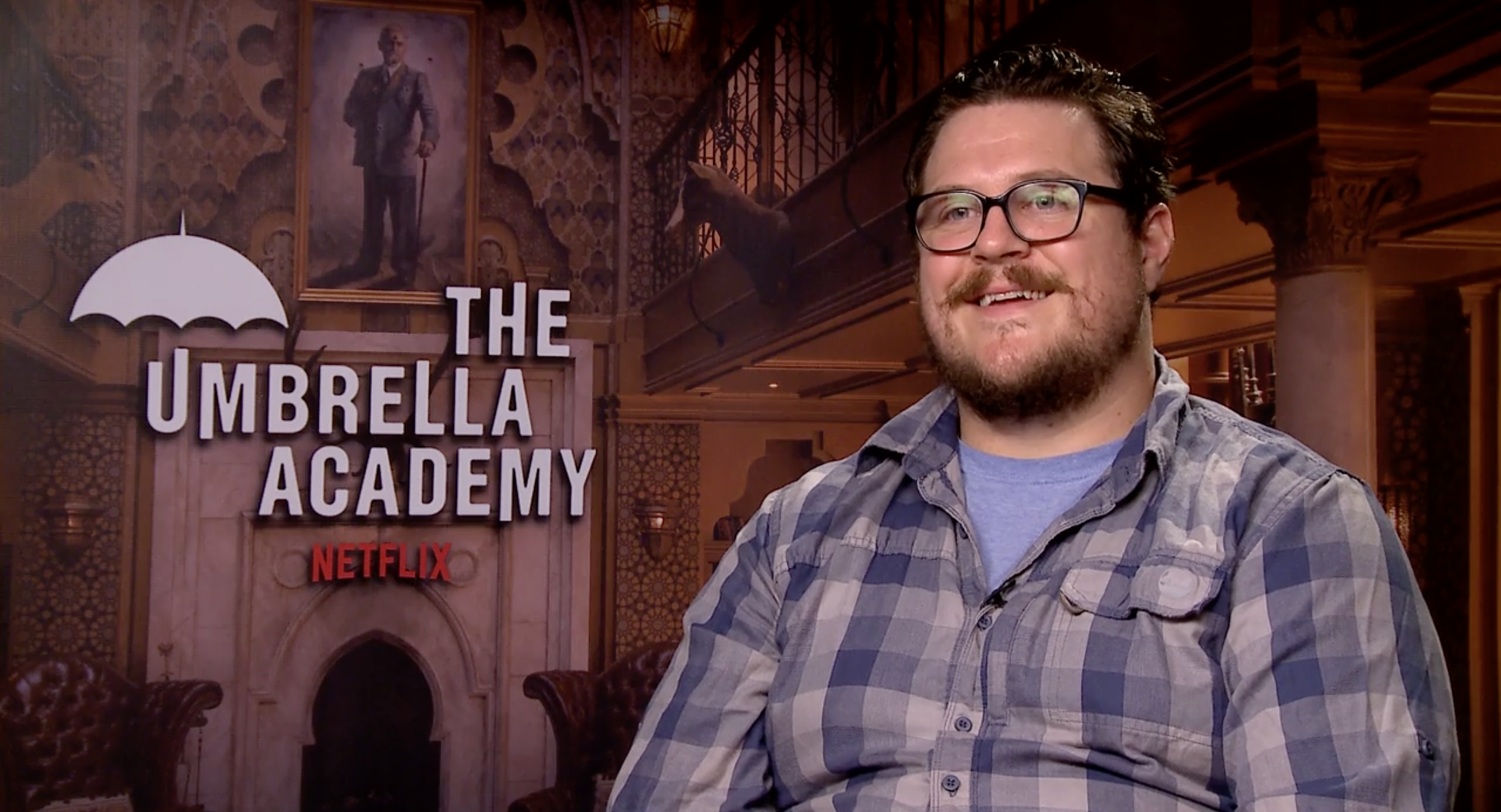 Cameron Britton
The comic is already beloved (and has earned Way a gig writing a Spider-Man title for Marvel) but many thought it near-unfilmable due to the complex themes and pitch black tone. Netflix has prior experience though. Their Marvel shows—Daredevil, Jessica Jones, Luke Cage, Iron Fist, The Defenders, and The Punisher—were some of the best examples of superhero TV, ever. (Alright, maybe less so in the case of Iron Fist, but still…) Placing these unbelievable beings in a very believable, gritty world was a masterstroke. Perhaps taking a glance at Chris Nolan's Batman trilogy, the darkness was and is infectious.

So that's why we were psyched to sit with a number of the cast and crew. Our first interview was with the amiable Cameron Britton, who plays hitman Hazel. This character, alongside Mary J. Blige's Cha-Cha, is key to the show, and further evidence of the exploration of humanity Way offers. Britton told us that he was attracted to the complexity of the Hazel character and the emotional turmoil that
he endures.

"I play Hazel, the assassin who loves donuts," Britton said in a statement. "He knows that he's not happy. At first he thinks that he's doing the world good but, as the years go on, he realizes that he's just hurting people."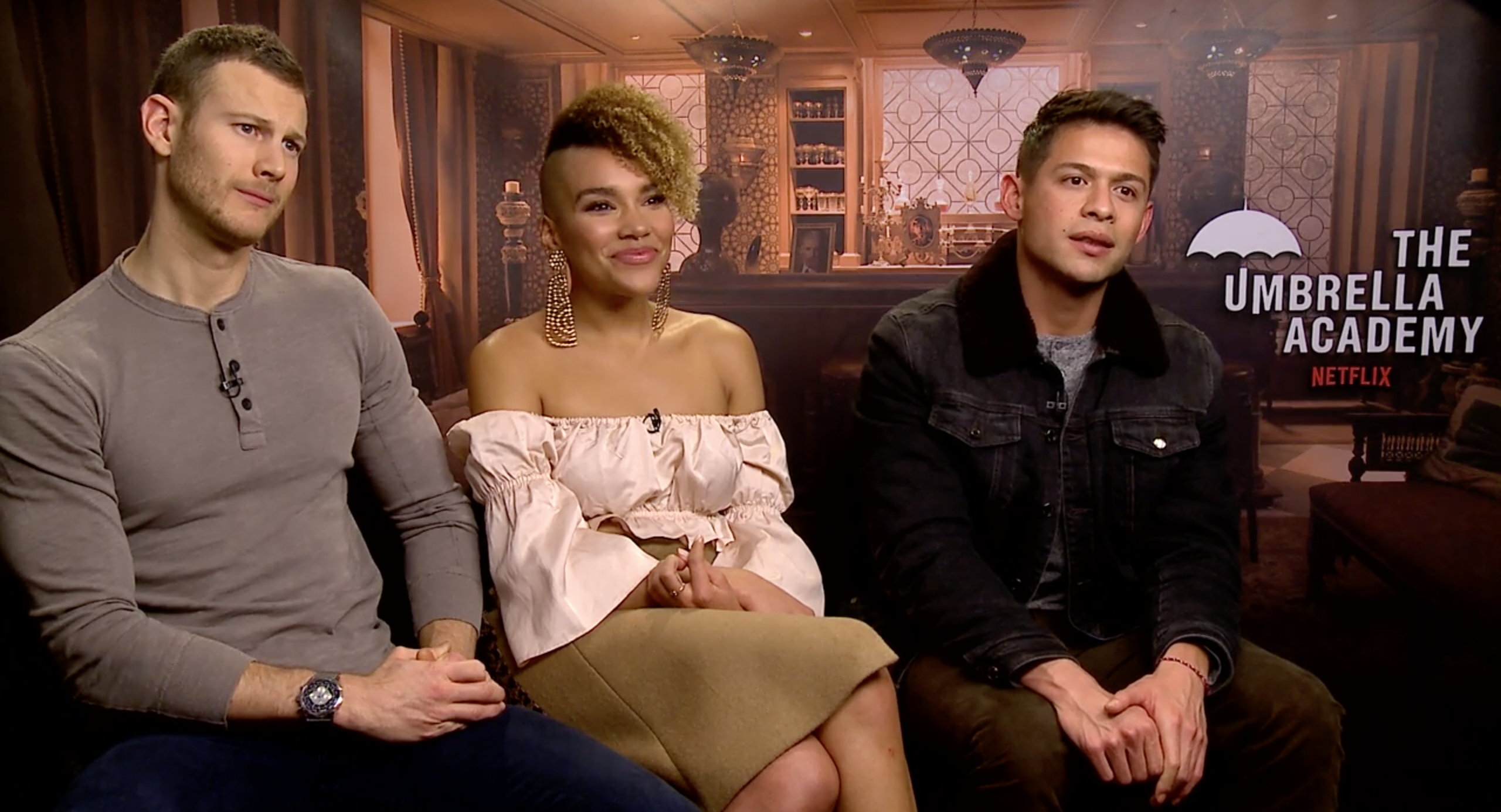 Tom Hopper, Emmy Raver-Lampman, David Castañeda
From assassins to siblings, it's worth noting Tom Hopper (Luther) is English so he immediately recognized that I'm a fan of Liverpool (the soccer club) from my hoodie. The other actors David Castañeda (Diego) and Emmy Raver-Lampman (Allison) couldn't figure out how he'd deduced such a thing and thought him some sort of magician. All three were charming.

Gerard Way and showrunner Steve Blackman were clearly excited to see their vision come to life, with Way admitting he couldn't help but envisage what a real-world version of his comic would look like, when he was initially conceiving of it. Blackman, he says, pretty much nailed it.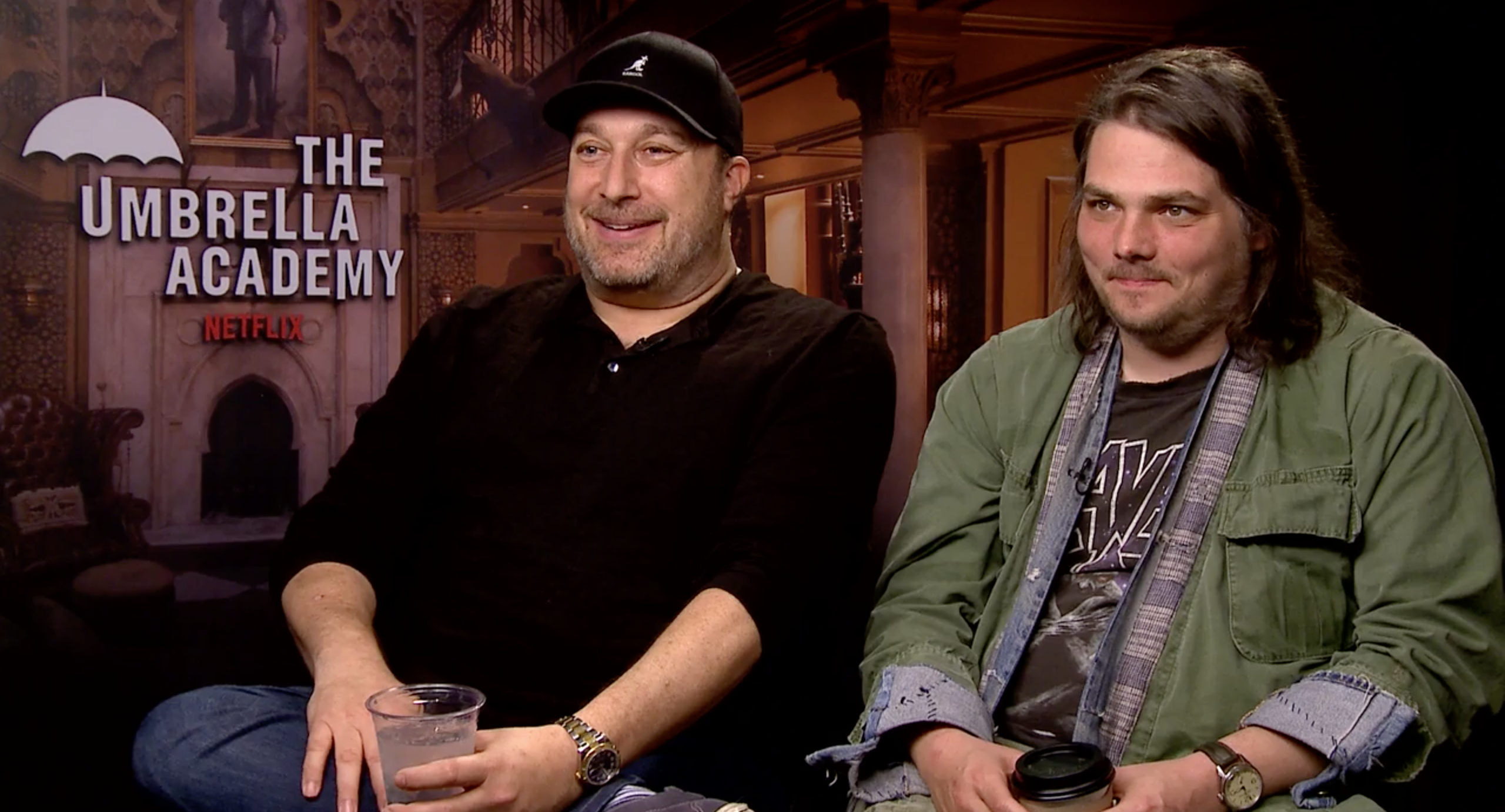 Steve Blackman, Gerard Way
I was most excited to sit with the wonderful and frankly badass Ellen Page (Vanya), as well as Robert Sheehan (Klaus) and Aidan Gallagher (Number Five). All but Sheehan looked drained by the time we got to them (the Irish actor was a bundle of energy and seemed to be, at least partially, still in character), but all were enthusiastic about their roles. Page said that she could relate to Vanya, while Gallagher admitted that he was a fan of the source material before reading the script.

I wanted to speak to Page about her experience interviewing Brazilian fascist Jair Bolsonaro. The fact there are no supervillains scarier than that asshole could have filled an hour, but we did speak about the contrast between mega-budget superhero characters—Page played Kitty Pryde in some of the X-Men movies—and their indie equivalents. Who can forget her turn as Boltie in Super? And now the character of Vanya aka The White Violin. It's funny to think about, because on the surface, the members of The Umbrella Academy are kinda a fucked up family version of The X-Men teams—with a twisted version of Professor X in Sir Reginald Hargreeves.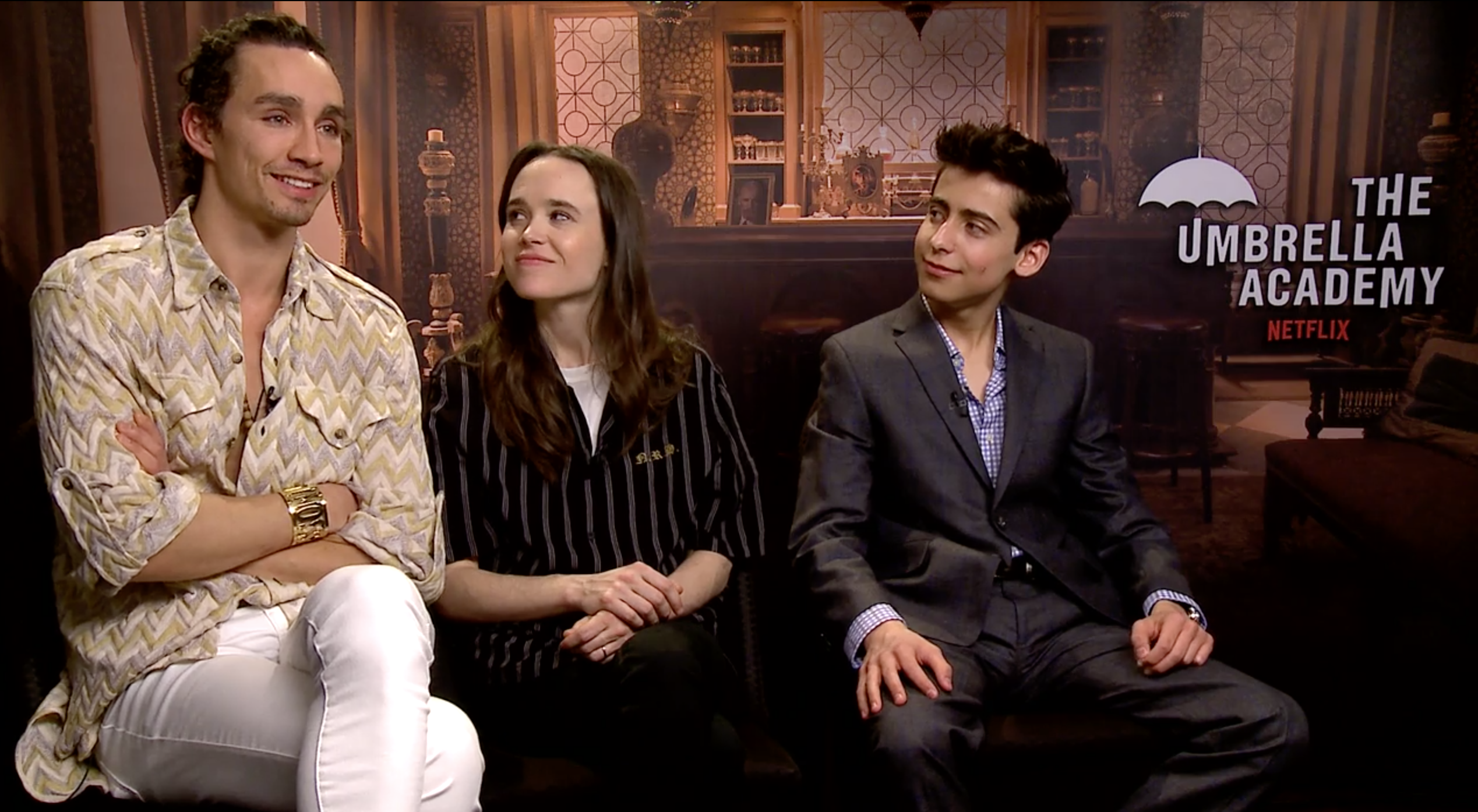 Robert Sheehan, Ellen Page, Aidan Gallagher
In the end, I'm looking forward to watching the whole series. The creative minds and passion of the people involved suggests the full season is going to be excellent—not to mention the source material is phenomenal. The review this very website published attests to that. Listen out for clips from the interview and watch this show.

The Umbrella Academy hits Netflix on Friday, February 15th.
—
Catch Geek Girl Riot's episode on The Umbrella Academy featuring interviews with Gerard Way and the cast on Tuesday night at 11pm ET!