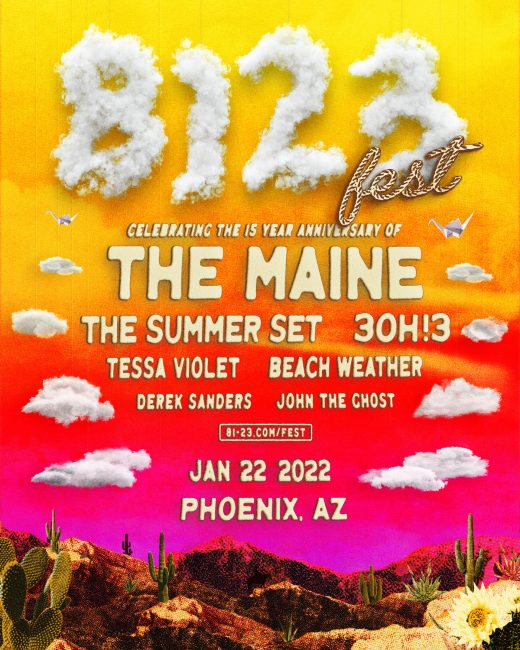 After being delayed a year due to the pandemic, 8123 Fest is making its return in January 2022. But the upcoming festival is going to be more than just the main festival date, fans can expect multiple side shows, a themed after party, and an opportunity to join in on a volunteer day. It's much bigger than simply attending another music festival, it'll give fans a chance to delve deeper into The Maine and where they grew up. 
The festival is set for Saturday, January 22nd at Margaret T. Hance Park in Phoenix, Arizona with events happening from January 19th through 24th. The full lineup will include The Maine, The Summer Set, 3OH!3, Tessa Violet, Derek Sanders (of Mayday Parade), Beach Weather, and John The Ghost.
It is without a doubt an exciting event to look forward to for fans and bands alike. Pat Kirch, drummer of The Maine, shared his feelings about the upcoming festival by saying, "The weekend of the festival is our time to have all things The Maine happen in one place. Coming together are our friends that we have toured with plus the fans that we have met from all around the world, all in our hometown where the songs were written and where it all started. We are so excited for the return of 8123 Fest!"
Tickets for 8123 Fest are on sale now. For more information and to purchase tickets head here.