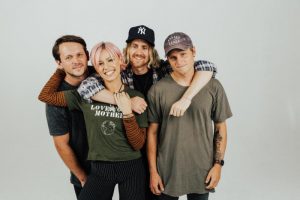 Tonight Alive released a statement saying that they will be cancelling their upcoming 2019 U.S. Headlining Tour.
The band writes that due to a "turbulent" year, that they will be cancelling all international touring plans and  as "a matter of the heart, mind, body and soul and hope you can accept our sincere apology to those we are letting down."
They go on to thank the fans for this chapter of their lives.
No real explanation if this is a "Hiatus," as we've seen bands do in the past, or just taking some time off so they can live their lives at home after touring a ton, or if they be working on other and new music material.  Either way, best of luck and we hope to see TA again rockin out on stage soon.
—
Personally I always had a great time with Tonight Alive – from seeing them on stage, to this past summer at the Vans Warped Tour, to them always being kind to me backstage.  I also felt that their last album never got the appreciation that it should have – I know they worked their asses off on it.
You can read the full Tonight Alive statement here.  
Tags:
Gunz
,
gunz show
,
idobi
,
idobi radio
,
The Gunz Show
,
Tonight Alive