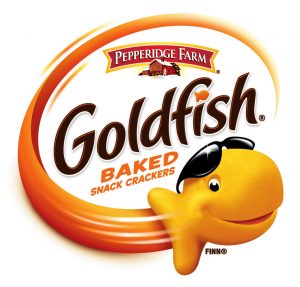 Well, they've done it.  I didn't think it was possible for essentially a cracker in the shape of a fish with some cheese to it could be food recalled, but here we are and there go the fishies, literally.
Normally food recall I'd think oh I dunno, chicken, or some sort of tainted beef, or things like Taco Bell lettuce containing freaking E.Coli!  (Remember that one?)
Now Pepperidge Farms says they are doing this because the f'n Goldfish crackers may have SALMONELLA.  SALMONELLA?  In a cracker?!  Yes, due to the type of Whey Powder they've been using as delicious fairy dust to make everything that much more delicious for us.
The recall is limited to only 4 brands – but they include the always delicious Flavor Blasted Xtra Cheddar!!!   That's one of the best ones and also the one that you probably have in your cupboard.  The other potentially Salmonella infected ones are: Flavor Blasted Sour Cream & Onion; Goldfish Baked with Whole Grain Xtra Cheddar; and Goldfish Mix Xtra Cheddar + Pretzel
But I mean what are the odds that you may have the a package that is part of the actual "Sell By:" recall that they say may be contaminated/
I kid you not.  I went to my snack drawer and pulled this out.  And the dates match up.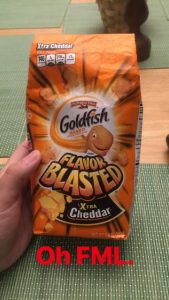 I ate like half the bag this past week.
So,  RIP IN PEACE, Gunz.
Because of Goldfish.  Apparently I would be healthier (and safer) if I ate a real goldfish, rather than Goldfish snacks.
Tags:
Food
,
goldfish
,
Gunz
,
idobi
,
idobi radio
,
snack recall
,
snacks
,
The Gunz Show