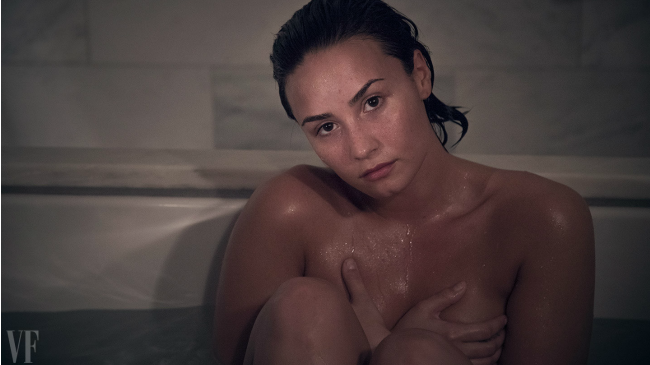 Pop culture icon Demi Lovato has been reborn from the ashes–a story you might already know, unless you live in a cave in the heart of Antarctica or have an allergy to supermarket tabloids. Her recovery has been a well documented whirlwind, and in her latest bold move she turned an interview with Vanity Fair into a beacon of hope by "stripping down" the typical photoshoot protocols.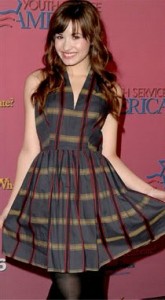 Prior to the Vanity shoot, Lovato was living a very different story. Rewind to November of 2010, seemingly fresh-faced and bubbling with opportunity, the actress/songstress had been a tabloid favorite for rumors of self-harm and destructive behaviors since her "big break" in 2008's Disney original movie Camp Rock. With quickly put together excuses of too-tight gummy bracelets when photographs of scars surfaced, and a smile that showed no hints of inner turmoil, it was easy to overlook the very serious reality that Lovato was fighting an array of wars within herself. For years, bulimia, mental illness, self-harm, and self-medication had plagued her life; meanwhile her public persona was giving off the idea of a flawless life filled with big birthday bashes, Hollywood premieres, and collaborations on and off screen with buds like fellow teen superstar Selena Gomez.
"Lovato is a clear leader in the pursuit of banishing body image issues, after fighting the toughest battle of her lifetime."
One of the deepest issues plaguing Lovato was her body image. With the staggering number of thirty million people in America alone suffering from eating disorders, it's time to acknowledge the problem. Lovato is a clear leader in the pursuit of banishing body image issues, after fighting the toughest battle of her lifetime.
After three months of treatment for her struggles at rehab facility Timberline Knolls Residential Treatment Center, Lovato didn't hold back on telling her story, showing her scars, or sharing the more difficult details of recovery. She was "staying strong", and it was time for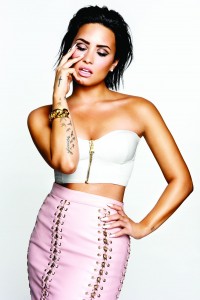 documentaries, an album titled Unbroken, and a comeback tour in unusually intimate venues for the stadium-selling popstar. Throughout the following years, there have been no signs of slowing down, with successful worldwide tours, the launch of her own line of skin care products, and two more albums on the books. One of the two collections is last month's Confident, an album stocked with lyrics to guide fans through their hardest, and strongest, moments. From forgiveness of her late father that never played the role she needed, to declarations of staying healthy and embracing her ability to love strong, every word is belted with the confidence she has cultivated over the years.
Lovato's latest photoshoot screams out audaciously how far she has come in her struggles. In light of her great-grandfather's passing, she'd decided it was time to be as honest as she could be, and gave photographer Patrick Ecclesine the opportunity to lead a rare kind of shoot in her hotel room. Nude. No makeup. No touch ups. An expression of realness, a courageous move, and more than anything, a testament to how far Lovato has come. The bravery to bare all isn't commonly found, and certainly isn't to be expected of someone who battled severe self image issues just a few years ago–which is exactly what makes it so damn important.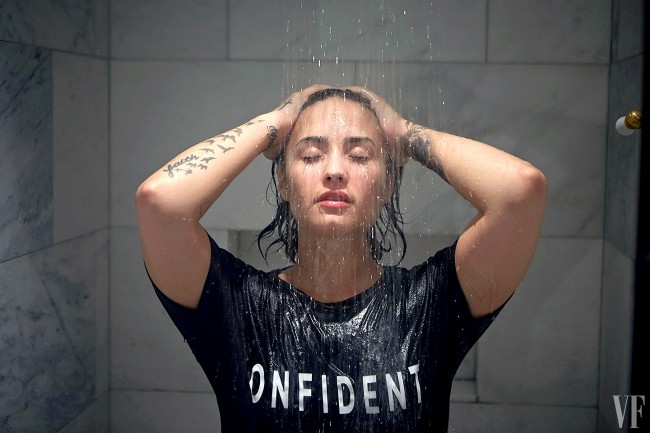 ". . . she's still a work in progress, and fighting every day to be better than she was."
This brave move wasn't an easy one for Lovato to make, as she told E!. "For someone who's had body image issues since they were a child, I went from hating every inch of my body to showing every inch of my body to the entire world and without touching up anything. I wouldn't have done that six months ago, because I didn't have the confidence that I do today," she confided, proving again that she's still a work in progress, and fighting every day to be better than she was. The unwavering authenticity has provoked a response of gratefulness from fans across the world, citing Demi as their inspiration and encouragement to find pride in themselves.
By stripping down to her realest form, she's given us a symbol of a fearlessness. Seeing Lovato in her completely natural state reminds us that no matter how far you feel you've gone, you can once again love yourself. It shows that all bodies are good bodies, and reminds us that the media doesn't often show us the real picture. It's not nudity for the sake of being naked, it's nudity for the sake of being honest. She's given us an aspiration and a quiet resilience. With enough effort and dedication, we can find just as much confidence in ourselves as the singer who now belts the words on her latest album with strength.
Tags:
Demi Lovato
,
Patrick Ecclesine
,
Vanity Fair