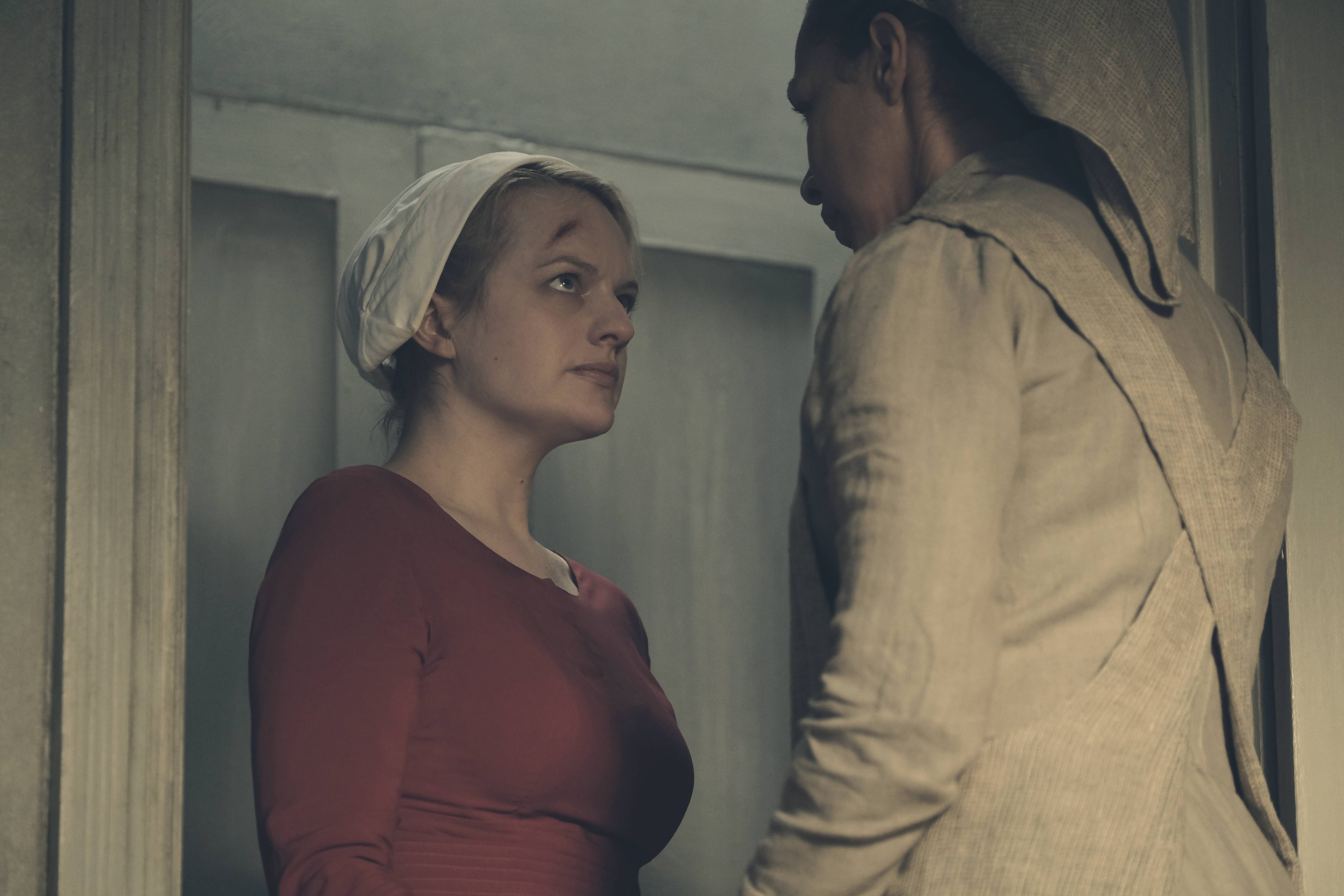 This week: The Handmaid's Tale, Blood Drive, Reign, Doctor Who, American Gods, Orphan Black
The Handmaid's Tale
'Night' Season Finale – Wednesday – Hulu
The most terrifying show on TV doesn't need horror to give us a chilling season finale. And just like any good suspense-filled ride, the last episode could give us one tiny ray of hope—and spark a revolution.
From Hulu:
Serena Joy confronts Offred and the Commander. Offred struggles with a complicated, life-changing revelation. The Handmaids face a brutal decision.
Blood Drive
Premiere – Wednesday @ 10/9c – Syfy
Blood Drive is the new Syfy show taking its title a little too literally. There's cars, there's action, and there's a whole lotta blood—enough geysers of it to put Quentin Tarantino to shame. This grindhouse-inspired show throws just about anything and everything into the mix—people-eating cars, monsters, cults, nymphomaniacs—which means it probably isn't for the faint-hearted…but if you're looking for something completely insane to take the edge off, this one's for you.
From Syfy:
It's a cross-country death race where the cars run on human blood. You lose a leg and you lose your head. Got it? Pucker up Buttercup, it's going to be a bumpy ride.
Reign
'All It Cost Her' Series Finale – Friday @ 9pm ET – The CW
The story of the young Mary, Queen of Scots, is reaching its end—and if it plays by the history books, we know how. But the show is always full of twists and turns, and we don't quite yet know just how the series will reach its finale. When Reign left off last week, both Mary (Adelaide Kane) and her cousin Elizabeth (Rachel Skarsten) were fighting their own battles, with drama, sword-duels, and wars primed and ready to test the ties of family more than ever.
From The CW:
Mary makes a decision that will change the course of history — forever shaping the fate of her nation, her crown, and her newborn son. Mary's perilous move for her survival causes the stunning realization that perhaps she is not the only one who may not survive. Meanwhile, Elizabeth steadies herself for war and will become the instigator in Mary's demise while later realizing she and Mary might be more similar than either thought.
Doctor Who
'The Eaters of Light' – Saturday @ 9/8c (EST) – BBC America
The Tardis takes the Doctor to Scotland this week, to tackle a real historical mystery. Historians have long debated what happened to the Ninth Roman legion, who seemingly vanished almost two thousand years ago—and Doctor Who is providing a, err, possible solution. There's something sinister lurking in the trees of the ancient battlefield giving off some Stranger Things vibes…if Stranger Things was set in medieval Britain.
From BBC America:
A long time ago, the ninth legion of the Roman army vanished into the mists of Scotland. Bill has a theory about what happened, and the Doctor has a time machine. But when they arrive in ancient Aberdeenshire, what they find is a far greater threat than any army. In a cairn, on a hillside, is a doorway leading to the end of the world…
American Gods
'Come to Jesus' Season Finale – Sun @ 9pm ET – STARZ
If we'd been allowed to name the final episode of the first season, we'd have called it "And So It Begins". Cue the Thunder, the Spider at the loom of life and consequence, and the first bloom of Spring. Mr. Wednesday stops holding back and Mr. Nancy (Orlando Jones) is back! Thank the heavens for a "sharp dressed man" with a sharper tongue. (Cue ZZ Top for the soundtrack.) Shadow, despite his name, has a glow. It's clear his dead wife Laura isn't the only one who sees it. What does that mean? What does Mr. Wednesday want from him? We can only tell you to wait and see. All the gods are enchanted with Shadow, but that can't be good in the long run. Especially when an unexpected standoff kicks off. Kristin Chenoweth makes her first appearance as Easter and, because she shares her holiday, the entire cast has a "Come to Jesus" moment. Holy shit, American Gods has gone from good to divine.
From STARZ:
On the eve of war, Mr. Wednesday must recruit one more Old God: Ostara, né Easter, Goddess of the Dawn But winning her over will require making a good impression, and that is where Mr. Nancy comes in.
Orphan Black
'The Cure' Season Premiere – Saturday @ 10/9c – BBC America
The time has come to say goodbye to Orphan Black. We're so sad that this show is coming to an end, but not without one last intense season. Where we left off, the sestras are trying to find their way back together—in ways that'll have you on the edge of your seat all the way to the finale. Adieu, Orphan Black, we'll be celebrating your success all the way.
From BBC America:
Sarah is deeply wounded and struggling to stay alive on the Island. Driven deep into its forest by Neolutionists and worse, she strives to make it far enough to rescue Cosima. Meanwhile, a recovering Cosima reunites with Delphine, but there's way more going on this Island than Cosima imagined and Delphine can't give her all the answers she needs. What is clear is that Rachel is now in firmly in charge at the right-hand of the 170-year-old founder of Neolution, PT Westmorland. Back home, Neolution puts the screws to Alison and Donnie in their hunt for Helena. The sestras couldn't be further apart when they need most to be together.
Tags:
American Gods
,
BBC America
,
Blood Drive
,
Doctor Who
,
Hulu
,
Orphan Black
,
Reign
,
STARZ
,
Syfy
,
The CW
,
The Handmaid's Tale
,
Watch This Week