This week: Star Trek: Discovery, Black Lightning, Grown-ish, Crazy Ex-Girlfriend, 2 Dope Queens, Everything Sucks
—
Star Trek: Discovery
Season 1 available now
On CBS All Access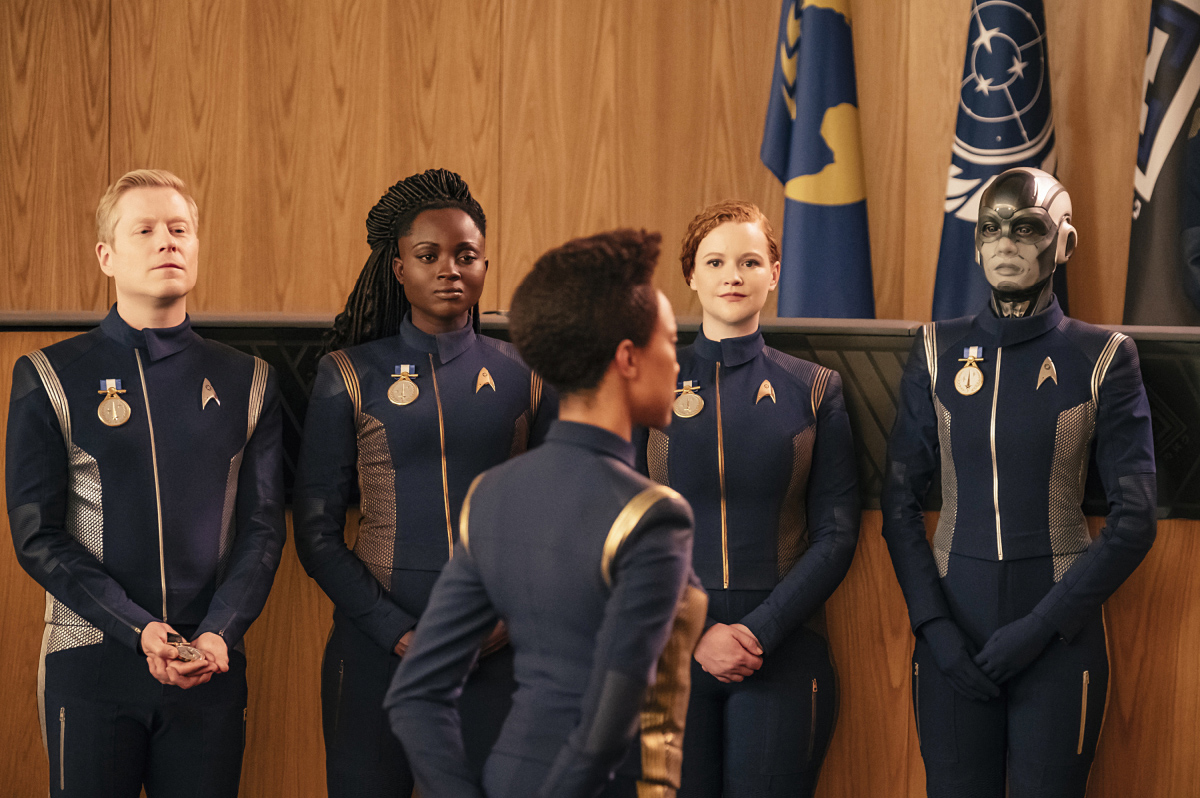 Photo: CBS © 2017 CBS Interactive. All Rights Reserved.
The full first season of Star Trek: Discovery is available to stream and the season finale…it was full of betrayals, Klingon fun and games, long kisses goodbye, and a three-way (and we ain't talking on your communicator). Oh, and then the creative team delivers on fan appreciation in such a spectacular way that we're already begging CBS for season 2 premiere dates. Ooh y'all, Star Trek: Discovery is stellar (pun intended).
Stream season one of Star Trek: Discovery now on CBS All Access.
—
Black Lightning
"And Then the Devil Brought the Plague: The Book of Green Light"
Tues Feb 13 – 9PM
On The CW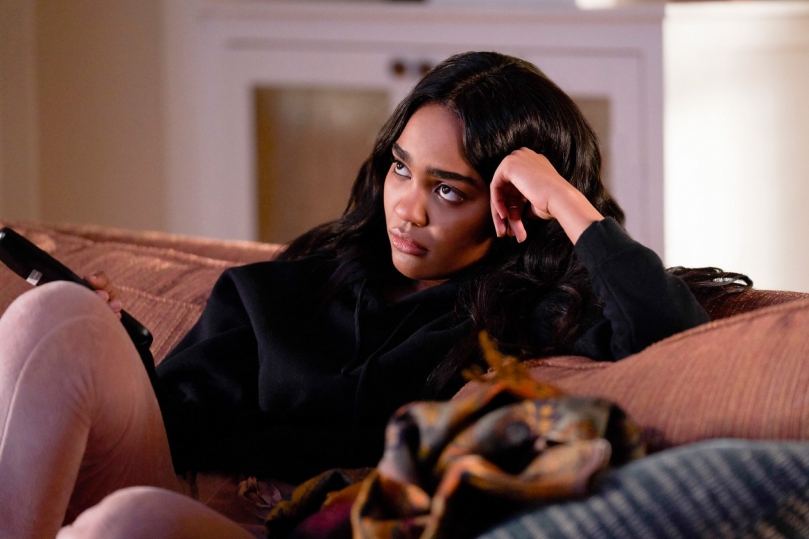 Photo: Bob Mahoney/The CW — © 2018 The CW Network, LLC. All rights reserved.
What would teenage-you do if you suddenly got supernatural powers? Damn right you'd sort those mean girls and bullies out at school. That's exactly what level Jefferson's (Cress Williams) youngest daughter Jennifer (China Anne McClain) is on, and we are here for it—ever since we got to see her sister Anissa (Nafessa Williams) in action, we've been itching to see Jennifer's powers appear too. Of course, actions have consequences, and the show is about to serve up some valuable lessons in the smoothest way possible. It's one of the many layers that elevates Black Lightning beyond a typical superhero show; the characters have immense depth and so much to learn—make better choices, y'all—and we'll be there every step of the way.
Black Lightning airs tomorrow on The CW.
From The CW:
PAYBACK IS A BITCH – An unexpected phone call unearths the long-buried need for Jefferson (Cress Williams) to investigate the murder of his father. Meanwhile, Annisa (Nafessa Williams) wrestles with the fact that her actions have dire consequences. Lastly, Jennifer (China Anne McClain) learns the importance of controlling her temper – in all situations.
—
Grown-ish
"Erase Your Social" – Season 1, Episode 8
Wed Feb 14 – 8PM
On Freeform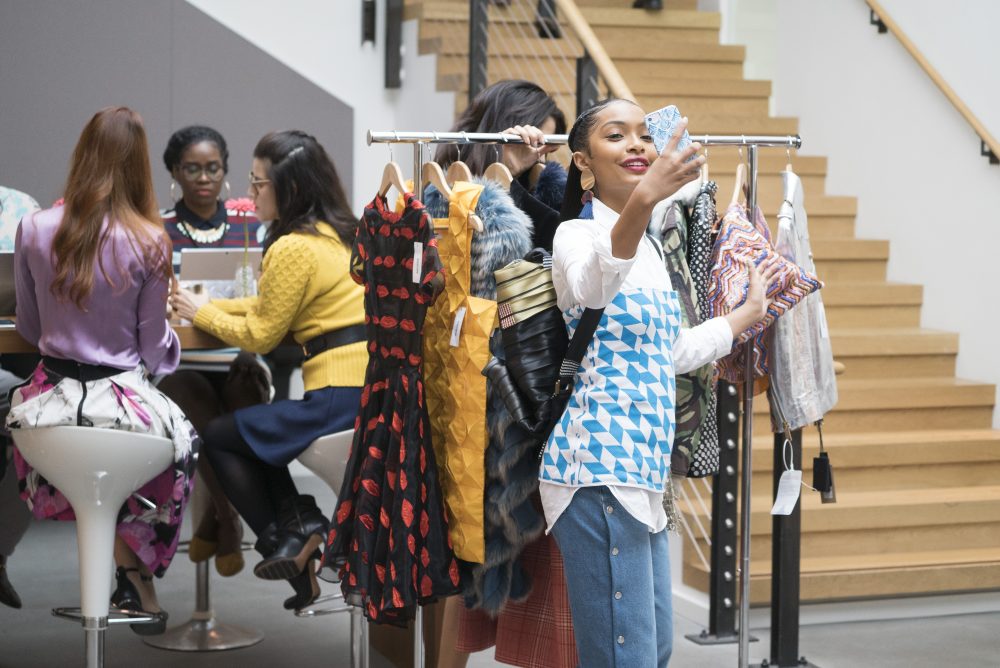 Photo: Freeform/Eric McCandless
You know you've made it when you get that blue check by your name on social media, right? #verified-ish. Zoey (Yara Shahidi) is on top of the world right now: She's finally got approval from the internet and she's landed her dream fellowship at Teen Vogue. But we all know Zoey's relationship with social media has more issues than…um, a female rapper beef battle… "Erase Your Social" is about to burn Zoey…again…and even the baby wipes in the water closet won't be able to clean up this mess. Will somebody please give Nomi (Emily Arlook) responsibility of Zoey's phone? It's for her own good, we promise. If only Zoey was better at listening than she is at breaking the fourth wall…but she's not… Luca (Luka Sabbat) could attest to that…if he weren't so busy being high-level-bae. At least there's a cameo from Elaine Welteroth to strike the fear of god in all of us…and make us PBJs without the crusts. "Don't embarrass us, Zoe, okay?"
Watch grown-ish every Wednesday on Freeform.
From Freeform:
Zoey lands the fellowship of her dreams at Teen Vogue, but her reputation and job are put on the line when she reveals too much on social media.
—
Crazy Ex-Girlfriend
"Nathaniel is Irrelevant." – Season 3, Episode 13
Fri Feb 16 – 8PM
On The CW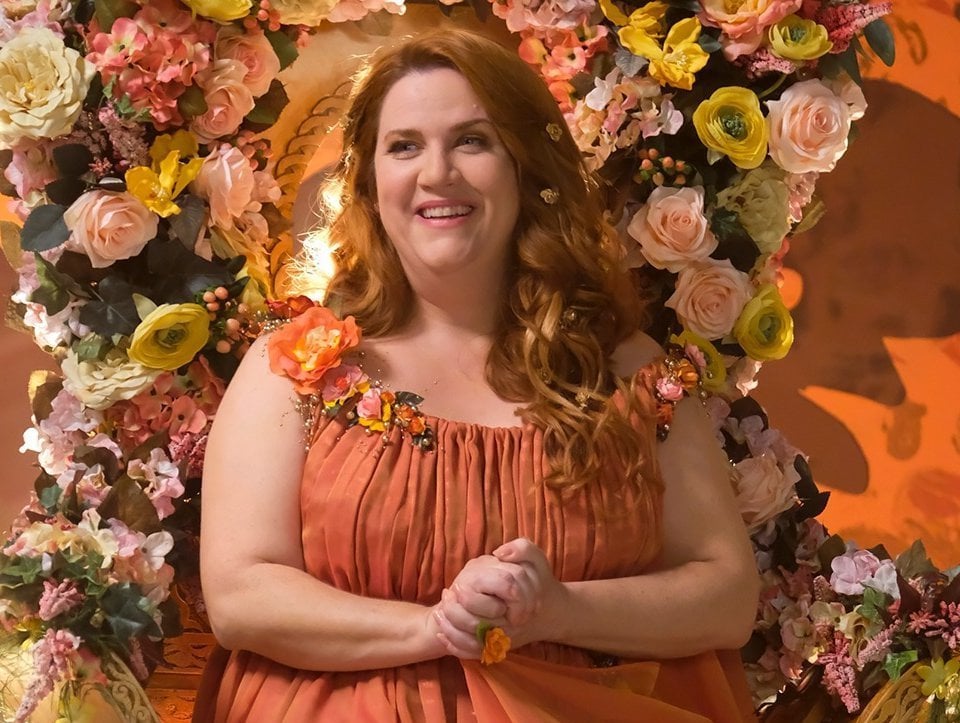 Photo: Patrick Wymore/The CW -- © 2018 The CW Network, LLC. All Rights Reserved.
The CW is keeping the season finale storyline of Crazy Ex-Girlfriend pretty under wraps, but if the show has taught us anything, it's that it's going to be B.I.G. Like leave-you-at-the-altar-come-up-with-a-murderous-revenge-scheme big. The revelations that Trent (Paul Welsh) brought last week—along with more blackmail (oh, how we've missed him)—signals it's high time Rebecca (Rachel Bloom) mends some fences. And we know Heather (Vella Lovell) goes into labor with Darryl (Pete Gardner) and Rebecca's baby (yup, this is Crazy Ex-Girlfriend after all). We're just hoping the West Covina crew fill the time in the hospital waiting room with some fantastical musical numbers. C'mon, we're counting on y'all.
Tune in for the season finale of Crazy Ex-Girlfriend on The CW this Friday.
From The CW:
SEASON FINALE –  When Rebecca (Rachel Bloom) decides to make amends for her past, she finds some unexpected challenges. At the same time, West Covina awaits an important new arrival.
—
2 Dope Queens
"Hot Peen" – Season 1, Episode 3
Fri Feb 16 – 11:30PM
On HBO
Watch 2 Dope Queens on HBO every Friday night.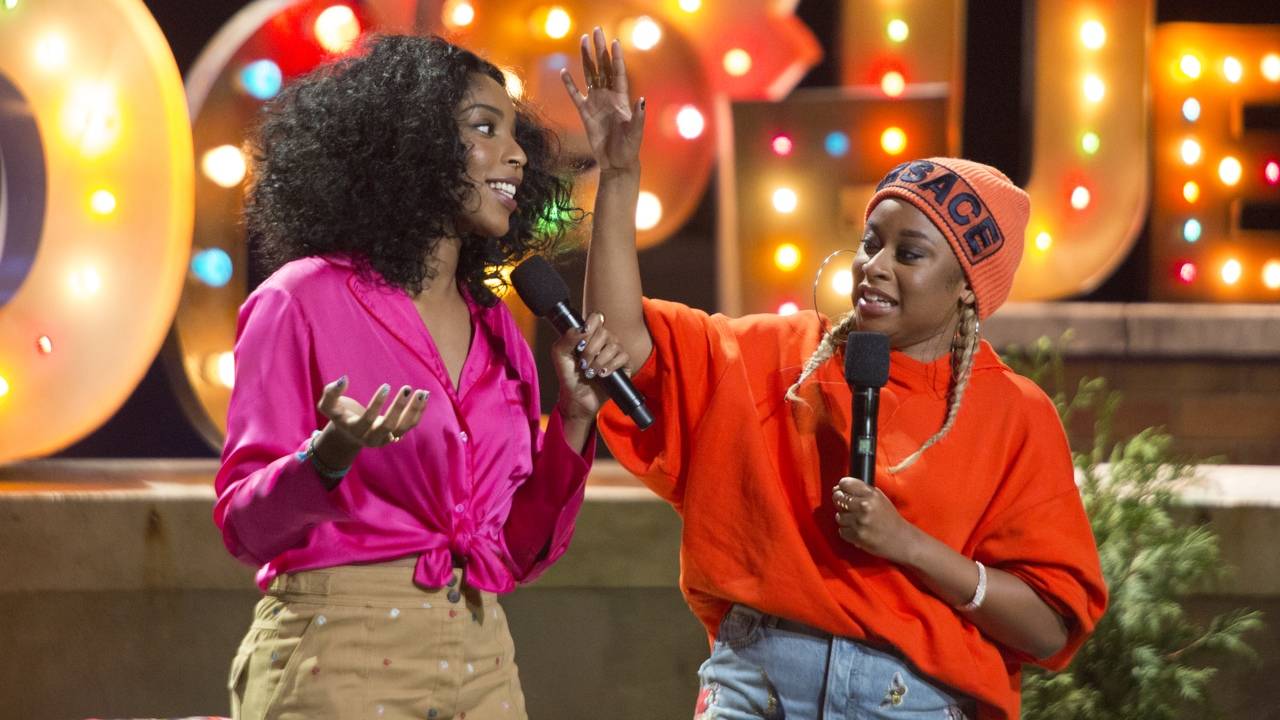 Photo: Mindy Tucker/HBO
From HBO:
Phoebe shares her failed attempts to hook up with a famous celeb, and the Queens are joined onstage by Tituss Burgess, who talks about channeling Beyonce. Plus: comedians John Early, Jackie Kashian and Kevin Barnett.
——
Everything Sucks!
Season 1 premiere
Fri Feb 16
On Netflix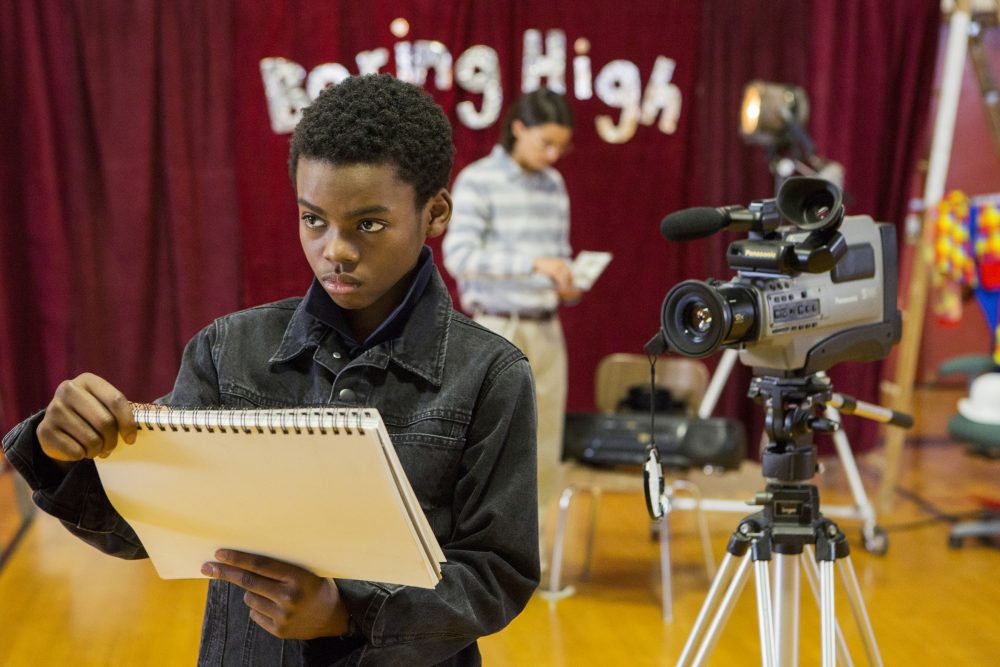 Photo: Scott Patrick Green/Netflix
We've officially reached the age where the 90s are nostalgic (anyone else feeling ancient? Alanis Morissette never sounded so right). Everything Sucks! is rewinding back to 1996, a time before wifi and the Kardashians, and right now that sounds like the detox we all need. Turn up the neon and dial up the internet because this high school coming of age story mixes sweet and funny into a golden yearbook full of memories.
Stream season one of Everything Sucks! on Netflix from Friday.
From Netflix:
A quirky, funny coming of age story that follows two groups of high school misfits, Everything Sucks! follows an A/V club and a Drama club who collide in 1996 Oregon. The series stars Peyton Kennedy (American Fable, The Captive) and Jahi Winston (The New Edition Story) as students Kate Messner and Luke O'Neil, with Patch Darragh (Sully, Boardwalk Empire) and Claudine Mboligikpelani Nako (Grimm) as their respective parents. The series also features Sydney Sweeney ("Emaline"), Elijah Stevenson ("Oliver"), Quinn Liebling ("Tyler") and Rio Mangini ("McQuaid").
Tags:
2 Dope Queens
,
Black Lightning
,
CBS
,
CBS All Access
,
Crazy Ex-Girlfriend
,
Everything Sucks
,
Freeform
,
grown-ish
,
HBO
,
Netflix
,
Star Trek
,
Star Trek: Discovery
,
The CW
,
Watch This Week
,
WTW