This week: Lucifer, Robert Kirkman's Secret History of Comics, Marvel's Runaways, Lethal Weapon, Brooklyn Nine-Nine, Chicago Med, Riverdale, The Big Bang Theory, Dirk Gently's Holistic Detective Agency
Lucifer
"The Sin Bin" – Season 3, Episode 9
Mon Dec 11 – 8PM
On FOX
Guess who's back. Back again. Maze (Lesley-Ann Brandt) is back. Tell a friend. We sure have missed her—but it looks like we're the only ones in Lucifer. Did y'all see that love triangle with her, Amenadiel (D.B. Woodside), and Dr. Linda (Rachael Harris) coming? We sure didn't (okay we were totally cheering for it)…but that's all we'll say about that. Instead, we need to talk about the Sinnerman (Kevin Carroll). Because honestly, we're still shuddering at the eye-popping (too soon?) lengths he went to in the last episode. The devil might have found his match this time, and something tells us the Sinnerman is only the start of—forgive us—Dante's Inferno for Luci (Tom Ellis) & the gang. Will the midseason finale answer or create even more questions? If Mr. Morningstar could ask us what we really desire right now, it'd be both.
Watch the midseason finale of Lucifer tonight on FOX.
From TV Guide:
With the Sinnerman in custody, Lucifer is prepared to go to any length to get his devil face back. Meanwhile, Trixie is introduced to Charlotte and questions the relationship she has with her father. The Season 3 fall finale.
—
ROBERT KIRKMAN'S SECRET HISTORY OF COMICS
"Image Comics: Declaration of Independents" – Season 1, Episode 6
Mon Dec 11 – 10PM
On AMC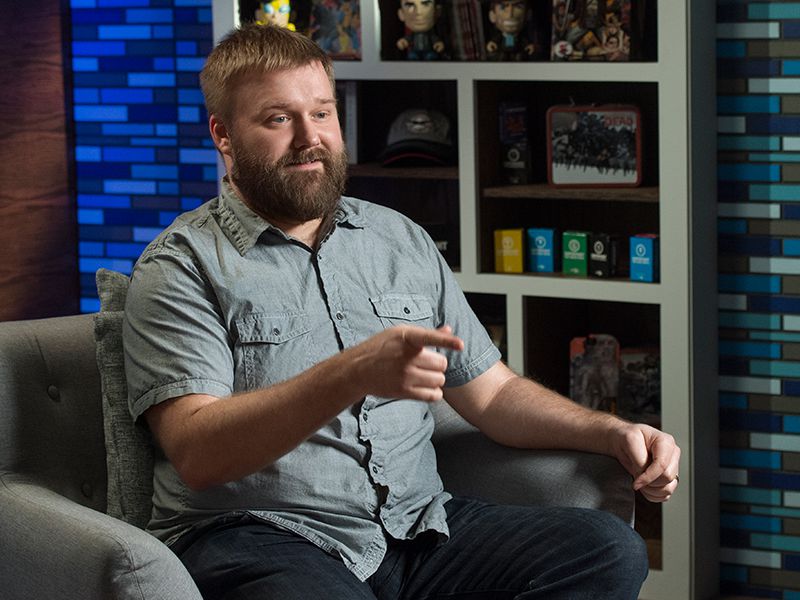 Another week with Robert Kirkman, another legendary secret history. This time he's diving into the publisher that launched a thousand comic book fans (and then some): Image Comics. Oh, you know, the company that brought you Spawn, Saga, The Walking Dead…to name just a holy few. The launch of Image Comics in 1992 was revolutionary; it allowed creators to publish their material without giving up the copyrights to their characters. Those creators-turned-founders just happened to be some of the best in the business, and Image Comics soon became a rival to Marvel and DC. Image's founders are about to sit down and tell their story. Yeah, we don't think we need to say more—watch…
Watch Robert Kirkman's Secret History of Comics on AMC.
From AMC:
Seven renegade artists shock the comic-book industry by starting their own company, Image Comics, to rival giants Marvel and DC.
—
MARVEL'S RUNAWAYS
"Metamorphosis" – Season 1, Episode 6
Tues Dec 5
On Hulu
The opening flashback of this week's episode of Marvel's Runaways might be our favorite—and the most chilling—yet. We finally learn the story of Jonah (Julian McMahon), the man with the all-too-perfect deal for Alex's (Rhenzy Feliz) parents last week (something about a man in a sharp 90s-style suit really does mean "business". Don't @ us). We also get a glimpse into this mysterious power the parents' club (read: cult) are trying to harness. But that ain't the most devastating part of this episode—revelations back in the, uh, more real-life world of PRIDE's gala are about to come out all too publicly. It's a scene that will have you watching with secondhand embarrassment, morbid fascination, and even some pity for Tina (Brittany Ishibashi). Bet you didn't see that one coming, did ya? That's the beauty of Runaways: You never quite know who you're rooting for, in spite of everything. What we do know we're rooting for, however, is Karolina's (Virginia Gardner) cruuuush—but we ain't saying who it is and you can't make us!
P.S. Watch out for that classic Marvel cameo. Y'all will know when you see it.
Episode 6 of Marvel's Runaways airs on Hulu this Tuesday. Catch up on episodes 1-5 now.
From Hulu:
During PRIDE's gala, the kids set in motion a new plan to take down their parents for good. As the evening unfolds, everyone's personal drama threatens to derail their plans.
—
LETHAL WEAPON
"Wreck the Halls" – midseason finale
Tues Dec 12 – 8PM
On FOX
Lethal Weapon airs on FOX every Tuesday.
From TV Guide:
It's Christmas time and the Murtaugh family is headed to Hawaii. However, Murtaugh's vacation is put on hold when he and Riggs are called to a homicide and the victim is an old friend. Meanwhile, Riggs gets a surprise phone call from a relative just in time for Christmas. The Season 2 fall finale.
—
BROOKLYN NINE-NINE
"Game Night: The Favor" – Season 5, Episode 8
Tues Dec 12 – 9PM
On FOX
Um, yeah. Y'all went nuts over Rosa (Stephanie Beatriz) coming out as bi in last week's episode "99" and we are here for it. This week, we get even more to cheer about, because she's planning to tell her parents. Unfortunately, she decides to ask Jake (Andy Samberg) for help…we don't know what she was thinking either.
Dive into Brooklyn Nine-Nine on FOX.
From TV Guide:
In the Season 5 fall finale, Rosa begs Jake to help her break some big news to her parents, but her plan is thrown off when they wrongly assume the two are dating. Then, Seamus Murphy returns to redeem the favor Holt owes him, and the precinct searches for a loophole that will allow Holt to uphold his end of the bargain without breaking the law.
—
CHICAGO MED
"Naughty or Nice" – Season 3, Episode 4
Tues Dec 12 – 10PM
On NBC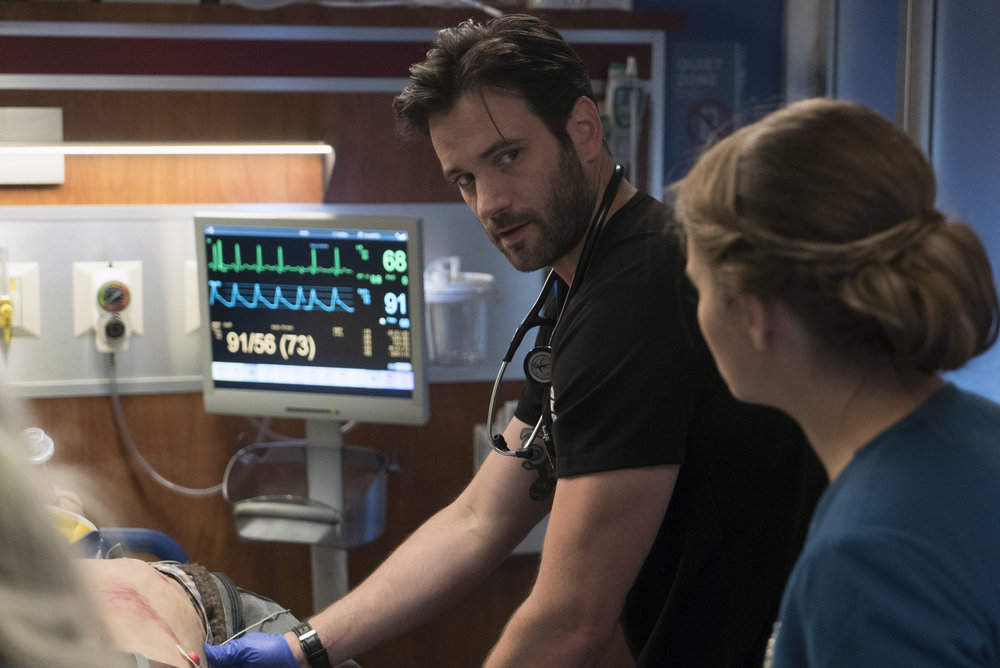 Catch up on Chicago Med, only on NBC.
From NBC:
CHARLES PUTS HIS LIFE ON THE LINE TO HELP A PATIENT – Dr. Charles (Oliver Platt) learns a troubling fact about the man who shot him. Dr. Rhodes (Colin Donnell) and Dr. Bekker (Norma Kuhling) come to an agreement during a complicated surgery. Will (Nick Gehlfuss) and Natalie (Torrey DeVitto) are trapped by legal ethics when an unfaithful husband refuses to tell his wife about his inconclusive Zika test. Meanwhile, April (Yaya DaCosta) and Noah (guest star Roland Buck III) discover working together isn't always easy while Goodwin (S. Epatha Merkerson) continues to argue with the board over hospital costs after an avoidable patient death. Marlyne Barrett, Brian Tee and Rachel DiPillo also star. Marina Squerciati, Elias Koteas and Eddie Jemison guest star.
—
Riverdale
"Chapter Twenty-Two: Silent Night, Deadly Night" – midseason finale
Wed Dec 13 – 8PM
On The CW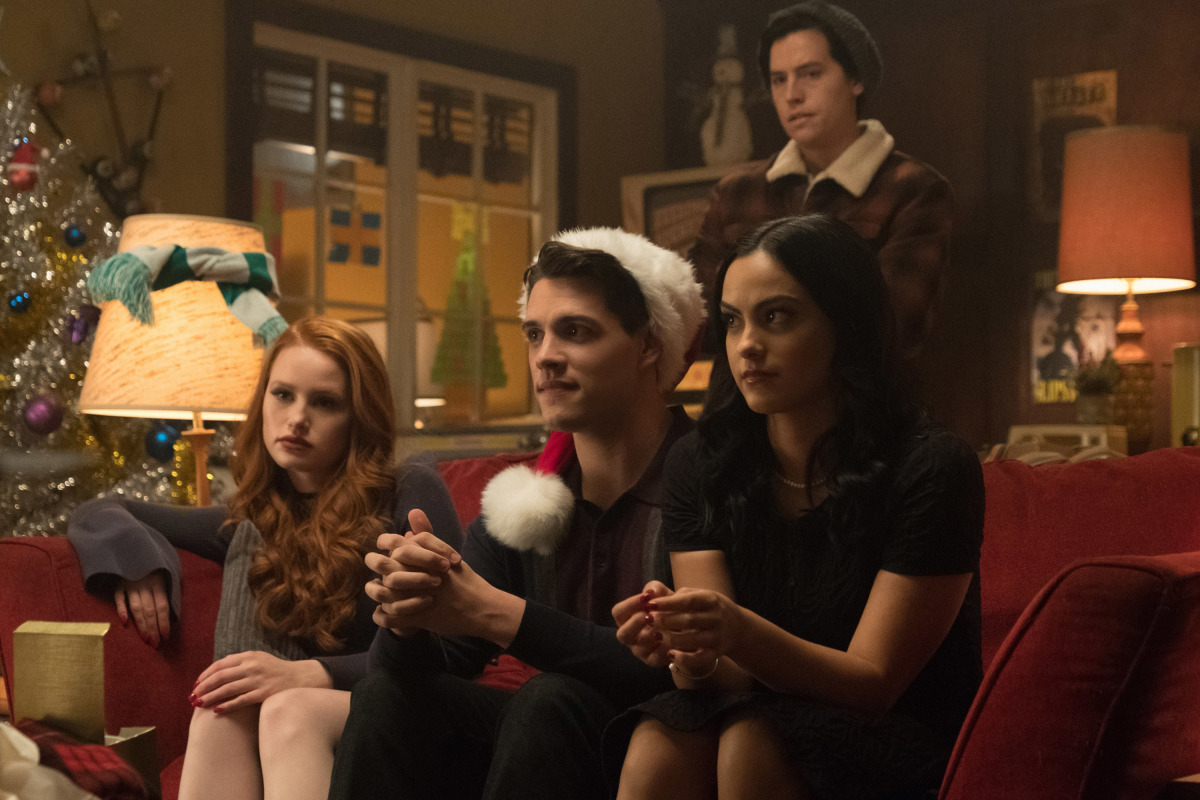 Christmas is here but it ain't so full of cheer. Did you expect anything less from Riverdale's  midseason finale? We're surprised there are any secrets left in this town, but Veronica (Camila Mendes) manages to find out one about Hiram (Mark Consuelos). Didn't mama teach you not to snoop for Christmas presents? Speaking of snooping, the Black Hood, our mysterious and ominous figure of this season, is about to get found out for a showdown so explosive only Riverdale can deliver. Word on the street is (read: theories on the internet), the Black Hood isn't working alone. As soon as Riverdale blows our minds with one revelation, they've set up ten more and we can't wait to see what's next.
Catch the midseason finale of Riverdale only on The CW, or catch up the next day on The CW App.
From The CW:
A SHOWDOWN WITH THE BLACK HOOD — After snooping around for Christmas gifts, Veronica (Camila Mendes) uncovers a major secret Hiram (Mark Consuelos) has been keeping from her. Fallout from Jughead's (Cole Sprouse) encounter with Penny Peabody (guest star Brit Morgan) creates tension between him and FP (Skeet Ulrich.) Meanwhile, a defiant Cheryl (Madelaine Petsch) takes matters into her own hands after Penelope (guest star Nathalie Boltt) tells her they cannot afford Christmas this year. Finally, Betty (Lili Reinhart) and Archie's (KJ Apa) vow to take down the Black Hood once and for all leads to a dangerous showdown. Marisol Nichols, Madchen Amick, Luke Perry, Ashleigh Murray and Casey Cott also star.
—
The Big Bang Theory
"The Celebration Reverberation" – season 11 finale
Dec 14 – 8PM
On CBS
It's a double birthday bonanza this week on The Big Bang Theory. (That's a lot of B's…Bazinga!) Amy (Mayim Bialik) and baby Halley are turning another year older and with Sheldon (Jim Parsons) and Wolowitz (Simon Helberg) planning the celebrations, what could possibly go wrong? No, really. Leave the party planning to Koothrappali (Kunal Nayyar), he's pretty damn spectacular at it. That's if he and Wolowitz will ever fistbump and make up (c'mon guys, this is more distressing than when #Shamy broke up). Now for the real question: Are #Shamy finally going to tie the knot and make this celebration go off with an even Bigger Bang? There is not enough camomile tea in the world to calm us down at the thought of that happening after this long. Meanwhile, Leonard (Johnny Galecki) gets a letter from his brother—his over-achieving, might just be Clark Kent brother (the family resemblance could work). But hey, it wouldn't be Christmas without a family-related downward spiral, right?
You can watch The Big Bang Theory every Thursday on CBS.
From CBS:
Sheldon and Wolowitz plan birthday celebrations for Amy and Halley, respectively. Also, Leonard receives a Christmas letter from his brother that causes him to spiral out about his own lack of accomplishments, on THE BIG BANG THEORY, Thursday, Dec. 14 (8:00-8:31 PM, ET/PT), on the CBS Television Network.
—
Dirk Gently's Holistic Detective Agency
"Nice Jacket" – Season 2, Episode 9
Sat Dec 16 – 9PM
On BBC America
We haven't seen the upcoming episode yet so we'll have to all watch it together!
From BBCAmerica:
Dirk fulfills the prophecy and restores order after returning to Blackwing; Todd and Amanda face off against Suzie Boreton.
You can watch Dirk Gently on BBC America.
Tags:
AMC
,
BBC
,
BBC America
,
Brooklyn Nine-Nine
,
CBS
,
Chicago Med
,
dc
,
Dirk Gently
,
Dirk Gently's Holistic Detective Agency
,
FOX
,
Hulu
,
Image Comics
,
Lethal Weapon
,
Lucifer
,
MARVEL
,
Marvel's Runaways
,
NBC
,
Riverdale
,
Robert Kirkman's Secret History of Comics
,
Runaways
,
The Big Bang Theory
,
The CW
,
Watch This Week
,
WTW