This week: The End of the F***ing World, Star Trek: Discovery, The Chi, Marvel's Runaways, This Is Us, Chicago Med, grown-ish, The Good Place, Crazy Ex-Girlfriend, Taken
The End of the F***ing World

Now streaming
On Netflix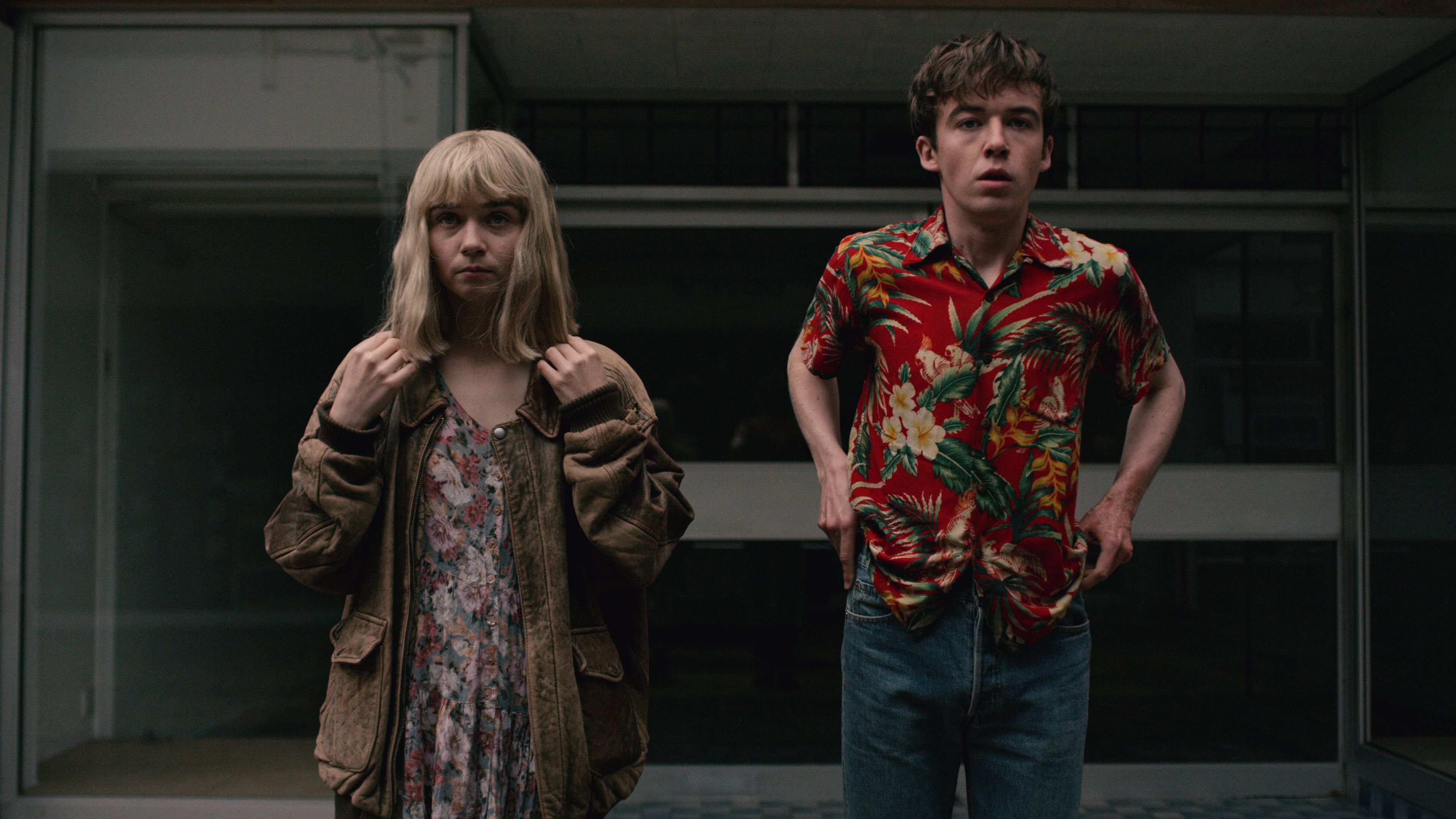 No, this isn't a documentary about the orange man in power. (It's decidedly less terrifying.) Based on the graphic novel by Charles Forsman, The End of the F***ing World is a story about a boy (Alex Lawther) with homicidal tendencies who meets a girl (Jessica Barden) who ain't taking any of his bulls**t, who go on a roadtrip together. If that doesn't sound like the definition of binge-able, we don't know what will.
Stream season one of The End of the F***ing World on Netflix now.
From Netflix:
Based on the award-winning series of comic books by Charles Forsman, THE END OF THE F***ING WORLD invites viewers into the dark and confusing lives of teen outsiders James (Alex Lawther – Black Mirror, The Imitation Game) and Alyssa (Jessica Barden – The Lobster, Ellen, Penny Dreadful) as they embark on a road trip to find Alyssa's father, who left home when she was a child.
—
Star Trek: Discovery
Season 1, Chapter 2
Sundays at 8:30pm
On CBS All Access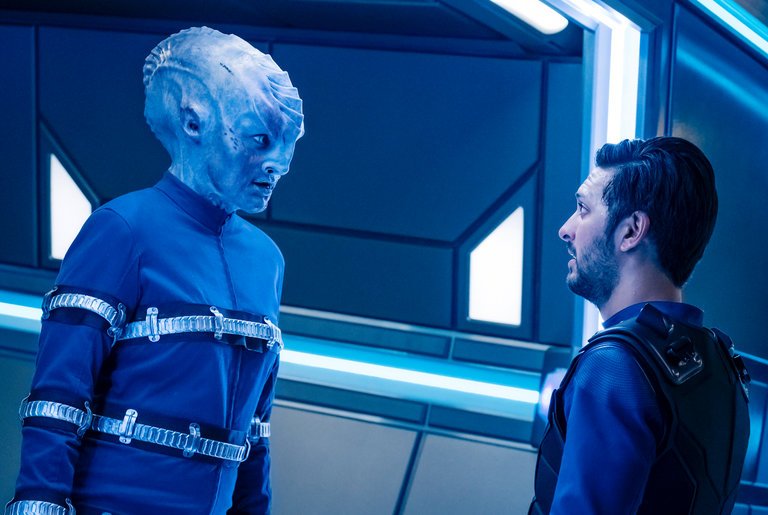 It seems all our predictions came true. Listen in to tomorrow's Geek Girl Riot at 11pm ET and you'll see…er, hear.
Catch up on episode 10 "Despite Yourself" on CBS All Access now.
From CBS:
The second chapter of STAR TREK: DISCOVERY begins with episode 10, "Despite Yourself": While in unfamiliar territory, the U.S.S. Discovery crew is forced to get creative in their next efforts to survive opposing and unprecedented forces and return home.
—
The Chi
Season premiere
Sundays at 10pm
On Showtime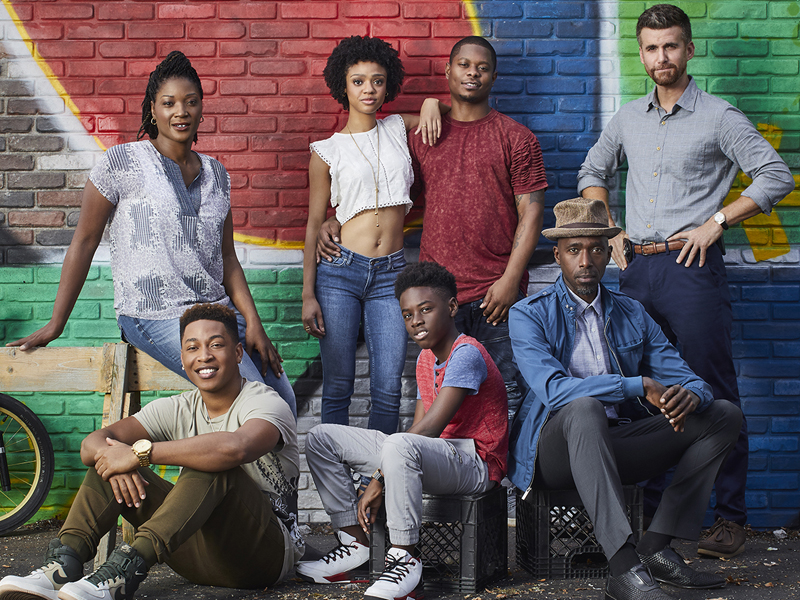 This coming-of-age drama set on Chicago's South Side promises to shake things up. The Chi brings together a community of intricately woven characters in gritty reality—with a whole lotta pain and soul—to bring us into the lives of the people often reduced to headlines and statistics. Created by Lena Waithe (Master of None), the writing is timely and insightful and brings to life the history of a tough but vibrant city. Coupled with a compelling cast and a soundtrack so affecting it marches to the beat of the streets, prepare to be moved.
Watch the series premiere for free on Showtime.
From Showtime:
Episode 1:
A fateful event sends shockwaves through a community on the South Side of Chicago and connects the lives of Brandon, Ronnie, Emmett and Kevin in wholly unexpected ways.
Episode 2:
Brandon reels from a loss. Detective Cruz is shaken by conflicting clues. The ensemble cast includes Jason Mitchell, Ntare Guma Mbaho Mwine, Jacob Latimore, Alex Hibbert, Yolonda Ross, Tiffany Boone and Armando Riesco.
On Chicago's south side, an average day finds kids prepping for school as their parents head off to work, young adults trying to make a living, and the elders keeping an eye on things from their front porches. But in this tough neighborhood, real dangers threaten daily to squelch dreams, and the simplest decisions can have life or death consequences. The Chi is a timely coming-of-age drama series centered on a group of residents who become linked by coincidence but bonded by the need for connection and redemption.
—
Marvel's Runaways
"Hostile" – Season 1 finale
Tues Jan 9
On Hulu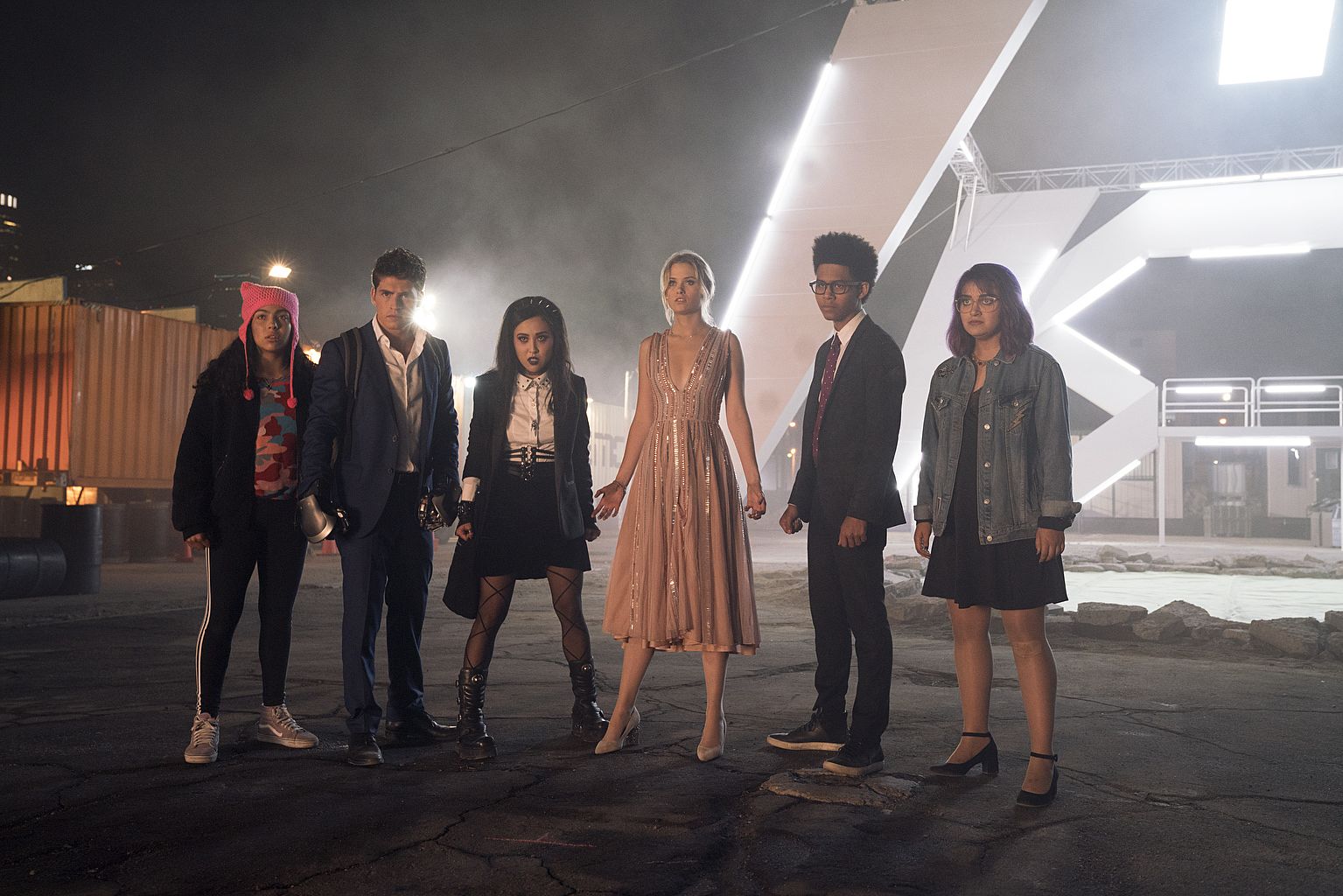 Marvel's Runaways knows how to keep us on the edge. After the explosive events of last week, the season finale sees the showdown we've all been waiting for: Parents vs. Kids. Virginia Gardner as Karolina gives one of her strongest performances yet facing off with Jonah (Julian McMahon) who shows his true colors—y'all thought he was evil before? They were just easing us in.
But this show is never just good vs. evil and it's never too late to turn around—especially when you realize the leader you've been pretty much blindly following turns out to be a complete maniac (honestly guys, what were you expecting?). The parents' depth is an excellent addition to the Runaways narrative, but it's the kids that come into their own in the finale. What truly sells Marvel's Runaways is that our heroes are dealing with a whole lot, but they remain firmly grounded as teenagers learning who they are and who they're becoming. The story never forgets that and we are hooked.
Watch the season finale of Marvel's Runaways tomorrow on Hulu.
From Hulu:
The Runaways face off with their parents. But when Jonah arrives unexpectedly with a new game plan, the kids realize they are in over their heads.
—
This Is Us
"The Fifth Wheel" – Season 2, Episode 11
Tues Jan 9 – 9PM
On NBC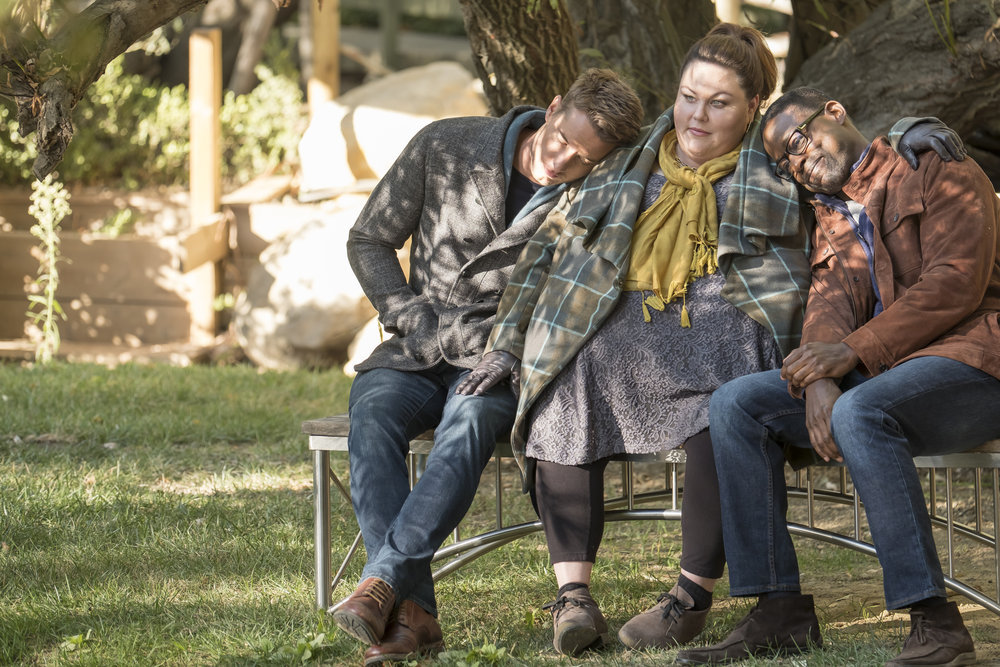 This Is Us took a break over the holiday season, and now that they're back, our hearts are ready for more. It's time to rehab every relationship the Pearsons have—between siblings, between lovers, and the perfect image they have of their father and why their mother suffers for it. The family drama will have plenty to tackle in their return episode, bringing back our #familyfeels for one more time after the holiday season, the show will remind us what it's like to have a support system that truly has your back when you fall—be it family or friends. On this episode, alongside bawling until we fall out, we're pouring a whole lot of tea.
Catch This Is Us tomorrow on NBC.
From NBC:
The Pearsons come together under unexpected circumstances. Meanwhile, Jack surprises the family with a summer vacation.
—
Chicago Med
"Ties That Bind" – Season 3, Episode 6
Tues Jan 9 – 10PM
On NBC
New episodes of Chicago Med air every Tuesday on NBC.
From NBC:
NATALIE IS TASKED WITH SHARING SURPRISING NEWS TO A PATIENT WHILE GOODWIN AND MAGGIE HATCH A PLAN – Ethan (Brian Tee) attempts to diagnose a man with no symptoms while Sarah's (Rachel DiPillo) paranoia goes to the extreme when she uses pepper spray on an aggressive patient. Will (Nick Gehlfuss) treats a young couple willing to sacrifice anything in order to have a baby. Meanwhile, Natalie (Torrey DeVitto) must inform a woman that she was sterilized as a young girl without knowledge, and Goodwin (S. Eptha Merkerson) and Maggie (Marlyne Barret) devise a way to persuade paramedics to bring in more patients.
—
grown-ish
"If You're Reading This, It's Too Late" – Season 1, Episode 3
Wed Jan 10 – 8PM
On Freeform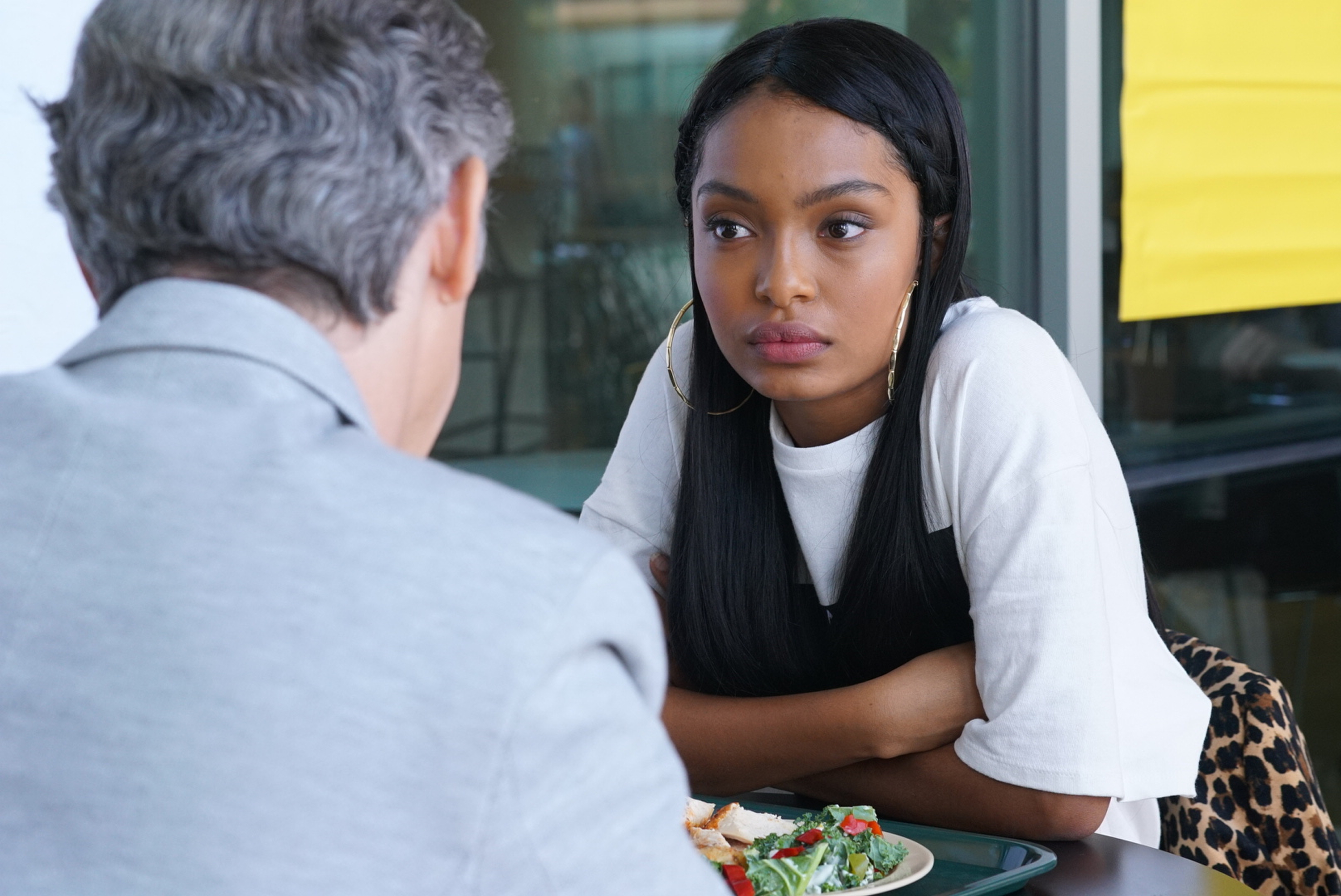 It's amazing, the love people have for shows like Black-ish and A Different World—it's amazing but well earned love. That's why when ABC and Freeform (formerly ABC Family) announced their college based spinoff of Black-ish, starring the fabulously-fierce eldest daughter Zoey (Yara Shahidi), we all imagined our A Different World revival dreams might be coming true. Well, we've got good news and better news. Grown-ish is and isn't the new A Different World. It tackles topical themes without flinching and has a primarily black cast but it's more "Black-ish goes to college" driven by Zoey's personality then a rehash of Whitley and Dwayne, and that makes it just as AMAZING as its predecessors. In the third episode, love is in the air…or on the internet at least…and grown-ish has never been so #relatable. And just like we all did in college (or will do) Zoey is totally about to f#©k "ish" up (and we couldn't love her more).
Watch grown-ish every Wednesday on Freeform.
From Freeform:
Zoey is elated when it seems like her crush has feelings for her, but starts to worry he may see things differently when she receives a late night "U up?" text.
—
The Good Place
"Best Self" – Season 2, Episode 9
Thurs Jan 11 – 8:30PM
On NBC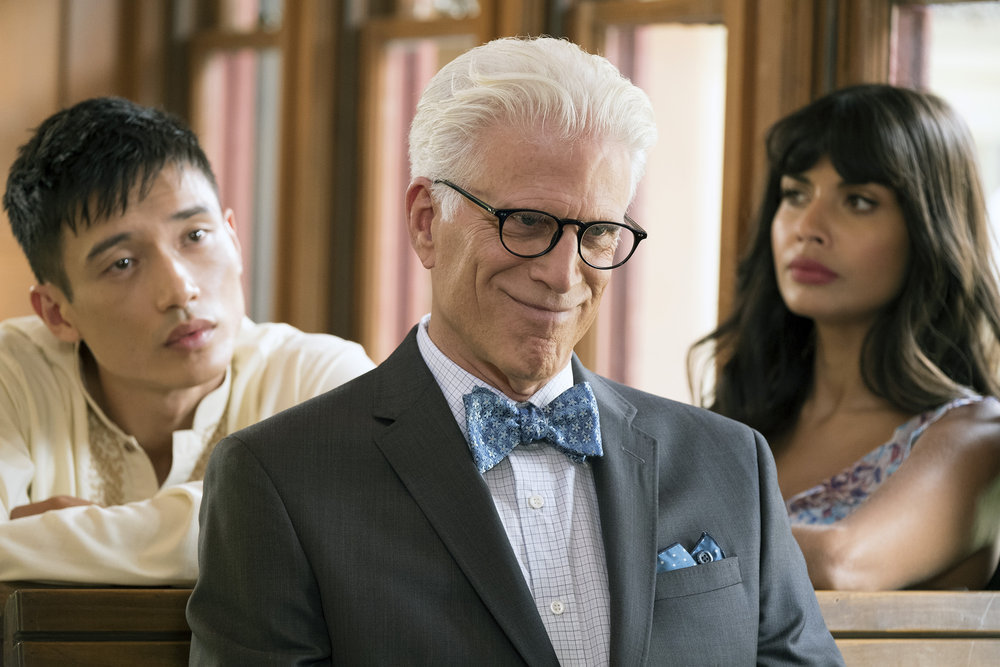 Who's ready to go balloon-ing? This week Eleanor & co. are actually going to…The Good Place! (If that sentence confuses you, stop reading and go watch season one.) Well, if Chidi (William Jackson Harper) can actually make a decision…and not get into everyone else's heads (or rent socks). Eleanor (Kristen Bell) might be the one (ugh) studying ethics, but we're the ones learning—in the roundabout, fabulous way only The Good Place can. That and a set of car keys (no car, just car keys) is the most meaningful, human present you can give. Just when you think you have it all figured out, The Good Place forks with you again and reveals new depths to each character. Even Jason (Manny Jacinto). While the characters try and figure out their best selves in order to move on up, the show artfully reminds you that their journey is less about the end goal and more about the shirt-ton of fun along the way (ugh, we're going to the Bad Place just for that one cheesy line).
Dive into The Good Place this Thursday on NBC.
From NBC:
MICHAEL DEBUTS HIS NEWEST DESIGN – Michael (Ted Danson) finds himself in a bind. Meanwhile, Eleanor (Kristen Bell) sparks an idea that has Chidi (William Jackson Harper), Tahani (Jameela Jamil), Jason (Manny Jacinto) and even Janet (D'Arcy Carden) laying their feelings on the line.
—
Crazy Ex-Girlfriend
"Nathaniel Gets the Message!"
Fri Jan 12 – 8PM
On The CW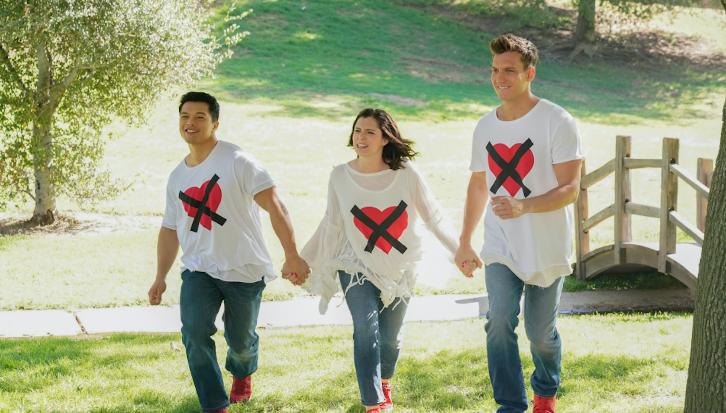 What happens when Rebecca (Rachel Bloom) isn't the one getting dumped? Turns out the boys of West Covina aren't so good at dealing with breakups either, and they put the ex in extra this week by…um, dancing their troubles away. It's also the 100th song episode, so expect fireworks—because we all know when it comes to celebration, Crazy Ex-Girlfriend goes all out.
Crazy Ex-Girlfriend airs on The CW every Friday.
From The CW:
YOU CAN SAVE THE WORLD – Rebecca (Rachel Bloom) discovers the powers and limitations of altruism as a new, unexpected bromance forms between two other characters.  Special episode featuring the 100th song milestone of the series.
—
Taken
"S.E.R.E." – Season 2 premiere
Fri Jan 12 – 9PM
On NBC
Watch the season 2 premiere of Taken this Friday on NBC.
From NBC:
SEASON 2 PREMIERE – Bryan Mills (Clive Standen) fights for his life inside a secret Mexican prison and plans a series of dangerous deals to put him on track for escape to the United States. But plans change when Mills and a young migrant girl (guest star Adriana Santos) are taken by human traffickers. Meanwhile, Christina Hart (Jennifer Beals) leverages her spycraft skills to obtain powerful new software that could locate Mills, and enlists two unlikely allies to aid in her mission to bring Mills home. 
Tags:
CBS
,
CBS All Access
,
Chicago Med
,
Crazy Ex-Girlfriend
,
Freeform
,
Geek Girl Riot
,
GGR
,
grown-ish
,
Hulu
,
MARVEL
,
Marvel's Runaways
,
NBC
,
Netflix
,
SHO
,
Showtime
,
Star Trek
,
Star Trek: Discovery
,
Taken
,
The Chi
,
The CW
,
The End of the F***ing World
,
The Good Place
,
This Is Us
,
Watch This Week
,
WTW