This week: Star Trek: Discovery, The Gifted, Supergirl, The Flash, Black Lightning, This Is Us, Chicago Med, Riverdale, grown-ish, Scandal, The Good Place, Will & Grace, Grace and Frankie, The Alienist
Star Trek: Discovery
"Vaulting Ambition" – Season 1, Chapter 2
Sundays at 8:30pm
On CBS All Access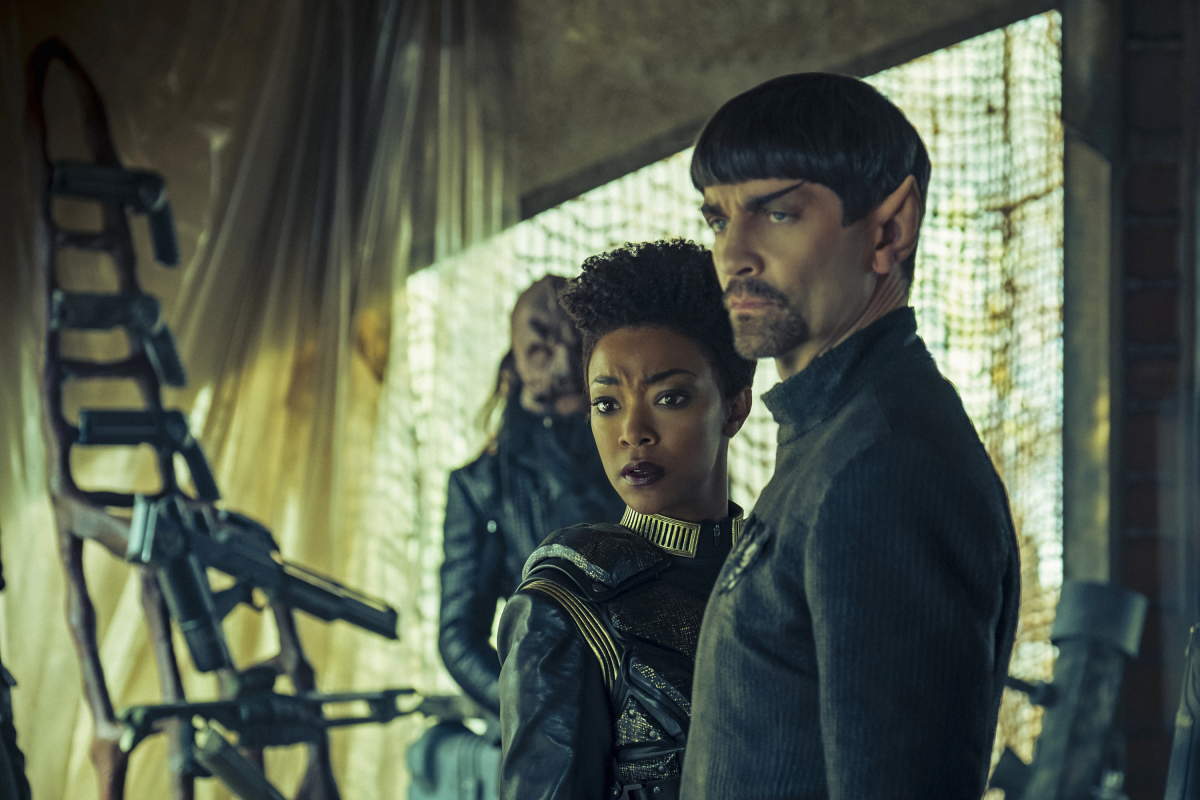 While recording an episode of Geek Girl Riot, GGR-Philip said to GGR-Sherin: "I'm not talking to you about Star Trek: Discovery anymore. Your predictions keep turning into spoilers." Listen in to Geek Girl Riot for some of those theories/predictions—just don't say we didn't warn ya. In "Vaulting Ambition", we finally get to see who the Emperor is…(let's just say GGR-Philip is never speaking to GGR-Sherin again).
Beam up onto Star Trek: Discovery on CBS All Access now.
—
The Gifted
Season 1 finale – "eXtraction; X-roads"
Mon Jan 15 – 8PM
On FOX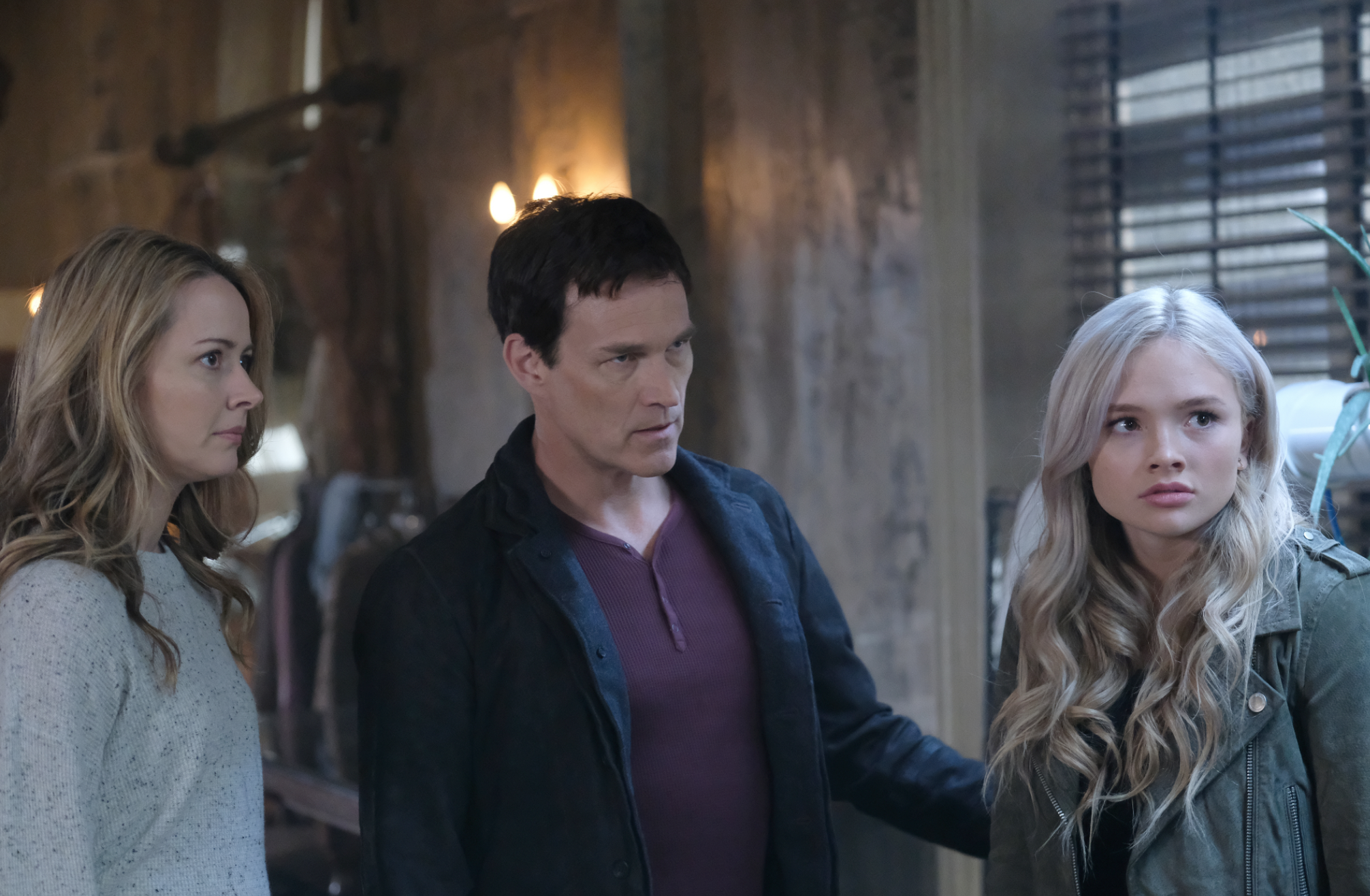 The Gifted closes out season 1 with explosive intentions—someone really oughta tell these fictional characters that having a HQ that is basically a huge-red-target-for-villains is never gonna end well.
Tune in for the season finale of The Gifted tonight on FOX.
From TV Guide:
In the Season 1 finale, Dr. Campbell attends an anti-mutant summit, attempting to take the Hound program national, and some of the team at Mutant HQ goes on a dangerous mission to stop his efforts. Polaris learns more about her past and makes a crucial decision that could have impactful consequences. Meanwhile, the Mutant HQ comes under attack and, with everything to lose, relationships are put to the test and alliances shift.
—
Supergirl
"Legion of Superheroes"
Mon Jan 15 – 8PM
On The CW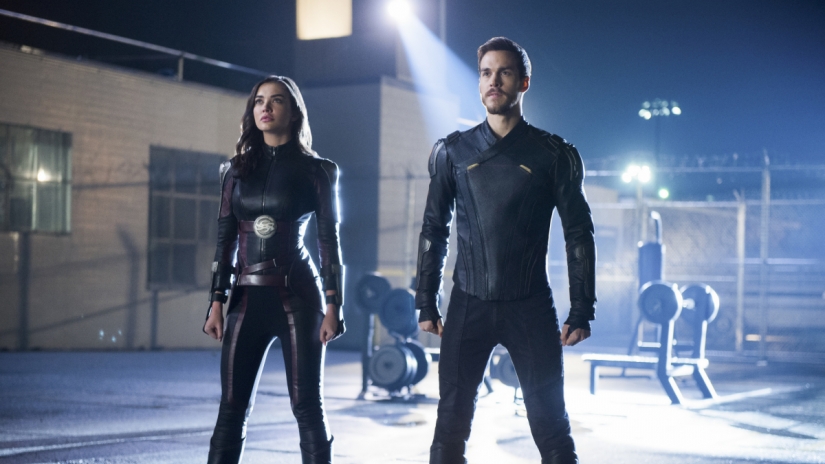 Comic fans rejoice, because the Legion of Superheroes are here on this week's Supergirl, and all we can say is, dun dun dunnnnnn.
Supergirl is back tonight on The CW.
From The CW:
MEET THE LEGION – Struggling to heal from her injuries inflicted by Reign (Odette Annable), Supergirl (Melissa Benoist) remains in a dreamlike state, unable to be reached. Mon-El (Chris Wood) recruits one of the Legion members, Brainiac-5 (guest star Jesse Rath), to try to bring her back. Meanwhile, Reign continues her rampage on the city so the DEO teams up with the Legion of Superheroes to try to stop her.
—
The Flash
"The Trial of The Flash" – Season 4, Episode 10
Tues Jan 16 – 8PM
On The CW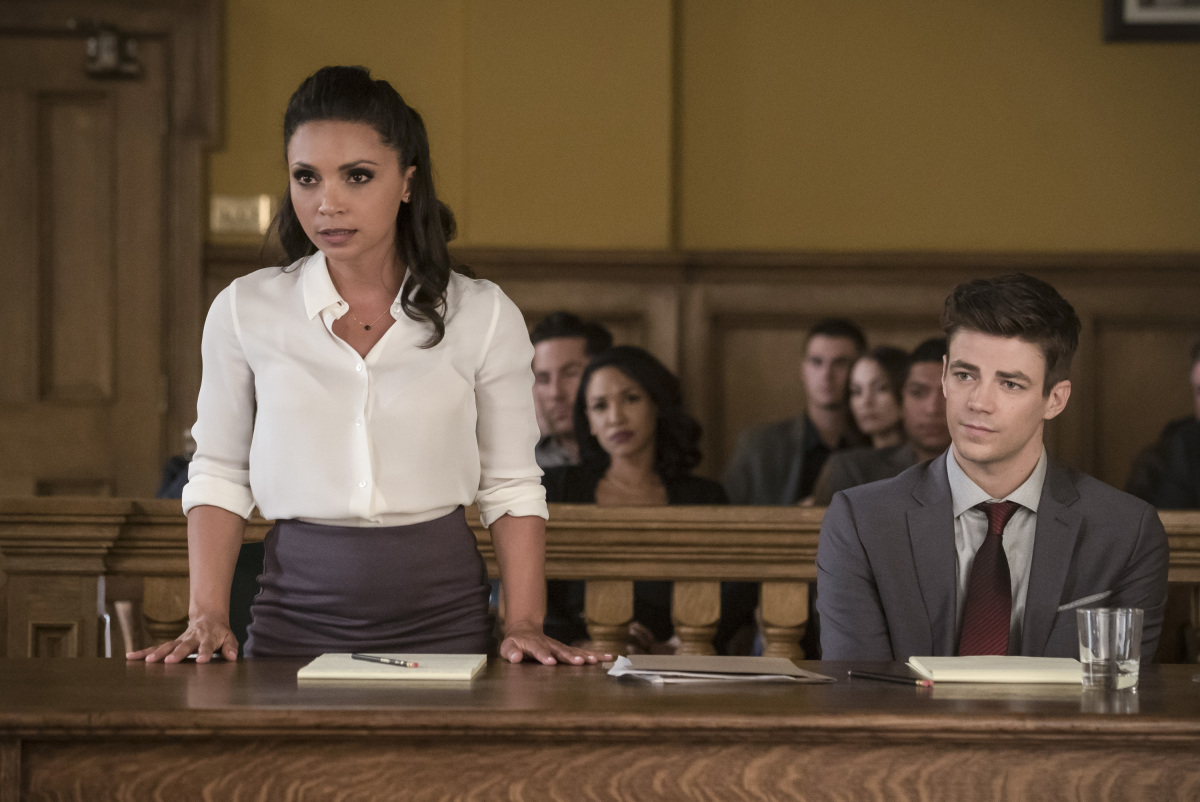 The Flash is zooming back onto our screens tomorrow. Yay all round! Except things aren't looking so good for our favorite fast-footed superhero, as Barry (Grant Gustin) stands trial for the murder of Clifford DeVoe (Neil Sandilands). How will Iris (Candice Patton) and Joe (Jesse L. Martin) keep their no. 1 out of prison? Will The Flash have to reveal his true identity?
Tune in to The CW this Tuesday for all new The Flash.
From The CW:
BARRY FIGHTS FOR HIS LIFE — As Barry's (Grant Gustin) trial for the murder of Clifford DeVoe begins, Iris (Candice Patton) and Joe (Jesse L. Martin) must decide how far they are willing to go to keep Barry out of prison.
—
Black Lightning
"The Resurrection" – Series premiere
Tues Jan 16 – 9PM
On The CW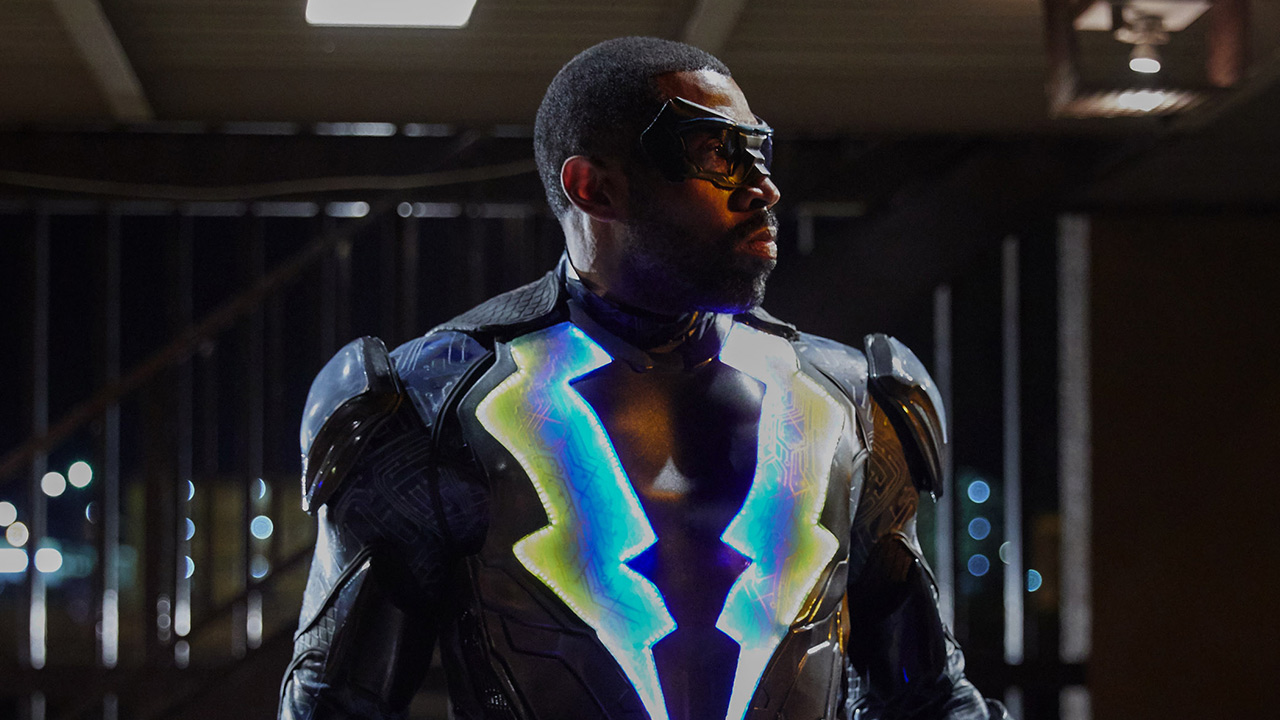 "Every choice has a cost."
We want to send The CW flowers for continuing to kill the game at superhero shows. Stay tuned for our review, coming out tomorrow—'til then, hit repeat on that sizzling trailer.
Black Lightning premieres tomorrow on The CW.
From The CW:
SERIES PREMIERE — Jefferson Pierce (Cress Williams) is a man wrestling with a secret. As the father of Anissa (Nafessa Williams) and Jennifer (China Ann McClain), and principal of a charter high school that also serves as a safe-haven for young people in a neighborhood overrun by gang violence, he is a hero in his community. Nine years ago, Pierce was a hero of a different sort. Gifted with the superhuman power to harness and control electricity, he used those powers to keep his hometown streets safe as the masked vigilante Black Lightning, but he left the Superhero days behind. Almost a decade later, Pierce's crime-fighting days are long behind him…or so he thought.
—
This Is Us
"Clooney" – Season 2, Episode 12
Tues Jan 16 – 9PM
On NBC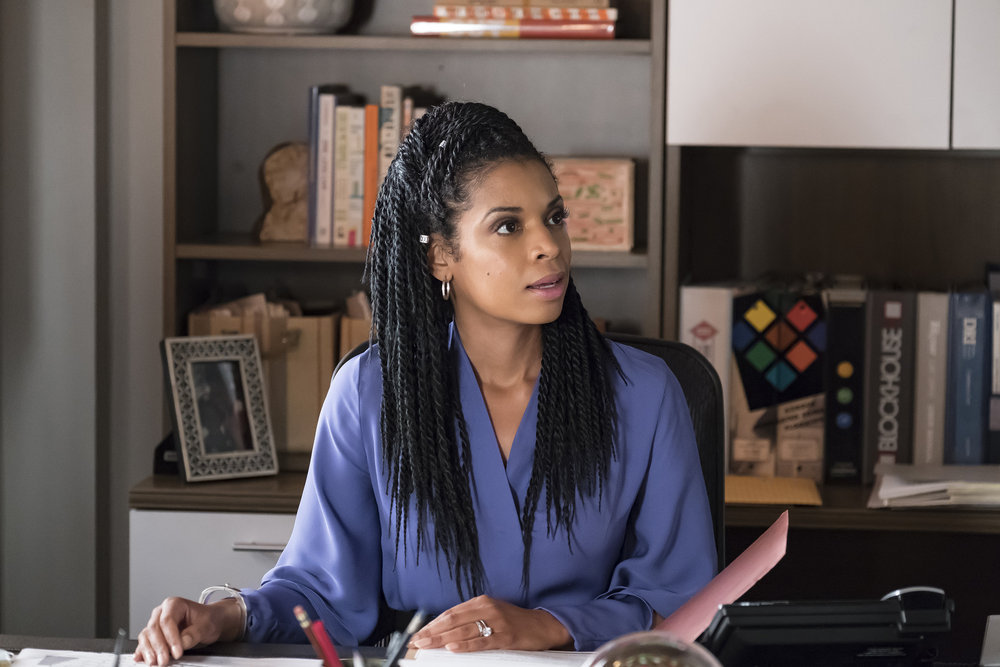 This Is Us reflects on life lessons and asks the hard questions this week. With Kate (Chrissy Metz) preparing for a wedding, and Randall's (Sterling K. Brown) dive into the past of the second father he's loved and lost, emotions are running high—maybe more so than ever before.
We'll see some sage advice handed down by Jack (Milo Ventimiglia) in the triplets' past, but we'll also be enveloped in the future, where it's time for Kevin (Justin Hartley) to find out if Miguel's (Jon Huertas) love for his mother overlapped his friendship with his father, a question we're not sure we're ready to be answered. But there's no stopping now, because This Is Us is nothing if not our favorite show to ugly cry to.
Catch This Is Us tomorrow on NBC.
From NBC:
Kate goes wedding dress shopping. Kevin embraces a new lifestyle while Randall explores William's past. Jack and Rebecca take the kids to the mall.
—
Chicago Med
"Over Troubled Water" – Season 3, Episode 7
Wed Jan 16 – 10PM
On NBC
New episodes of Chicago Med air every Tuesday on NBC.
From NBC:
"Over Troubled Water" (#307) DR. CHARLES IS FACED WITH A TOUGH DECISION WHEN A PATIENT GIVES BIRTH TO A BABY THAT IS ADDICTED TO HEROIN – Dr. Charles (Oliver Platt) feels pressure when Dr. Choi (Brian Tee) and Dr. Manning (Torrey DeVitto) criticize his medical decision regarding an ill newborn baby. Dr. Rhodes (Colin Donnell) comes to terms with his relationship issues. Goodwin (S. Epatha Merkerson) helps Bert (guest star Greg Williams) understand Lyla's (guest star Garcelle Beauvais) sickness.
—
Riverdale
"Chapter Twenty-Three: The Blackboard Jungle" – Season 2, Episode 10
Wed Jan 17 – 8PM
On The CW
We don't think anyone in Riverdale bothered making resolutions to be better this year—only to create more drama—and oh boy, are they upping their game…by shutting down Southside High. All we can say is, good luck to the teachers of Riverdale High, y'all deserve a raise for all the added stress students about to enter the halls.
Riverdale airs on Wednesdays on The CW.
From The CW:
NEW YEAR, NEW DRAMA — Tensions mount when the sudden shut down of Southside High forces Jughead (Cole Sprouse) and his fellow serpents to transfer to Riverdale High. Veronica (Camila Mendes) ensures Hiram (Mark Consuelos) and Hermoine (Marisol Nichols) that she's still on board with their plans for SoDale. Archie (KJ Apa) is conflicted when he is asked to gather some information on Hiram's suspicious business dealings. Betty (Lili Reinhart) sets out on a quest to find her long-lost brother, Chic (guest star Hart Denton).
—
grown-ish
"Starboy"
Wed Jan 17 – 8PM
On Freeform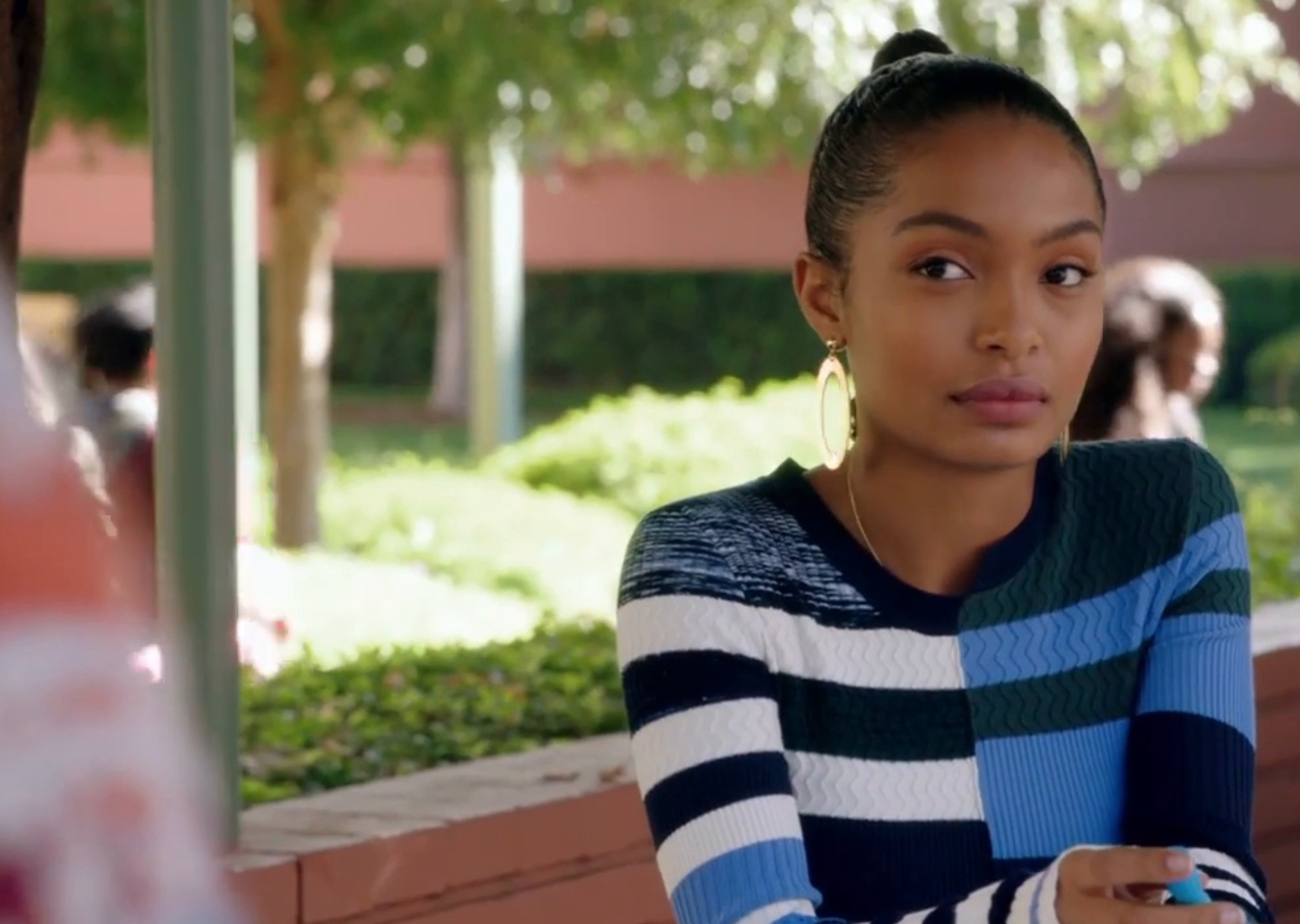 Grown-ish continues to hit the "uhhh yeah, been there" moments we all half-cringe, half-snort-laugh at. In "Starboy", Zoey (Yara Shahidi) tutors the star basketball player so she can get a letter of recommendation from Dean Parker (Chris Parnell) and they're about to get a grade A+ for total will-they-won't-they chemistry.
Watch grown-ish every Wednesday on Freeform.
From Freeform:
Zoey makes a deal with Dean Parker to tutor the star basketball player in order to get a letter of recommendation, but her friends seem to think the relationship is something more.
—
The Good Place
"Rhonda, Diana, Jake, and Trent" – Season 2, Episode 10
Thurs Jan 18 – 8:30PM
On NBC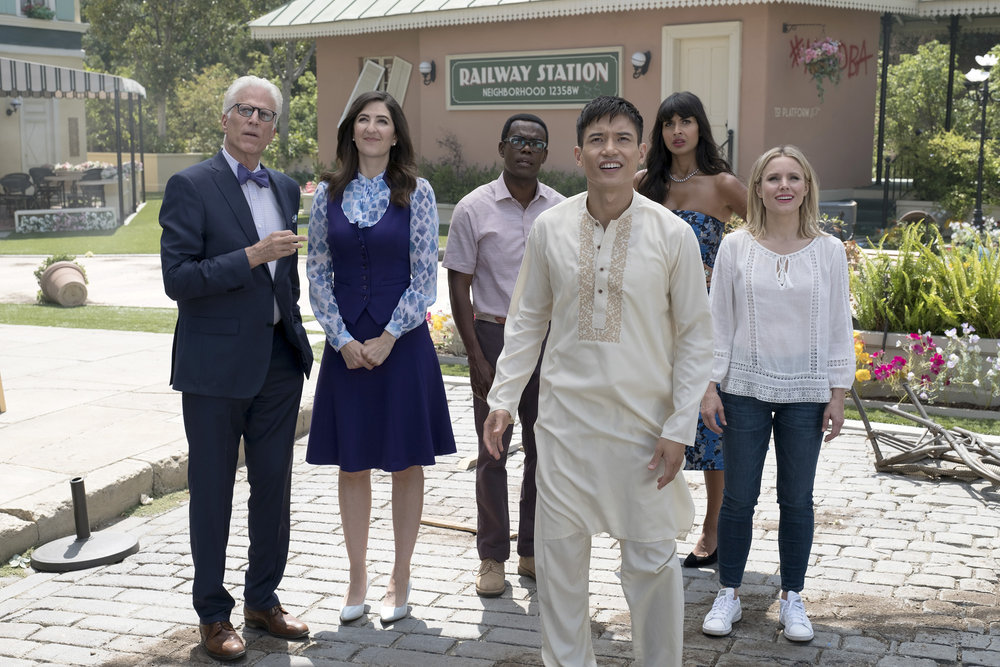 Eleanor (Kristen Bell) & Co. are on a mission…with kind of a detour through IHOP (but in The Bad Place the pancakes eat you). They're going incognito, which means dressing up and taking on new, not-so-Good-Place personas—or in the case of Janet (D'Arcy Carden), faking the Bad Janet attitude…yeah, we're already laughing. The Place they end up in is gonna give Chidi (William Jackson Harper) some serious heartburn…although it seems Jason (Manny Jacinto) fits right in and Tahani (Jameela Jamil) can still namedrop. Turns out Hell really is a delayed train journey (although a three hour delay is nothing compared to Earth, just sayin').
Dive into The Good Place this Thursday on NBC.
From NBC:
A CHANGE OF SCENERY MIGHT BE IN ORDER – Eleanor (Kristen Bell), Chidi (William Jackson Harper), Tahani (Jameela Jamil), Janet (D'Arcy Carden) and Jason (Manny Jacinto) head to a destination that may have lasting implications. Ted Danson also stars.
—
Scandal
"Robin" – Season 7, Episode 8
Thurs Jan 18 – 9PM
On ABC
Scandal is back to scandalize our screens and our senses. Need we say more?
Catch the midseason premiere of Scandal on ABC this Thursday.
From ABC:
Midseason premiere: The fallout from Rowan's action affects Quinn's loved ones, including Olivia.
—
Will & Grace
"The Wedding" – Season 1, Episode 10
Thurs Jan 18 – 9PM
On NBC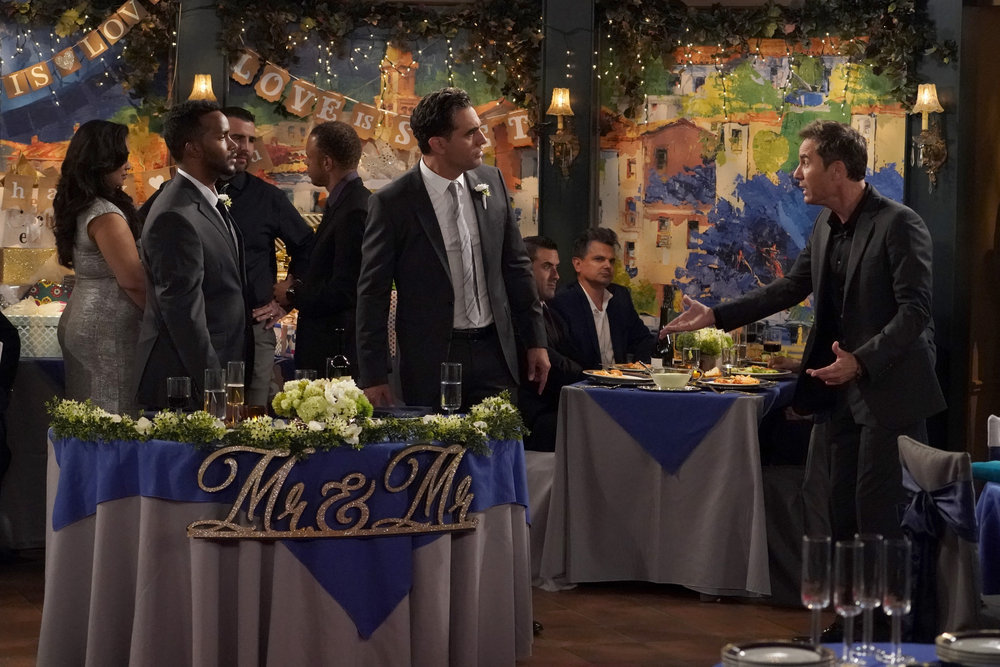 We were always kinda really rooting for Vince (Bobby Cannavale), but hey, the show's called Will & Grace, not Will & Vince, right? And honestly, Vince should know better than to invite the crazy into his own wedding…he really brought this week's episode scene on himself, honey.
Crash the wedding with Will & Grace on NBC tomorrow.
From NBC:
WILL IS REUNITED WITH HIS EX-BOYFRIEND VINCE (AT VINCE'S WEDDING) – BOBBY CANNAVALE GUEST STARS Will (Eric McCormack), Grace (Debra Messing), Jack (Sean Hayes), and Karen (Megan Mullally) attend the wedding of Will's ex-boyfriend, Vince (special guest star Bobby Cannavale). While Grace tries to keep Will from making a scene, Jack learns that his wedding hook-up has many strings attached.
—
Grace and Frankie
Season 4
Fri Jan 19
On Netflix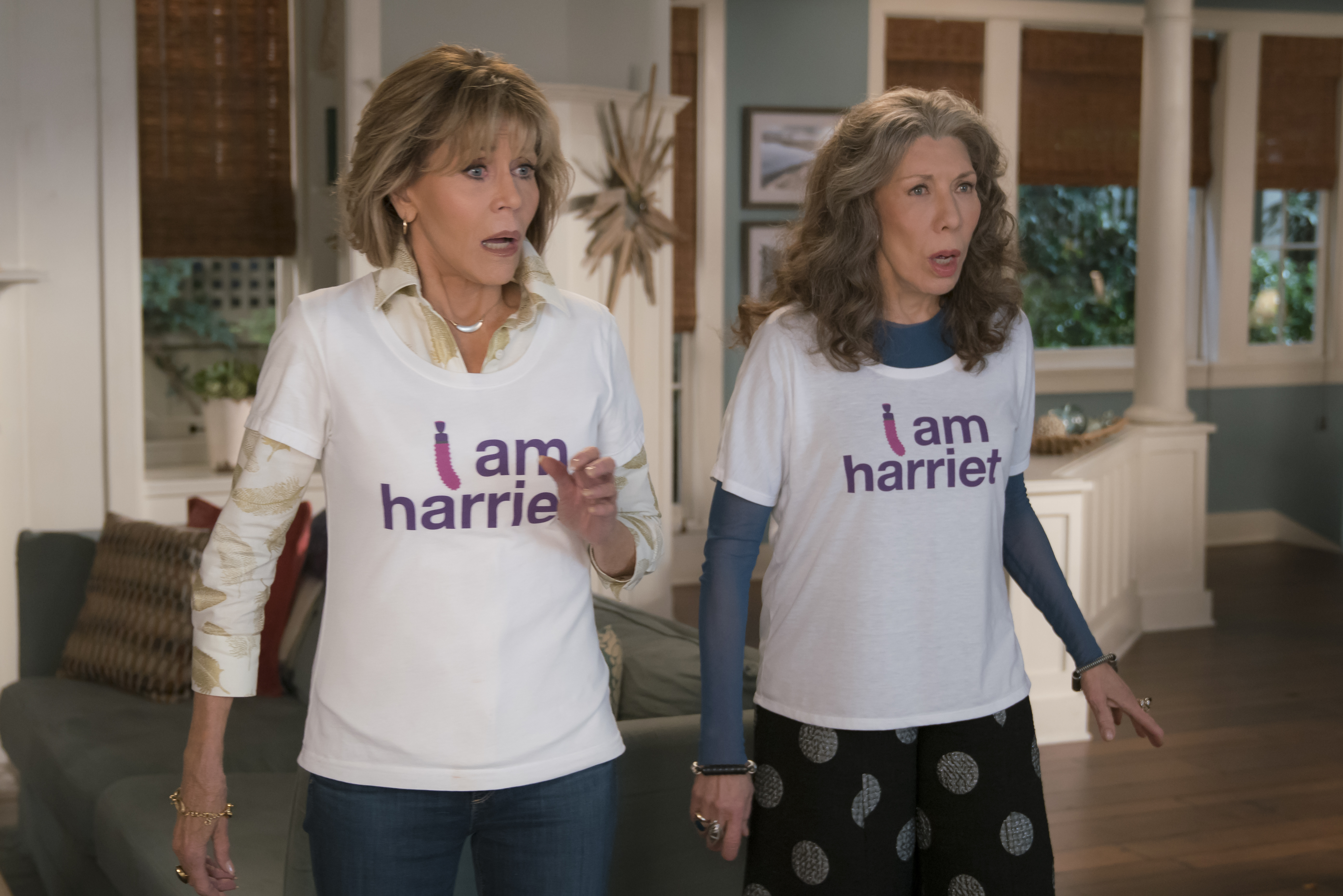 From Will & Grace to Grace and Frankie, we are feeling #blessed this week. Netflix's brightest show returns to make us snort with laughter and be fiercely proud of these two boss ladies…and their hilariously bumbling ex-husbands.
From Netflix:
In Grace and Frankie, Jane Fonda ("Grace") and Lily Tomlin ("Frankie") star as two women whose lives are suddenly turned upside down when their husbands reveal they are gay and leave them for each other. Both sparring partners and partners-in-crime, they form an unlikely bond to face an uncertain future together and discover a new definition of "family," with laughter, tears and plenty of mood enhancers along the way.
—
The Alienist sneak peek
Premieres Mon Jan 22
On TNT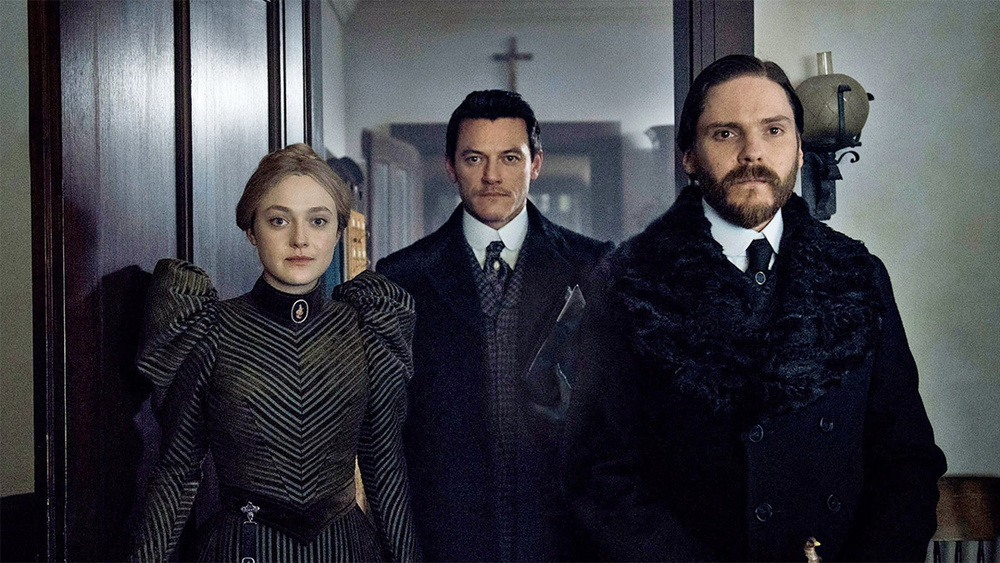 The Alienist premieres next week and we're already freaking out…'til then we've got a sneak peak to obsess over:
The Alienist premieres next Monday on TNT.
From TNT:
The Alienist is a psychological thriller set in 1896 about the hunt for a serial killer responsible for the gruesome murders of boy prostitutes that have gripped New York City. Based on the novel by Caleb Carr.
Tags:
ABC
,
Black Lightning
,
CBA All Access
,
CBS
,
Chicago Med
,
FOX
,
Freeform
,
Godzilla
,
Grace and Frankie
,
grown-ish
,
NBC
,
Netflix
,
Riverdale
,
scandal
,
Star Trek: Discovery
,
Supergirl
,
The Alienist
,
The CW
,
The Flash
,
The Gifted
,
The Good Place
,
This Is Us
,
TNT
,
Watch This Week
,
Will & Grace
,
WTW