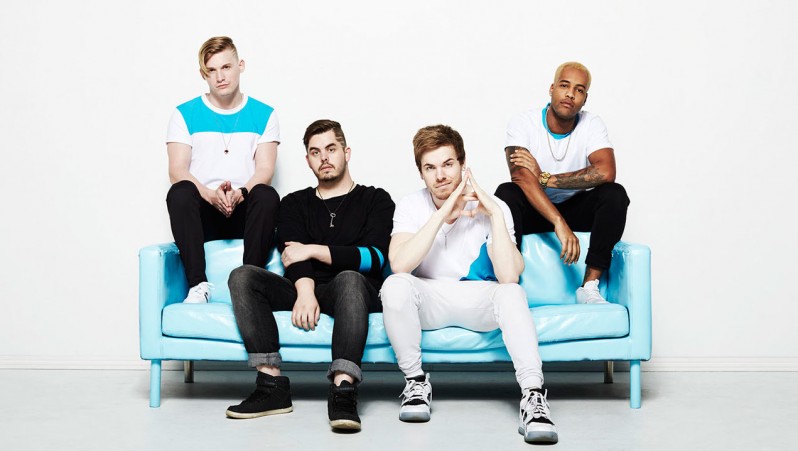 "We don't consider ourselves pop punk. Like at all haha. We just don't fit the M.O."
Some bands keep their style in a nice little box where all their albums sound the same; but Set It Off is not one of them. Their highly anticipated third full length album Upside Down is out today, so there's no better time than now to take a walk through memory lane and see how the band has changed over the years. There's a clear progression of sound between each of their albums; lead vocalist Cody Carson told us, "Each album is a learning process," and gave us some insights on the band's growth. So let's start at the beginning and see where Set If Off takes us:
The journey began with a series of EPs, the first of which was 2008's Baby, You Don't Tripajaharda.  Buried deep in the recesses of Cody Carson's YouTube channel you can find out how the Jonas Brothers lyric "you turn the temperature hotter" inspired the title. The production quality is a little rough, you can tell the band is just starting up, regardless, it's obvious that these kids have potential.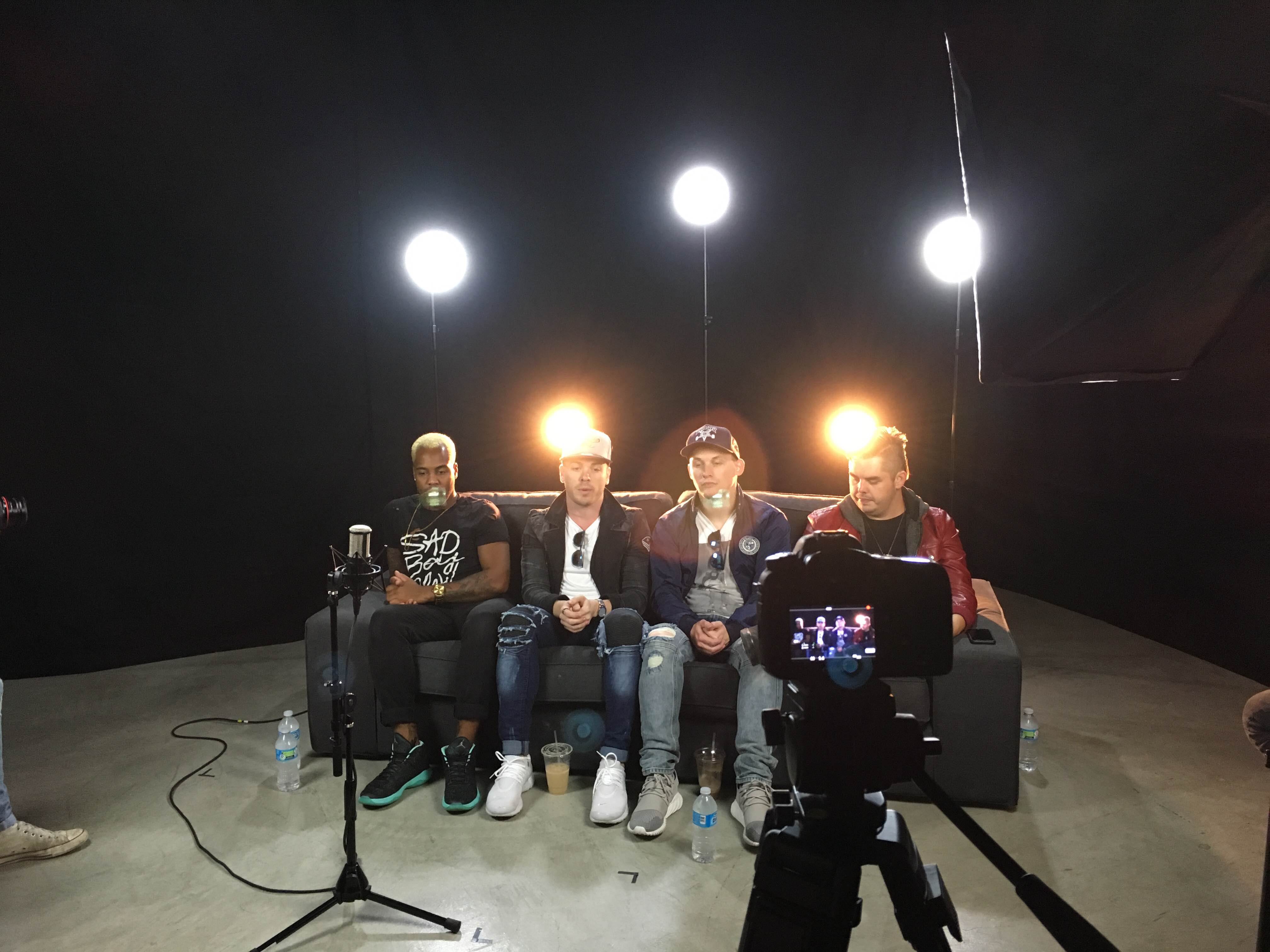 SIO's second EP, Calm Before the Storm, was released the next year. The sound has a similar style to Baby, You Don't Tripajaharda, but the quality is already sounds much more polished. At this point in time the band was still pretty standard 2000's pop-rock, but this is the last time we'll hear this sound out of Set It Off. I have to tell you, I had "Introduction to Outselling a Salesman" on repeat for a bit while writing this and it's still really catchy.
After Calm the band released Horrible Kids. This is where we start to hear that much more eerie and dramatic sound in Set It Off's songs that they became known for. These tracks give us a first taste of a full length album would sound like.
"Our first full length, Cinematics was an angsty record because I was touching in drama in my life as well as personal flaws such as anxiety and insomnia, but I also was obsessed with making every song eerie and filled with orchestral instruments."
Now we're deep into the heart of Set It Off; we've reached their first full length album Cinematics. This record was released in 2012 after the band signed with Equal Vision Records. Set It Off really came into themselves with this album, but it's evident in some of the lyrics that Carson is struggling with a few issues. You can hear this pretty blatantly in "I'll Sleep When I'm Dead" with lyrics like: "I'm stuck self-torturing; my meds are failing me / Internal clock in smithereens / Can't fix this, I'm hopeless". and you definitely hear lots of variation in the songs throughout. The album even starts off with a very dramatic introduction of organs and string instruments.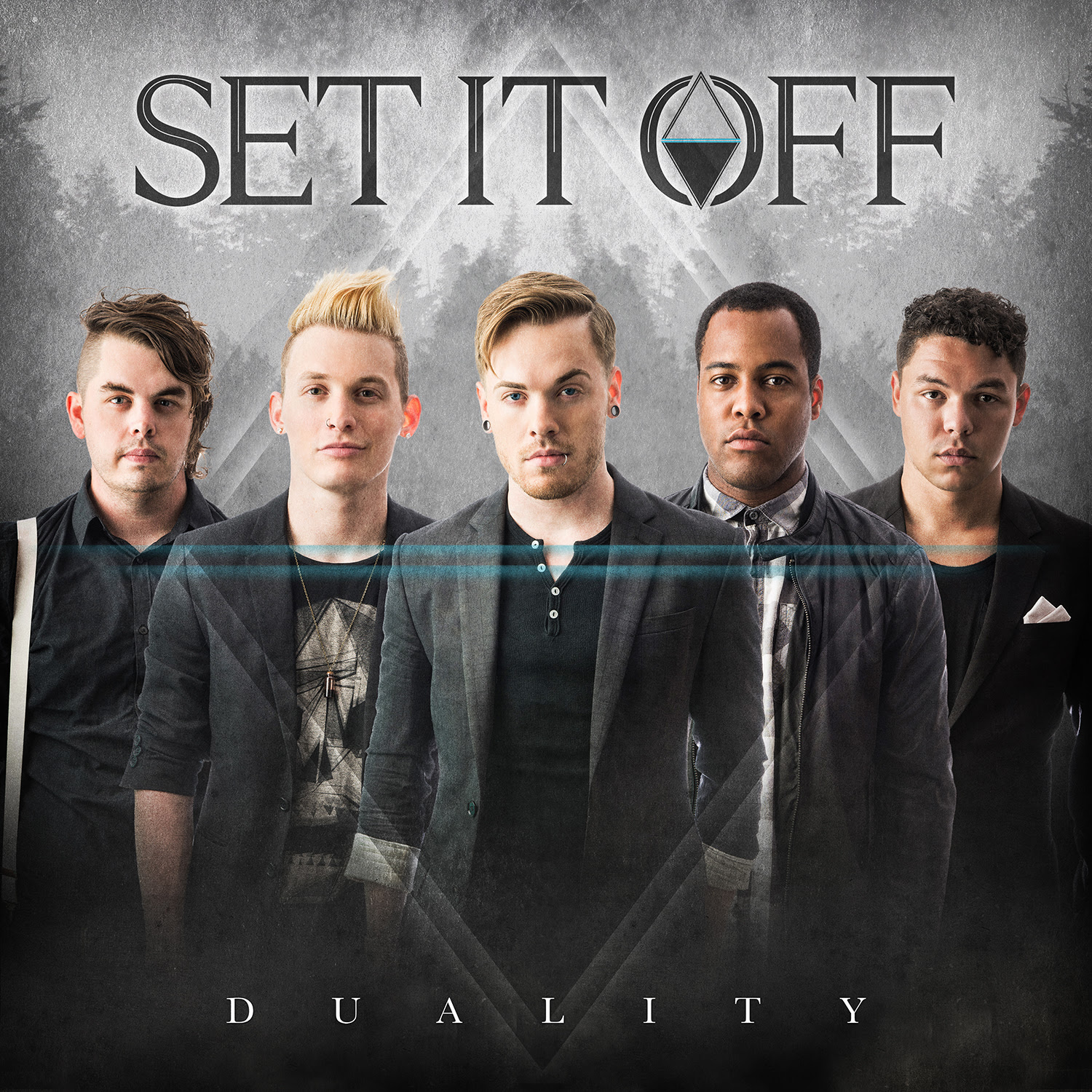 "…we opened up more on Duality where I wrote a lot about heartbreak and betrayal but started to open our minds more to what Set It Off could be."
The second SIO full length, Duality, is really where the modern Set It Off sound first appears. This record kept some of the eerie quality of its predecessor, but introduced a more upbeat dancey vibe into the mix, providing the bridge between old and new. Take "The Haunting", where a dramatic quality creeps in. However you also get the more positive vibe in songs like "Why Worry". At Vans Warped Tour 2015 I accidentally knocked a guy's phone out of his hand because I was too into "Why Worry" and was dancing like I had nothing in the world to worry about. Hey, Guy from Holmdel, NJ, if you're reading this, I'm REALLY sorry about that.
"Dan on trumpet and French horn, me on clarinet and saxophone. They really fill up a song when it's needed. And this one isn't necessarily an instrument but I love 808 bass. We have it in "Me w/o Us" and it just bumps and grooves so hard." Set It Off is known to use unexpected instruments to keep their sound interesting. Like Carson says, he loves to use real horns—those sounds pique our interest and keep us coming back for more.
FINALLY we've come to Upside Down, the brand new album. These songs take the upbeat trend that Duality introduced and levels up. Carson describes the album as "primarily about turning negatives into positives and making the most out of life, it's a happier record and it's the first time we wrote without boundaries. We just fought for the best song and I'm so proud of it." And it's not just the tempo that is upbeat, but the lyrics also give off a positive outlook. The music truly grows up with the band and with its fans. We're not in our angsty emo teen phases any more—well, those of us who were teens back in 2008 at least—and it's great to still relate to the lyrics.
"Our past music influenced what your hear today because we are always fighting to get better and we realize listening back what it is we can improve on each time we re enter the studio. We are constantly opening new doors for ourselves sonically and we will continue to do so because that's what makes Set It Off albums exciting, the fact that you know you're getting something fresh and fun."
It's crystal clear that, over the past eight years, Set It Off, their fans, and their music have evolved—building off previous releases and changing consistently for the better. Carson acknowledged this in the quote above AND he's right. With every new Set It Off album, I couldn't be more excited until the next new Set It Off album. Having listened to a sh!t-ton of SIO music while writing this, it's all worth the listen—go forth and jam out. And to the guys in Set It Off, congrats on everything you've put out so far, and cheers to whatever comes next!
Tune in to our Release Day Listening Party with Set It Off tonight at 7PM ET to catch Upside Down in full, and hear exclusive stories from the band themselves! Check out a RDLP teaser below, and tune in at 7PM here: ido.bi/player
Tags:
Set It Off
,
SIO
,
Upside Down