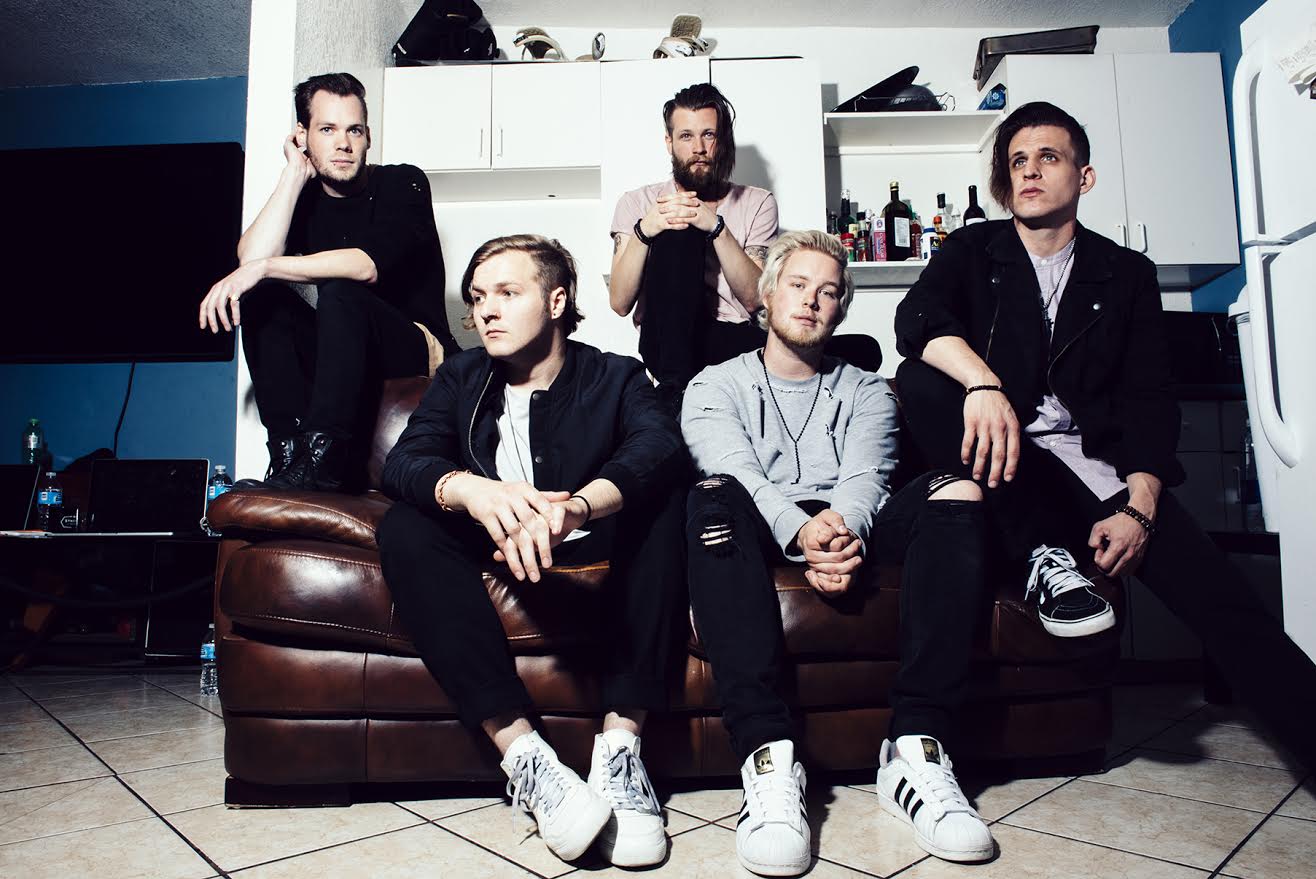 The year is 2017. Self-heating coffee mugs are here, cute pets and memes rule the internet, and you're about to discover your next favorite band. Hitting the ground running since their formation in 2013, Too Close To Touch have put out an EP and not one, but two full-length records in the space of two years. They've also toured with Emarosa, I The Mighty, PVRIS, Hands Like Houses, as well as playing Warped. So yeah, blink and you'll miss this band, the rate they're headed for the big leagues with every new release. You've got a lot to catch up on, so sit down, pay attention, and quickstart your Too Close To Touch fan-career with our handy idobi 101.
THE BASICS
Formed: 2013
Hometown: Lexington, KY
Genre: Rock / Alternative
Latest release: Haven't Been Myself
In ten words or less: Moshpit-ready music that finally puts your emotions into words.
Twitter: @TooCloseToTouch
Instagram: @tooclosetotouchband
Website: tooclosetotouch.com
Level one: Complete. By now you've hit play on Haven't Been Myself, and then hit repeat (a few times over). You've progressed onto their debut record Nerve Endings, and dug into their self-titled EP. Each new track you hear reaches deep into your soul, giving voice to feelings you didn't know how to express before. You haven't air-guitared round your room as much as you have lately, and your throat hurts from screaming along to all the epic choruses. You're officially hooked—there's no turning back now. Level two: Time to learn your guitarists from your drummers, your singers from your bassists. Read on to find out who's who in Too Close To Touch.
GET TO KNOW THE BAND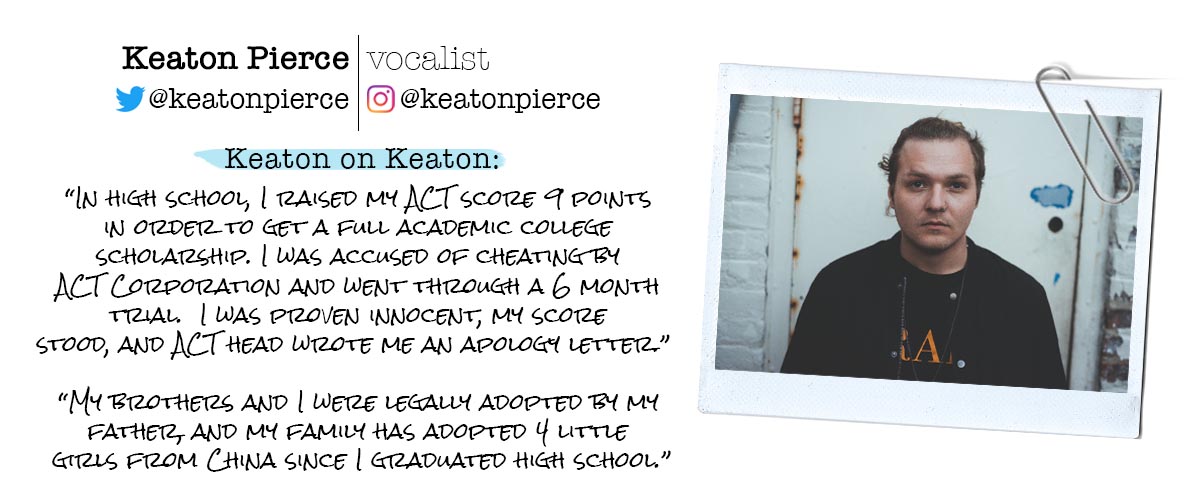 Need to know:
Needs to hire a PI to investigate his phone…
My phone keeps autocorrecting Tom Selleck to Tom Sellers and this is a problem

— Keaton Pierce (@KeatonPierce) January 19, 2017
Has exceptional taste in art:
Burt Reynolds x Sloth

What a masterpiece pic.twitter.com/lXfXXL5g35

— Keaton Pierce (@KeatonPierce) January 12, 2017
Is older than Mother Nature herself:
Back when I was a kid, they didn't have all this weather nonsense

— Keaton Pierce (@KeatonPierce) December 18, 2016
—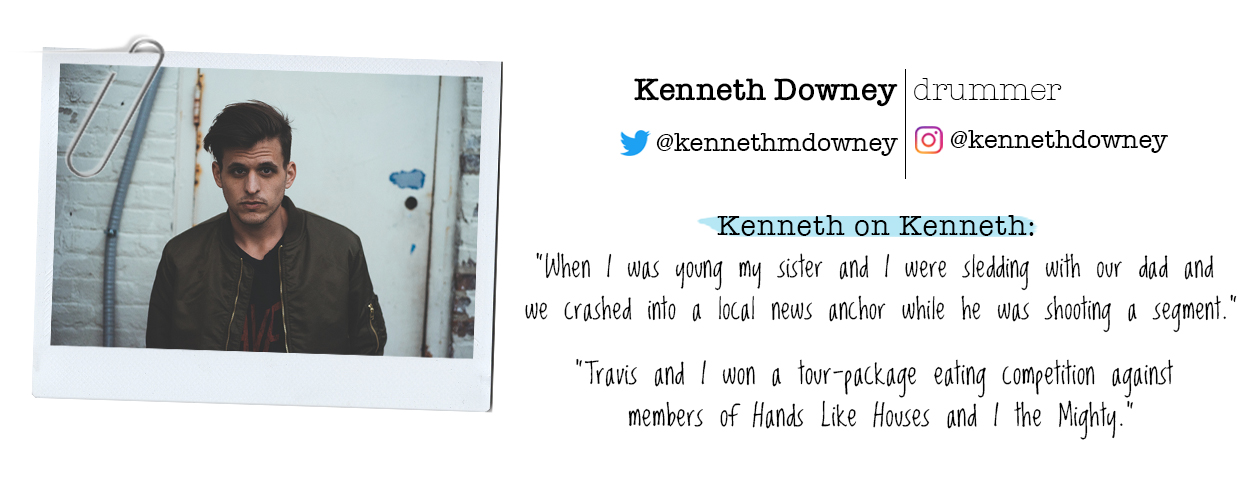 Need to know:
Has an impolite alter ego:
My drunk self likes to mess with my sober self.

— Kenneth Downey (@KennethMDowney) January 7, 2017
Likes to reminisce about simpler times:
I remember a time when everyone just wanted to be someone's number 1… on their MySpace top 8. Times sure have changed.

— Kenneth Downey (@KennethMDowney) January 5, 2017
Should have stayed on the playground:
So apparently the meat squad is in full force at the gym the day before Christmas… seriously I look like a 9 year old next to these people

— Kenneth Downey (@KennethMDowney) December 24, 2016
—
Need to know:
Other nicknames include:
Things I've been called today.
•Your Beardness
•The Bearded Master
•Mason

— Mason Marble (@MasonMarble) December 23, 2016
Idea of a perfect date:
Humble Beardginnings:
—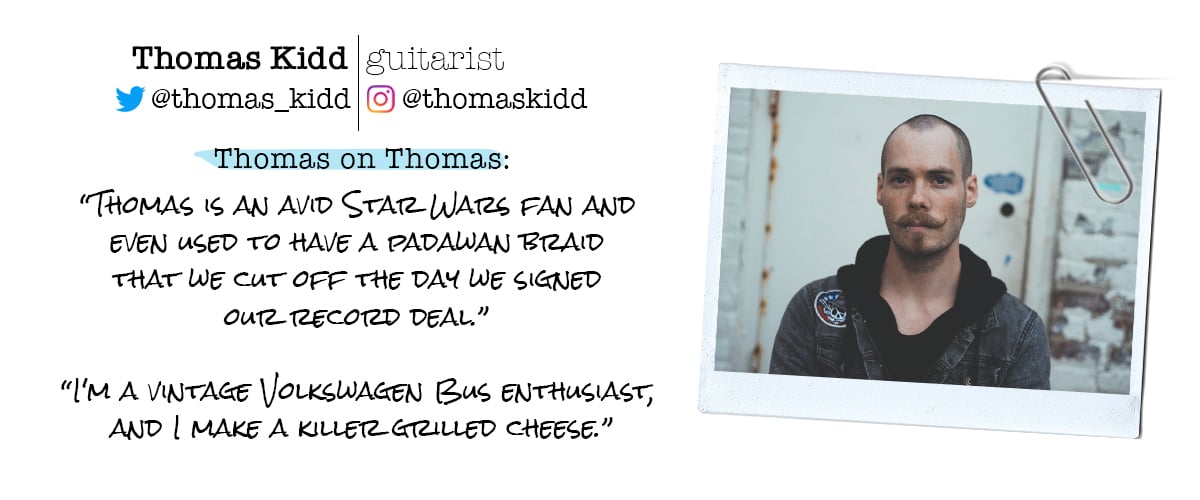 Need to know:
Not a fan of #FirstWorldProblems:
Typos are killing me today ????

— Thomas Kidd (@Thomas_Kidd) January 15, 2017
Feel free to badger him about how he keeps his mustache in such pristine shape:
Is living his best life:
Finished packing for tour at 2:45 a.m. the night before leaving.

Procrastination is a lifestyle.

— Thomas Kidd (@Thomas_Kidd) February 6, 2017
—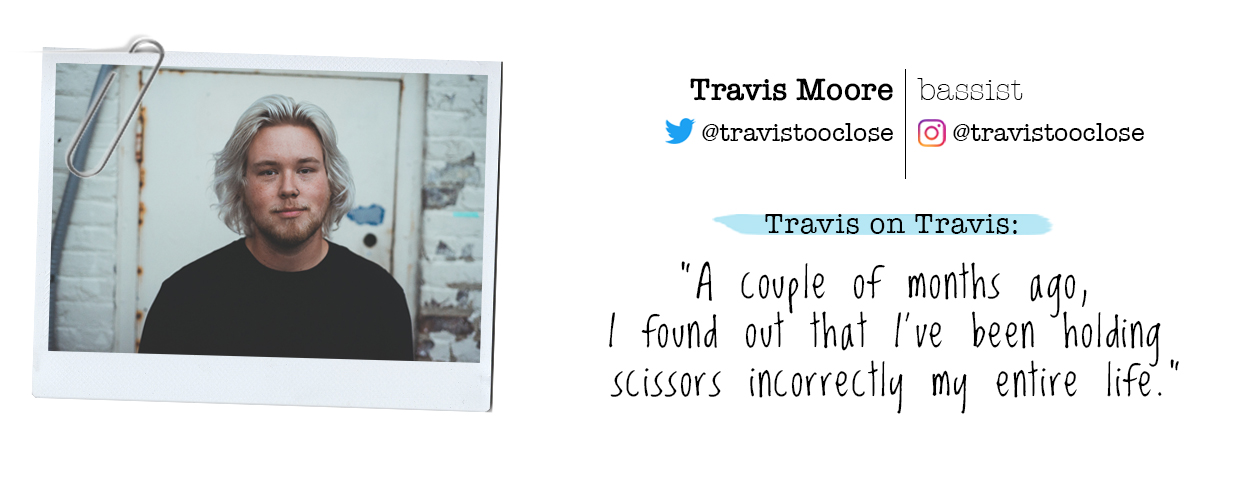 Need to know:
Has more #squadgoals than T-Swift:
Says what we're all thinking:
I miss shaq

— travis. (@travistooclose) December 23, 2016
He walks up to the closet
He goes up to the closet
Now he's at the closet
Damn he's playing the closet?
Starting our tradition of playing trapped in the closet when we're almost home from tour

— travis. (@travistooclose) December 5, 2016
—
WHAT'S NEXT?
We've already established you've started many a moshpit in your bedroom over this band (and you have the broken bedside lamp to prove it). Your Tumblr is full of pretty graphics featuring lyrics that mean more and more to you every day. You're Too Close to attaining the coveted superfan level, and now you want to experience their music in a live setting where you're almost able To Touch them (but y'know…don't. Respect their space. Go be weird over there).  
So you get yourself and your best plus-one tickets, and spend the lead up planning, military-style, so you don't forget anything—including (but not limited to): your homemade banner, your favorite TCTT beanie, your sharpies (in case you happen to run into the band). You barely sleep the night before, but that's okay because you've got more than enough energy for the whole room. And that room is exactly like you pictured it; lit up by UV stage lights, filling up fast behind you (because of course you made the barrier), powered by a buzz of anticipation. You roll your eyes and smirk at the "no crowdsurfing" signs because you know as soon as the bass kicks in, this place is going to go insane. And with good reason—Too Close To Touch are about to take the stage, and you're finally here to see it. Aren't you?
Find out how to win tickets to see Too Close To Touch and Waterparks and graduate from idobi's Too Close To Touch 101 class with honors.
Tags:
Too Close To Touch
,
waterparks