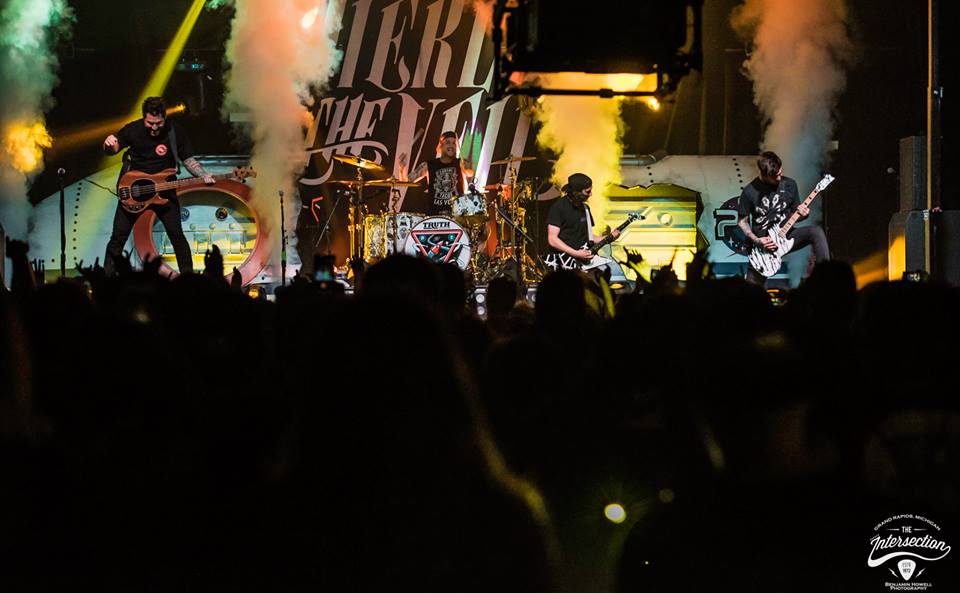 "We pretty much have the whole rest of the year planned out, just like last year it's gonna be busy."
The lights are down. A screen blocks your view of the stage. The crowd falls silent as an animated video rolls, showing a rocket-ship crash landing into Grand Rapids, MI. The screen drops, the excitement builds, screams of elated fans are coming from every which way. You notice spaceship props in the back of the stage. You watch as they open, and then Vic, Jaime, Mike, and Tony climb out of the set pieces in full on astronaut gear. This is it. Pierce The Veil's Rest In Space show has begun.
This isn't where the story begins, though. That would have been in a rainy parking lot in (surprisingly warm) Michigan. It's the last day of February, and I've arrived at The Intersection to cover the Rest In Space tour, featuring Crown The Empire, and two of my high school faves, Falling In Reverse and Pierce The Veil. I'm taken into the band's green room, where I join Jaime for a chat. It's been about a year since the last time I've spoken to the bassist, and in that time the band has been around the world and back—both literally and figuratively.
"We have done so much in the last year. We started touring right when the record came out almost a year ago, and it's been nonstop. We've only been home for, I think, Christmastime," he tells me. Speaking of tours, the Rest In Space trek marks a first for Pierce The Veil—they've never headlined Canada (and surrounding cities) before. So far, Jaime says it's been a good experience… except for maybe, the poutine. "I tried it once just to, like, you know what? I'm here. Let's try it. And I'm all set with the poutine," he laughs. "I needed to eat salad or something just to chill out."
"Being a band like we are, it's kind of crazy to think that we're on the radio."
To launch into space (or Canada) the band prepared some new experiences for both themselves and the crowd. "We're playing some songs off our first record that we haven't done in years… bringing it back to old fans." One of the tracks they added from days past is a song they'd never performed live before; "Stay Away From My Friends", from their sophomore effort Selfish Machines. Thanks to Jaime's passion for playing music, they were able to introduce it to their set after seven years. "That's a first for us, I had to learn how to play piano. I just decided that'd be fun, and I did it, so now I'm playing piano in the set too."
Looking back brought new ways to keep things fun, while staying connected with long time fans. Meanwhile, looking forward has propelled their career over the past twelve months. Since Misadventures dropped after three years of anticipation, it's sold over 100,000 copies, and led Pierce The Veil to everything from late night TV to radio rock festivals. Jaime lights up as he tells me about the accomplishments Pierce The Veil has seen. "For us, being a band like we are, it's kind of crazy to think that we're on the radio." No one deserves to see their dreams become reality like PTV. From fans to fellow musicians to industry insiders, this is the band that's been known to kick ass, take names, and do every bit of work required along the way.
"When you walk into a venue, I want people to really feel at home and feel like they're not just in a building." 
They've stuck with a hands on approach from the beginning. "We're very DIY with our band, so like everything we do—whether it's merchandise, production for the show, tour names, the bands on the tour—we have 100% say in what goes on which is really cool." Although they're at a point where they certainly could hire people to accomplish the little tasks that make a tour run, they've kept everything they can in house; thanks to inspiration from the bands they grew up watching. "That was, for us, like the punk rock way to do it. Handing out your own fliers, recording your own music, designing your own merchandise, doing all that stuff… I think that really inspired us. It keeps you grounded in a sense of you don't get lost in all the craziness." Each member of the band has their own area of expertise that lends to their ability to stay DIY. "Normally you'd have to have other people do it, and hire out other people to do it. 'Make us this song intro, or make us this, y'know, whatever', and I think we like [doing that ourselves]. We're very fortunate to have people, like Vic our singer, has a graphic design background, so he's really good at merchandise and how it should look," he explains. "Then I come from an audio background which is super awesome to have in a band…That for me is super rewarding and fun. I enjoy doing that kind of stuff."
If you've been in the line outside a Pierce The Veil show, you know there's a lot more to it than just a few guys jamming together on stage. "What can we do to make the show special? What can we do to have these kids not feel like they're just in a building with a band?" Every concert the San Diego natives play is nothing short of magical, because that's exactly how they plan it. "I go to Disneyland a lot, and I feel like that, for me in my head, I think about that," Jaime starts. "How does Disneyland make you feel like a kid? It shuts down everything on the outside world, you don't see anything that's real, you see everything that's inside, and I feel like the same with the show. When you walk into a venue, I want people to really feel at home and feel like they're not just in a building."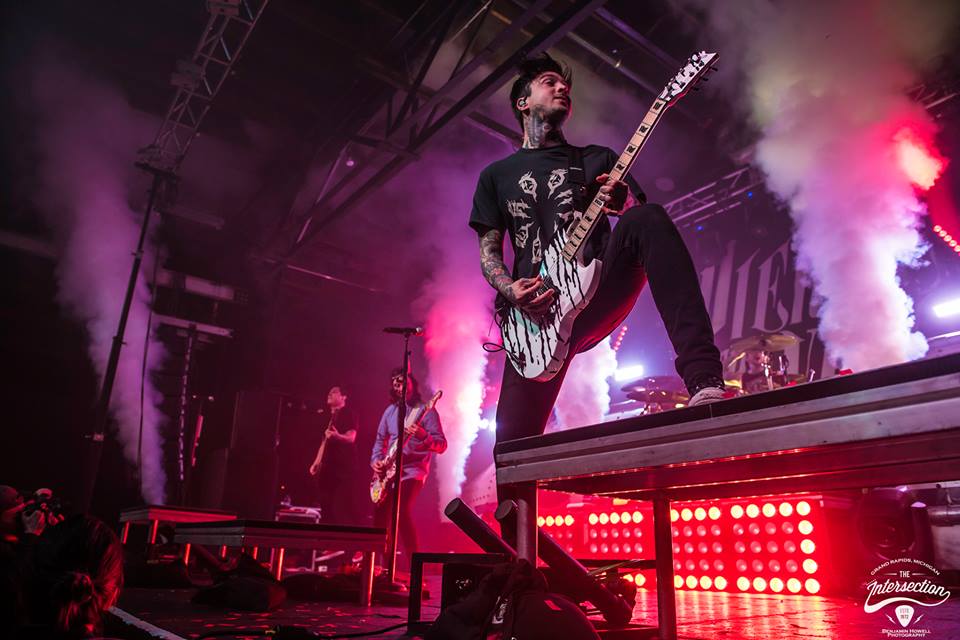 When it comes to the case of the Rest In Space tour, things got out of this world, thanks to the atmosphere Jaime, Vic, Mike, and Tony worked to create. "We're to that position now where we can call the shots on our own stuff, and that makes it really rewarding to me. You work really hard for something, and then get to see it, and then also be a part of it when you're playing those songs live."
All of that work doesn't go unrecognized by the fans, or by the industry. PTV has built the kind of reputation any aspiring musician should look up to. When I ask Jaime about it, he explains how they've gotten where they are. "That's just, I think, having that kind of work ethic. You respect people who are doing it, and I think people can respect that and what you're doing." It's the little tasks, as much as the big moves, that build a name. "Like, 'Man these guys are working hard, they're trying to, like you said, hang flyers.' It could be metaphorically hanging a flyer, but for us, we put a lot of work into it, and I think people notice that," he says. "We're all kind of here doing the same thing, y'know."
"Once we hit the first note or when the song kicks in, you feel it. You go 'yes'."
With all the opportunities Misadventures brought them, Jaime is still quick to remember it's a climb ten years in the making. "It's been a fun ride for sure… it didn't happen overnight. It was a very slow process, but it's such a cool rewarding thing to see it all kind of happen."
The focus of every day on tour is making sure the show is a good one, but nervous energy is replaced by excitement when the lights go down. "I think once we hit the first note or when the song kicks in, you feel it. You go 'yes'. All this work is for this." When the music hits the crowd and the kids start to feel the excitement too, it only adds to Jaime's energy. "I get like a puppy, like 'Oh yeah, you're excited, I'm excited.' So I feed off that, and it's such a really cool experience to have that kind of fun interaction with the fans."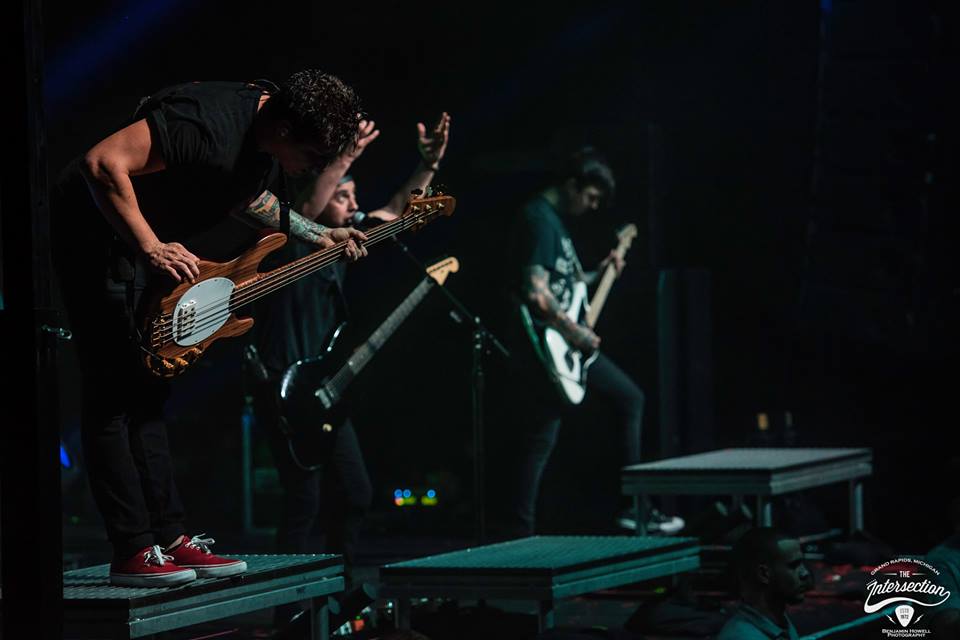 As soundchecking grows louder, and the time before doors ticks away, Jaime has to head to a VIP meet and greet soon. Before he leaves, I ask one last question: Is there anywhere left that Pierce The Veil wants to go? The band has seen more places in the world than most people could name, and he's not sure if there's anywhere left on his list—but there is somewhere he'd go again. "We pretty much did the entire world last year and this year, so being able to go to Japan would seal the deal, put the cherry on top."
Tags:
Crown the Empire
,
Falling in Reverse
,
Grand Rapids
,
Jaime Preciado
,
Michigan
,
Misadventures
,
Pierce the Veil
,
Rest In Space
,
Rest In Space Tour
,
The Intersection