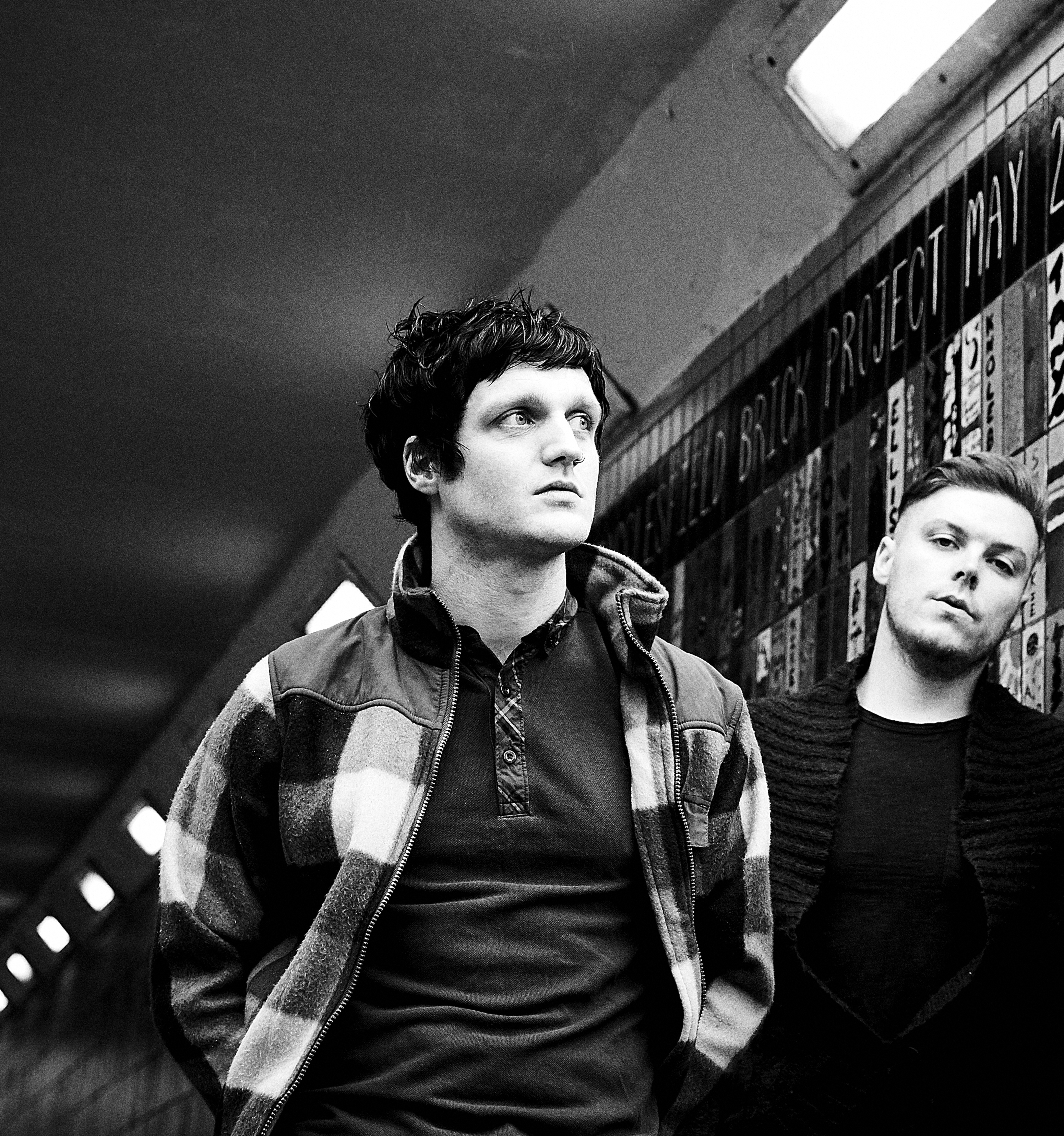 Starting over is hard—maybe you're the new kid at school, or you've been hired for your first job. Or maybe you're in an established band and things fell apart late last year, leaving you to make the decision to either give up or reinvent. That's exactly what The Virginmarys have had to do. In the past year, their label contract expired and a founding member left, but Ally Dickaty and Danny Dolan are anything but pushovers. They took those negative experiences and powered through to began again.
I chatted with frontman Ally Dickaty a week before The Virginmarys' latest project, the self-produced EP, Sitting Ducks, dropped. As a Brit and a Canadian meeting for the first time, it's kind of inevitable that the first thing we talk about is the weather. For Dickaty who's, preparing for the EP launch party in Manchester, it's a little cold and raining; while I'm enjoying Toronto's unseasonably warm temperatures. Despite the dreary weather outside his window Dickaty is in a sunny mood—copies of the new EP, including vinyl, have been sent out already and there's been a great response.
"It's very rewarding that we've done it ourselves start to finish this time around," says Dickaty proudly. He has every reason to be proud. That launch party he'd prepped for: Tickets sold out within half an hour of going on sale. The Virginmarys' fans are clearly just as excited as the band for this new era.
It's been a big learning curve, I don't think we actually anticipated the amount of work it would take to pull it off.
The Virignmarys are no strangers to the music industry—since forming in 2009 they've released two full-lengths and a handful of EPs—but this is the first time they've done all the work themselves. Back in December, they lost major support from two camps, not only did the contract with their label expire, but bassist Matt Rose left the band shortly thereafter, leaving Dickaty and drummer Dolan to operate as a duo. For a less seasoned band, this might have spelled the end but Dickaty and Dolan weren't going to take it sitting down. Instead, they decided to create music on their own terms, even if it meant funding the whole thing themselves. "We self-produced [Sitting Ducks]," says Dickaty. "We chose where we wanted to record it, who we wanted to mix and master. The first time's always going to be the most stressful, it'd definitely be easier the second time around. But it's been a really cool experience."
We were only a few days away from the EP's release, but Dickaty had a very laid-back vibe during the conversation. It's hard to tell exactly what he's thinking, but I feel like his casual attitude is a brave front: He might not be outwardly freaking out, but inside, it's turmoil. "It's been a big learning curve, I don't think we actually anticipated the amount of work it would take to pull it off," he says with a laugh.
For a band that's been around for a while, it must be hard to go back to their roots and take on a more DIY attitude, especially after releasing two critically acclaimed full-lengths on a record label. Some bands might even wonder if it was because of the label that they achieved success in the first place. For me, while it certainly doesn't hurt to have the financial support of a label behind you, a band's success is ultimately dependent on the talent, something The Virginmarys have in spades. At one point, Dickaty asks me if I'd had a chance to listen to Sitting Ducks. I had, and yes, it was well worth their efforts. From the groovy title-track with Dickaty's throaty vocals, to the tender closer, "Sleep", this is an EP that's meant to both tide fans over until a full-length album and whet their appetites for more.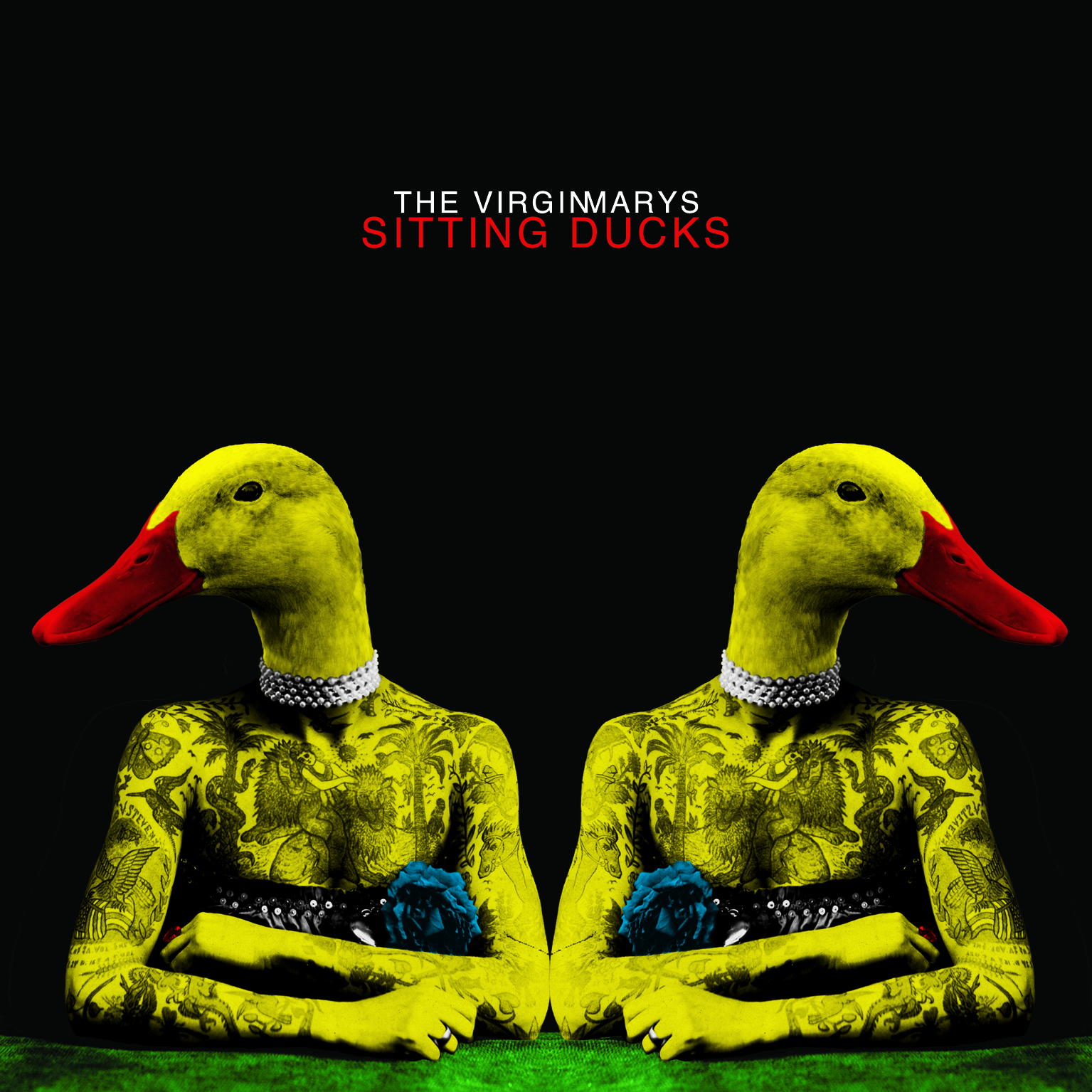 For the first time in a long time, fans were put into (almost) direct contact with the band as they were able to pre-order the album through Pledge Music, allowing The Virginmarys to cut down on the amount of people getting in between them and their listeners. That, at least, is one bonus to self-releasing. The other advantage: During the process, Dickaty discovered that the ethics of self producing music are more attractive than being limited to what a label wants. He doesn't come out and explicitly say that The Virginmarys had a negative experience being on a label, but he pauses before delicately explaining "A lot of labels have numerous bands… If you're not the massive one on the label, you might not get the attention you need."
"There's plus points on both sides, but it would be good to have a lot more help. It'd be great if you could have the best of both worlds, if you could find people who would give you the time of day," he adds. Of course, since Dickaty and Dolan were the only ones working on the album, they were able to put in as much time and energy as they wanted to make the EP sound exactly the way they wanted it to. As a bonus, they found a new appreciation for the production side of the industry. "It made me listen to old records in a completely different way," Dickaty says.
In terms of production, they may have started from the ground up on this EP, but the heart of their music has always been Dickaty's thought-provoking lyrics. One of his inspirations for this record is the idea of privilege. "There's been a lot of tough times living in the UK—homelessness has gone up by 80%, you walk through the cities and you're stepping over people. It's rough to be in that environment. There's such inequality; some people have everything, others are thrown on the street. It's difficult not to be moved by it and feel like you have to voice it somehow." Homelessness may not affect him directly, but I can hear Dickaty's heartbreak through my speakers and despite feeling powerless his music gives him an outlet for his empathy.
Too much music is just nothing, it's weak. I'd rather listen to something with substance, even if I didn't like it, it had a potency, an urgency.
If you listen to their previous albums—2013's King of Conflict and 2016's Divides—you'll hear that same kind of passion, because, even though they're starting over  The Virginmarys are ultimately here to make you feel something. Sitting Ducks is no exception—it's four raucous yet sincere songs that Dickaty hopes will be a light in these unpredictable times. "I know it's not going to be everyone's thing, but I hope it speaks to them, that it moves something," he says vehemently. "Too much music is just nothing, it's weak. I'd rather listen to something with substance, even if I didn't like it, it had a potency, an urgency. I want our music to have a positive vibe. There's only so much you can talk about the same thing, really. I wouldn't want to pigeonhole ourselves, we're not a political band, but there's always an intensity." Intensity is nothing new to a seasoned The Virginmarys fan—the band has never shied away from heartfelt lyrics sung in Dickaty's signature growl or rolling drums courtesy of Danny Dolan—and those two things keep the crowd coming back for more.
Throughout our conversation, it becomes clear that The Virginmarys are in the industry to have a good time and spread a message—just look at the bands who've inspired them. "We take influence from massive bands like The Clash and Sex Pistols. We love The Pixies, The Smiths, Nirvana, Rage Against the Machine." Dickaty fondly reminisces about the music from his childhood, referring to his influences as the "kind of bands you'd expect [them] to like" while also explaining that The Beatles is still his favorite band. "I grew up listening to sixties and seventies music," he says animatedly. "If you go back and you listen to the likes of The Doors…Jim Morrison's voice is amazing, the musicianship is amazing. It's the same with Led Zeppelin and Black Sabbath."
I don't have an in-depth knowledge of classic rock, but I do consider myself something of a connoisseur of contemporary UK-based bands and I'm always looking for new music, so I ask Dickaty for recommendations. He's momentarily stumped. "Musicianship and longevity…have really gone missing since the nineties," he says slowly. "I think the last big bands from the UK were the likes of Muse and Arctic Monkeys but I don't know where the next ones are coming from. It was abundant in the sixties, some really incredible music and really politically alive…it was like music could change and mold the young." He pauses, then adds thoughtfully, "I feel like something's ready to happen, another punk scene. It would be great if that was on the horizon."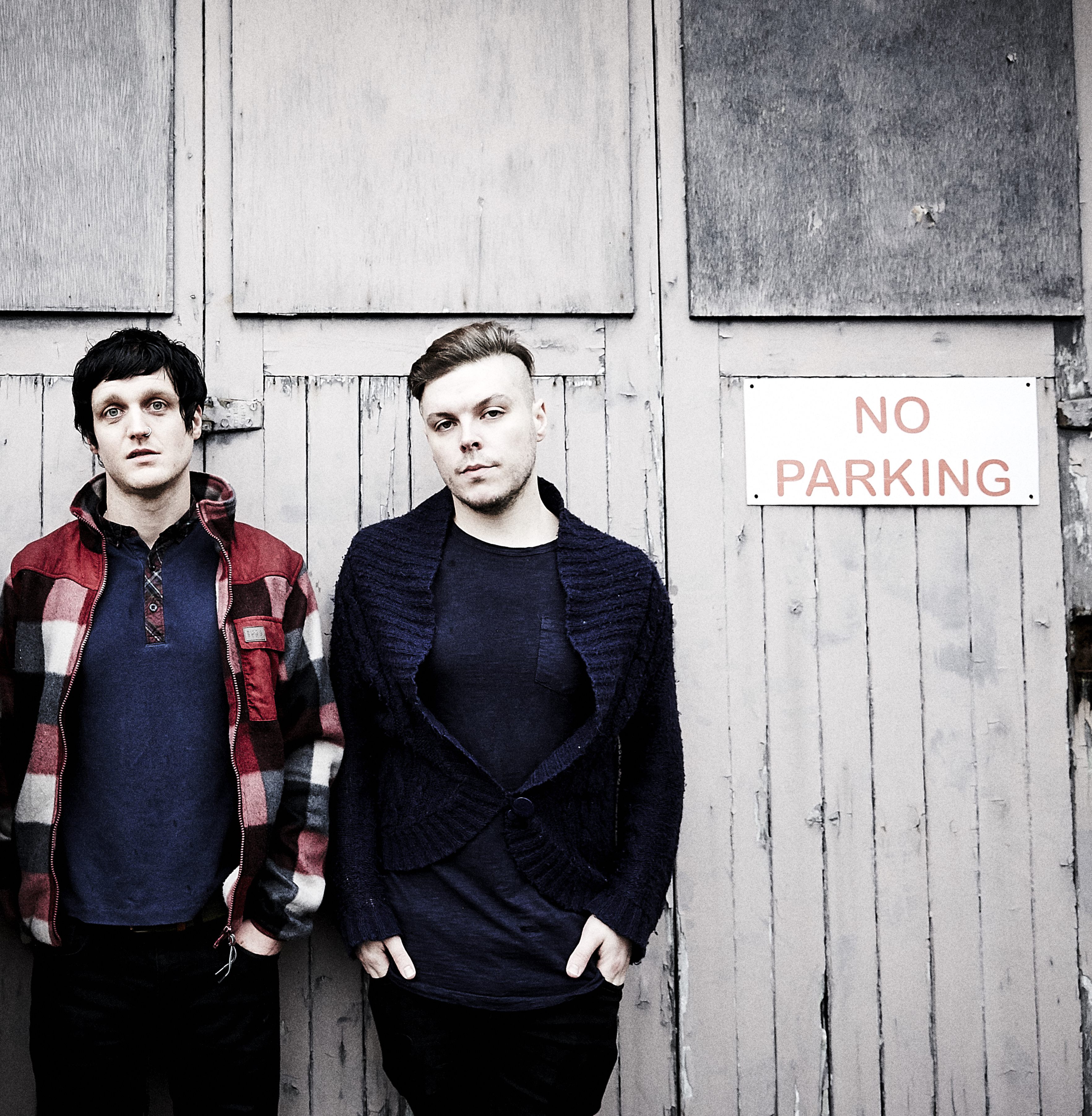 While they wait for a good old-fashioned punk scene to make a resurgence, The Virginmarys are more than happy to hone their skills opening for rock acts like Slash and Eagles of Death Metal and dreaming of bands they'd love to tour with, Frank Carter and the Rattlesnakes being number one at the moment. "It'd be amazing to do a full world tour with Queens of the Stone Age or some current rock bands like Royal Blood," says Dickaty. "Or Green Day—their fans would probably dig us—but that would be more for our benefit," he laughs. In the meantime, they're getting ready to kick off a UK tour this fall and Dickaty hopes to make it to Europe next year, adding that they'd love to make it to Canada one day. After promising that I could guarantee at least one person at a Toronto date (i.e. myself) Dickaty quips that touring with Neil Young would be the best way to see Canada.
It was abundant in the sixties…it was like music could change and mold the young.
No one likes having to start over, even if it's something as simple as taking the bus a stop too far and having to backtrack, so imagine how it must feel to have to work your way back up. Luckily, The Virginmarys are passionate and persistent and have the remarkable ability to bounce back and start again. They may not have the backing of a label right now, but with the success of a self-released self-produced album added to their repertoire The Virginmarys have proved that they're the exact opposite of a pair of sitting ducks. Regardless of what life throws at them, it's impossible to take away the talent and drive that got them this far. Rather than giving up, they started over and, given how well their Pledge Music campaign worked out, it's safe to say that their fans are more than happy to follow them into this new chapter.
Tags:
Ally Dickaty
,
Pledge Music
,
Sitting Ducks
,
The Virginmarys