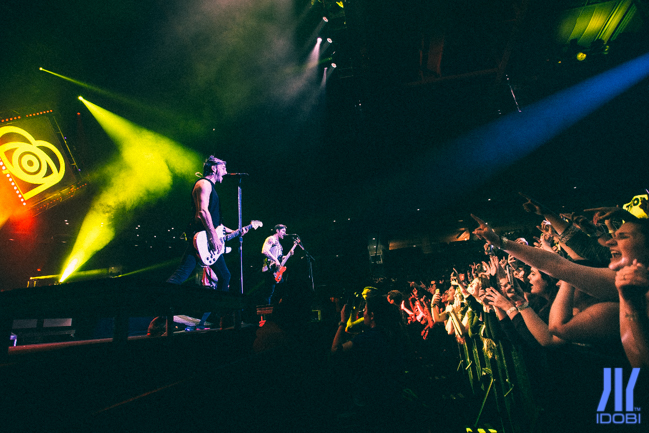 2016 is already promising to be a killer year for shows. And seeing newer artists on bills with some of the all-stars in the alternative music scene means great opportunities for bands to branch out and gain a much larger fan base. So whether you're catching your all time favorite band or seeking out something new, here are a handful of the 2016 tours you'll want to save the date for.
—
#8: Sumerian Records 10 Year Anniversary Tour
Born Of Osiris, Veil of Maya, After the Burial, ERRA, Bad Omens
February 19th — March 20th  |  Tickets
Let's get serious here for a moment and talk about how stacked this lineup is. It's full of Sumerian Records' best bands, with the inclusion of their newly signed band Bad Omens. Since their signing Bad Omens have released two songs titled "Glass Houses" and "Exit Wounds". Both tracks introduce a new style to the label that's a step back on the aggression compared to their other artists. This could be a killer opportunity for an opener band to not only expand their outreach, but to also introduce a different style of metal to new sets of ears.  Born Of Osiris headlining the tour will be a huge treat to metal fans that enjoy a flair for intensity–they're known for their dramatic and severe LED lighting that contours their sound perfectly. Support will also come from Veil Of Maya, After the Burial, and ERRA, which all put an intense, in-your-face performance that cannot be missed. This tour will be sure to tear down the walls of each venue across the nation.
—
#7: Light In The Cave Tour
I See Stars, Chunk! No, Captain Chunk, Get Scared, Palaye Royale, The White Noise
February 17th — March 25th |  Tickets
It's nice to finally witness I See Stars tour again, as they haven't been out on the road since their acoustic album tour in support of 2014's New Demons. Former band members Jimmy Gregerson and Zach Johnson recently departed from the band leaving I See Stars short of an unclean vocalist and a rhythm guitarist. With clean vocalist Devin Oliver announcing he will be taking over both vocal roles in the band, it will be interesting to see how they perform. Also featured on the tour is Chunk! No, Captain Chunk! for direct support, along with Get Scared, Palaye Royale, and The White Noise which are all emerging artists you need to check out.
—
#6: The Black Cat Tour

Never Shout Never, Metro Station, Jule Vera, Waterparks, Me Like Bees (select dates)
Now — February 27th |  Tickets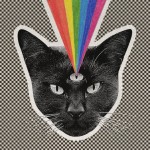 Talk about a blast to the past with this one. Never Shout Never will be heading across the U.S. in support of his newest album Black Cat, featuring a more mature side of the band with a focus more on the production of the music in an experimental yet controlled manner. This is something we haven't seen yet from Never Shout Never. This tour will focus on the experiential nature of Black Cat, but expect a good mix of the new and old from Never Shout Never, as they usually play a variety from all of their releases. The opening band Waterparks just recently released their EP Cluster in January too, incorporating small and intricate electronic fills that mesh extremely well with their pop-rock vibe. Show up early to catch these guys. Their music has such a strong personality and voice that is playful, which could make for a perfect opener to get the crowd warmed up. Also on the bill is Metro Station, Jule Vera, and Me Like Bees (select dates).
—
#5: The Alternative Press World Tour Tour
State Champs, Neck Deep, Knuckle Puck, Life Pacific
February 10th — March 19th |  Tickets
Since Alternative Press restarted the AP Tour last fall with Mayday Parade headlining, they've been pulling in some of the best budding artists out there. With the State Champs and Neck Deep dynamic duo headlining this spring tour, there'll be a little bit (or a lot) of pop-punk. This will be the pop-punk tour of the spring considering State Champs and Neck Deep both had amazing new releases in the fall, and this will be the first time the bands will really concentrate on supporting those newer albums. Opening support will be from up-and-comers Like Pacific along with Knuckle Puck for direct support.
—
#4: Back To The Future Hearts Tour (UK and Ireland Tour)
All Time Low, Good Charlotte, Against The Current
February 10th — February 16th) |  Tickets
Be honest, who doesn't like to see All Time Low live? What's even better about the European leg of their "Back To The Future Hearts Tour" is the inclusion of Good Charlotte as direct support. This is a big deal since it will be Good Charlotte's first time touring since they ended their hiatus in November of 2015. It will be interesting to see how they perform now in comparison to before their break. As sort of icing on the cake, underdogs Against The Current will be opening up this run.
—
#3: The British Invasion Tour
Asking Alexandria, Bullet For My Valentine, While She Sleeps
Now — March 11th |  Tickets
This one is a wild one. Asking Alexandria have been teasing their newest album The Black over the past couple weeks, so expect them to potentially play a new song or introduce the album some more. Bullet For My Valentine will hone in and focus on performing songs from their newest album Venom. Anticipate a show stylized towards classic metal artists, as both headliners pull in influences from bands similar to Korn, Trivium, and Slayer. Direct support will come from While She Sleeps, keeping the British invasion theme alive.
—
#2: The Desolation of Eden Tour
Chelsea Grin, Oceans Ate Alaska, Lorna Shore, Wage War
February 19th — March 19th |  Tickets
OG Chelsea Grin fans, this tour is for you. Chelsea Grin is one of the heaviest deathcore bands in popularity at the moment, and seeing them go back to their root album sounds intense. On their upcoming headliner they will be performing their first release The Desolation of Eden in its entirety. The opening band Wage War signed to Fearless Records last fall and have an amazing stage presence with a drum-heavy sound similar to August Burns Red. Definitely worth getting to the venue early to catch this group especially if you are a fan of bands featuring heavy drum influences in their music.
—
#1: The Color Before The Sun Tour

Coheed and Cambria, Glassjaw, Silver Snakes, I The Mighty
February 22nd — March 27th |  Tickets
Well, maybe this tour starts towards the end of winter. But seriously, save the date on this one. Coheed and Cambria haven't done a tour this intimate in a long time. In support of their newest album The Color Before The Sun, some fans will hear this record live for the first time. Glassjaw, who will also be playing, have been on the down low for a while as well. Both these bands have made a huge impression on the scene throughout the mid to late 2000s, so this will be the comeback tour for punk-rock. It's going to be one of the best of the late winter and early spring runs, especially with up-and-comers Silver Snakes and I The Mighty as openers, who will make it a dynamic tour driven by a unique blend of all the artists.
Tags:
Against The Current
,
All Time Low
,
asking alexandria
,
Born Of Osiris
,
Bullet For My Valentine
,
Chelsea Grin
,
Coheed and Cambria
,
Glassjaw
,
Good Charlotte
,
Knuckle Puck
,
Neck Deep
,
Never Shout Never
,
Oceans Ate Alaska
,
State Champs
,
sumerian records
,
veil of maya
,
waterparks
,
While She Sleeps