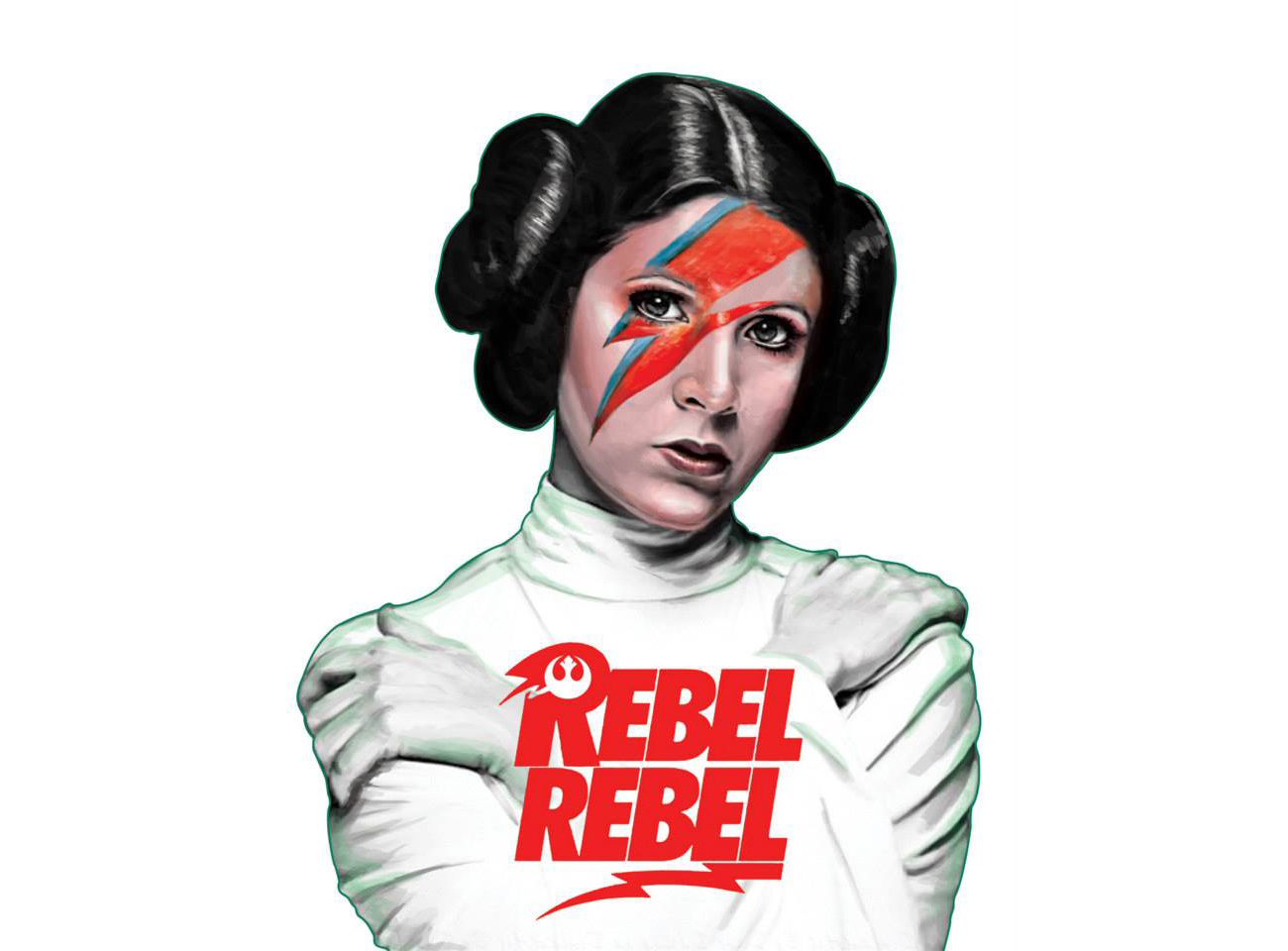 "We've lost the General."
Those are the words I wrote to a friend on hearing of Carrie Fisher's death.
Unlike most people, I didn't see Star Wars as a child. I came to know her as an adult. Her in your face, I don't care what the world thinks attitude, that was confident but also kind. That was what drew me. Her sarcastic wit and self-deprecating sense of humor.
I remember getting the chance to see her live in 2011 at DragonCon. I had been writing fiction for a few years and as a result had attended several conventions, but this was something wholly different.
There are more than 40,000 people who attend DragonCon and I would swear half of them were packed into the largest ballroom of all the Atlanta hotels. Thousands. Just waiting. You could feel the anticipation, like a buzz in the air.
Then, Carrie Fisher, all 5ft 1 of her, walked onto the stage, climbed onto a table, grabbed her breasts and stated at the top of her lungs, "If these tits could talk…"
The audience erupted into cheers. And it only got better from there.
She had always been very open about the fact that she has bipolar disorder, and this was no exception. Bipolar disorder affects approximately 5.7 million adult Americans. And when it comes to stigma and discrimination, a psychiatric disorder ranks pretty high up there. When it comes to complaints for which disability has the highest level of job discrimination…statistically, a mental health condition is #1. You can't get a job. People treat you differently. Others think you may "lose it" or are some sort of threat.
What is sad is that most of these folks are more likely to be victims of a crime and even worse, from a mix of lousy medical care, smoking, complications of treatment, self-medicating drug use, and suicide, most are likely to die 20 years earlier than the general population.
We deserved 20 more years with the General.
Her "take no prisoners," "tell no lies" attitude around her own illness has had a massive influence and it was very visible. It was amazing how many people stood up to say that they too had bipolar disorder and they were cheered and supported.
In particular, I remember one young woman, during the Q&A section. When called up on her question? She talked about how she too was bipolar and how much Carrie's openness and honesty about it meant to her. Her question? Was to ask Carrie if she could have her name card as a souvenir?
Carrie invited her down to the front to get it, then proceeded to lean across the table and give the woman a great big kiss on the lips.
And the audience cheered.
I think we all have different celebrities, role models, people we admire. And we all have different reasons for that adoration. Carrie Fisher's legacy is as varied as her legion of fans. Independent-minded princess, courageous advocate, imaginative author, witty comic, powerful general…strong, kind, fierce.
Her motto was, "If my life wasn't funny, it would just be true, and that is unacceptable."
It's a funny line. But the heart of it and what I take away is "…just be true…". So for me Carrie Fisher's most important legacy, and last order, is the reminder to "be true."
Rest well, General.
---
The above artwork is by the artist Leka. T-shirts of the design are for sale here and proceeds are currently being donated to Alzheimer's Fund and the Make-a-Wish Foundation in honor of the General.
Tags:
Carrie Fisher
,
Geek Girl Riot
,
GGR
,
Star Wars