"We all have our secrets. Yours is walking around. Anyone with half an eye can see it."
Have I mentioned I have a weakness for brainy bearded brunets? (What? That's the masculine form of the word.) So I had a fangirl squee moment,  seeing Roger MacKenzie in the opening of episode four "Of Lost Things". He, Brianna, and Claire are playing history detective, trying to locate where Jamie went after the Battle of Culloden. They find his name among a list of prisoners in Ardsmuir. Roger sees this as a reason to have a victory drink him with Brianna, but Claire wants to find out what happened to Jamie after prison…
…which smoothly transitions to the Downton Abby-ish Helwater. We are introduced to Lord and Lady Dusany and their two daughters, Geneva and Isobel. Jaime is now a groom which, this American guesses, is comprised of standing in a row looking cute and taking care of horses. Lord Dusany has a frank convo with Jamie that he doesn't feel any ill will towards any Jacobite but he warns that his wife does since they lost their son in battle. Jamie acknowledges people have lost family on both sides and he has as well which endears him to Lord Dusany, who decides not mention Jamie hasn't completed his sentence before being installed on the estate.
Flash forward to Brianna and Roger stranded at the side of a the road. Brianna tells Roger she thinks Fiona likes him. He doesn't see it that way and says he has girls who are just friends. Brianna fixes his car for him which we notice makes Roger seem like more than a friend.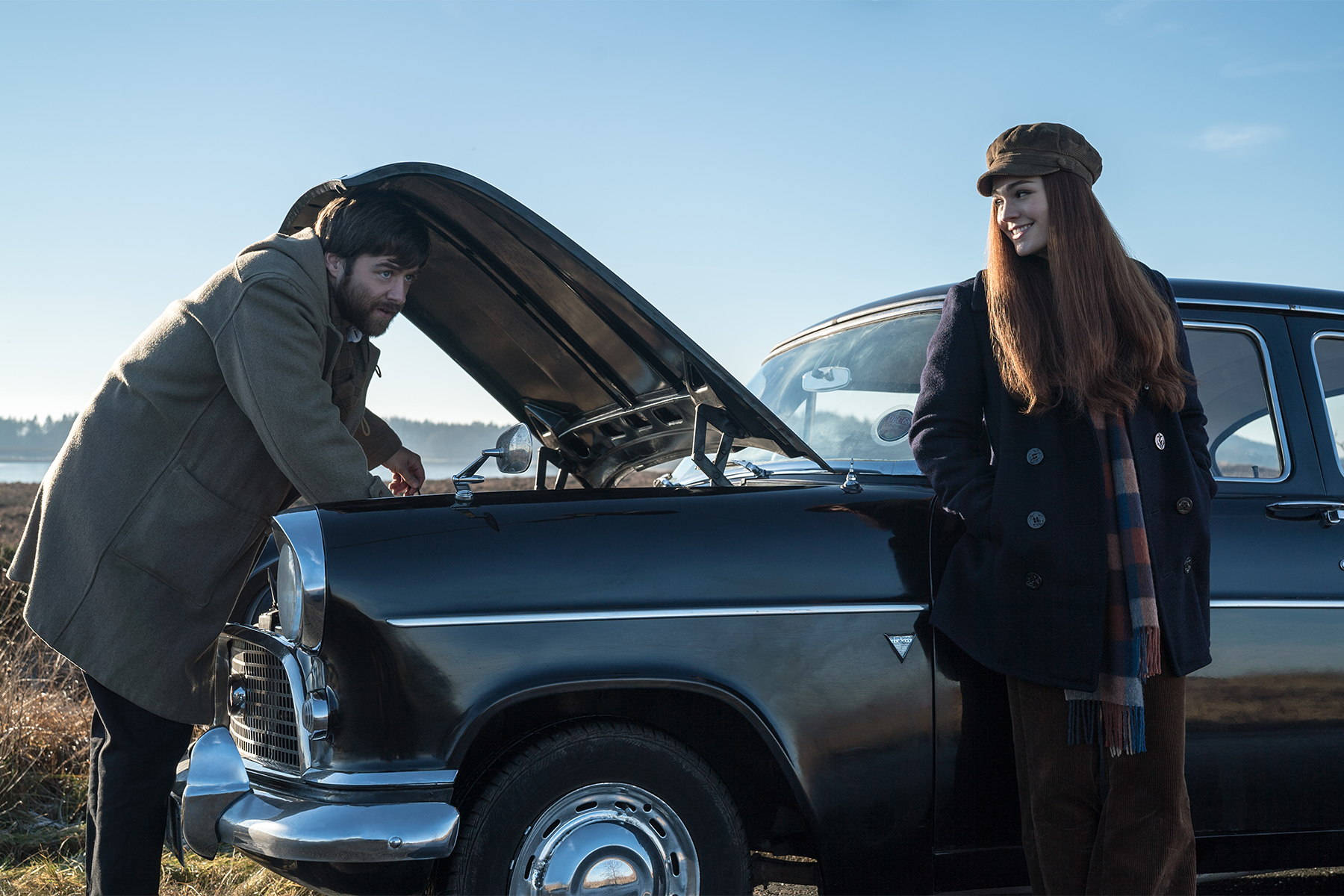 In the past, the grooms are drawing straws to see who will ride with Lady Geneva. From their casual nature this is a daily ritual. Fortunately, Jamie doesn't pick the short straw, but doesn't escape a snide remark from the lady. Isobel overhears a comment Jamie makes about her sister needing a good kick by the horse, to which she retorts not much that could do. If this moment were any more Shakespearean, specifically Othello'ian,  Geneva would be Katherine and Isobel would be Bianca.
Cut to a brief cameo by Dr. Abernathy who seems to be covering Claire's patients while she's away. He calls in to find out when the hospital expects her to return. He then observes something wrong with a patient and has to schedule a surgery. They lightly joke and I always come away from their scenes all warm and fuzzy.
There's no drawing short straws for anyone, Lady Geneva picks Jamie to ride with her. She casually asks him for his opinion on her fiance, the Earl of Ellesmere who's old enough to be the December to her May in their romance. Jamie is of course diplomatic and she makes him chase her around the grounds. Geneva falls off her horse. He carries her in his arms, but quickly drops her into the mud like a sack of potatoes as soon as she tries to flirt with him, which she laughs it off.
Lord John Grey comes for a visit. He and Jaime settle into their routine playing chess. John's older brother, Milton Grey strolls in looking two degrees less uptight from when we last saw him when he ordered the execution of the Jacobites with Lady Dusany. Milton looks at Jamie as if he's seeing a ghost. Geneva senses this very awkward moment and you know she's one conversation away from discovering the truth about Jamie.
What does Lady Dusany do after she learns about Jamie's past? Use it to blackmail him into sleeping with her. She's getting married to "Earl Elderly" in three days and wants her first time riding bareback to be with a hot young stallion and not the old grey nag. Not that we're not thankful to Lady Hotpants 'cause we find out banishment has not interrupted Jamie's weight training. M'm m'm, it's about to get late night Cinemax in here.
Meanwhile, in the more PG-rated storyline,  Brianna and Roger are speculating about what Claire would do if their research leads to them finding Jamie. Brianna is worried that if Claire goes back through the stones at Craig na Dunne she might not ever return or worse not want to. Roger confesses his own selfish reason for not wanting their research to stop. He wants to continue spending time with Brianna and not have her return to Boston. Brianna kisses Roger and shippers everywhere rejoice.
A few months pass and of course Jamie isn't just a stallion he's a stud. Lady Horny rode his pony and now she's pregnant. As Geneva goes into labor, Isobel confronts Jamie about the identity of the real baby daddy. Unfortunately, Geneva dies in childbirth and Earl Ellsmere knows he's not the baby's dad because they never consummated their marriage. Ellsmere is inconsolable about being stuck with baby that is not his. He's about to kill the kid in a very tense scene in the hallway. Jamie manages to get the gun away from the Earl and Isobel takes over the care of the baby. He is named William after their father.
Lady Dusany confesses to Jamie and tells him that she knows he's a Jacobite, but that her husband thinks very highly of him for saving their grandson. She'll give him the option to be released from his sentence and return home. Jamie looks at his son and can't leave him yet. He thanks her and reasons he'd like to make some more money to send back to his family in Lallybrooch.
Any parent knows time goes by fast and we next see Jamie teaching William to ride a horse. He is being raised as a lord  with no knowledge the groom is his biological dad. Lady Dusany jokes with a friend that the two spend so much time together riding that they are starting to look alike.
Another child with a strong resemblance to Jamie is sitting at the bar in the future, dismayed with her mom and Roger. They have hit a dead end in their quest at the National Archives. Claire and her daughter decide it's time to go home to Boston.
Jamie also feels he's nearing the end of his time at Helwater. He tells William it's time to go home. His son is mad his favorite caregiver is leaving. We see he's inherited his mother's sharp temper when he doesn't get what he wants from Jamie in a scene that echoes back to his parents earlier encounters.
Lord John Grey agrees with Jamie that it is time to go before the rumors start since William looks too much like his father. Jamie offers his body to John in exchange for him to be a father figure to William. John is disappointed because even though he'll always desire Jamie he would assumed their friendship was closer than that. Also he's betrothed to Lady Isobel. (We can see why Gabaldon has written a spinoff series with the complicated and honorable John Grey.)
We get a montage of Claire letting go of all the notes from her research, Brianna walking out of Roger's place, and Roger left alone. I bawled while screaming "Don't go!" at the screen. William felt the same way when Jamie gives a solemn goodbye to him, Isobel and John Grey.
"Of Lost Things" still has our two protagonists separated. Whereas last week's episode centered more on Claire and Frank's bittersweet marriage this week we see how Jamie can survives and makes the most of his circumstances. He is a natural leader who earns the respect of those around him through his integrity. Whether it is the Dusany family or John Grey, Jamie has managed to help raise his child while being discreet about the circumstances. He has not compromised who he is, but has learned that in order to stay alive you have to learn how much you are willing to lose and when to say goodbye.
You've got to know when to hold them and know when to walk away…
Follow "Outlander" Online:
Twitter: @Outlander_STARZ
Facebook: https://www.facebook.com/OutlanderTVSeries.starz/
Instagram: https://www.instagram.com/outlander_starz/?hl=en
Join the conversation with #Outlander and #STARZ.
**NEXT WEEK**
OUTLANDER 305: "FREEDOM & WHISKY"
Airdate: October 8th at 8 PM ET/PT on STARZ, the STARZ app and STARZ On Demand
As Brianna grapples with the life-changing revelations of the past summer, Claire must help her come to terms with the fact that she is truly her father's daughter – her 18th century Highlander father. To complicate matters further, Roger brings news that forces Claire and Brianna to face an impossible choice.
"Outlander" airs on Sundays at 8PM ET/PT on STARZ.
Tags:
Episode 4
,
Geek Girl Riot
,
GGR
,
Kat Bittner
,
Outlander
,
Recap
,
Season 3
,
STARZ